2007 Yeovil Entertainment Contest - The Adjudicator
4-Feb-2007
John Maines is this year's man in the box.
---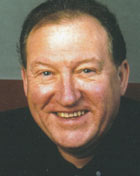 John Maines:

John started his playing career with the Wigan Boys Club Band and the Cammell Laird Band in Birkenhead. Some of his playing career was spent in Cornwall with St.Austell and Bodmin bands where he quickly made his mark with a succession of competition victories at solo competitions throughout the South West. It was at that time that he gained the title of Champion Trombone Player of Great Britain on three successive occasions. One of only two players ever to achieve a hat-trick in this event.
After playing solo trombone with the Stanshawe (Bristol) and Fairey Engineering bands with whom he also held the post of principal trombone with Harry Mortimer's Men o' Brass, he became principal trombone with the Black Dyke Mills Band. With this famous band he won many major titles including a hat trick of European Championships and toured such countries as Holland, Switzerland, Spain and Japan.
Since 1979 he has been a music tutor for the National Youth Brass Band of Great Britain and is a Council member of the organisation.
John is a member of the National Association of Brass Band Adjudicators and regularly adjudicates both at home and abroad. He travels extensively in Europe taking him to such places as Belgium, Holland, Luxembourg and Denmark where he takes part in various musical activities including the direction of the National Youth Band of Denmark.
John is in great demand as a conductor in the UK directing many of our finest bands, as well as undertaking the role of Master of Ceremonies at many of the country's prestigious events such as The National Youth Band Championships, The Great Northern Brass Arts Festival, The Harry Mortimer Centenary Concert and acting as compere for many of the world's finest bands.
John writes as a critic for the weekly journal the British Bandsman, and has taken part in many recordings for CD, Radio and Television. In addition to his everyday banding activities John was the presenter of the long running BBC weekly band programme "GMR Brass" and is now the presenter of World of Brass Radio.