2007 BBC Radio 2 Young Brass Soloist - Semi-final retrospective
7-Feb-2007
Malcolm Wood made the trip into Manchester to enjoy some wonderful playing from the semi finalists of this year's BBC Young Brass Soloist - and the final promises even more.
---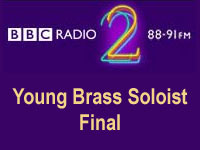 BBC Studios, Manchester
Sunday 4th February
Hosted by Frank Renton
Brighouse & Rastrick Band
Conductor: Ian McElligott



Whenever there is a winner, there has to be a loser and in the case of this year's semi final's of the BBC Radio 2 Young Brass Soloist Competition, four very talented individuals have gone through to the final on Saturday 17th February at the RNCM in Manchester whilst the four competitors who didn't qualify can hold their heads up high and consider themselves unlucky that they came up against some strong opposition on the night.
Speaking to the audience prior to fellow adjudicator Michael Hext announcing the four finalists, Professor David King made the point that on another night it could have been 'slightly different'.
Professor King acknowledged that by saying, "…that on any other occasion, you'd be grappling to find eight contestants in any country in the world, playing so well at this particular tender age."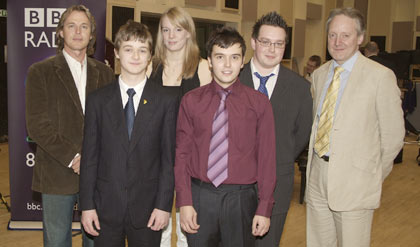 Quartet of winners: The four semi final winners

The criteria that the judges were looking for was based on the Four 'S's' – 'Sound', including maintaining the sound in technique; 'Shape' the musical landscape; 'Style' and that 'Sense' of performance that is needed to communicate their musical intentions to the audience.
Matthew White, Ben Thomson, Rebecca Crawshaw and Jamie Cooper certainly had all of the above within their armoury on the night, and if they were nervous, none showed it.
Whilst it is a competition, the night evolved around the making of two radio programmes to be aired on BBC Radio 2 on Friday 9th and 16th February. The competitors were split into two groups of four with two going through from each programme.
What will be broadcast in the next couple of weeks if previous years are anything to go by will be slightly different to what people witnessed on the night! Host Frank Renton will have interviews with the semi-finalists linked in with their competing performances (which varied in length) and it all has to be compacted into around thirty minutes of airtime.
Matthew White and last year's winner, Ben Thomson took the honours in the first semi-final. Matthew, is just sixteen and has previously been at Wingates and now finds himself playing with the Leyland Band.
Studying at Chets in Manchester as soon as he put the euphonium to his lips Matthew sounded relaxed, confident and had a real understanding of the contrasting music being performed. He had chosen 'Caedlidh' by Rodney Newton, 'A Tribute to Archie Beaton' and 'A Joy Untold' from within the Salvation Army. It was a fine performance.

Meanwhile, Ben was the last of the first group of four to perform and like Matthew had that relaxed persona about him that was reflected in his playing. Ben doesn't want to relinquish his title just yet and his performances of the '2nd Movement' from Arutunian's 'Tuba Concerto' and 'Ionel' - 'Romanian Dance Number 2' was executed superbly.
The second semi-final featured two stunning virtuoso performances from Rebecca Crawshaw and Jamie Cooper. Rebecca is currently studying medicine at the University of Cambridge and also playing soprano with the Virtuosi GUS Band having previously been at Faireys, and that experience paid dividends on the night. As with Matthew and Ben as soon as Rebecca started to play she had an air of confidence in her ability and complete understanding of the music in front of her. 'Rhapsody for Eb Soprano Cornet and Band' by Robert Eaves is an old favourite for solo contests whilst film music by John Barry entitled 'Somewhere In Time' was in complete contrast, but nonetheless, just as impressive.
Jamie Cooper is studying at the Royal Northern College of Music in Manchester and plays cornet with Brighouse and Rastrick. Jamie performed 'God Be in My Head', a slow, tender and expressive work that required plenty of control. The piece had arranged by Brighouse's, Leigh Baker and it also features on Kirsty Abbotts' new CD, 'Soliloquy'. Jamie completed his challenge for a place in the final with the popular 'Slavische Fantasie' in which he took the mix of cadenza's, songs and dances in his stride and was particularly impressive in the final gypsy dance section.
Robert Miller opened up the night's competition with 'Rhapsody for Trumpet and Band' by Gordon Langford that had initially been given its world premiere by Professor David King. Unfortunately for the soloist, there were a few nerves in evidence throughout and it didn't quite come off. It was a brave effort though.
Laura Brown heralds from the North East and the tenor horn player opted for the 'Elegy' from Martin Ellerby's 'Concerto for Horn and Band' along with 'Variations on a Welsh Theme'. Once more here was a player of immense potential showing real glimpses of what a great future she has ahead of her.
Richard Kidd, a former finalist and semi finalist of the competition can consider himself very unlucky not to have gone through to the final this year after performing 'Summer Isle' from 'Hymn of the Highlands' and the fiery Greek dance, 'Zeibekikos' from Wilby's 'Euphonium Concerto'. Richard was in the second semi-final and so was up against Rebecca and Jamie and the Whitburn euphonium player was mightily impressive in both his contrasting choices of repertoire.
The only trombonist of the semi-finals, Robbie Harvey from Jersey opted for the '1st Movement' from Derek Bourgeois' 'Sonata for Trombone' and the Tommy Dorsey classic, 'Trombonolgy'. Robbie showed some fine attributes but was another player to curse his luck that he'd been drawn in the same semi-final as Rebecca and Jamie.
Brighouse & Rastrick were in fine form throughout and deserve acknowledgement for their accompaniment to the soloists, whom they'd worked with earlier in the day. Whilst the finalists were being decided B&R gave some light entertainment ranging from the march, 'The New Colonial', 'Elegy for Eddie Noble MBE' and Shostakovich's 'Festival Overture'.
With four players though all playing within Championship Section bands, the final a week on Saturday has the potential to be an absolute cracker and the 470 seated Haden Freeman Concert Hall at the RNCM deserves to be full, especially when you consider that all of the soloists have connections within the area.
The defending champion, Ben Thomson and Jamie Cooper both study at the RNCM, Matthew White is located across the city at the Chetham's School of Music and Rebecca Crawshaw graced the soprano chair just down the A6 at Faireys in Stockport until last autumn.

Black Dyke will once again be the accompanying band for the final that starts at 7.30pm and if everything goes to plan will be over by around 9pm.

Tickets are free and can be obtained via the Radio 2 helpline – 08700 100200 and www.bbc.co.uk/radio2/events.
The semi-finals will be broadcast on BBC Radio 2 on Friday 9th and 16th February at 9.30pm with the final broadcast a week later on the 23rd.
The eventual winner? If Sunday's semi-finals are anything to go by, it promises to be close and anyone of the four contenders could be crowned the BBC Radio 2 Young Brass Soloist 2007.


Malcolm Wood