2007 Yeovil Entertainment Contest - Retrospective
15-Feb-2007
Malcolm Wood was on hand to see PolySteel return to top form to take the Yeovil title in a contest that had a number of ups and downs.
---
The proverb, 'If at first you don't succeed try, try and try again' is a very apt way of describing the PolySteel Band on the entertainment contesting stage of late. After the disappointments of Brass in Concert and Butlins, it really was third time lucky for the West Country outfit that grabbed this competition by the scruff of its neck and maintained a stranglehold on it that was always going to be tough to beat on the day.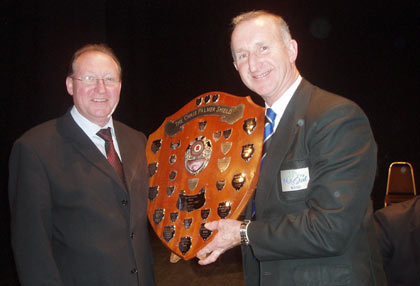 The Maines man: Mike James accepts the top prize from adjudicator John Maines.

This certainly wasn't the PolySteel Band that performed at Brass in Concert or during their entertainment programme at Butlins three weeks ago. The trademark sense of bravura that Philip Harper brings to entertainment programme remained, but it was cleaner, tighter and much more convincing to the ear of the adjudicator John Maines and the eyes and ears of the audience too. It was high class playing.
Speaking to the audience just before the results John made the point that he was looking first and foremost at the quality of the playing and how good it was - and if it's entertaining, so be it. You can't really ask for more can you from your man in the box?
The bands that featured in the top prizes on the day were able to produce fine music with programmes built on musical momentum. The perennial problem still remains though (especially when its closed adjudication) that even the best bands have problems finding that blend of good quality music allied to entertainment value, and making sure it comes across to the man in the box - and of course to the audience.
We keep saying it, but until all entertainment contests have an open adjudication policy it's a problem that won't go away, and Yeovil is a classic case in point. If it were open adjudication, bands would be far more creative in their approach to programming, instead of too many opting for the safe option of enjoyable middle of the road concert repertoire that will satisfy the audience, without really taxing their musical intellect. It's a contest that can quickly degenerate into a game of musical lollipops.
Far too many programmes had as much creativity and imagination as a Steve McClaren England XI – and never looked like winners from the first note to the last - bland programmes that never caught the aural or visual imagination and didn't communicate sufficiently with John Maines or the audience to make that necessary impact.
It was Friary Guildford and Chris King who opened the pre-drawn contest at 9.30 with a programme that unfortunately did just that.
They opened up with a tidy 'Gavorkna Fanfare' before Richard Straker, the band's Principal Cornet performed a neat interpretation of 'Charivari'. Music from the pen of Prokofiev followed with 'Enemy God and Dance of the Dark Spirits' that just lacked real impact, whereas the hymn tune, 'Dear Lord and Father of Mankind' was arguably the bands best moment. The concluding section of Dean Jones' 'Glorifco Aeturnum' was another choice that just failed to make an impact though. Overall they finished ninth which no doubt they'll be disappointed with, but it wasn't a top six show and whilst it's never easy to gauge off number one, we anticipated it being bettered by a number of bands, and so it proved.
Melvin White led SWT Woodfalls through a programme that with one exception was one he used with Redbridge at Butlins three weeks previously. Those of you that read our previews will have noted that we'd suggested at least one band would perform Paul Lovatt-Cooper's popular composition, 'Where Eagles Sing', and as it turned out (due to unforeseen circumstances that will be mentioned later) this was the only performance of the day. We do tell you, you'll never be rich when 4BR predicts!
Woodfalls opened up in bright and energetic manner, but the bands principal cornet and trombone, performing Herbert Clarke's 'Cousins' never really gelled together. Drury's enjoyable march, 'Jubilee' saw a return to music with plenty of energy but '18th Variation on a Theme by Paginini' rather lacked emotion before concluding with Kenneth Downie's 'King of Heaven' that did have moments of real quality. Melvin White will hope for better luck at the draw next time though as he drew number 1 at Butlins and 2 here. A bit later in the day and a certain top six or better, instead of eighth may have been the result that they left with.
We've no idea if Aveley & Newham are a superstitious bunch but for the second year in a row they drew 3 and finished in sixth place. Kenneth Hesketh's 'Masque' was clean, neat and tidy and that was added to by some fine soprano playing from Andrew Bannister in '18th Variation on a Theme by Paginini'; . The jazz number 'Have You Seen Them Cakes' lacked style though and was a bit of a damp squib although Aveley were one of the few bands to feature some championship level quiet playing in their programme courtesy of Bruce Broughton's 'New Born Babe'.
Just when things looked to be back on track it all went pear shaped with 'The Clock with the Dresden Figures' along with a rusty run through 'Comedy Tonight' where a few players missed their punch lines. It just left the band sounding as if they needed a couple more rehearsals before reaching boiling point and sixth was a fair return in the end.
St Austell and David Loukes didn't have a good day at the office at all. An ineffective programme lacked real impact and the band only really played to potential on occasions throughout. "Don't Worry, Be Happy" is the title and famous principal lyric of a song by jazz composer Bobby McFerrin, the first acapella song to reach number one on the Billboard Hot 100 chart. As an opener it took too long to settle even if the idea behind it was effective.
The band's finest playing came in 'Let Me Weep' where Rachel Whittaker led five of her colleagues through some lovely angelic playing. Heaton's march 'Praise' and Brodsky's 'I'll Walk With God' lacked presence though whilst the closing 'Marche Slav' was more than a little scrappy and they'll have gone back to Cornwall disappointed to have finished in eleventh place. Lots of potential there for Torquay though.
The Yeovil contest is a pre-drawn affair to help the bands in advance and Parc and Dare were due to be next band on stage led by Richard Evans. Unfortunately, the wintry weather that arrived two days before the contest in South Wales meant the cancellation of their rehearsal and then further snow on the Friday meant further problems and another postponement.
With a 6.30am start on Saturday morning, and with two days of missed practice and further road problems the band took the decision to withdraw on the Friday. They were disappointed especially as at present they are on something of a high and we understand that their programme was to contain some typical Richard Evans items including Paul Lovatt-Cooper's 'Where Eagles Sing!' They should make it to Porthcawl this weekend though, and will hopefully be back next year.
Sovereign Brass was another band whose preparations had been hindered by the weather, and they also had to contend with unforeseen circumstances that meant drafting in some late replacements.
Undeterred, they gave it their best shot and left holding their heads up high. Stephen Roberts was at the helm with a programme arranged by himself. They opened up with a neat 'La Peri Fanfare' by Ducat before launching into a brand new arrangement of Liszt's 'Hungarian Rhapsody No2' that tested the band to its full. Whilst there was some excellent playing (a corker of a bass part from Phil Green in particular) with the music suiting the style of the band, the thought did come to mind whether they'd be able to maintain the standard for the rest of their programme.
Mark Hadlington performed the World Premiere of 'Shaker Variations' – based around the tune 'Simple Gifts' and despite some odd moments in a variation or two gave a fine account or a work that will surely be hard again on a regular basis.
In complete contrast however came 'Way Down Yonder in New Orleans' featuring three cornetists in an arrangement used by the MD many years ago in the entertainment arena with the Jones & Crossland Band.
By the time the band had reached its finale, 'The Resurrection' from Mahler's 'Symphony No 2', they'd run practically out of steam though. This is music requiring a lot of stamina and it proved just too much for them on the day although interesting music, there seemed to be a collective 'glazing over' by the audience when it was performed – not their cup of tea by any means. Seventh place for the band will no doubt have been a little disappointing but taking into consideration the challenges in preparation, a commendable effort. Mention must go to the band's soprano player, Martin Britt who perhaps was unlucky not to get the soprano prize on the day.
Frank Renton led Camborne's challenge and for the second year running they finished fifth but they can consider themselves unlucky not to have come higher, with a podium place reward for their efforts. They really did hit the ground running and built up a momentum that real impact and plenty of quality playing with the choice of music well constructed and balanced.
John Williams' 'Liberty Fanfare' was bright, energetic and purposeful before Kayleigh Rowe stepped forward to play the classic 'My Love is Like a Red, Red Rose' that was quite beautiful on the ear. 'Funiculi, Funiculà Rhapsody' is perhaps better known as 'Napoli' but the band really excelled in this clever and witty arrangement by Michael J Garasi, which the Central Band of Florida premiered at Brass in Concert last year. Frank get to hear a good 'un before anyone else doesn't he now.
Their best playing came via an exhilarating performance from percussionist, Jeremy Taylor. Jeremy brought the house down last year playing for Camborne Youth at the National Youth BB Championships in Manchester, and after his performance on the xylophone of 'Helter Skelter' he did the same on Saturday.
Jeremy's communication with the audience and interaction with the band was top draw and the talented percussionist was full of confidence and he gave one of the virtuoso displays of the whole day. He is some player with a great musical future ahead of him.
To close their programme, some real serious stuff in Alfred Reed's 'Russian Christmas Music' that drew on every last ounce of breath the band had and certainly placed them top for us as everyone left for a well deserved lunch break. Despite the result Camborne will be looking forward to the Regionals as Frank Renton certainly works them hard but pulls the best out of them.
And so to PolySteel. Although Camborne was leading the pack, the contest was very much up for grabs and the West Country outfit went for broke and became deserved winners. They could have come unstuck with a typical Philip Harper bon mot to finish (of which more shortly) but they didn't, but talking with MD Philip Harper afterwards, he expressed his delight with their third win here and the chance to use it as a springboard for future success during 2007 – notably at Torquay and Blackpool.
The MD's arrangement of the Queen classic, 'Don't Stop Me Now' got things up and running with loads of energy flowing through the band before Chris Howley stepped up to the plate in 'Virtuosity', the in vogue piece for Principal Cornet players (on trumpet) at present. It was high class stuff.
Throughout the day, there was a real dearth of really quiet, controlled playing, but as it turned out, the best playing of the day (in the view of John Maines) came in the traditional melody, 'The Water of Tyne' where the band's warm sound was presented at it's best. To conclude their programme, the 'Finale' from Tchaikovsky's 'Symphony No 4' taken at a pulsating tempo with some excellent ensemble work – job done, game over, the band to beat then?
Anyone that's has seen PolySteel on the entertainment stage knows that they like to leave the audience with that little something extra, and once again they did here with a fine choreographed performance of 'Its Raining Men' – very well played and great fun, but was it really necessary? Who needs to be pleased more, the audience or the adjudicator? It seemed rather superfluous (and didn't come as a surprise either given their track record), as they had shown their class in their programme leaving the audience on a high at the end of the Tchaikovsky. It was a bit like the waiter asking Mr Creosote for a 'waffer thin mint' just to finish his meal in the Monty Python film – except they just about got away with them imploding by forcing a tiny extra morsel down the musical gullet. Got to hand it to them though – PolySteel are a fine band on this type of form.
Aldbourne had the unenviable task of following PolySteel on stage and struggled somewhat. They opened up with a scrappy 'Also Sprach Zarathustra' followed by 'Healing Waters' from the pen of Kenneth Downie, music that allowed the real class of the band's principal cornet, Kevin Robbins to shine through. John Rutter's 'The Lord Bless You and Keep You' didn't make the right musical impact and the band was running out of steam by the time they'd completed their programme with 'Peel Park – The Bandstand' by Philip Wilby. Sadly they weren't going to feature and John Maines decreed it was to be tenth place – bang on the mark.
Kidlington led by Catherine Underwood gave it everything but went home taking the wooden spoon. The programme didn't look to bad on paper but the playing wasn't great and despite choosing music that had plenty of opportunities to communicate with the audience and judge, it never had the impact required.
'Fest Musik De Stadt Wein' was untidy, whilst the band's principal trombone gave a rather wooden interpretation of 'Autumn Leaves'. Barry Forgie's arrangement of 'Chicago' was arguably their finest piece, whereas 'Doyle's Lament' and the 'Cossack Fire Dance' from 'Call of the Cossacks', seemed strangley lacking in Russian atmosphere. They closed with 'Salsa Number 2' by Philip Harper, but there was noticeable tiredness around the stand by this stage and it all ended a bit flat. Perhaps eyes are on Stevenage again as they hope to pick up a qualification place for London after coming close last year.
That left three bands - BTM, Bournemouth and Cwmaman Institute who would have to play out of their skins to beat Polysteel but as it turned all three had a major bearing on the final outcome when the results were announced.
BTM were really impressive and their third place benefited from the energy and drive from the man in the middle, Jason Katsikaris. Jason's body language was superb - no negativity at all, and his approach shone through the band who responded in kind.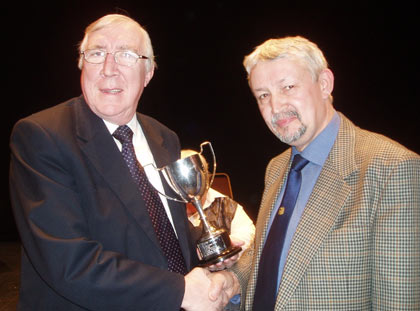 Nice bit of Welsh work: BTM claim third place

In comparison to some it was a short programme, but the music really came to the fore with some excellent ensemble work, loads of dynamic contrasts and good programme planning.
Peter Graham's 'Prelude on Tallis' proved to be a fine opening choice with some excellent ensemble detail and that real feeling of confidence within the band right from the off. Jeff Hutchinson then stopped forward to give a communicative and musical performance of 'Children of Sanchez' that in the words of John Maines was the 'most complete performance of the day 'giving him the soloist's prize.
Goff Richards' 'Sweet Shepherdess' once again was contrasting and had some delightful musical moments and having finished with a no holds barred performance of Stravinsky's 'Firebird', it was a case of had they done enough to win it. Not quite it proved but third place was a deserved result and will have given them a massive boost of confidence ahead of Swansea.

Lt Col Chris Davis OBE led Bournemouth Concert's charge into second place with a neat and very musical performance.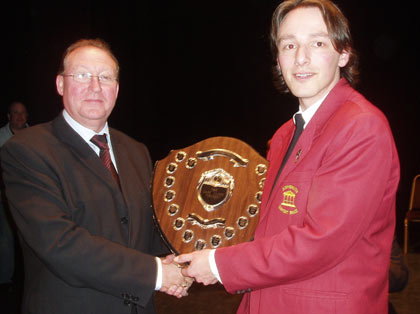 Neatly done: Bournemouth take the runners up spot

Sandy Smith's arrangement of James Swearingen's 'Valero' was vibrant whilst the band's assistant principal cornet demonstrated a lovely sound on the trumpet in 'Through the Eyes of Love'. R B Hall's march 'General Mitchell' was as tight and precise as any of the marches that had been played all day (and not that many strangely) but the band maintained its impact with the poignant 'Hymn for Diana', that again not only benefited from some fine ensemble work but tight control from the MD. To close, 'The Flight of the Wild Geese' by Robin Dewhurst which the band clearly enjoyed although there was the hint of tiredness towards the end.
Second place was a cracking result for Bournemouth and although unexpected perhaps by some, it was thoroughly deserved and with it, the bands soprano player, James Cooper became the inaugural recipient of the soprano prize. They will had for Torquay in high spirits after this one.
That just left Cwmaman Institute. They may have walked off stage looking very disappointed but they came fourth - a result which has to give them confidence especially when they played as indifferently as they did on the day. They know they can play better and they'll be looking too impress further at Porthcawl on Saturday and at The Regionals
They didn't start to well with 'Intrada – Ein Fest Berg' with some scrappiness in the cornet lines and 'Autumn Leaves' from the band's principal trombone wasn't bad at all. Strangely though, their high point came in the politically correct version of 'There's Nothing Like a Dame', first done about a decade ago by the all male Fairey Band but recently revived by them at Brass in Concert with new lyrics, sung in tune and with vocal harmonies from the ladies within the band.
Ian Porthouse, the band's MD, then went for 'Vitae Lux' arranged by Torstein Aagaard-Nilsen, music that showcased the considerable talents of the bands soprano and principal cornet. The band's indifferent programme though concluded with music from Tchaikovsky's 'Symphony Number 2', 'The Little Russian' which although scrappy really did end the contest on a high.
That was it though, and it was all down to John Maines. What he thought was clear and nothing after Polysteel had persuaded him to change his mind that they fully deserved their victory. Few would have disagreed.
Once again the Octagon Theatre was full to its six hundred capacity as the audience enjoyed their contest.
Yeovil keeps going strong because of the commitment and desire that goes into organising it by a huge band of helpers. Yeovil Town Band do a fantastic job making sure the event runs smoothly year in year out and they deserve so much credit for it still to be in existence thirty years after its inception – in this economic climate, that's a tremendous achievement that Christine Buckland and her friendly band can be so proud off.
To celebrate the thirty years, an evening concert was held by the Enfield Citadel Band which was an enjoyable treat after a long day and 19 hours of travel over the weekend, for the 4BR correspondent, Yeovil was an enjoyable place to be once more.
Malcolm Wood.