2007 Norwegian National Championships - Fourth Division retrospective
15-Feb-2007
The real delight of the weekend was to be heard in the Fourth Division where a brilliant own choice selection saw victory sealed with a breathless gnu kiss...
---
As always in Bergen, the Fourth Section provided excellent entertainment as well as further proof that the overall standard of banding in this country is improving and improving fast.
There were 13 bands for adjudicators Paul Farr and Erling Myserth to cast their eyes and ears over (open adjudication folks) and together with a healthy audience they must have really enjoyed themselves with a selection of performances and repertoire that was a delight.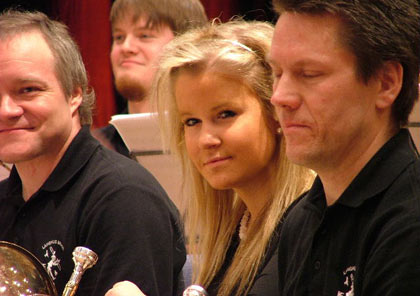 Here's looking a gnu: Langhus's euphonium player waits for a breathless kiss

It also didn't prove to be too hard a task for them to choose the winners from the three bands who really were a class above the rest on the day, and although the overall standard was very good, these three would not have been out of place in the Third Division here or even as high as the Second Section back in the UK.
Langhus Brass conducted by Idar Torskangerpoll were the deserved victors after a performance of merit on a test piece that will surely become a cult classic – 'A Breathless Gnu Kiss!' Forget what it may sound like (or even look like in your minds eye), this was a cleverly realised work based on an anagram of the bands name from the Norwegian alphabet (so don't try and work this out at home). It was full of drama and atmosphere, and although it was in need perhaps of a little more light and shade in dynamic variance it required a high level of technical and musical competence from the performers to come off.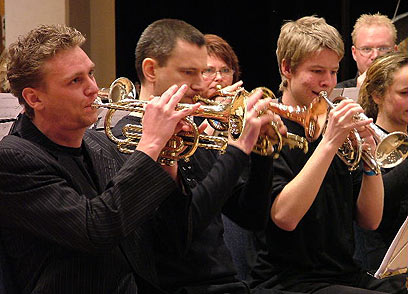 Langhus lads and lasses deliver a lovely breathless kiss of a performance

Luckily Idar had a very talented bunch of players at his disposal and on their first appearance at the contest for over 6 years, and after only having 18 members a year ago, they delivered all that was asked of them and more in winning. It was a cracker of a show.
Second place was taken by Kjolsdalen Musikklag conducted by Arvid Anthun, a name that many will remember in the UK from his time as bumper up at Fodens in the early 1990s. This talented MD has worked with some of the best bands here over the years - and you could see why.



Gothic dancers: Kjolsdalen's cornets line up

Their performance of Alan Fernie's 'Gothic Dances' was full of detail and excellent ensemble work, although it didn't quite get off to the start they would have wanted with the solo euphonium player standing at the front of the band and the cornet section in an arch behind it. After that though it was a real top-notch effort and pushed the eventual winners all the way.
The final performance that would not have been out of place in a higher section was the band that came third, Lismarka/Mesnali Brass conducted by Morten Fagerjord, who performed Stephen Bulla's 'Images for Brass' with an authentic American feel for the music. Like the other prize winners they had the ability to blend their sound and produce a lovely rounded bass led foundation.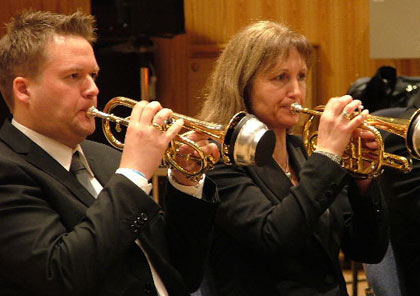 Producing the right Image: Lismarka take 3rd place with an American theme

A more mature band than many, they also took to the stage with 5 basses, 4 troms, 4 horns and 7 on the back row – some band to keep under control, but one that the MD managed with admirable aplomb.
Behind the top three bands it was a much closer affair and it must have taxed the two judges to the full in separating them out. In the end they did an excellent job and it was great to listen and speak to them after the results when they revealed the reasons for their choices. They are two impressive musicians.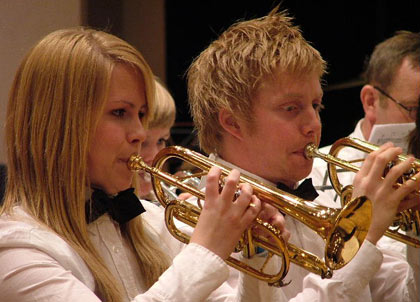 Cornet variations: Brumund gain 4th spot with a neat bit of chorale playing

Fourth place went to Brumund Nordaasen Musikkforening and this too was well deserved for a neat and tidy performance of the Leighton Lucas 'Chorale and Variations' that will test bands later this year in the UK. It may just have lacked a touch of quality in places, but overall it was a fine effort with a super cornet player and an MD who caught the feeling for the music to a tee.
The final top six places went to Kaland/Lysefjorden in fifth and Fla Musikkoprs and Rudsbygd Brass in joint sixth. Kaland delivered a well managed performance of 'Lydian Pictures' from the number 1 slot that just had a couple of tuning issues that spoilt, but nonetheless was an intelligent performance with a cracking soprano player.



Giving it her all: Kaland's soprano player does her bit - and more...

Meanwhile Fla also used their resources well and their mature band delivered a mature performance of Peter Graham's 'Northern Landscapes' that just fell away towards the end when it got a little scrappy. Rudsbygd produced a decent effort on 'Anglian Dances' that featured some great bass sounds and neat flugel, although they just got a touch scrappy towards the end as stamina started to tell.

The Fla man: Fla Musikkorps euph player seems relaxed enough

Both Fagernes Musikkorps and Hordvik Musikklag had plenty to be pleased about in coming joint eighth. Fagernes perhaps bit off a little more than they could chew with 'Music for a Festival' by Philip Sparke and although it was bold and assured it did lack a little dynamic control and it got a little loud and brash towards the end. It was a decent effort though. Hordvik suffered the same problems, although they should be congratulated on making the most of their limited resources. Their performance of 'Laudate Dominum' had its moments but it got a little untidy in the final movement and lost focus, although it was still an exciting interpretation.
Skeie Gladbrass can count themselves a little unlucky that they didn't come a bit higher after they delivered a very tasteful performance of 'A Celtic Suite' that featured a wonderful full band sound and a super euphonium player who really was on top form. The slower Suo Gan movement may have cost them though as it became a little lumpy and over stylized whilst the final Men of Harlech meets Year of the Dragon perhaps didn't show their abilities to the full. A strange piece though – not one of Philip's best.
The bottom three bands shouldn't be too downhearted and there was plenty to admire in each of their performances, even if the music may not have suited one or all of them.
Stavanger possibly drew the shortest straw with Goff Richards awful 'A Saddleworth Festival Overture', which for some unknown reason (to us that is) comprises every tune from Australia ever written, plus Bread of Heaven. There must be a reason for that, although it was lost on us, and even though there was some fine playing from the band, and their flugel player in particular it was a piece that amounted to little if nothing of consequence and so rather penalized the band.
Lalm Musikkforening may have lost a few marks with the set up of their band, which featured a huge gap down the middle filled only by a single horn player. That gave a mismatched balance to the overall band sound and although the MD drew some nice moments from their choice 'Legends in Brass' it never quite came to life.
Finally, Hetlevik Musikklag who took to the stage a little low on numbers but high in spirit and confidence and produced a notable effort on Philip Sparke's 'Triptych' that suffered with some tuning problems but also featured some lovely touches from some of the solo players and the MD who encouraged his players right to the very last note.
It all rather summed up a great little contest that showed just how good the bands here are becoming. The top three in particular were excellent, whilst everyone else produced playing to be proud of. Can't wait until next year.