2007 Norwegian National Championships - Second Division retrospective
15-Feb-2007
Some great performances and a winner that stood out for their passion and emotion. Who said Norwegians can't play from the heart?
---
The Second Division contest was the one on the weekend when almost all the constituent parts fell into a very neat and tidy order both for the judges Kim Lofthouse and Alex Schillings as well as the audience in the Grieg Hall.
All the bands performed with merit, but the obvious qualities of the best bands did stand out somewhat and made the task of picking them out fairly easy for the experienced judges, both of whom did a fine job (with the possible exception of missing out the one band).
As in the UK it is difficult to really assess the relative standards of the performances in both the Second and Third Divisions as in many cases the bands are somewhat interchangeable in terms of ability. However the winners and runners up were a class apart and would not have sounded out of place in the First Division here or in Section 1 in the UK. The difficulty though was that it was a question of making a comparison between musical apples and pears – or musical apples, pears, oranges and bananas as Kim Lofthouse wryly told 4BR after the announcement of the results.
It was therefore good to find out that the organizers had placed two experienced brass musicians in the open box so to speak, with Kim Lofthouse on particular someone who has a great deal of experience of knowing just what to look out for in the repertoire that was being performed.
The winners were Jolster Musikklag conducted by Arvid Anthum, who as we have said before should be well known to those who followed the Fodens Band under Howard Snell at the turn of the 1990s and who has worked with considerable success with the likes of Eikanger as principal cornet and as conductor with Manger, Stavanger and others over the years. He is a very classy baton man.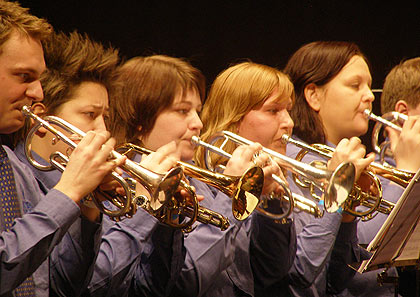 Perfect line up: Jolster head for victory

He had also chosen a very intelligent test piece to showcase his bands ensemble and solo strengths in Ray Steadman –Allen's 'The Lord is King' a work of considerable emotional impact when performed with an understanding of its inspiration.
This was apparent here from the very start which was strong and composed and which also featured an excellent solo cornet and trombone section. The second movement was full of passion and emotion too and by the end of a tight and accurate third movement there was little doubt that they were the band to beat – it was very high class playing and all led by a very high class conductor.
The band to run them the closest was Tertnes Amatorkorps who were also led by an intelligent and impressive young conductor – Tormod Flaten, who is usually seen and heard plying his trade with considerable skill with Eikanger in the Elite Section. His band has come a long way in a very short period of time (they won the Fourth Division here in 2003) and just like Arvid, Tormod made an excellent choice to suit his band in Bramwell Tovey's 'Coventry Variations'.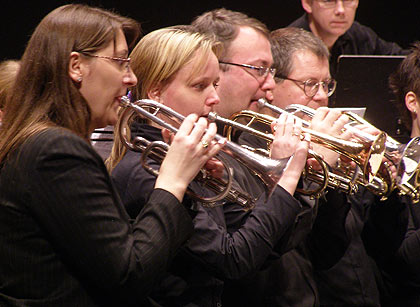 Sent to Coventry: Tertnes claim the runners up spot in fine style

The opening may have been a touch heavy in the bass section in places, but there was some wonderfully tight and accurate technical playing on show and a lovely flugel voice in the slow second movement. It just got a touch hard in the final section, but once again a neat piece of cornet work and a solid ending brought them the runners up spot. This is a good band and a very good conductor heading in the right direction.
Third pace on the day went to Orkog Brass conducted by John Hudson who chose to perform a real favourite of the conductor, 'English Heritage'. To be fair it wasn't quite as good as that famous 1990 National win but nonetheless it was a performance that had considerable merit, although it may have benefited even more if Alan Morrison was used to greater effect than just pumping it out on third cornet!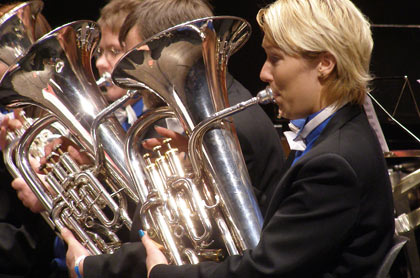 Euphonium heritage: Orskog's euph put in the hard work to help claim 3rd place

It did get a bit messy towards the end, but a bold tuba soloist was the pick of their bunch, and we think they would have been delighted by coming as high as they eventually did. We had them quite a bit lower.
Out of the podium places but in the top six came Brottum, Hornokesteret Stavanger and Stangaland Brass all of whom had their moments but also suffered with insecurities too.
Brottum didn't quite do it for us with 'Diversions on a Bass Theme' – an over ambitious choice if truth be told that suffered with hard tones and considerable tuning difficulties. There were good moments in the middle but it tailed off rather at the end and we felt it wouldn't feature at all. How wrong we were then!
Stavanger meanwhile produced a fairly authentic romp through Martin Ellerby's enjoyable 'Chivalry' that featured a fine bit of euphonium playing and was technically if not musically secure.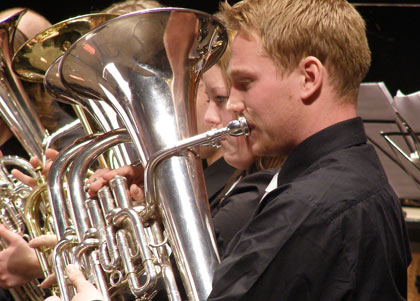 Chivalry: Stavanger's euph player lends a helping hand

It just lacked that Saturday morning pictures feel of fun and games and by its end had become something of a grudge match between the MD and his band with neither wishing to contemplate controlling the dynamics. Stangaland really took a risk with 'Variations on a Ninth' – a piece that has caused more than a few casualties both here and in the UK over the years. This wasn't a bad effort, with pretty decent efforts on the famous cadenzas, although it did lack that essential bit of Vinter wit and lightness of touch especially in the tricky opening variation where the cornets are joined by the off beat trombones.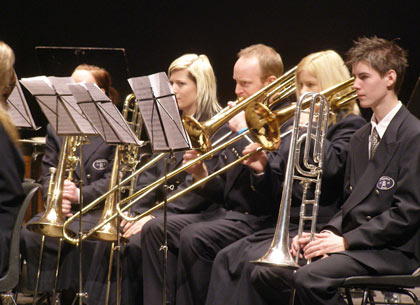 2 out of 5 ain't bad: Stangaland's troms take it in turns

Out of the top six and the standard did fall away a little with a number bands just failing to realize that their ambitions were in excess of their talents. There were some though who were unlucky.
Vennesla Kritine Brass produced a rather underwhelming rendition of 'Tallis Variations' that was technically pretty secure but lacked that essential 'English' feel for the music, whilst Gjesdal can count themselves unlucky after producing a fine account of 'Firestorm' by Stephen Bulla that seemed to us to have everything, except perhaps the little bit of luck it needed to come in the prizes. We had them right up there at the top end, but the judges didn't quite like the approach and penalized them quite severely. Apples, pears, oranges and bananas – not one of them it seemed for the judges.
Tysnes may have taken to the stage looking as if they had just had a night on the town, but they did produce a nice big sound on 'The Year of the Dragon' only to find out that despite a good trombone soloist, that all counts for nothing if you can't play the last movement up to speed. It was as if the old dragon had become asthmatic – and they paid the penalty.
Sagvag starting badly on 'A London Overture' but it recovered with some super cornet playing, decent trom and an OK'ish horn. It had some neat moments thereafter but overall it was a pretty dull showing. The same could also be said of Tromso too with a rather strangely shaped account of 'Dances and Arias' that could have been disastrous if it wasn't for the excellent playing and cool head of the euphonium player when faced with mechanical breakage and an energetic finish that give the performance an upbeat note to end on.
The final two bands, Flesland and Bergen struggled somewhat however. Flesland opted for Torstein Aagaard-Nilsen's interesting 'Dampsanger' which showed itself to be a quite complex but enjoyable work that perhaps needed a better band to make it come off as intended, but deserved to come higher, whilst Bergen rather bit of more than they could chew with 'Diversions on a Bass Theme' by George Lloyd which at times only bore a tenuous resemblance to the piece itself – it wasn't good.
Overall though a pretty good contest that really did have its moments of top quality in the shape of the two bands that came first and second, a number of bands with merit and realistic ambition, far too many with over ambitious choices and a couple that could count themselves unlucky not to have come much higher in the prizes. Who could ask for more?