2007 Norwegian National Championships - Elite Section - Set Work
15-Feb-2007
Cloudcatcher Fells is a piece full of atmosphere and beauty, so why did so many Elite bands fail to see it in the music.
---
The famous Danish architect and designer Hans Wegner died just a few days before the start of the 2007 Norwegian Brass Band Championships in Bergen. A brilliant man, his iconic chair designs (including the famous round chair seen worldwide when John F Kennedy and Richard Nixon went head to head in the 1960 Presidential election race live on American television) influenced a whole generation by the way it combined form and function to nearly perfect effect.
Even in the Grieg Hall there were copies of his original in one of the reception rooms, and although they are superbly crafted and constructed, they are austere pieces that lack any emotive response either to their surroundings or to the person who has to sit in them. They are neither particularly comfortable, strikingly eye catching or immensely practical – they just do the job for which Hans Wegner designed them to do – an occasional chair for sitting in. Form and function is everything.
It was exactly the same feeling you were left with after listening to 10 performances from Norway's Elite bands on John McCabe's 'Cloudcatcher Fells'. Impressively constructed, functional performances that were technically of a very high class, but almost without exception lacked any kind of emotional input. These were musical portraits of one of the most beautifully emotive places of natural beauty in Europe painted by numbers.
It is difficult to suggest why that may have been so, given as we have said, the hugely impressive technically gifts the bands here possess, but what they constructed time and time again was an interpretation of a landscape that they as performers clearly failed to understand on an emotional rather than purely cerebral level.
That may also have been slightly more surprising given that there were so many top class conductors on parade too – including a number who certainly knew what the Lake District looked and felt like, but this was not a reflection of their short comings, but those of the players themselves.
A few years ago we listening with a great deal of surprise (and some sadness) that the players here seemed musically incapable of understanding the unwritten feelings that underpin Eric Ball's music – the performances of 'Kensington Concerto' being cold and emotionless recitals. It seems in the interim that nothing had changed. Perhaps they don't play enough of that type of music, or that they just don't like it, but when it comes to perform classic brass band repertoire, the top bands here sound like very proficient brass ensembles, and not living and breathing (and flawed – which is perhaps a greater characteristic) brass band. They have the form and they have the function – but they lack the emotion that so characterizes the very best British bands - that sense of fragility that may result in the odd clip or blip in solo and ensemble lines, but can invariably send a shiver down your spine or put a tear in your eye.
So it was here. 'Cloudcatcher Fells' more than most is a piece that needs an understanding from performers of its inspiration. The poem by David Wright is a cipher no more - what you need to do is get out the musical climbing boots and take a trek into the wilds. The Norwegians knew this for sure, but most went for a hike up Grisedale Tarn decked out in Antarctic survival gear, crampons and ice picks at the ready, when all that was required was a sensible pair of shoes, a warm jumper and a packed lunch – the challenge wasn't the climbing to the top of Angle Tarn but the chance to appreciate the beauty of the view when you got there.
The best performances came from the three bands you expected them to come from: Stavanager, Eikanger and Manger (although not according to the judges). Three performances of the very highest class, all technically proficient and impressively constructed, but all three still lacking in that essential emotional ingredient which would have given any one of them a clear cut winning margin.
All three MDs tried their very best to draw something from the musical soul of their bands, but as deep as they drew from the emotional well, the bucket came up empty time and time again.
There was little to fault with Stavanger, yet it wasn't a performance that either set the pulse racing or sent a shiver of joy down the spine. It was also a performance that highlighted another weakness, not just in their impressive band, but also with the vast majority of bands here on the weekend too – the lack of really high quality tenor horn sections.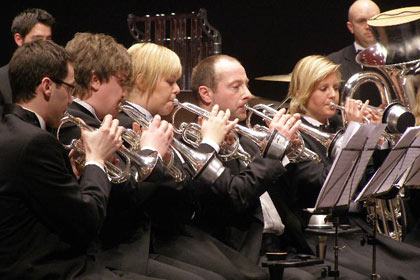 Climbing to the top: Stavanger take top spot on Cloudcatcher Fells

We are used to fabulous tuba players (and there were many this weekend) and amazing euphonium, cornet, soprano and trombones (and there were plenty of them too), but there were not many examples of tremendous middle of the band sounds.
Too many horn sections were overpowered by the top and bottom ends of their bands, whilst a number of flugel players just sounded as if they were converted trumpet players with a remit to add power and little else to help the middle of the band out. There was a distinct lack of warmth (as well as the ability to play quietly) in many performances and given that 'Cloudcatcher Fells' is essential a piece that requires autumnal blends of balance it resulted in a lack of subtle balance and carefully layered timbres.
Stavanger nearly had it, although Allan Withington did choose to enjoy the scenery whilst hiking at the pace of Olympic walker. It was however an impressive technical achievement – not without some moments of unease, but featuring some rock solid contributions from Espen Westbye on soprano in particular and an immensely powerful ending that really did test the foundations of the Greig Hall to the full. It gave them a narrow one point margin to take into the Saturday and it was well deserved.
So too Eikanger, with MD Nicholas Childs opting to open with his horn section placed at the back of the hall (a repeat of Cambridge with Scottish Co-op). Unlike there however the better acoustic in Bergen made the effect redundant as the sloping roof of the auditorium negated any 'distant' feeling.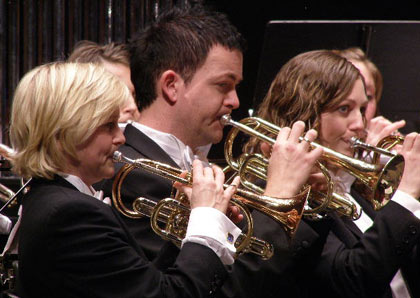 Just missing out on the summit: Eikanger have to make do with second place

The MD also chose to rely on single front row cornets to play the difficult back row parts in the opening sections, a move that didn't work either, so by the time they came to the most authentic and emotional 'Angle Tarn' of the day, they were playing catch up. Not even a huge ending could disguise the fact that this wasn't Eikanger at their very best (too many little errors spoilt the picture) and they couldn't have a complaint at eventually finishing second on the Friday night.
Manger very nearly put themselves in pole position with a strong performance under the baton of Robert Childs that didn't quite do justice to a superbly crafted reading that asked for emotion and pathos from his players but perhaps was a touched too reserved in response for the judges – although not for us.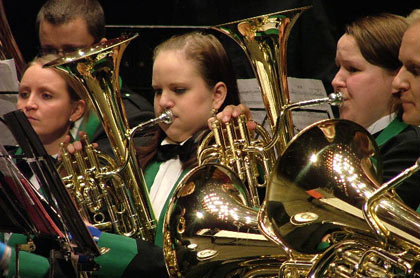 Playing their part: Manger's baritone section try their best to impress the judges

Some nasty little moments just robbed it in places, but it was the one performance of the day that was set out to place the emotion in the music first and foremost. That it came 6th was a disappointment to the band and to most people in the hall – we had them a very close 3rd.
These three bands were some way ahead of the rest for us, but a special mention must be given to Michael Antrobus and Oslofjord Band who were the final band to take to the stage. This was a fine performance set up with a superb start that certainly set a final marker for the judges to look at, whilst it was great to see the MD on such fine form during the whole of the weekend. We had them 4th but the judges had them lower in 7th.
Krohnengen too delivered a well crafted account under the baton of the impressive Selmer Simonsen that although just suffering from occasional lapses in concentration (Angle Tarn was messy and didn't need the dusters to help) was delivered with a sense of musicality allied to a fine reading from the MD. We had it 5th with the judges liking it a bit more in 4th, but it was a performance of real merit and stature.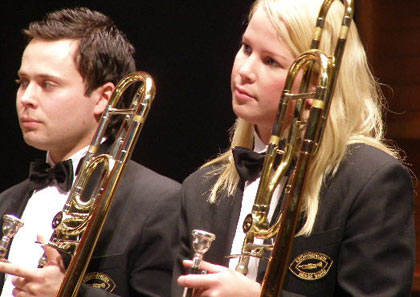 Wondering what to do next? Not so for Krohnengen's trom section

Behind these the standard dropped somewhat for us with Ila Brass Band for us the best of the bunch with a performance off the number 1 draw that provided a decent marker for the rest to follow, whilst Sandefjord under Garry Cutt could count themselves more than a little unlucky to end up awarded 9th place after a pretty solid account that although not touching the standard of the top three was close on their tails. Meanwhile Molde directed by Alan Morrison delivered a carefully crafted performance that perhaps needed to lose the shackles at times – it was a bit one paced. These performances had plenty to offer, but just lacked that emotional input that was needed to lift them up higher.
That left the two performances from Tertnes and Tomra that rather baffled us.
Tertnes were placed 3rd by the judges with a performance that they certainly liked in approach and execution but which for many in the hall who had heard all the bands seemed lack lustre and lacking in quality.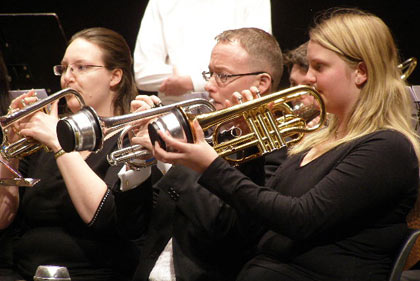 Tertnes trio: The back row do their stuff for Tertnes

It did have the odd moment to savour, but so many of the basic ingredients were missing for us and we had them down towards the bottom of the pile in our summing up. Still, that's contesting for you – even in Norway.
The same could also be said of Tomra under the direction of Frans Violet who were short on numbers, although the MD did make the most of his limited resources.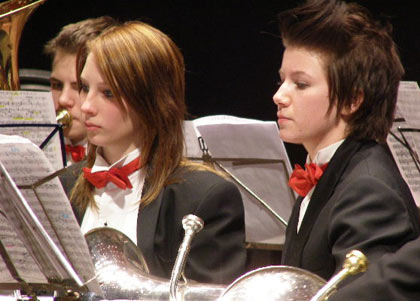 Hair today - gone tomorrow? Not so for Tomra's euph player

Even though there was much to admire in the reading and approach the sound and quality of the execution wasn't in the same league as the other top bands in the day and it was something of a mystery to us that they finished so highly on the day.
It all rounded off what in reality had been something of a disappointing set work section to the contest. Despite the best efforts of the MDs the players hadn't really got to grips with the understanding of the music that was required and as a result we were left with that form and function feeling – just like those Hans Wegner chairs.