2007 Norwegian National Championships - Elite Section - Own Choice
15-Feb-2007
It may have been hard work on an English classic, but the Norwegians certainly played to form on their own choice selections with Stavanger clinching victory with a brilliant piece of Mozartian Wilby.
---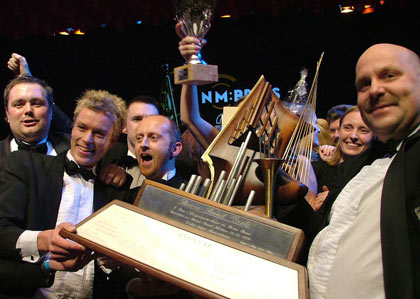 That winning feeling: Stavanger players celebrate their National victory


The climax of the whole Norwegian Championships came on the Saturday with the own choice section of the Elite Division.
The same three adjudicators – Aline Nistad, Maurice Hamers and Torgny Hanson were once again in the box (although to be fair it was a pretty flimsy box made out of cloth) and they were presented with the almost impossible task of comparing and contrasting 10 individual performances of eclectic works from the bands.
The rules of the contest ensure that no one performance can be repeated here, so what would have been many peoples first choice had to be substituted for a second or even third depending which band was drawn out of the hat before the event. It meant that some choices perhaps didn't suit the bands needs and requirements as much as they hoped and may have accounted for the slightly contentious results that were revealed at the conclusion of the contest.
Interestingly Maurice Hamers told 4BR that the judges felt that a number of bands tried to impress with choices that certainly didn't highlight the actual strengths of their personnel and were perhaps made with an eye to impressing with the choice of repertoire rather than the actual performance. That said then – why on earth did 'Journey to the Centre of the Earth' so impress them, whilst 'Seid' didn't?
It was like comparing apples and pears Maurice said: but that was like comparing a tasteless French Golden Delicious with a British Comice pear and still picking the apple on the grounds that it looked better in the box.
Still, with such diverse repertoire on display it would be hard to suggest the judges got it completely wrong – they didn't; but there were a couple of choices that they made which seemed to raise more collective eyebrows than a Roger Moore convention.
Stavanger certainly got it right with 'Vienna Nights' – the Wilby/Mozart tour de force that when played brilliantly (as it was here) can simple be an unbeatable combination.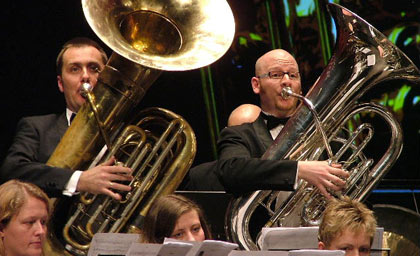 What a pear: Stavanger's basses lead the Mozart way

Allan Withington delivered a reading of musical intelligence that allowed the Mozart to be delivered simply and without pretentiousness yet encouraged the Wilby to be executed with awesome technical ferocity. It made for an intoxicating combination of styles and although he took risks (the final Turkish Rondo was taken at breakneck speed) he had the players to do it justice (including a quite brilliant tuba player) and it was only a matter of whether or not it appealed in the box for it to strike gold. That said though they very nearly blew it with the speed – it was as hot as the proverbial off a shovel and it did also featuring a horrendous split in the final bar, so that was perhaps why we had it just behind the other two top performances on the day.
We had it in 3rd – but that was more to do with personal preference more than anything else. Some band, some conductor, and if they click like this again in Birmingham they could well be crowned European Champions.
As with the Friday, it appeared to many that the three most compelling performances came from Stavanger, Eikanger and Manger once more, although there were others who felt quite strongly that Krohnengen and Oslofjord had once again made a lasting impression.
For a second time in two days Eikanger produced a high class performance that although touched with moments of magic also contained lapses of concentration and too many forced and unforced ensemble and solo errors. 'Eden' is a superb piece of music as well as a real tour de force of technical substance but if those two elements are not 100% it really does show.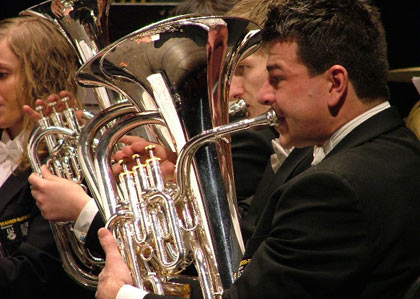 East of Eden: Tormod Flaten tries his best to lead Eikanger to victory

On this occasion Eikanger nailed the music completely but in doing so failed to match all the technical challenges imposed too. Nicholas Childs allowed time and space for the musical content to grow and gain momentum, but just when it felt that it was going to thrill the pants off you, the feeling was held back by some sloppy ensemble work and some individual failings in exposed solo lines, especially in the redemptive build to the climatic ending of the piece. It may not have deserved 6th place but it wasn't a winner by any means, although we felt that it may have just done enough (and we do mean only just) to give them overall victory.
For the second time in two days Manger could count themselves very unlucky. The choice of Torstein Aagaard-Nilsen's immense 'Seid' was a brave one, but it was fully justified with a performance that was hallmarked by excellent ensemble balance and detail and some fine individual contributions – right to the very end in fact with the tortuous soprano line.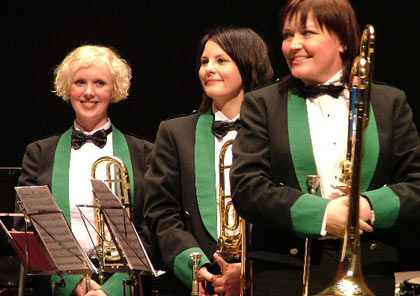 Something to smile about? Not for Mangers fine trombone trio

Why it failed to register in the box and was placed 5th we don't know – perhaps it was not even an musical apple or pear – but we had them as leaders by the narrowest of margins on the day and runners up overall.
The band that really did make an impression though was Krohnengen conducted by Selmer Simonsen who chose the equally daunting 'Ginnungagap…seeming emptiness' – a work that even in its reduced form is a musical marathon. This was a cracking performance, full of colour and texture, interesting timbres and some splendid percussion work. The MD was excellent and so too were his players, who despite a few lapses and a loss of focus towards the end of the piece maintained the interest for the listener and the judges in the box.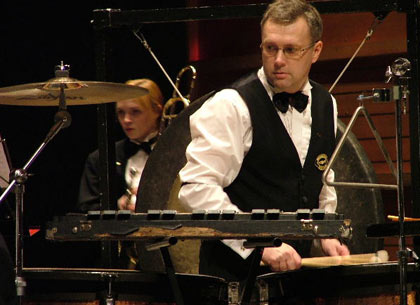 Putting in the hard graft: Krohnengen's percussionist does his bit to fill the emptiness

2nd place was perhaps a touch high for us (although Professor David King had it bang on the mark when asked who he thought may feature) and overall they must have been delighted with their result as runners up. Mr Simonsen is a little gem of a conductor and one to keep an eye on.
For the second time in two days Oslofjord impressed just about everyone in the hall – including the judges who placed them 4th (we had them there too) after their performance of 'Aubade – Dawn Songs of the Fabulous Birds' which just had the right exotic feel of both the absurd and the magical about it.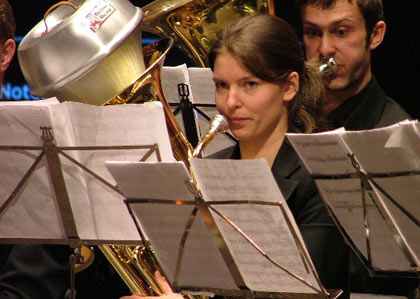 Keeping an eye on things: Oslofjord's euph and tuba player concentrate the eyes

There was some wonderful individual playing too, but the star was the MD who controlled things like a bird keeper at the local zoo – all smiles, a tight whip hand and plenty of encouragement.
Meanwhile Sandefjord were left to ponder the absurdities of contesting life after a performance of merit under Garry Cutt of Philip Sparke's 'Dances and Alleluias' that although never one that would have really troubled the very top bands had more than enough about it to certainly put it in with a shout at least of a top six place.
Mr Sparke's music tends to illicit varying opinions here in Norway – many loving it, but many also finding it as appealing as cold porridge (and this from a nation that eats raw fish for breakfast). After this showing you were left wondering if it was a piece that wouldn't have registered in the box in any circumstances.
Molde on the other hand may have been a touch fortunate to have come 7th with a 'Harrison's Dream' that was more Seiko than Omega in timepiece quality, although Alan Morrison did try his best to draw some inspirational playing out of his charges. It didn't work though and they seemed to sound tired by the time the rather perfunctory bells were played and the run for home was on. 7th place was a touch generous we felt.
That just left the three performances form Ila, Tertnes and Tomra – and what a mixed bag they proved.
Ila went for 'Chain' – a piece that is as exciting as counting the links on the jewelry of your granny's lucky charm bracelet. Despite the middle section that featured a superb flugel and tenor horn, the rest of the piece is a metronomic borefest that repeats itself with the 'Nice one Cyril' motif more times than would have been sung on the Spurs terraces when Cyril Knowles was actually in his prime. It is not a great piece, and although pretty well played it was a rather underwhelming choice.
That just left Tertnes and the rather baffling 'Ascending – learning how to fly', which was as we said at the time a composer's flight of fancy that never really got off the ground – literally in fact at the end when rather mysteriously it all crashed and burned like the Hindenburg zeppelin.
This seemed to be a choice aimed at the box rather than with their own playing strengths in mind and although it had its moments of interest it was a piece that never caught the imagination as it was surely intended to do.
Finally then, Tomra and 'Journey to the Centre of the Earth', and as good a smoke and mirrors job that you would ever wish to see and hear from Frans Violet who directed things every bit as impressively as David Copperfield making the Statue of Liberty disappear.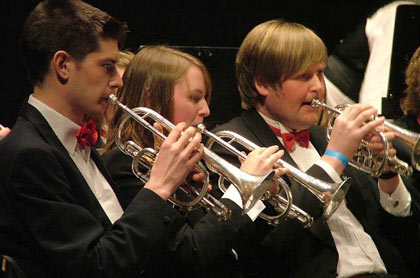 A nice journey: Tomra take their place in the prizes

How this came 3rd we never know, as although it wasn't a bad effort (although no better than they played last year with it in winning the First Division) it lacked depth of sound, technical security and was ragged and tired to close. Oh – and it also contained the most noticeable bit of part swapping you are ever to hear in your life – with the solo cornet playing the horn part with a baseball cap over the bell of the instrument – making it sound more like Babe Ruth than a good looking babe in distress in the depths of the earth. Some trick though – and one that hoodwinked the judges into awarding them 3rd – we had them 9th.
That was it then and all that was left was a cracking little concert before the announcement of the results. Here there was plenty of excitement – especially from Tomra's representative who nearly wet herself with delight when she realized her band was still in the hunt with only four places left to be announced.
A sharp intake of breath accompanied both Manger and Eikanger's result, but there was a real sense of joy and delight when Stavanger (who had earned their money by playing part of the concert and providing the fanfares for the other sections) raced back onto the stage to collect the huge lump of wood and metal as winners of the 2007 Norwegian Nationals.
Four wins in five years now – they are a band on a mission both here and in Birmingham and with Allan Whithington at the helm they could well return to Bergen next year (and their home town for the 2008 Europeans) as champions of Europe as well.