2007 BBC Radio 2 Young Brass Soloist of the Year - Retrospective
20-Feb-2007
Royal Northern College of Music
Manchester
Saturday 17th February
---
Finalists:
Jamie Cooper, Rebecca Crawshaw, Ben Thomson, Matthew White
Accompanied by the Black Dyke Band
Conductor: Dr Nicholas Childs
Presented by Frank Renton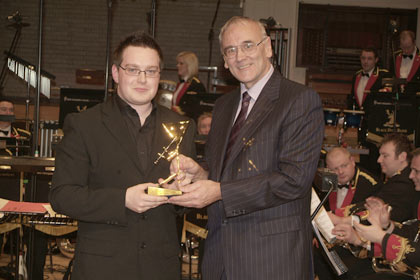 Ben Thomson and Robert Morgan: Photo - John Stirzaker
Quite often when a sporting fixture plots two teams (or players) against one another who are playing at the top of their game, it is regularly referred to 'having that potential to be a classic' and then you sit down to watch it and occasionally it is a damp squib and very much over-hyped beforehand.
With four quality brass players all playing with Championship Section bands around the UK having made it through to the final of the 2007 BBC Radio 2 Young Brass Soloist of the Year on Saturday, it most certainly did have the possibility to be a cracker and it lived up to expectation as well.
All four participants had local connections: Defending champion Ben Thomson is in his third year at the RNCM as was fellow competitor, Jamie Cooper; Matthew White studies across the City at Chethams School of Music, whilst Rebecca Crawshaw, currently studying at Cambridge University, has local connections as well.
Yes, there were nerves and errors, but it all added to the tension of the night with all of the four finalists giving fine accounts of a variety of repertoire. Most importantly though, regardless of the result, they were a credit to themselves and the bands they represent and all of them will have benefited from the experience of reaching final both as individuals and performers.
As a competition, this is something that has grown in importance for the individuals who take part and the overall standard continues to improve as the years go by. Being selected to compete in the semi-finals is one thing, to compete in the final is another and as some of the finalists commented afterwards 'How many people get that chance to play a solo with Black Dyke?'
In its fourth year, the opportunities that emerge for the winners can not be discounted. Last year's winner Ben Thomson, benefited greatly through solo performances with Black Dyke, Brighouse and Fodens in addition to giving him enormous confidence in his self-development as a brass player. As a result, his playing has matured.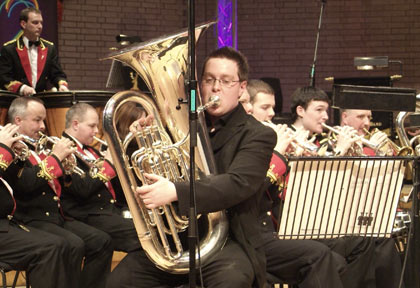 Ben Thomson: Photo - John Stirzaker
You can't blame Ben then for entering once again. Ben grabbed the opportunity to defend his title, but perhaps there were some present on the evening of the Final who suggested that the rules could be fine-tuned so that a player can only take the title once.
For the moment though, we should just revel in the fact that such a great young talent was prepared to put his reputation on the line, confident in the knowledge that he had the goods to carry off the title again.
Having won previously, Ben knew exactly what was involved and that experience most definitely helped him. This wasn't the reason he won though; he won simply because on the night he was the best performer. Fortunately for other competitors out there (or unfortunately from Ben's perspective) he can't go for a hat-trick of wins as he'll be too old to enter next time around.
Playing last of the four finalists, Ben looked completely at ease the moment he walked into the auditorium. Ellerby's Tuba Concerto is quite light in its texture and is in one continuous movement, split into two parts. The mournful opening section was played in a respectful manner and Ben really was at home in the lyrical sections where his sound was so warm and appealing and this was maintained through to the end of the work. In addition, Ben was one of the few players on the night that was able to play pianissimo notes with real quality.
Overall though, Ben's ability to hold his nerve, communicate with the audience and the maturity shown in his stylistic approach was something that found favour with judges Sheona White and Ray Farr when making their decision.
Robert Morgan the chairman of the BFBB was delighted to announce to the audience that Ben will now get the opportunity to perform with the Fodens (Richardson) Band in the Gala Concert at The English National Championships on June 30th as part of his prize. In addition, Ben will once again perform with the BBC Concert Orchestra and other opportunities to appear as a soloist are now bound to come his way.
Speaking on behalf of his fellow adjudicator Sheona White, Ray Farr told the audience 'We've had a fantastic display of talent. As a conductor, I would give anything to have any one of those soloists in my band'. Ray added, 'There was some wonderful moments of music-making from all four soloists, a few accidents but the overall standard of the performances was very impressive'.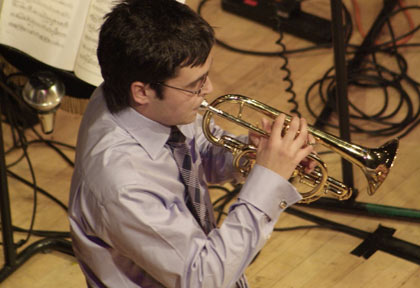 Jamie Cooper: Photo - John Stirzaker
Having been encouraged to enter the competition, it was Jamie Cooper, the 20 year old cornet player who took the stage first. The RNCM student chose Himes' Jubilance for his challenge and in addition to feeling at home in the surroundings of the Haden Freeman Concert Hall, he, like his fellow competitors, revelled in the opportunity to perform with Black Dyke at such a prestigious event.
The quick and exciting opening was an indication that Jamie wasn't short of confidence and he grew in confidence as he went along. His control at the climax of the work was most impressive.
Leyland's euphonium player, Matthew White, 16, chose Peter Meechan's challenging work, Devil's Duel, written for his teacher at Chethams in Manchester, David Thornton.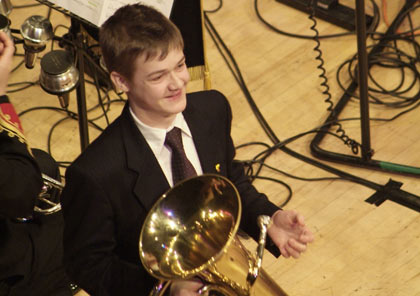 Matthew White: Photo - John Stirzaker
Without doubt, Matthew White is an outstanding talent and he showed why with a performance that belied his years. A fabulous sound; lovely technique and coped with the demands of the piece whilst communicating with the audience superbly. There was the odd glitch, but this young man is a natural performer who reminds this reviewer of David Childs when he first started to make an impact on the banding scene at a similar age.
Matthew thoroughly enjoyed the experience and was flattered when asked if he'd like to play Devils Duel. One thing for certain is that he will be looking to challenge for the title again in the years to come and the overall experience of competing here this year will be of benefit to him as a person and player.
Rebecca Crawshaw, Virtuoso GUS's soprano player was the only competitor to opt for two contrasting pieces.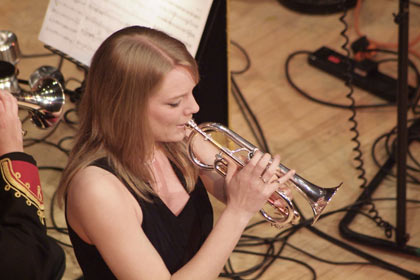 Rebecca Crawshaw: Photo - John Stirzaker
Her first piece was Jan Hadermann's Rendezvous; a work that requires plenty of control from the soloist with plenty of notation in the higher register. Rebecca showed plenty of poise in the melodic lines and like the other soloists wasn't short of confidence in her ability to deliver a musical performance that would make an impression with the judges.
Rebecca followed that with Joseph Turrin's 'Escapade' that was written for the talented Philip Smith. Once again, Rebecca demonstrated great control and presented another confident and competent performance that would have impressed the judges.
Black Dyke conducted by Dr Nicholas Childs had accompanied the soloists with real understanding throughout the night; they top-and-tailed the evening's music in fine style opening with Paul Lovatt-Cooper's 'Where Eagles Sing' (which 4BR has heard eight times now in five weeks from six different bands) and whilst the judges were coming to their decision performed their signature march, Queensbury together with Peter Graham's Cartoon Music that showcased the talents of its percussion team. They finished with the Berlioz overture, Le Corsair, where the band were in cruise control as it reached the climax.
If anyone is wondering what competing in a event such as this one is like should talk to Katrina Marzella, Brenden Wheeler and of course, Ben Thomson. Katrina and Brendon have gone on to become great exponents of their instruments and there's no doubt that Ben will follow suit and become of the brass band movements finest musicians.
No details are available at the time of writing on the 2008 competition, so look out for details later in the year.
The competition's final will be aired on BBC Radio 2 on Friday 23rd February at 9.30pm and afterwards via www.bbc.co.uk/radio2
Malcolm Wood