2007 Yorkshire Regional Championship - Introduction
26-Feb-2007
Yorkshire has a lot to be proud about at present – especially when it comes to their brass bands, so what a cracking way to start this year's Regional Championships by coming to Bradford.
---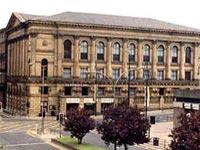 Championship Section:
This is surely the strongest Championship Section contest anywhere in the UK – and possibly the world, and we could very well be in for a rare treat this weekend if all the bands play to form.
The main event is surely the battle for the local bragging rights between Grimethorpe, all ready to try and gain their first hat trick of regional wins since the glory days of George Thompson, and Black Dyke, possibly on the cusp of a Open hat trick but without a victory in their own backyard for five years. If these two lock horns as they did last year then it could be one to remember for a very long time.
With that amazing result at London last year when the Yorkshire bands came back with all three podium places (they don't brag about the 14th spot however) it means that the White Rose county is now the powerhouse of Championship banding without a doubt.

That means there is set to be a battle royal too for all the prizes on offer with YBS under new direction also pre qualified for London and so free of any concerns and determined to make an impression under Allan Ramsay. Brighouse also have a new MD in the shape of Alan Morrison, whilst Hepworth, Sellers, Rothwell and Carlton Main would fancy their chances of winning an area title anywhere else. These five bands will slog it out for the two qualification places up for grabs, and it could be one heck of a scrap.
Come Sunday evening the atmosphere in a packed St George's Hall could well be cut with a knife. Nigel Boddice and Geoffrey Whitham will have a real treat to enjoy in terms of music making, but will have to have the wisdom of Solomon to sort the places out.

First Section:
After all the shenanigans of last year now well and truly forgotten (who are we kidding) there seems to be a real chance of a corker of a contest in the First Section too with a whole handful of bands more than capable of winning and winning well. Last year there was a poor decision made by the judges, (perhaps emphasised by the returns of 9th and 11th at the finals themselves) but it could be an even harder task for Brian Buckley and Richard Evans to make this time around given the quality of the bands on show.
Whoever gets through should be confident of doing well come the finals at Harrogate, where Yorkshire hasn't got the very best or records of late. The test piece may not be technically the most difficult for these bands to perform, but musically it is as difficult as it comes and the key could well come down to which MD can draw a detailed musical performance to the liking of the duo of experienced judges in the box.
Second Section:
Yorkshire did have a very good record of producing bands that went on to the National Finals and won after qualifying here, but in the last two years the best they have managed is 7th place.
Helen Perkin's 'Carnival' may not on the face of it be that difficult a test, but any band under estimating it would be heading for disaster – it is a little gem of a piece, dated and yellowing in appearance, but beautifully crafted nonetheless. There is a whole host bands that could well do enough to book their pace at Harrogate here with some ease, but the standard here in the Third Section has tended to be disappointing in recent years and with the exception of Kippax no one band really stands out. Brian Buckley and David Horsfield should have an interesting time of it sorting out the bands here.
Third Section:
In the Third Section there are lots of solid bands on display from Armthorpe right through to Rockingham and although the two qualifiers could only manage 7th and 11th places at Harrogate there are one or two bands here this year that could well fancy their chances of further success later in the year if they qualify.
The Third Section has over the past 10 years been a breeding ground for bands that have had high ambitions and plenty of talent to go all the way. Past winners here have included four bands that have gone onto the Championship Section – Skelmanthorpe, Rothwell, Todmorden and Marsden, and plenty of eyes will be on pre contest favourites Dodworth Collery MW to see if they too can join that club in the near future. First things first though - they will have too impress Malcolm Brownbill and Peter Roberts with a test piece that should ask enough questions to sort out the wheat from the chaff.
Fourth Section:
It is nice to report that there is once again a healthy turn out of bands in the Fourth Section with 11 bands making it to St. Georges Hall. There were just 8 in 2004, but in 1983 there were 31, so Peggy Tomlinson is getting things moving back in the right direction slowly but surely and there is a first appearance too for Tingley Brass.

The good news for the county is that they could celebrate a National Fourth Section title last year too – the first for many a year with Dodworth leaving Harrogate triumphant. Add that to the fact that in the last four years at least five qualifiers from here have reached the podium come the results at the finals and there is a sense that the trickle down effect of excellence has started to been shown in the section too. There should be a number of bands capable of doing well here and it is nice to see Yorkshire once more taking a progressive step forward with two judges in the box – with David Read no less being one of them. The bands will not have any cause for complaint come the results.
It should be a great two days of contesting in Bradford once more – and 4BR will be there to cover it all. Yorkshire has continued to employ two adjudicators in the box for each section – which is a very sensible and constructive way forward.
Peggy Tomlinson continues to do a fantastic job here in keeping the very best bands happy as well as nurturing and developing lesser and new bands into the bargain. There is just the one band not here this year and that is Grange Moor, which is a real pity as they have been something of a high flyer of late - lets hope they will be back soon and we are sure Peggy will be encouraging them to do so.

With someone like that at the helm, you can see why Yorkshire has so much to boast about.