2007 West of England Regional Championship - Introduction
28-Feb-2007
There is always a very warm and friendly atmosphere down in Torquay and even though they are not yet producing bands to challenge the very best in the Championship Section elsewhere it is full to bursting point with talent.
---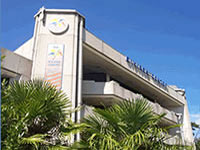 The West of England Championships are always something of a musical marathon – but always an enjoyable one, with plenty of top quality performances in the lower sections and a perpetual intrigue about the Championship Section.
Brian Elliot and his team do a great job in rounding up the bands here (the contest runs like clockwork), although they too have been faced with a few absentees this year as nine bands do not return to the stage from 12 months ago. To balance that out the good news is that at last one brand new band and a couple of others do return and so there is a sense that things are in pretty good health in this part of the brass band world.

Championship Section:
As ever the battle for championship honours should provide an intriguing contest for the listener as it is now over a decade since a reigning champion retained their title here. Can Mount Charles be the band to do it this year then?
The battle for domestic honours may be keen enough but on a national level there is still no sign of a real breakthrough for the bands here with no representation still at the British Open (the only area in the country not to have someone at the premier brass band contest in the world) and with the two representatives at London once more failing to make any real mark. Last year Mount Charles came 9th and Camborne 13th – not bad, but not exactly the type of form to make the best in Yorkshire quake in their boots.
Perhaps the bands here like the frothy entertainment contests better, but even though they can gain better financial rewards for their efforts at Butlins and Yeovil for instance we are sure anyone of them would prefer to be in the velvet draw bag at Birmingham in September. Time for the best bands to start delivering then – and no better place to show real intentions than here this weekend.
First Section:

Although there hasn't been a National First Section winner since the formation of the section in 1992, bands from the area haven't done too badly at the finals and last year's representatives Helston and Lydbrook came a decent 5th and 7th respectively at Harrogate.
This year there seems to be a very strong line up of bands to do battle here and it could well be a cracker of a contest on Eric Ball's tricky Wayfarer test piece. David Hirst and Barry Thompson may have their work cut out to separate the bands all of whom seem to have a decent chance of at least claiming a qualification place on paper as their rivals.

Second Section:

For a second consecutive year there was a fantastic sense of regional pride shown at Harrogate when St. Dennis became National Champions in fine style. In the past two years three of the four representatives from the region have filled the podium places at Harrogate and having a look at the line up of bands here this year that record could well continue later this year. There are some super bands packed to the rafters with talent here this weekend, but they will be asked a lot of questions with Helen Perkin's lovely gem of a test piece.
Lloyd Landry and Stephen Tighe will enjoy separating the best from the rest here we are sure as the standard promises to be very good, but ultimate success may come down to who manages to pick up on the very precise sense of style required on the test piece.
Third Section:

After very nearly a decade of continued success for bands from the region at the National Finals, things came to a bit of a halt last year when the regions two representatives, St. Pinnock and Gillingham Imperial Silver could only come home in 13th and 14th places respectively from Harrogate. That must only be a minor blip though as in the past the bands that make the journey from here travel with realistic hopes of a top six finish at the very least.
That record may well be put back on track this year though as a quick glance at the bands here shows plenty with the talent and determination to do well come September in Yorkshire. The test piece offers something for everyone too and there are more than a handful of bands who could well fancy their chances of catching the judge's ears. We will wait and see.
Fourth Section:

A fantastic turn out of bands as always in the Fourth Section, and a fantastic standard is expected once more. The region is unearthing little gems of players right, left and center and even though the overall standard of playing does vary at times, there is always a player or three in any band that catches the ear with their lovely playing.
Last year the region sent four representatives north and they came back in 5th, 6th, 15th and 16th places respectively – not a bad return, but one we are sure this year's contenders will wish to better. They will have to overcome a pretty tricky test with Philip Wilby's neat little suite but we are sure each one of the bands will bring something for Lloyd Landry and Stephen Tighe to enjoy.