2007 Yorkshire Regional Championship - Fourth Section retrospective
8-Mar-2007
There were no Ugly Betty's in the Fourth Section where all the bands and all the horn players stood up to be counted.
---
For years the tenor horn has been the Ugly Betty instrument of the brass band world: worthy but unexciting – a bit like your sister's plain best friend who used to go out with her on a Saturday night wearing sensible shoes, national health glasses and cardigan, only drank orange juice and followed her to the ladies toilet attached by an invisible umbilical cord and clutch handbag.
Not in Yorkshire's Fourth Section they're not.
On Sunday morning a whole host of them played like footballers WAGS – all glitz and glamour, 'look at me' confidence and a sense of style that would have left Trinny and Susannah panting like breathless heroines in a Jane Austen novel. Not one had a bad day (unlike quite few in the Championship Section later that night). These were horn payers with attitude that provided each of the 11 bands with a centre point around which they could build their performances.
Overall, the standard did of course vary, but each of the bands brought something out of Philip Wilby's 'The Seasons' that left the listener pleased that they stayed in the hall for each performance – something that was not always the case with the Championship bands later on.
It was also a feature that certainly impressed both adjudicators – David Read and Steve Pritchard-Jones, both of whom delivered excellent critiques of the piece and the performances to an appreciative audience. 'We were really impressed by the standard of the horn playing today", David said. "It was excellent and bodes well for the future of Yorkshire banding."
David spoke of his pleasure of being asked to adjudicate in the Fourth Section (something the bands appreciated too) and made the point that the test piece was one that would have benefited them enormously, as it enhanced their ability to master basics of technique and musicianship. Steve too emphasised that the standard was better this year than last – based mainly on the fact that all the bands had tried to master those all important basics of good brass band playing.
Both took the time to explain the pitfalls found in the clearly marked score: The problems of intonation in the first movement (although they knew they would be apparent); the question of style in the Waltz (both were impressed by the way the conductors approached this), and the final tempo difficulties of the third movement March (something David touched upon with a wry smile and a nod to his days as a Welsh Guardsman). At the end all the bands knew exactly what the two men were looking for and the reason why they either came in the prizes or not.
With all the talking out of the way, it was the Crofton Silver who was declared Champions for 2007 after they produced a controlled and neatly packaged performance under Malcolm Simpson MBE. It was one of real merit too with the MD giving very precise direction from the middle.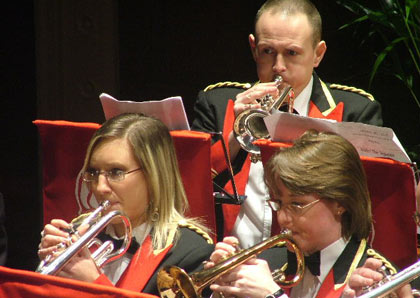 Studies in concentration: Crofton's cornets head for Harrogate

The opening section had a few tuning issues but the Waltz was spot on with a lovely lilting feel and a horn soloist who really enjoyed himself, even if he nearly threw it all away in the last two bars when he overcooked the final trills. A super March (with the 4 trombones on good form) and a bold finish rounded off things in style, and although we had them a close 3rd, you couldn't take away the fact that it was also more than worthy of taking the title too. On this form they will fancy their chances in Harrogate.
Close behind came Innovate Skelmanthorpe 'B', who were our choice as winners, but may just have been pipped by a slightly uncomfortable opening to the Waltz. Their percussionists (one with a fantastic mohican haircut) added just the right degree of effect and colour throughout (something many others did too on the day).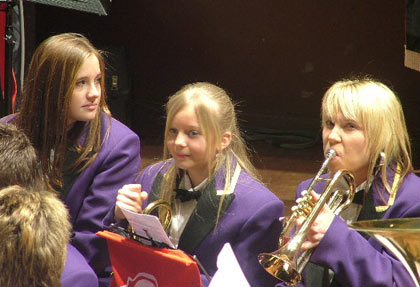 Ready and waiting: Skelmanthorpe's back row girls have a good look around

A controlled opening set things up well, whilst MD Phil Garlick kept a tight rein on the tempo and the sense of style. That little blip in the Waltz just put them off their stride a touch but a fine March rounded things off with purpose and they too will head for Harrogate confident of doing very well.
Just missing out was Oughtibridge under Roland Spencer, who delivered a well managed performance (we had them 6th) that made a real attempt at the dynamic markings. A controlled opening and a neat final March sandwiched a slightly quick Waltz section, but a special mention must go to their sole percussionist who had more arms than an octopus in playing just about every instrument he could lay a hand, foot or elbow on. It was a great effort in what was a fine cause.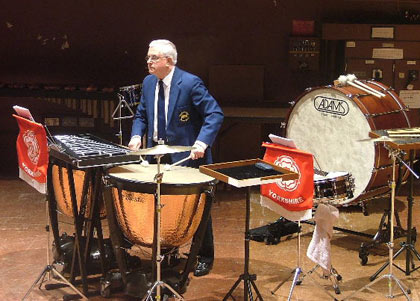 And for my next trick: Oughtibridge's percussionist covers all the bases

The final top six places were taken by Linthwaite, Barnsley Metropolitan and Friendly Band (Sowerby Bridge) – all of whom produced performances of good basic technique and more of their fair share of quality musicianship and sensible direction from their MDs.
Linthwaite were drawn last and had a bit of a wait to get to their seats – they were all lined up at one point as if waiting for the band bus at the side of the stage.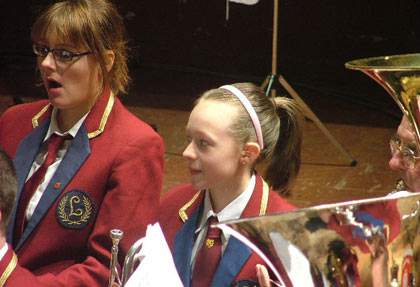 Don't yawn! Linthwaite's back row take a break

Once in their seats though they delivered a pretty good account of themselves – just let down by some poor tuning in the opening section, although there were some neat touches too. A well managed Waltz (enhanced by another multi tasking solo percussionist) and a bold, purposeful March set themselves up to feature come the announcement of the results and 4th place was bang on the mark for a performance of some note.
Barnsley Metropolitan had earlier produced the marker off the number 2 draw for the rest of the bands to try and beat. In the end it came a deserved 5th, but it was notable for the sensible and intelligent management of playing resources from MD John Grinnell (he only had three tubas to play with) and the exceptional (and we don't say that lightly) playing of their solo horn Andrew Thompson.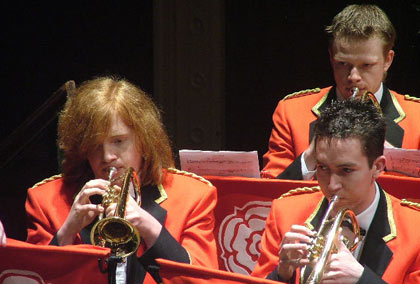 Colour coordinated: Barnsley make a mark on the prize list

This is a lad with a big future ahead of him if he carries on like this – it was wonderful stuff in the Waltz, and he even had the confidence to flick his fringe on his long hair out of his eyes with his one hand as he completed the two difficult trills at the end of the second movement with his other. Class or what! Both he and the band can be proud of their efforts on the day.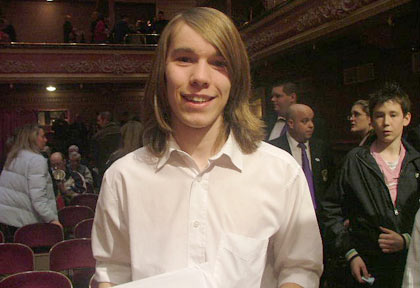 Star turn: Winning soloist Andrew Thompson

So too can Carol Caton and her Friendly Band (Sowerby Bridge) who produced a controlled and effective performance that we had in the runners up spot, but the judges had a touch lower in 6th. Carol's almost minimalist conducting style was a joy to behold (and in stark contrast to some of the histrionics later in the day) but it also allowed her players scope to express themselves too – notably an excellent horn and two cracking lads on percussion who really played their part with style. It may have been a touch light in places (no bass trom) but overall it was a performance that brought the sense of seasonal change out of the score.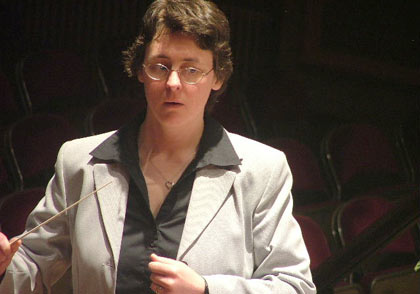 Don't look so worried! Carol Caton leads her band into the top six

After the top six the standard dropped a little (these bands in whatever order were a little way above the rest), but the other five produced accounts that although lacking consistency all brought something out of the music.
Lofthouse 2000 seemed to be going well and the two outer movements had much to commend, but a rather strange interpretation of the Waltz that had just too many pulls and pushes may have cost them a higher place. It was a bit like trying to do a Waltz with a roller skate on one foot, although to be fair they did show plenty of style and purpose in the final March that nearly brought them back into the prizes.
Haworth could be really pleased with their effort in coming 8th under Fiona Bishop, who worked her socks off (if she was wearing any) in keeping things under control when the adrenalin started to pump in the final March in particular. Her eyes were everywhere, but she cajoled and encouraged and smiled (and gave the odd grimace) and her band responded in kind. It was not without error, but it was a performance of character and confidence building and bodes well for the future, and also had two splendid percussionists (of a certain age it must be said) who enjoyed themselves to the full. Great to see and hear.
Tingley too can be mighty proud of their efforts on their debut back at the contest. Geoffrey Fowler helped along his band with encouragement and a sense of genuine enjoyment. It was by no means perfect but what an encouraging start. The little dwts (that Welsh for really small) on the back row were wide eyed with excitement as they took to the stage, but everyone played their part to the full and they could leave with heads held high (or in the case of some of their tiny tots, as high as the timps).
The band also had in their ranks the youngest player on the day – Master Luke McBeth (a proud third cornet player) who had the face of an angel, but we are sure the temperament and talent of a budding Richard Marshall. His proud parents were on hand to see him step with nonchalance onto the St George's Hall stage to accept his trophy. You suspect there are many more to come if he keeps practicing.

The next Richard Marshall: Young Luke McBeth claims his prize

Thurcroft Welfare could count themselves a touch unlucky to have come 10th (we had them 7th) after a performance that although well played was perhaps penalised because of the rather slow tempos chosen by the MD to try and portray that autumnal opening and spring Waltz. A couple of errors that should have been spotted by the MD (the horn played the trills the wrong way round) may have cost too but they are a better band than this result may have shown.
Finally, Markham Main, and although they struggled in places battled through to the end with a real sense of commitment to the cause. The two horn players who shared the Waltz solo and the two lasses on percussion were excellent, but the general ensemble playing wasn't quite in the same class. There were encouraging signs though that they too will benefit from this performance.
An enjoyable contest then, with three bands of merit at the top end of the prize list and many others who did themselves proud. It was noticeable that there was a good crowd in for this section from start to finish as well as the composer Philip Wilby and Robert Redhead, the composer of the championship section test piece. That tells you all you really need to know – a fine piece, some cracking efforts from the bands, and all those fantastic horn players too.
Iwan Fox.