2007 Yorkshire Regional Championship - First Section retrospective
8-Mar-2007
If the bands here thought they were in for an easy time with Eric Ball then they had to think again as only three really got to grips with the travels of 'The Wayfarer'.
---
Last year here we had all the fun and games after the announcement of the results as people tried in vain to get their heads around a top two that with the exception of the men in the box, nobody else thought possible. If that had happened again this year then St George's Hall would have been reduced to rubble.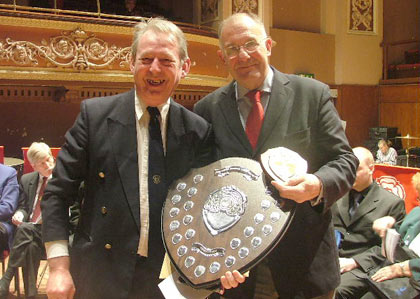 Prize guy: Stocksbridge's Arthur Cutts enjoys that winning feeling

It was a good job then that we had two judges that knew what they were looking for, and found it in three performances that by general consent were a class apart from the rest of the field. No controversy, no conspiracy theories, just a good honest result based on good honest playing. Stocksbridge, Pennine and Skelmanthorpe – any two from three would have pleased just about everyone at St George's Hall on Saturday, with the possible exception of the one band that unfortunately had to miss out. Mr Richard Evans and Mr Brian Buckley: Step forward and take a bow.
That said, it may not have been the hardest day's work both men would have undertaken – the three performances stood out somewhat from the rest of what was a pretty average and uninspired field. If Eric Ball was watching from a cloud up in the firmament then he would have been amazed that so many conductors thought 'The Wayfarer' was a musical score for a Steven Segal movie, such was the amount of testosterone fuelled aggression that was on show in places.
Richard Evans had it summed up perfectly when he said that Eric Ball is the movement's Mozart. His music is so transparent he said, that what you see in the score is what you get when you follow his clear and specific instructions. He loved it (and even called his house after it) and he was spot on when added that bands found it difficult to play because of it lyrical qualities –virtues that we do not seem to be able to master in comfort in today's banding age. We need to play lyrical works such as this more often he said, as playing lots of notes is fine, but playing fewer of them better and with a greater understanding is the secret to becoming very good bands.
That's not rocket science is it now, but for some conductors here it may well have been.

'Sinfonietta – The Wayfarer' is a reflective work of emotive lyricism. It doesn't contain the pyrotechnic effects of many modern compositions for brass and is in many ways the last of its kind – an endangered species of grace and beauty, perhaps out of its time and place in the modern brash world.
It may not be a classic of the composers output (it sounds tired and formulaic at times, borrowing ideas from more successful works), but that was not an excuse for so many to try and reinvent it as a modern day piece of Derek Bourgeois. There were performances here from conductors who must have thought the simple and concise introduction to the work was written in ancient Sanskrit with a hidden meaning only Dan Brown could fathom out.
Why they couldn't take it on face value as a three movement work of clear musical intention comes as something of a surprise – although given how poorly in general even the best bands nowadays play Eric Ball's works, it should be a matter given over to a national day of mourning.
On a slightly different note the baritone players union will also have to revoke quite a few cards from their members after so many failed to get to grips with their solo spot marked 'gaiamente' in the first movement. Forget gay pride, some were more like gay abandon.
The top three conductors Dave Nesbitt, Ian Porthouse and John Roberts are exempt from any such criticism. Perhaps all three were brought up by their mothers on a diet of Farley's rusks and Festival Music, jam butties and Journey into Freedom. Whatever the reason, all three had a clear understanding that 'Sinfonietta' was a reflective musical journey that required delicacy and finesse, a lightness of approach and execution and a sense of lyrical emotion.
That was shown most clearly in the opening 16 bars marked 'Andante semplicemente' as the Wayfarer sets out on the first steps of his musical adventure: 'Simple walking' in other words – although some set off like Olympic walkers, all arms, legs and arse stuck out like Jay Lo in a swimsuit. By the time our traveller had reached his exile he was either knackered from the pace or by the number of times he had tripped up over his shoelaces by not doing enough basic preparation. The error count in some performances was unacceptably high for bands with aspirations to gain promotion to the very highest tier.
As for the Exile? Again the top three bands showed perfectly that it was all about passion and reminiscence, sadness and reflection. Others set about it as if they had been sent to the Russian Gulag for 20 years of hard labour, cold porridge and having your brain fried by wearing an electric bobble hat plugged into the mains. What on earth some of the conductors were thinking about, heavens knows.
Finally, the long journey home, and steps taken in tune and time without falling into the first pot hole that came along to break your leg (or in this case three trombones and a tuba who couldn't overcome the octave fall and climb back in the eighth bar) – some of the efforts sounded as if they were doing a musical impression of a Max Wall walk.
Of the three bands that caught the ears of the two judges, it was Dave Nesbitt's Stocksbridge off the number 11 draw that were given the nod and declared champions. All it was, was what was required – and they did it very well indeed. The solo playing, especially from Kevin Donaldson on soprano was of a very high class (nice to see old Baldrick back to his best) whilst the ensemble work had precision and compactness.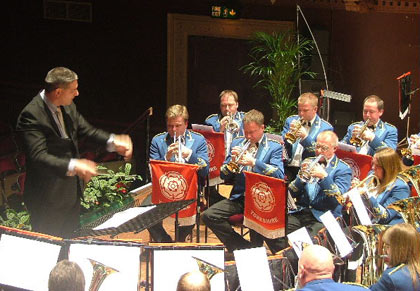 Travelling all the way to Harrogate: Stocksbridge produce a winning performance

The dynamics were controlled and relevant and the MD allowed the music to flow without recourse to slushy over emotion and the artificial use of rubato. All in all it was a performance of a competent band led by a very competent MD. It was no wonder it appealed so much after 9 performances of varying degrees of mediocrity (Pennine played 1, Skelmanthorpe, 12).
Pennine started the contest off with a marker that although eminently beatable was still far too good for the vast majority of the rest of the bands to even approach.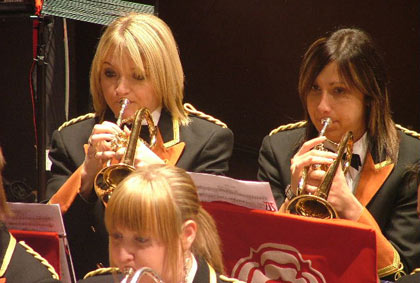 Focus first: Pennine's girls keep their eyes firmly on a qualification place

It wasn't Pennine on the very top of their form as it contained noticeable errors that just robbed the clarity of the picture that was being impressively created by Ian Porthouse. Still, it had a sense of style, and lightness of touch in the opening movement, a discernible sense of reflectiveness in the Exile and a purposeful march for home. The solo work was generally of a high class with Mike Fox on euphonium taking home with him the award as Best Instrumentalist, whilst the ensemble sound was balanced and warm with notable flexibility when required. We had them as our winners by a short head from Stocksbridge, but no complaints we feel from anyone concerned this year as they booked their place at Harrogate.
One band had to miss out this year and that band was Skelmanthorpe. Theirs was a neatly constructed performance that grew in stature after a nervous opening that was just blighted by a few too many noticeable errors. Thereafter it was music making of a very high class with a sense of the composers intentions from the MD and the players producing some quite wonderful warm and rounded sounds at both ends of the dynamic range.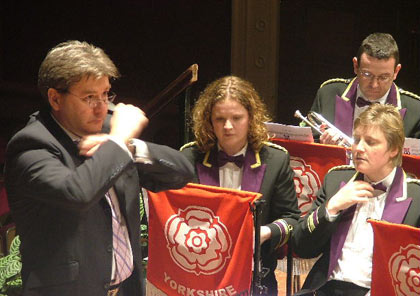 More than fingers crossed: John Roberts just misses out with Skelmanthorpe

There was no sense of aggression even when the volume was tuned up and with some quality solo playing and a well paced final journey home they could perhaps count themselves a tad unlucky not to have forced their way into the qualification places. They are certainly a band that knows which direction it is going in though.
The remaining top six places were taken by three performances that although had merit were quite a distance behind the top three, due mainly to a propensity to overcook either the emotion, the aggressive, or just fatal errors in solo and ensemble playing.
Lindley were the best of the three and justified their fourth placing, even though they never quite suggested they could come higher.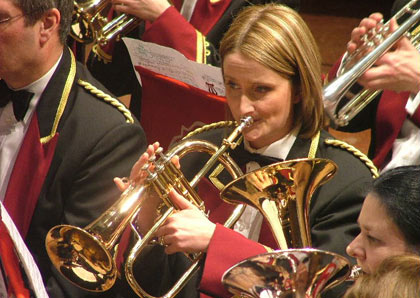 Fancy flugel: Lindley's flugel leads the way

Neil Jowett set his stall out with sense and intelligence, but the high error count in the first movement cost them dearly so by the time they had recovered with notable solo work (especially from the flugel horn) in the Exile it was too late. Tiredness crept in before the end just to make it sound harsh but overall it was a workmanlike performance that had more plus points than minus ones.
If you wanted a performance that had emotion by the bucket load then United Cooperatives Yorkshire Brass would have appealed. The pity was that it had far too much aggression too – not helped before a note was played by the slightly over zealous William Rushworth imploring his band with the visual aid spelling out his intentions for all to see: Believe it and enjoy it, it read in capital letters. Indeed, but given the opening bars required three horns to play with such understated simplicity the rush of adrenalin that surely must have coursed through the players veins in the build up to the first note was rather misplaced. Somehow you couldn't quite imagine Eric Ball giving it massive with high fives as he set off on his musical journey.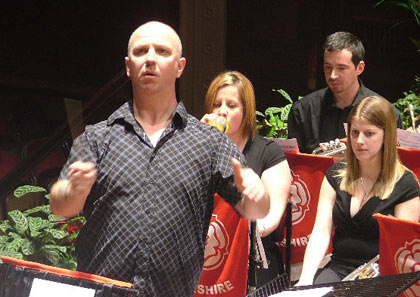 You looking at me? William Rushworth leads from the front

The result was all too predictable – an enjoyable and emotional performance, overcooked and overwrought and not in the right Ball park if you excuse the pun. 5th place could have been a top three without the testosterone.
The final top six place went to Hade Edge with a performance that had its moments too but suffered from a rather self indulgent reading from the usually impeccable Simon Wood. Why he chose to use unnecessary rubato was a bit beyond us as he had all the integral elements of producing a fine performance right under his fingertips. It was as if the Wayfarer had decided to take the scenic route out of the front door, opted for a picnic in exile and walked home two steps forward one step back. A bit of a strange one and 6th was bang on the mark.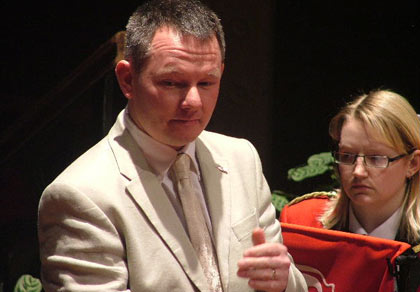 Wry smile: Simon Wood wonders if he was on the right track

After these bands it was pretty mediocre stuff.
Stannington were about the best of the rest in 7th place although to be truthful that wasn't saying a great deal. It was only an average performance spoilt by far too many errors in ensemble (even dropped sticks at the end from the percussion team) and in the main solo lines and even though Derek Renshaw tried manfully to develop some sort of sense from the score it was all too bland and rather prosaic.
Hedben Bridge were another that couldn't quite match the intentions of their MD to try and produce a coherent musical reading of the score. It doesn't help a great deal either if at the first GP pause all you hear is a collective expulsion of mutes as if the Wayfarer was throwing out the empties after a night on the snake oil. They were not alone in doing this though – but it rather summed up their lack of concentration that ultimately robbed them of any chance of coming higher.
Knottingley Silver started well enough but soon fell into the trap of over aggression, poor tuning and a lack of reflective emotion. It was heart on the sleeve stuff, although they did have a fine flugel and a very competent percussion section who got things back on track even when the journey home was getting a touch laboured.
Barnsley Building Society set off at a brisk old pace, but soon the stamina waned and the Exile in particular was laboured and untuneful, whilst the cadenzas were taken at a rather careful speed and lacked the required brilliance marked in the score. A poor ending (another with the added percussion stick work) left them little to complain about in 10th spot.
Finally South Yorkshire Police and YBS Concert Brass, both of whom ended up in the right place come the results. Neither really got to grips musically or technically with the piece whilst both MDs could have possibly tried to rein back on the aggression and sense of over wrought emotion. Michael Hannan with YBS is a talented musician, but even he must have known that he was over egging it in places. Both had contest days to forget on this one.
All in all then three out of the twelve were excellent, three were OK and the rest were pretty average or worse. There were many people who told 4BR that there was real strength in depth in Yorkshire banding at this level and before the contest we tended to go along with that. Not now we don't.
Iwan Fox.