2007 Yorkshire Regional Championship - Championship Section retrospective
8-Mar-2007
Brighouse take the honours and enjoy a sort of night with Liz Taylor in the process as they take the Yorkshire title.
---
After 11 of the 12 bands had taken to the stage at St George's Hall on Sunday evening you couldn't help recall Larry Fortensky, the seventh husband of that serial matrimonialist Liz Taylor.
Asked if he felt apprehensive about the prospect of the forthcoming connubials on his wedding night with a woman who had more love miles under her belt than a hippies second hand Volkswagon camper van, the mullet headed ex lorry driver replied with remarkable sang-froid: "You know how to do it, but how on earth do you make it exciting?"
Whatever Fortensky actually did to please the grand dame we may never know, but one thing was for certain - if it were Brighouse and Rastrick's MD Alan Morrison, he certainly would have left the old girl with a smile on her face.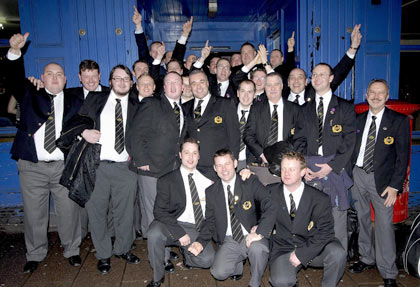 Seventh heaven: Brighouse enjoy theri win in typical Brighouse style
Copyright: B&R Band

It was just like that at Bradford, with the role of Liz Taylor taken by the two worldly men in the box – Nigel Boddice and Geoffrey Whitham. These two have tasted pretty much all the musical experiences a brass band can throw at them over the years, and enjoyed just about every moment too. Giving them complete satisfaction more than once a night means they have to be treated to something very special, and as one band after another came and went on Sunday night you did wonder whether or not any of them was going to give them something to remember after a memorable encounter from Black Dyke off the number 1 draw.
Black Dyke had played the Richard Burton role with a performance that had all the drama and emotion that would have in any other circumstances left them completely satisfied. No one could really ask for more we thought.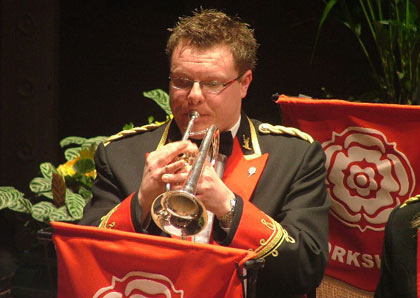 Yorkshire's best: Richard Marshall wins the Best Soloist Award

Theirs was a performance rich in emotion, drama and atmosphere, from the opening bars played with such musicality by Gareth Brindle to the last note that nearly took the roof off the old hall. In between we were treated to some sublime solo work with Arfon Owen on solo horn was outstanding and Richard Marshall displaying all his talents in taking the Best Soloist Award. The ensemble playing was delivered with detail, clarity and an immense sense of authority.
It was a performance out of the very top drawer and although it did have it moments of uncertainty and untunefulness you did wonder if it could be beaten. Ten bands later and stamina and appetite restored in the box, it was – by a performance that although not technically as accomplished certainly left a lasting musical impression on the mind. We had Dyke as our winners – and perhaps so too did the vast majority of people in the hall, but Brighouse & Rastrick had other ideas – although we had to wait quite a long time to find out just how good they would be.
In between came the first of the other contenders – and Grimethorpe Colliery.
Conspiracy theorist had already had a bit of a field day when the draw was announced – Dyke, Grimethorpe and YBS drawn 1 – 3, but it sometimes happens that way (in 2003 the same bands were drawn in the first four here). Brighouse would have been delighted that they had picked number 12 out of the hat re, but so too would have the other contenders for the two precious qualification places; Sellers at 4, Rothwell at 5, Hepworth at 9 and Carlton Main at 13. What it gave the contest though was something of a hiatus in the middle – which on the face of it gave people the chance to chew the cud over a pint in the Delius Bar as the supposed 'also rans' went about their business. It would have been a mistake if they did.
Back to Grimethorpe then and observers fell into two camps after their error strewn performance left them with no chance of making it a hat trick of wins.
Those who felt their hearts might not have been in it due to their automatic qualification could take some solace from the fact that the band will still be at London in October, whilst others who felt it was something of a musical car crash may have been closer to the truth. Whatever the reason – we tend to go with it being just 'one of those days', Grimethorpe were not at the races.
The decision to use the euphonium to lead the opening statement didn't work, although they may have got away with it if the 2nd baritone part would also have been played on the euphonium too. As it was it just sounded wrong and not in sync. A couple of the faces of the players showed quite plainly that they felt that too – Grimey are no shrinking violets when showing their emotions.
After that it was a tale of real highlights (Roger Webster was on sublime form) and some notable low ones – some of the other soloist were uncharacteristically poor and the ensemble work got progressively ragged towards the end. 8th place was what it deserved and what it got.
YBS meanwhile certainly didn't get what many thought it deserved after a performance that although by no means completely secure in execution also had great swaths when everything fitted very neatly and benefited from a well thought out reading by the MD Allan Ramsay. It was rather strange not seeing Professor King at the helm, but the Scotsman did a fine job and he wasn't let down by his players with fine solo contributions (although we did wonder why Ian Culross had to hand over his cornet solo for a bar or two when he was playing so well) and a well balanced ensemble sound at both ends of the dymanic range.
Perhaps it just lacked for drama, but 11th place was a bit of a mystery for us. We had them in 6th. Contesting can be a strange beast at times.
With the automatic qualifiers out of the way it was Sellers International that stepped up to the plate to try and deliver a London bound performance. We thought they had done just that (we had the 3rd overall) but it wasn't to be and they were eventually placed 9th – a touch harsh in anyone's books perhaps.
Philip McCann delivered a well thought out reading that didn't overcook the obvious emotional content but instead relied on style and detailed clarity of execution. It seemed to work well (although we still wonder why he persists with the Blue Peter foam and sticky back plastic effect for the horn at the opening) with some neat playing all around the stands from start to finish.
Perhaps like YBS it was the lack of heart on sleeve passion that did for them – the cornet and horn solo were a little tension filled (something Geoffrey Whitham remarked upon at the results for a number of bands performances) and by the end it didn't quite soar like that great Robert Redhead eagle, but it was still playing of a very high class. Unlucky.
There was no relaxing as Rothwell Temperance were the next band to take to the stage (what a 1 – 5 draw eh?) and delivered a well thought out performance that left many wondering how it failed to register in the box.
That would be unfair on the judges however as they certainly must have given it a great deal of thought and 7th place, and although a couple of places lower than we had them in 5th you could hear why they felt that it didn't quite have that emotional passion that perhaps others had on the day.
This was a clean, well presented account by David Roberts and his team - although just a touch musically magnolia when it needed some bolder brushstrokes in passionate reds. Given the subject matter of the piece it sounded a touch atheist in approach. All the soloists played well, if a little lacking in real heart felt passion but the ensemble playing was excellent right to the end. Another day perhaps they would have hit the mark, but not here on Sunday unfortunately.
After all that breathless excitement came the obvious lull and two performances that although had merit were clearly destined to play a supporting role come the announcement of the results.
Marsden (Riverhead Brewery) had too many unforced errors and sounded nervous to start, but soon recovered, led in fine fashion by the brothers Williams as MD and solo euphonium. They brought their considerable experience to bear in steadying the ship and even though it never quite delivered a performance that would have pushed higher than it did, there was much to commend about the approach that always sought the music from the score.
Drighlington meanwhile started well, although the horn did play part of the baritone opening statement we are sure. There were however too many unforced errors in places that took the gloss off the performance but Norman Laws reading had much to commend even if it all rather ran out of steam before that eagle inspired finale. 13th place was about right on the money (we had them 12th).

Yorkshire Imps meanwhile took quite a few risks with their performance – notably with the sharing of the baritone opening statement, but thereafter Ray Farr's broad and lyrical reading caught the ear time and time again, even if the playing at times didn't quite match the intentions.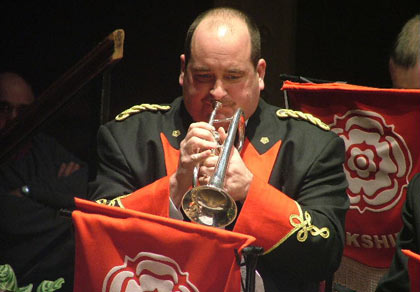 Mint Imperials: Mark Walters leads Yorkshire Imps into the prizes

Despite an errant mobile phone going off in the hall Imps continued to search for the music with some fine solo interventions and a big and bold finish it rounded off an impressive, if slightly error strewn performance of some stature. Quite a few people we spoke to liked them very much and had them well into the top 6, whilst we felt those errors may have cost them more dearly and had them in 9th. We were wrong on that that one as the judges also liked what they were doing a great deal and eventually placed them 6th. The Imps are back – and deservedly so given what they have been through in the last few years.
Supporters of Hepworth may have felt that their chance of booking a place at London had somewhat disappeared after an opening quarter of the piece that contained noticeable errors and some nervousness.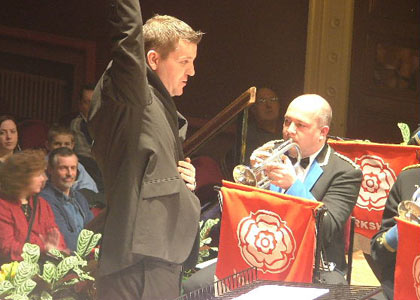 The only way is up! Mark Bentham points in the direction of the Royal Albert Hall

However a stunning bit of solo horn work from Rebecca Landon and Mark Bentham's understated delivery of the music with an emphasis on control of both dynamics and tempi started to grow into a wonderful performance of real stature. The fun and games of the 'Caribbean style' section (Nigel Boddice's description) was perhaps the best of the day, taken at a tempo where all the detail could be heard whilst the extended accelerando section towards the final climax was brilliantly measured.
This was high class playing and even though the bass trombone did a passable impression of Corporal Jones on parade when the troms were first asked to stand, by the time they did it a second time the whole ensemble was playing like a well drilled machine – full of confidence, stamina and controlled dynamics. We had them in 4th place (those early errors we felt may have cost them) but the judges were deeply impressed by the approach and placed them as runners up, ahead of Black Dyke at the time – with that all important qualification place for London booked for October. Hepworth continue to fly very high indeed.
Old Silkstone had their moments too, although Alan Exley spent a great amount of time twitching his left hand to implore more warmth and passion from his clearly nervous players. He could be a potential World Trout Tickling Champion on this form. It seemed to work though and made an impression in the box to come in 10th – a fine result and one they would have been delighted with we think, especially given the bands they beat. We had them in 13th – so you can guess which opinion they think was more accurate.
The final three performances were ones that impressed in the box, and in the hall.
Powerfuel Hatfield certainly had come prepared under the baton of Graham O'Connor – that was obvious after a performance of merit and commitment to the cause. It was also enhanced greatly by some super tenor horn playing from Miles Davison that won him the Eddie Noble Soloist Award and a tightness and security in the ensemble playing that although lacking the depth of others had a real sense of style and precision.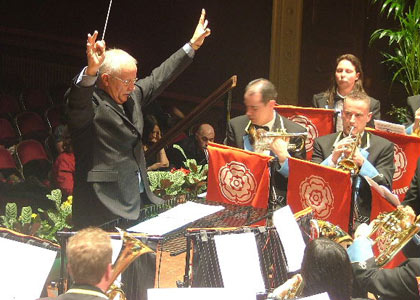 Bunch of fives: Graham O'Connor shows his hands to the box

Graham O'Connor kept a tight rein on the dynamics and the tempi and as a result their lightweight approach (in comparison to the more heavyweight sounds of others) had an appealing quality about it that certainly caught the ear of the judges who eventually placed them 5th. That may have come as a surprise to those who didn't hear them, but on the day when something different was needed to excite (remember Larry Fortensky folks) they did just that and more and you could appreciate the delight when they were announced in 5th place – many thought at the time they had done enough to get through to London itself.
Then to Brighouse.
Even with a slightly lumpy opening when the baritone parts seemed swapped around this was a performance that kept you glued to the edge of your seat from start to finish. Overall it may not have had the sophistication of Dyke but it certainly had that thrill factor that would have sent even Liz Taylor into convulsions of delight.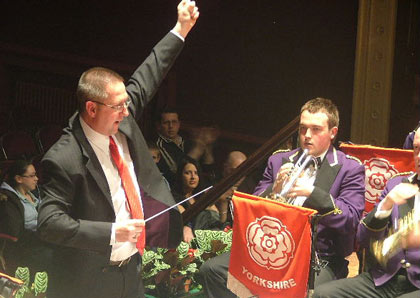 Power salute: Alan Morrison knows its a good one!

Alan Morrison delivered a balanced reading of the score that allowed his players the time and space to deliver the technical aspects with clarity but then racked up the emotion with some glorious band sounds. The ending in particular was a cracker with the eagle swooping like a spitfire plane over the audience – it was thrilling stuff. All the soloists were on top class form, with a special mention to Mike Holwey on euphonium who was particularly inspired.
Given that we had waited nearly three hours to hear a performance that once again sent shivers down the spine you could understand why this performance made such a mark with the judges – bold and vibrant, detailed and full of excitement. There were flaws of course, but the confidence of the approach and execution was of the very highest class. We didn't quite have it to beat Dyke, but many others did including the all important men in the box.
That just left Carlton Main and a performance that very nearly had all the ingredients to take the title, although in the end they just couldn't quite live up to its initial promise and they just missed out on a trip to the Royal Albert Hall.

Mouthing off: Russell Gray lets the music do the talking

Russell Gray delivered a trademark musical account of the set work that really did dig deep into the rich vein of emotion contained in the score. A fine opening promised so much, but a weakish horn and some scrappy moments in the quicker sections just took too much gloss off at crucial times. Kirsty Abbotts was a cultured presence in the cornet solo and David Belshaw showed his talents to the full on euphonium. The speed of the 'Caribbean' section' may just have cost a few valuable points, but a glorious ending full of warmth, balance and huge sounds really put them back on track. We thought those early problems may have cost them a bit too much to feature (we had them in 7th) but the judges certainly liked the approach and felt it justifiably deserved higher and placed them 4th. There is a very good band developing here (as the Open showed late last year) and this was further proof that they could be a band to watch out for later in the year.
With all the fun and games out of the way it was decision time. Most people we spoke to had Dyke, Brighouse and anyone from Sellers, Hepworth, YBS and Rothwell making it to London with them. In the end though it came as something of a surprise that Imps and Hatfield may have been placed as high (although after the results YBS and Sellers were also left a little dumb struck), but there was much to admire about their performances, whilst Hepworth showed once more that they are now the genuine article when it comes to challenging for major honours. Dyke could shrug their shoulders somewhat, but must have been desperately disappointed that a performance of such quality didn't win let along come runners up, whilst Brighouse being Brighouse enjoyed the moment to the full.
Alan Morrison had won his first Area title, the band their first since 2003. Bradford was the colour purple on Sunday night and Brighouse were the toast of the town. Rumours were that Liz Taylor was even seen in the Queen's pub over the road from the hall. What a night that would have been.
Iwan Fox.