2007 Welsh Regional Championship - Introduction
13-Mar-2007
They may be back to losing at the rugby, but Wales is trying hard to get back to winning ways with their brass bands.

---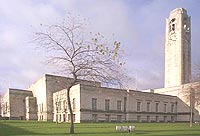 The Brangwyn Hall in Swansea will see 46 bands take to the stage this weekend (a reduction of 5 from last year) in what promises to be a keenly fought over series of contests – although once again they won't be distracted by a Grand Slam rugby team.
A bit like the rugby team though there are eternal signs of optimism amid the day to day doom and gloom, and the half pint full brigade do seem to have the upper hand – just, at the moment.
Much of that stems from the fact that although small on numbers the region has a pretty vibrant brass band scene with some active and successful youth development around the country, success at National level contests at all levels and a stream of players being developed and picked up by bands in South Wales from the Royal Welsh College of Music and Drama. The North Wales bands are also coming back to strength too, although it is disappointing that Beaumaris will only be sending down the one outfit this year.
There are some notable absentees this year with Abergavenny also failing to make it to the starting line up in the Championship Section and Llanrug, Royal Oakley, Radyr , Glyneath, Dyffryn Nantle and Loughor also absent – hopefully temporarily.
The standard bearer for excellence at the highest level continues to be BAYV (or forever Cory in these parts – and soon to the rest of the world), but at the other end of the scale the Greater Gwent Band continues to provide talented youngsters with wonderful tuition and competitive success as well. It's just that bit in between that is causing problems, although there was the good news of two podium places at Harrogate and a couple of bands not seen at the contest for a couple of years return this year as well.
Phillip Morris and his team run the show with military precision down here and the Brangwyn Hall is a superb venue for the bands – it is hard to suggest a better alternative for the money in the Principality even though it does mean that North Wales bands do have to fork out a fair bit of hard earned cash to make it here. It wouldn't be Wales if everyone was happy though.
Championship Section:

The continued good form of BAYV in London means that for the fourth year in succession at least one extra Welsh band will qualify for Kensington.
It would be great to report that there may be a possibility of that number increasing even more next year, but it is unlikely as BAYV are a veritable street ahead of the rest of the bands here – as was shown at London where the other two representatives came 19th and 20th. Wales really does need the rest of the field to catch up and catch up quickly and although the top section has become somewhat predictable the rest of the bands have a lot to be grateful for from the perennial champions – that extra place at London for starters.
It should prove to be an interesting scrap for those two qualification places though with a whole clutch of bands on decent form and all capable of beating each other. That is where the excitement will lie this weekend.
First Section:

The First Section cotiues to be made up of a number of bands all of whom seem to be comfortable at this level but struggle to make any mark when they move up to the top tier. You have to go back to the twin wins of Northop and Point of Ayr in 1993 and 1994 for National wins, but there has been an impressive level of consistency with the qualifiers when they get to the Finals with last year's representatives coming home in 8th and 10th place.

Not bad, but there is a strong line up this year and whoever gets through will fancy their chances of doing well at Harrogate.

Second Section:

The Second Section bands have done a bit better over the years – Ammanford won the National title in 2001, and there are a few good old Welsh names on the trophy from years gone by.
However no winner since and even last year when Wales sent up two very strong bands in Newbridge and Tylorstown neither could come back with the cup – coming 3rd and 12th respectively. That needs to change, but first they will have to overcome a very tricky test piece that is causing all sorts of problems up and down the country. Lloyd Landry should enjoy himself then.

Third Section:

The Third Section has proved to be less successful than the Second Section over the years and you have to go back to 1992 for the last time a Welsh band traveled back over Offa's Dyke triumphant. Beaumaris were the band to do it that famous day, but none since, and last year Beaumaris B and Radyr came back home in 8th and 16th place – nothing to be shouting from the roof tops about then.
With only the eight bands here this weekend that situation may not change for a well yet and the bands will also have to impress Geoffrey Whitham too – and he will certainly tell them straight whether or not they have out in decent performances.
Fourth Section:

The good news is that the Fourth Section has a bright and vibrant look about it this year with a number of bands with a real emphasis on youth. The standard last year was very good too and the two representatives sent by Wales up to Harrogate did well given their circumstances - coming 3rd and 19th.

More of the same may be the order of the day especially as the standard at the recent Greater Gwent Youth Contest was excellent and featured some pretty talented players and bands. We will see, but we are sure everyone will enjoy the set work by Philip Wilby.

It should make for a great weekend in Swansea. The North Wales bands invariably send down a very strong contingent who return back North with more than a few prizes tucked under their belts, whilst there is a bit of a resurgence in the West as well. With no distraction from the lads in red on the rugby pitch (although they are playing England on the Staurday) to get over excited about, the hall may be fuller than usual and all that sporting doom and gloom may be forgotten for a short while.