2007 West of England Championship - Fourth Section retrospective
15-Mar-2007
There are times when even the most world weary journalist may think he has witnessed everything there is to been seen or heard on a brass band contest stage.
---
However, there is always something new and totally surprising that comes along to amaze every now and again.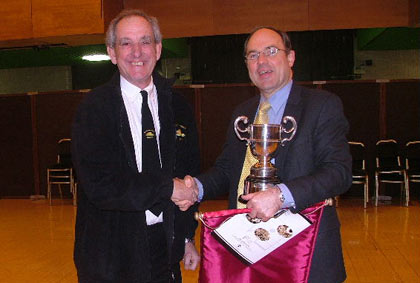 Well done indeed: Pendennis enjoy picking up the first prize

The Fourth Section contest here was a delight: 22 bands, many packed with talented youngsters knee high to a timpani produced a contest of high quality and delivered further proof that grass roots banding in the region is alive and well and with a secure future ahead of itself. Every band on the day brought something out of the music.
The contest was won in fine style by Pendennis Brass (Falmouth) under the direction of Steve Thomas whose performance really brought Philip Wilby's test piece to life, whilst the same could also be said of the runners up, St Breward Silver and third placed Bream Silver. Each of them will make the long trip to Harrogate in September confident that they can extend the regions admirable record of success there such was the quality of their playing.
All three bands also have a fine mix of youth and experience, whilst each of the MD's revealed an intelligent understanding of the score and the need to enhance the subtle changes in style and tempi, especially in the difficult second movement waltz.
However, the truly memorable treat of the day was the performance of a young gentleman on percussion with the Marshfied Band. You may have seen many a cornet player pick up a percussion instrument to help a bands cause during a performance over the years and perhaps even a percussionist play a brass instrument if really needed. You can bet your bottom dollar though that you have never seen a percussionist play a side drum and soprano cornet simultaneously have you now?
Just try it at home. Beat a march rhythm with one hand whilst playing 'God Save the Queen' on a cornet, let alone soprano with the other. It is nigh on impossible, but this young man did it with a nonchalance that left the bemused listener with a smile on their face after witnessing what must surely be a first in the long history of the brass band movement.
It was a type of genius not even the great Phineas Bower of Black Dyke infamy could have managed and further confirmed that there must be something in the musical water down here that many championship bands with their current player shortages would pay a fortune for to solve their problems. I wonder if this clever young chap has thought of doing that too?
The contest must also have been a delight for the two adjudicators, Lloyd Landry and Stephen Tighe, both of whom did a splendid job on the weekend in separating out well matched bands both here and in the Second Section.
Stephen took the opportunity to give a detailed yet compact analysis of the work to an appreciative audience and the areas he highlighted brought nods of agreement in the hall: The need to play with the required pesante feel in the opening movement; the requirement to make the second feel like a waltz that could be danced to, and the need to maintain the right marziale feel in the third. It all made such clear sense and all the bands left knowing just what had been required of them too.
The winners he remarked got the closest to doing just that, but didn't entirely close the door on the rest of the field. Once more you had to agree with him that quiet playing was the key if bands were to make the most of a wonderful piece of music for bands at this level. Once more he was spot on, so not one band could complain after over 6 hours of listening that they didn't get the result right. You cannot ask for more can you now from the judges?
The top six bands really were a class part, but each one of the 22 on show produced something of note from the test piece, and that must of great encouragement to the movement down here.
Pendennis were excellent, full of good basics with strong soprano topping things off nicely. The opening movement had a lovely sense of style; the second, although perhaps a touch nervous had that right sense of lilting waltz feel and the final run for home had plenty of brio and vibrancy. They also had to overcome a cleaner who appeared at the side of the hall halfway through their performance (a bit like Butlins earlier in the season). Thankfully, he took one look and went back into the lift without disturbing anyone.
St Breward pushed the eventual winners all the way with a performance of real merit from start to finish.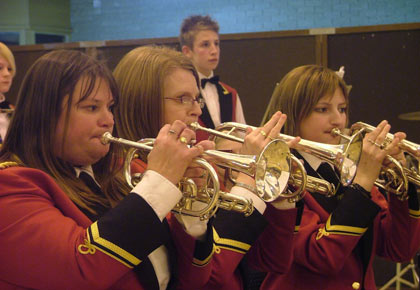 Girl Power: St Breward's top cornets strut their stuff

They were somewhat spread out on the floor of the hall, but they produced a mature sound, had a fine flugel horn player and a good horn in the second movement as well as two top percussionists who added colour and rhythmic pulse especially in the third movement. It had all the hallmarks you needed at this level to do well and it came as little surprise that they eventually booked their trip to Harrogate.
The final qualification place went to Bream Silver who were many peoples favourites to take the title before a note was blown and were also many people favourites after they had finished playing too. Theirs was a neat and well balanced opening followed by a genteel, almost Victorian parlour style waltz which was the best of the day by far and which featured a classy tenor horn soloist. A final march of purpose rounded things off nicely but they perhaps just missed out on the winners laurels by some nasty tuning, especially at the very end when they rather blew too loud for comfort.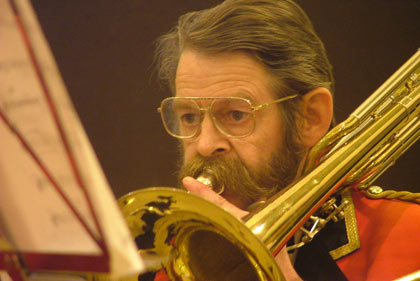 The tache man: Bream's bass trom finds the right spot for his mouthpiece

The other top six places were taken by Sidmouth Town, Brunel Brass and Hatherleigh Silver.
Sidmouth can count themselves a touch unlucky on the day after they produced what was for us the best overall performance of the contest. Directed with cool authority by the MD it was controlled and balanced with a lovely sense of style in each of the movements and a sense of confidence from the first note to the last. Perhaps it just needed a bit more brio in the final section but overall it was a cracker.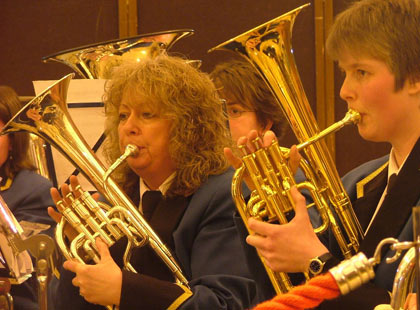 Prize winning girls: Sidmouth's horn section lead the way

Brunel Brass impressed too – especially as they had to play off the dreaded number 1 draw in such a large field. They were very well directed and had in Paul Richards, the former top man at Stanshawe all those years ago the absolute class act player of the day on soprano. He was every bit as good as any in the championship section and his playing was remarked upon in glowing terms by both judges. A touch of nervousness in other lead lines may have cost them a Harrogate place but this is a band that will feature highly here again if they play like that – it was a fine debut.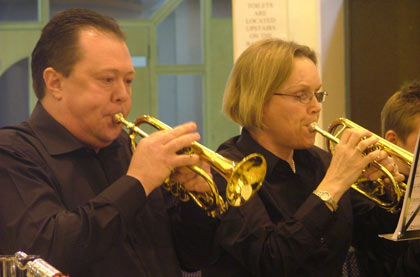 A classy old head: Paul Richards plays his part with Brunel

Hatherleigh can take a great deal of credit home with them incoming 6th. Off the late number 19 draw they produced a well crafted account that had a slightly pecked style in the opening but a lovely controlled sense of style in the waltz, even at a fairly slow tempo. A neat final section rounded things off and if they just could have used a bit more pace in the middle section they may have come a little higher in the prize list.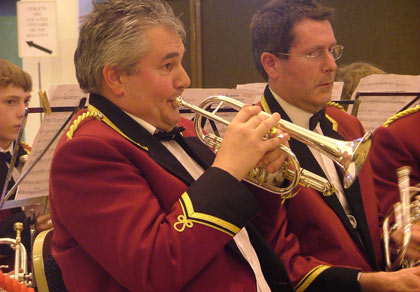 Principal points: Hatherleigh's top man delivers the goods

After the top six prize winners there was a whole host of bands that did themselves proud but just didn't have that consistency throughout all three movements to really make an impression higher than they eventually did.
Cheltenham Silver with two great stalwarts on percussion produced a fine account that benefited from a cracking little soprano player on the top his form and a nicely shaped second movement, whilst Tewkesbury also had plenty of young faces in their ranks who more than played their part too under the direction of Nigel Morgan. The little rep player in particular shone little a gem. Both bands could take home with them a great deal of encouragement after their performances.
So too Weymouth, Chalford, Swindon and Shanklin who eventually came 9th – 12th. Weymouth just got a bit tired towards the end of the third movement after two pretty good openers, whilst Chalford displayed a great deal of vigour, youthful endeavour and some noticeably talented young soloists in coming 10th. Swindon just had a few too many tuning issues to have pushed higher than they did, although they too had a fine soprano and the MD shaped the music well, whilst Shanklin's journey from the Isle of Wight was not wasted as they produced a decent account that was notable for some excellent flugel playing and a very confident horn in the second movement waltz.
After these bands came another batch that all brought something out of the music and who all produced performances of merit.
Wincanton could possibly feel a little unlucky after their neat and well managed account could only find itself in 13th place (all with the added bonus of Steve Sykes on tuba too). It really did have some lovely little moments in it. Okehampton were neat and tidy enough but a bit one paced in each of the movements, whilst Torrington resplendent in their uniforms with red stripes down their trousers featured a fine soprano and flugel as well as a percussion section that added to the sense of the musical structure.
Meanwhile Bratton chose to seat themselves in a mirror image of the traditional brass band set up, and although it took a little getting used to seeing the trombones on the other side of the band, it just about worked although a high tempo march and a brash opening may have cost them points.
New Forest struggled a little with the dynamics in places but still produced a worthy show that featured a good soprano and solo cornet, whilst Marshfield as we have already said had that particular genius on percussion but also had some other quality players on show too in a performance that had just a few too many nasty little errors.
That left the bottom four of Bideford Town, who although short on numbers put in a brave account featuring yet another promising soprano player and nice horn and Gosport Silver who also seemed to be going along well enough but were perhaps in need of a bit of youthful vigour in places. Their performance nearly came a cropper before a note was played as the solo trombone player only made it to the stage with 15 seconds to spare after enjoying a relaxing swim in the hotel pool!
Watchet Royal British Legion rounded off the contest with a brave account that had some neat moments in the second movement in particular (and was conducted by the Bb bass player who came in at the last moment – so well done to him for that).
Finally Wilton and District Youth who showed plenty of promise of things to come even though they propped up the results table. With a great mix of real youngsters and a few older heads that battled their way though under the encouraging baton of their MD and even though it was a bit rough and ready in places it was a fine effort when everyone put something into the cause. They will return all the better for the experience we are sure.
Iwan Fox.