2007 West of England Championship - First Section retrospective
15-Mar-2007
One again Eric Ball was the winner of the First Section. Don't take our word for it either, as that was how adjudicator Barry Thompson summed it up perfectly after the announcement of the results.
---
This wasn't a bad contest, but it wasn't good one either with far too many bands let down by their MDs ineffectual understanding of the score and the need to try and project the required sense of lyrical reflectiveness as the wayfarer embarks on a journey of retrospection. Once again it was a story they read by means of an aggressive voice, with emotion replaced by theatrics and with the basics of good brass band playing exposed as lacking control and precision.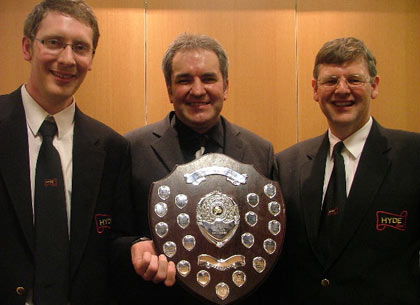 No Hydeing: Jonathan Camps and his committee men enjoy the winning feeling

Barry Thompson has many, many years of experience of playing Eric Ball's music under his belt and gave the audience an accurate and precise synopsis of the piece and its inherent difficulties. Both he and fellow adjudicator David Hirst (a team that worked well on the weekend) must have been pulling their hair out at times with the way some bands opted to play the piece as a technical exercise first and a musical experience second.
Barry stated that Eric Ball was a genius in brass band writing terms and his works still test the movement to the full even today. Unfortunately we underestimate much of his music he said – and he was completely right about that. Barry also pointed out that bands found difficulties in the first Allegro, invariably taking it too fast for the clarity required in the semi quaver work to be realised, whilst the imposing 'Exile' tended to find bands losing musical flow. The final journey home contained lots of traps that bands fell into with the scherzo in particular played with little sense of lightness and with far too much speed. You had to agree with him 100%.
The eventual winners for Barry and David was Hyde conducted by Jonathan Camps. With Woodfalls Concert as runners up they were the only two bands that as they said did OK, whilst lots they said didn't meet the challenges of Eric Ball's music, especially in the opening section where the horns started things off 'walking on egg shells' as Barry neatly put it.
Hyde may not have been the band on everyone's lips come the announcement of the results but it was clear from the comments made by both judges in their written remarks that it was a performance that did appeal very much to them. 'A very good account from the outset,' David Hirst remarked, whilst Barry added it had, '…attention to phrasing with secure and dynamic contrasts'. At one point Barry used the term 'rhapsodic' – a word that in many ways sums up Eric Ball's music perfectly.
John Cook, the band's treasurer was clearly a happy man when he spoke to 4BR after the announcement of the results, although it was clear that he was already thinking about the fund raising headache that qualification was sure to bring. "We are all delighted of course," he said. "Jonathan has done a wonderful job with the band and has brought us on in leaps and bounds. We thought we had played well today and were in with a chance, but to win was great. We are developing our younger players and the atmosphere in the band is tremendous. Now the hard work of the fund-raising starts, but we can put that off until Monday morning!"
The MD, Jonathan Camps also wore the smile of a contented man too. "I couldn't have asked for more from the band. They really did exactly what I wanted stage and approached the music in a way in which I felt was right. We wanted to bring the music out of the score today and looking at the adjudicator's remarks I think may have done just that."
The win gave Jonathan some extra satisfaction too as it meant that he beat his former commanding officer in the army, Lt Col Chris Davies who on the day took the Otterbourne Band into 6th place. "Chris is a wonderful musician and I must congratulate him on his recent OBE, but it was nice to get one over him on this occasion."
Back to the contest then and the opening performances from Cinderford and Solent Concert that were something of a struggle.
Cinderford suffered a disjointed start with fumbled entries and whilst it recovered it was never controlled and there were numerous individual errors blighting the musical picture, especially in the final journey home, where the wayfarer tripped up over his shoelaces with wrong notes. It wasn't a great start to the contest by any means.
So too with Solent under Wesley Garner who started promisingly and without trouble. The band couldn't build on that though and soon small slips and clips became structural problems and the sense of pathos and loss in the 'Exile' never materialised. The final journey home lacked confidence and a poor end condemned them to last place.
St Keverne meanwhile produced a lovely opening, but just when you thought it was going to develop into something special some poor individual lines and an over aggressive style in the Allegro robbed the musical picture. The 'Exile' showed real glimpses of class but once again it became harsh when the dynamic level rose and all that good work was lost. The final journey home was pretty good, but the triplet runs in the Scherzo were a mess and in the end 5th place was about right for a performance that had promise but lacked consistency.
Bodmin were next to take to the stage and after they had delivered a well structured account under the baton of Steve Sykes many felt that it was the leader – and by some considerable margin. Even after the last band had played on the day we felt (and we think we were not alone) that it was a performance worthy of a qualification place. Not so in the box though, but coming 8th as it did was perhaps harsh.
A clean opening and precise stylish Allegro set them up nicely, although the 'Exile' may have been a touch 'heart on the sleeve' in approach it was certainly well played. The final journey home did sound a bit safe and secure dynamically perhaps, but the triplet runs were excellent and the finish was warm and rounded. A bit of a mystery then why it came so low, but sometimes an approach doesn't appeal in the box - contesting can be a hard task master.
Swindon Pegasus's approach certainly didn't appeal in the box, although it was pretty clear on this occasion why not. A fair start gave why to an error strewn Allegro which became progressively wild and untidy before an 'Exile' of hard labour. The band was short on numbers, but you did wonder why the MD then asked them to try and blow so loud. The journey home was a real struggle, not helped by the volume control turned up to full blast.
Helston were many people's tip to do well here and book another place at Harrogate after their win 12 months ago. It wasn't to be this time, although there was much to commend about their performance that emphasised the musical rather than the technical aspects of the work. It did get a little overblown in places but a nicely shaped 'Exile' and a journey home that never strayed off the beaten musical path had lots to commend. 3rd place was perhaps a disappointment, but the top two perhaps just had the edge on the day.
Hyde were the next band to perform and perform admirably they did too, although we had them in 4th place come the announcement of the results. Jonathan Camps set out a broad and lyrical reading of the score and although there were noticeable little errors and clips the sense of musical progression from adventure to exile to the return home was evident. In the end it was perhaps the one performance of the top four that had the most security and control and even though it may not have sent the hairs on the back of your neck on end it produced some fine music making. It was enough to gain them a trip to Harrogate and the regional title for the first time since 1999. That is all that mattered.
If Forest of Dean were setting out on foot to Harrogate then it would have taken them years to have got there if they had qualified, as their performance was blighted by the decision of the MD to take the tempos so slow. Why it was so ponderous we will never know, but it ruined the musical flow of the music even though the players tried manfully to overcome the lethargy. A touch more pace and it would have made it so much easier to play and would surely have been rewarded higher than their eventual 10th place.
St Dennis has come a very long way in a very short space of time and their young players continue to develop in a fine manner under the direction of Brian Minear. They have currently reached something of a plateau not surprisingly but what a plateau of rich promise to come. Here they delivered a performance that had youthful vigour and vibrancy in spades, but also those youthful knocks and scraps too.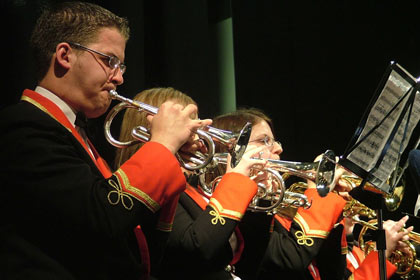 Alltogether now: St Dennis try their best to impress

The plus points far outweighed the minus ones though and even though it did tend to get a bit overblown in places and some of the technical aspects were not quite overcome you sense that they will return in 12 months time bigger, stronger and better again. 4th place means no Harrogate trip this year, but next year we think may well be a different matter altogether.
Otterbourne Brass eventually took 6th place, but it perhaps could have been higher if they had managed to get their tuning right from the word go. For all the neatly shaped phrases and sense of style it was the grating sound of poor intonation that ruined their chances. Chris Davies certainly had the right approach, but he could be excused for thinking that a bit more army discipline in the tuning ranks could have seen them on the bus to Harrogate in September.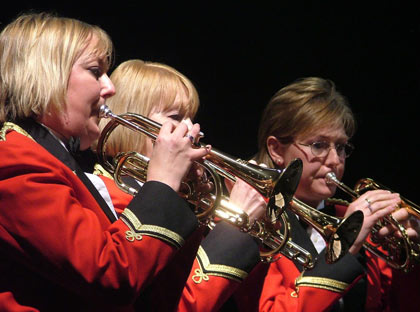 Girl power: The ladies of Otterbourne make it into the top six

Chalford suffered much the same fate too, and recovered well after a lumpy old start. The two brothers (they must surely have been given their identical appearance) played well on solo cornet and a purposeful outward journey promised much, but a rather clippy 'Exile' and slightly tired return ticket home just robbed them of valuable points. 7th place was just reward for their brave efforts.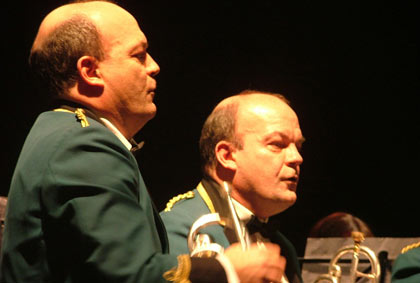 Twin Peaks: Chalford's brothers do their best to make it into the prizes

That left Lympstone SW Telecom resplendent in their telephone box red uniforms to produce a somewhat tired and bedraggled effort to come home in 9th place. A slight trip over the doorstep didn't bode well perhaps but it recovered even if it seemed to run out of control in places. A hurried 'Exile' and an over wrought climax left them exhausted and they could have little cause for complaint at their eventual result.
Finally, Woodfalls Concert Brass. Unbeknown to them the contest was still very much up for grabs at this late point and they took the opportunity to claim the remaining qualification place with both musical hands.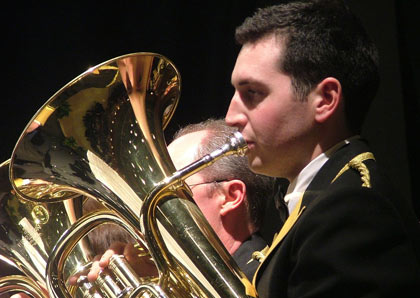 Euph beauty: Woodfalls euphonium leads the line to Harrogate

A simple and clear approach to the opening was followed by some neat work in the Allegro. The 'Exile' was well handled too, although there were notable slips in some of the individual lines. The journey home revealed time, space and an understated sense of style whilst the band had plenty in reserve for the final climax. We didn't quite have it as a qualifier but then again what do we know, as they booked their trip to Harrogate. Well done indeed.
That was that then and a contest of some notable highs and obvious lows. However there were lots in pretty non-descript in betweens. As in Bradford Eric Ball came out on tops and this contest, as there, revealed that it is perhaps time to make playing his works compulsory at least for one section at the Regionals each year until we understand them fully once again.
Graham Bebb and Iwan Fox