2007 West of England - Postcard
15-Mar-2007
There are times when you know you are in a place where you shouldn't be; and if you ever find yourself in Torquay, then make sure it is not in a hotel that is playing host to a pensioners bowls outing.
---
The 4BR Editor found himself in such a place on the weekend of the West of England Regional Championships (although the name of the hotel will remain a secret just in case it becomes a cult location). It was his own fault really, as he had asked the local tourist board for their hotel recommendation, and by not explaining that he was in fact under the age to book a Saga Holiday found himself facing the prospect of a night out in a hotel bar that was a cross between 'Waiting for God' and 'Cocoon'.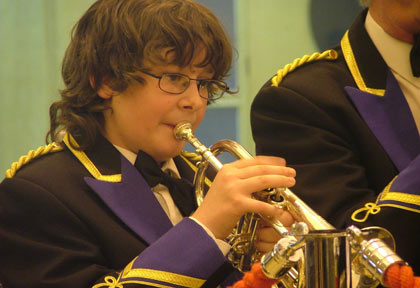 The ageing problems of playing the soprano: Before...

You definitely know you not in for a night remember when the compere's idea of an up to date piece of political satire includes reference to Harold Macmillan – I kid you not. This was a weekend break of the hip variety, and it became more surreal the very next night when a themed 'Gangsters and Molls' entertainment looked like a Tim Burton horror film version of 'Bugsy Malone'.
Lovely people though: Ladies with blue rinse perms, 'Lily of the Valley' perfume and pleated nylon skirts; men with Velcro strap shoes, half pint glasses and matching tie, shirt and cardigan combinations. The real horror though was the realisation that by the time a championship section band down here manages to retain its title, the 4BR Editor could very well be one of them.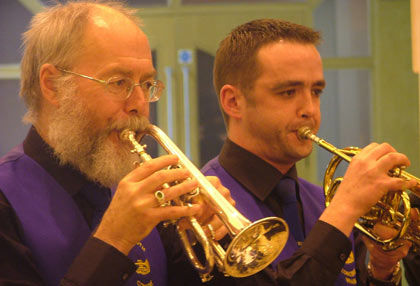 After...

That remains a realistic proposition. Mount Charles was the latest band since 1996 to come here as reigning champions and left disposed of its crown. They did however have the consolation of retaining their place at the Royal Albert Hall. PolySteel meanwhile will worry about breaking the top section curse in 12 months time.
Unlike the 4BR hotel experience, the Riviera Centre was a fine place to host a brass band competition, even if both its main auditoriums suffer with poor acoustics. Like Harrogate, where the region will again send bands with a real chance of doing well at the lower section finals, it is a venue built with the spoken voice of the conference delegate in mind, rather than the mellifluous tones of a brass band. Still, it is warm and friendly with good facilities, including a well stocked bar that seemed to do a roaring trade over the weekend.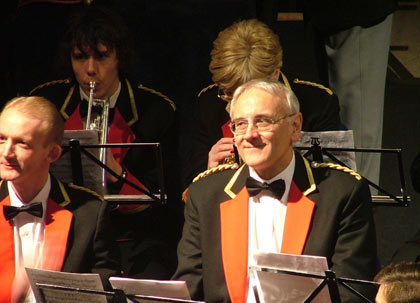 All smiles: Robert Morgan of the BFBB does his bit for Lydbrook Band

Expertly run by Brian Elliot and his team, the West of England Championships does have a unique atmosphere all of its own. If only Brian could have run the Lower Section Nationals here a few years ago, when the BFBB produced a horror show all on their own. Remember the winning performance that started on a Sunday and finished on a Monday? Getting back to the hotel was a pleasure to look forward too that weekend.
Brian deserves a special mention and the gratitude of the bands down here. He has been battling against a painful medical condition for some time now and is due to go into hospital to get it sorted out in the next week or so. Here he was everywhere: helping out, giving advice, sorting out problems and announcing the results in his own inimitable way (he really does know how to make the agony of announcing the top three places into a wickedly pleasurable experience for the neutrals). We also like the way he describes the adjudicators box as a 'hide' as if the two men inside are a pair of bird watching 'twitchers' with an eye to spotting a rare speckled breasted Romanian wading grebe instead of a winning brass band performance.
He deserves a medal, and it was no coincidence that both Philip Morris of Kapitol Promotions and Alun Hughes of the sponsors York Instruments told 4BR that they felt it was a very well run professional event. They must have been pleased by the way things went for them too on the weekend – perhaps made better by the fact they didn't have to stay in the same hotel as the 4BR Editor.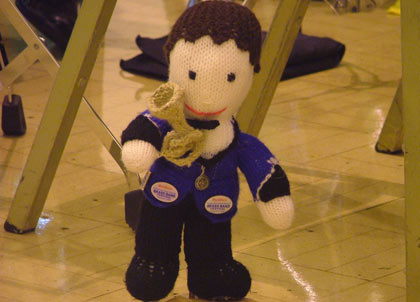 Mascot man: Tewkesbury's mascot couldn't quite bring them enough luck on the weekend.

The region has a fantastic emphasis on the development of young players and it was a joy to hear so many of them in the lower in particular. Camborne B won its regional title with band personnel with an average age of 12 years and 8 months! When it came to the odd band that didn't have nippers in the ranks it was as if they were the band representing Baron Bombast from Chitty Chitty Bang Bang.
Most of the players were amazingly well schooled in the basics of good brass playing: confidant and assured with excellent posture and embouchures, breath control, technique and true warm tones. If the region can only hold onto them after they reach university age then the West of England would rival Yorkshire as the heartland of the brass band movement.
To do that they need to look urgently at regarding their bands into sections that are reflective of their abilities. At present there are still too many that are playing at the wrong level and there were numerous performances in the top two sections in particular that were not of the appropriate standard. It is the same all around the country of course, but here it was very noticeable at times.
As it is, Torquay remains a friendly outpost that has much to commend and appreciate even if they would dearly love to top it all with their championship bands making a real mark at the Nationals and hopefully, the British Open this year.
It is well worth a visit, even if you may have to endure a hotel experience that makes Fawlty Towers look as thrilling as a night out in a public library.