2007 North West Regional Championship - Fourth Section retrospective
16-Mar-2007
'The Seasons' proved a stern test here in the Fourth Section, but it was Formby, Uppermill and Ramsey Town who will enjoy a bit of an autumn break in Harrogate in September.
---

Philip Wilby's excellent music 'The Seasons' certainly provided a stern test for the nineteen bands that competed for the three places available at Harrogate in September. And to be totally honest, there were only six or seven bands that did the music justice.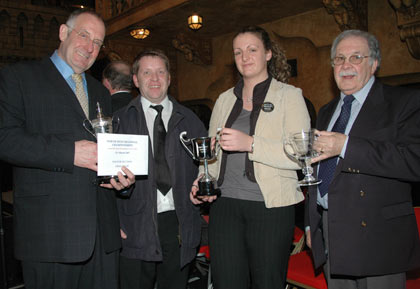 Form horse: Formby pick up the regional title
Picture: John Stirzaker

There was one outstanding performance, two good ones, and three or four who made a commendable show. Most played the last movement well enough, but the first and second movements caught out the large majority with some dreadful tuning and intonation problems alongside an inability to get the basics right. In his address to the audience John Maines said that many conductors needed to concentrate on getting the basics right before looking for their own interpretation of the music and although every band had contributed something to the music in some way, there was still a distinct lack of mastery of the basics in just about every performance.

We have to agree with his comments, but with so many young players in some bands (who need time to develop their basics of playing a brass instrument) alongside some rather older players (who may be unable or unwilling) it is difficult for the conductors to correct. However, even at this level there was little excuse for some of the playing heard on the day, as it surely could have been sorted out to some degree in the bandrooms.

What has to be said however, that the enthusiasm of the bands was first class and with only one band withdrawing this section is looking healthy.

The first band was Formby who under the excellent leadership of Louise Hough gave a performance that no other got near to. Indeed, we had to wait a long time for a band to even approach the standard set by them. Speaking with the adjudicator after the results he said that he thought that if that was going to be the standard from number 1 he would have been in for a truly great contest - Formby were that good.
After a solid opening with fine musical contrasts they went on to produce playing well above Fourth Section standard. With great work in the second movement from horn and soprano they romped through the last movement always in control and the dynamics well observed. They were clear winners a fine young band in the making. Harrogate can't come soon enough..

The bands drawn 2 and 3, Parr Richardson Ltd and Golborne respectively both delivered similar performances: Not bad in the louder playing but weak in the quieter passages with a lack of atmosphere and style. 15th and 14th places were fair enough.

Besses Boys off number 4 got off to an insecure opening and their performance was riddled with intonation problems and some mispitching in the horn section especially in the last movement. It had some nice moments but overall was well off the pace and finished in 13th place.
The next two bands, Barnton Silver and Lostock Hall Memorial both gave decent shows with Barnton finishing in 8th place and Lostock getting a place in the frame in 6th. The latter had a good band sound but the music needed to flow more, whist Barnton just need a bit more control of the basics John Maines talked so clearly about.
Carbrook Brass and Brindle had performances that didn't quite meet the standard required to come any higher than they did. Loose ensemble playing was evident throughout, despite both horn players doing well, and again it was the basics that let them down. 17th and 16th placings were spot on.
Greenfield at number 9 had some fine moments and just finished out of the frame in 7th place. If only they could have had a bit of restraint from the percussion section in the last movement it might have been higher. If that sounds harsh then the MD should really have done something about it as enthusiasm is great but at times it can be destructive.

Playing off the number 10 draw there was a performance to enjoy and that well deserved 3rd place from Ramsey Town Band. The overall playing had atmosphere and was well shaped with some lovely little touches and a command of the basics that was excellent. Only an insecure opening to the second movement cost but there was plenty of evidence to showcase a fine young band in the making.

There then came a batch of bands with nothing much to chose between. Eaton Farnworth & Walkden, Tarleton & District, and Blackley. All three had good round sounds and a sense of style in the two outer movements, but poor intonation and edgy playing in the second movement cost all three, although the latter crept in to 9th place with the other two in 12th and 11th respectively.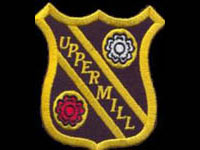 Uppermill then produced a fine performance that gained 2nd place and gave them a well deserved trip to Harrogate as a bonus. The band was positive from the beginning with some lovely bass sounds and although it just got loose in the second movement the music still retained its character.

Like the winners it was a performance built on a solid foundation of correct basics – the intelligent interpretation came on top.
Eccles Borough followed and they too gave a good account of themselves in finishing in 4th place with some nice detail especially in the Waltz movement and a vibrant old romp for home in the last movement. It was performance of real promise.

Littleborough Public had a bad day all round. Some awful tuning and a performance that was lacklustre all through it just didn't get going from the word go and despite some real encouragement from the MD it gained 19th place and no complaints.
Meanwhile Nelson Brass gave a performance that just lacked for consistency in places, although there were times in all three movements when you could hear a fine show developing especially in the middle movement where there was some well developed lyrical playing. 5th place was fair enough.

Rode Hall Silver unfortunately gave a performance that was lacking in conviction and never really mastered the basic required. 18th place was right, whilst this was followed by the last band on, Coppull and Standish who like many others had some good points and bad ones to and 10th place was about right. A bit more consistency would have paid dividends - bit the promise was there.

Overall this was a contest that showed both the plus and the minus points of Fourth Section banding to the full. Consistency and the mastery of basic technique is 95% of the game at this level and whilst it may be easy to say that the players were not good enough, it is the MDs who must shoulder the majority of the blame for not getting them right. Concentrate on the basics first – it isn't rocket science, forget about making yourself look like Andre Previn in front of the LSO until all that hard work is done.
Formby, Uppermill, and Ramsey Town showed that and more, whilst a few more too had the potential there in spades. The rest will have to work hard – and many an MD will also have to take a long hard look in the mirror too.

David Tinker