2007 North West Regional Championship - Third Section retrospective
16-Mar-2007
It seems there was a case here for the adjudicator to pick all top six bands to go through to Harrogate, such was the standard. Oldham, Middleton and Eccleston were the best in a high class contest though.
---
Are the very best bands represented at the National Finals? Not always it has to be concluded, and that was perhaps the case here where any one of six bands could have made it through to Harrogate if they had played in a different area.

No olding them now! Oldham celebrate their win
Pictue: K. Welsh

Sometimes contesting can seem a bit unfair when the level is so good as this and you put in a cracking performance only to come 6th when elsewhere in the country it would have good enough to win the title. That is contesting for you though and the bands here know just that. It makes for a great contest though.
In addressing the audience Ian Brownbill spoke of this as probably being the most enjoyable contest he has ever adjudicated. The standard was that good he said. Furthermore he believed that this Regional Third Section must be the best nationwide. He also spoke with real sincerity in offering his thoughts to the bands finishing in 4th through 6th places in missing out on Finals place in Harrogate who on another day and perhaps in any other area would have got through themselves.
As we know the rules only permit three qualifiers here. Pemberton Old Wigan JJB "B", Flixton and Morecambe miss out on the trip, but if the adjudicator had any sway he would have unquestionably recommended these bands as well.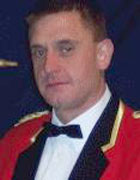 Making the trip to the Finals are Oldham (Lees) and deservedly so. They will, without question, mount a serious challenge in September and John Collins will have them ready, be in no doubt! A controlled opening with body and depth just belied the difficulty of the 'Prelude'.

The confidence never waned and a detailed and balanced 'Jubilate' was highlighted with some precise syncopation, togetherness and a style that certainly won the day. It was very high class playing from a band and conductor who are heading on the up and up. It was a joy to hear the basics of brass band playing done so well.
Middleton will join them in Harrogate and they too produced a performance of the very highest merit and one that contained so much good quality basic playing. The term may not appear in any formal musical textbook, but they delivered as 'gutsy' a performance as you are likely to hear.
After a steady opening with warm sounds they proceeded to deliver a clean and focused interpretation with so much passion and Carl Whiteoak drew from his band a performance that pushed the eventual winners all the way to the winning post. They can be mighty proud of their efforts for sure.
Meanwhile Ian Bateson and Eccleston Band overcame some major obstacles to secure their place in Harrogate too. Illness and loss of players immediately in the run up to the contest were unsettling but this did not deter the band who produced a fine account of a very tricky work for bands at this level.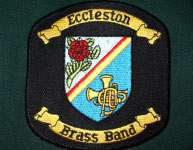 A bold start, that whilst generally a little up on dynamic than most, sounded solid and convincing was followed by a real sense of vitality and shape for the music in the 'Jubilate' that came over so clearly and with excellent balance and precision. There was little to fault it in approach or execution and whilst it may not have had the overall quality of the top two bands you were comparing it against two of the best performances you may hear of this piece at the entire regional championships.
Not making it to the Finals, Pemberton Old Wigan JJB "B" produced a performance that opened well, flowed and sat in the top six with ease. Anywhere else we feel and it would have made it into the top two without a problem. Under the direction of Peter Ashley they produced lovely sounds all across the band and the pointedly bright 'Jubilate' had a lovely sense of rhythm and style. Hard luck indeed.
Flixton too deserved a place at Harrogate. Kevin Gibbs brought out a performance of depth and detail that had splendid dynamic contrast and this skilfully managed performance was a pleasure to hear and so unlucky not to make it to the finals. Another time and another place and they would have made it with ease.
From draw number one it was clear that a very high standard was being set and Morecambe served up a performance that was well constructed and expertly judged by MD Chris Larder. This band, together with Pemberton and Flixton, missed out on a place in the Finals with only the consolation of knowing that they did not let themselves or their supporters down. It had all the necessary basics in place and on top had a fine sense of style and approach – hallmarks indeed of all the top six best bands on the day.
The performance levels of the top six may have been special but that could not detract from the remaining thirteen bands in this section, all of whom bought something from the piece.
Whitworth Vale and Healey opened steadily with a warm tone before John Binns brought a nice lilt to the remainder of the work. Particularly standing out in the performance was that of the principal cornet who had a clear and engaging tone.
Dave Chadwick schools Valley Brass from Haydock, St.Helens, with determination - and it shows in performance. A little lack of cohesion within the 'Jubilate' just interrupted a generally broad yet rhythmic interpretation. A balanced opening and a bright, alert 'Jubilate' hallmarked the Hawk Green Marple account led by Phillip Pavey and they were closely followed by the City of Chester Band who delivered a quite contrasting performance that was much steadier in tempo but quite concentrated in delivery.
The top ten bands in the results were all very enjoyable and yet some nice performances of real merit and credit occupied the 11th through 15th places.
Skelmersdale and BMP Europe Goodshaw may have finished in the mid-table but they both found moments of quality at various extended interval in the work. On a day when playing comfortable and 'safe' meant they were off the pace they were nonetheless most enjoyable, but will know just what they will have to do in future to make a mark here.
Black Dyke Euphonium player David Thornton led Eagley and they delivered a very atmospheric performance. Noted for its quite pointed style with strongly articulated accents it did not lack for balance and could quite easily have captured a higher place than 13th in the ranking – although they were up against some extremely strong opposition on the day.
Things seemed to conspire to unsettle Dobcross Youth 2003. A dropped cornet when seating, a dropped euphonium tuning slide climbing the platform and a very slow steward sealing off the auditorium with the resulting doors banging did not help settle the band at all. Ted Griffiths worked hard and he coached a really good 'Jubilate' from them in particular. The opening confidence shaking factors surely had some bearing on their final standing of 14th place though.
Douglas Town, like many, delivered a performance that was safe but unspectacular in a section that had plenty of real quality on show. Legendry brass star Gordon Higginbottom brought out some lovely work at times, especially the glockenspiel and muted cornets, but these were good moments rather than sustained periods of excellence and they had to settle as a result for 15th place. It wasn't a bad performance by any means though.
Much the same comments could be reflected for Friezland, Pilling Jubilee Silver, Rivington & Adlington and Hazel Grove, the bands filling the bottom four places.
On day when some real class was on show at the top of the section just flashes of quality were not going to be enough to secure a place at Harrogate and although each put together periods when it all seemed to be going well there were also too many little errors and losses of concentration. The plus points did outweigh the minus ones though with each performance.
This result could well see Middleton and Eccleston Brass move up to the Second Section in 2008 irrespective of the placing at the National Finals but overall the headline should read - "What a contest and what a section". Ian Brownbill called it in his stage comments and you could not disagree.
John James