2007 Midlands Regional Championship - Championship Section retrospective
16-Mar-2007
Isaiah 40 proved a stern test here in the Midlands, but the qualifiers really put their stamp on it to claim their place at the Royal Albert Hall.
---
Robert Redhead's 'Isaiah 40' has turned out to be a major stumbling point for bands at this year's various Regional Championships, as not one band has got through a performance of it totally unscathed. It has certainly tested even the best bands in the country, with errors in tuning, ensemble and even basic technique all evidence of a work which is not proved easy in any shape or form.
As in other regions, the Midlands was no exception in the fact that no-one managed to get from beginning to end without the odd hiccup here and there - and most performances had plenty of these. However, if one discounts these superficial errors, it was pleasing to notice that several bands and their MDs did have a real understanding of the music, and even with errors creeping in, showed a good sense of musical awareness and made sterling efforts to bring the message behind the score to life.
The acoustic of the Town Hall was not much of a help to any band playing this piece, as a lot of technical detail is often lost, so it cannot have been easy for bands to try and perform this very complex and difficult work.
Staffordshire Band's record has consisted of two runners up places in the last ten years at this contest, so they would not have been many people's pick for first prize prior to the contest.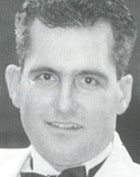 That all changed the moment the band took to the stage. Conducted by David Maplestone, who had only a few hours previously won the Second Section, they produced a performance which had it all; technical prowess, great style and fine soloists. Staffordshire's horn section was the only one to really nail the difficult unison horn passage, and the cornets played with great conviction throughout. The band's solo baritone player also gave a great contribution whenever it was required.
It was very unfortunate at the end when an errant cymbal came into the mix, but this was really the only major thing that was wrong with Staffordshire's playing. As with his band in the Second Section, David Maplestone worked his socks off to produce the goods from his band, and it was a style of direction that again worked a treat. This band sounded like it could have even more to offer, so if they keep this team with this particular MD it will be a very interesting showing in London indeed.
Had Desford Colliery under Nigel Seaman played the first half of their performance to the same standard as they did the second, they could have easily walked away with the title.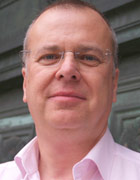 A few errors were noticeable around the beginning of the piece, but once these shaky areas were out of the way their reading grew in stature right up until the end, by which point they were sounding like a band of real quality. The highlight for 4BR was Desford's principal cornet player.
Such a fine sound and sense of musical line, coupled with exquisite use of vibrato and security of tone even at the quietest of dynamics, is rarely found at band contests, but this chap had these qualities in bucket loads. The 'split counters' who seem to crawl out of the woodwork at most events would no doubt have tutted and raised an eyebrow at the few notes which were not 100% secure, but split notes in playing such as this simply do not matter one bit. Pure class.
Desford's other soloists all played very well too. If it was not for the shaky starting moments and several wrong notes (misreading accidentals or changing parts to make things easier?) that were played during the piece, the band could have gone home as Midlands champions.
In terms of overall quality of performance, 4BR would have placed Sovereign Brass in first place. As it transpired they had to settle for third, but the two adjudicators know what they are talking about and what they are looking for, so no one can really complain over the result. Sovereign's was a restrained performance, which only let rip when it had to, meaning that the dynamic contrasts were always interesting.
Sovereign created a wonderfully atmospheric opening, and the cornet soloist was one of the finest on show throughout the whole contest. There were a few bits that got a bit scrappy and some strange choices of tempo from the MD, but overall this was real quality stuff, which on another day could have taken the title.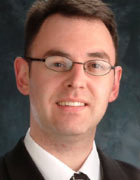 Ratby Co-operative was another band who not many outsiders would have tipped to get into the prizes, but conductor Brett Baker managed to create a performance of real solidity and detail, helped along the way by some excellent solo contributions from his corner-men (and women, as the band's flugel player was definitely one of the stars of the show, along with the band's principal cornet, who was excellent).
The band produced a fine sound throughout, but the playing did get a touch aggressive in places, sometimes resulting in a loss of detail where it was most needed. An excellent result for Ratby though, and they can be well pleased with their efforts in gaining a well deserved fourth.
Virtuosi GUS were 4BR's tip for second place at this contest, but in the end had to settle for fifth. The band's cause cannot have been helped much by drawing number one, but they took to the stage and produced a confident performance of the set piece that had some wonderful moments, but also the odd moment of fragility in parts that may have counted against them too.
GUS might have benefited from a little bit more space been given to the music as the band's players were more than up to the task of producing musical performances of a very high level. There is a well known saying, 'Good things come to those who wait', and Virtuosi GUS surely will not have to wait too much longer for a trip to the Albert Hall – draw permitting of course.
Newstead Brass sounded like they were in a confident mood after their victory here last year, but unfortunately this confidence appeared in the form of a very 'in-your-face' approach to the work that didn't really work.
Although the piece is in many parts a reflective one, there are many passages that do feature the band playing at the louder end of the dynamic scale. This was taken to extreme on Sunday, with many of the louder dynamics becoming far too harsh, obscuring any of the intricate writing Redhead has put into the piece. A different set of adjudicators may have liked this approach, but not Mr Read and Mr Buckley, so Newstead had to settle for sixth place.
Coming home in seventh place, Thoresby Colliery could have done with paying more attention to the piece's stylistic aspects, as well as perhaps easing up on the tempos slightly to ensure everything was in its place.
In many of the quicker sections it went far too fast for the band to be able to really nail down some technical aspects of the music, and although the soloists gave steady accounts of their respective parts, more style and space would have possibly gained Thoresby a few more points.
4BR first met Jaguar (Coventry) Band at the US Open late last year. The band are a great bunch of people, who could have counted themselves unlucky in missing out on top honours in the States. On Sunday the band gave a very strident performance, which had a few blips and blobs here and there, but which was full of drive and excitement.
The performance was augmented by some stonking soprano playing, which in the right context really does blow the listener away. The band's other soloists also did their bit for the cause, but there were some moments of unease and it was just a shame that little things did detract from the performance. 4BR would have placed them higher than 8th, but that's contesting for you.
Kibworth's playing overall was of a very good standard, but throughout the performance one felt that much more shape and space could have been given to many parts of the music.
There were also some scrappy moments and the tuning suffered in certain sections, especially the quieter ones, but the end section where the theme comes through was impressive, and the band's baritone section got the piece off to a very atmospheric start. A decent performance which was never going to be a winner, but nonetheless was one which was enjoyable to listen too, and would have been more so if tuning and ensemble had been a little bit more secure.
Ransome Band put on a nice show, which 4BR felt was deserving of at least a couple of places higher than the 10th they were ultimately rewarded with. There was some great playing from the band, but also some stuff which made you scratch your head and wonder if the MD had really had thought things out for the acoustic of the hall.
An example of this is the main trombone theme towards the end of the piece being almost obscured at times by the cornet section above it, whilst some of the playing almost seemed to stop as the tempos were so slow. The cornet and horn soloists were excellent, as was Ransome's euphonium player, but as with many bands on the day, a touch more thought given to interpretation and style could have reaped greater rewards.
Cliff Parker had a tough job on his hands with 'Isaiah 40'. Langley have only been in the Championship Section for a few years, and on the day the technical demands of the piece seemed to be too much for the band. Their performance started off in a very nice fashion, with a sonorous bass section adding much to the atmosphere that the band created at the beginning of the piece. However, when it got to many of the more technically challenging passages it all got a bit ragged, and despite a fine contribution from the solo horn player was not enough to push the band any higher up the placings. It was a brave effort though, and they will be back next year determined to do better.
The same can be said for Raunds Temperence, who, despite all their efforts, also failed to cope with many of the intricacies of the piece. Both cornet and euphonium solos were very nicely played, but problems in tuning between individual members of the cornet section and nerves from other corners of the band did detract.
However, for a band that had only just been promoted from the First Section the 12th placing they received should be taken as something to build on, as they also made a brave effort, and did not disgrace themselves in any way.
It must be said that the overall standard was rather disappointing in the Championship Section here, but this could be to do with a very difficult piece being selected as the test rather than anything else. As in other sections over the weekend, problems in tuning were a major issue for many, and these things, which are so simple to fix, did detract a lot, too often. Some tuning made you wince in pain.
Another major issue is over-blowing. Several bands scuppered any chances they had of coming higher up in the placings by simply playing far too loud. Some of it was simply raucous and the two judges picked it up and punished it straight away. In fact, adjudicator David Read mentioned in his comments before the results were announced that some bands did tend to blow a bit too strongly, and that they were really looking for detail not harshness. David's colleague, Brian Buckley also mentioned the technical challenges of the work, saying that these have to be overcome before a performance of the piece can really be given.
In the end, musicality won the day in Burton-upon-Trent, and Staffordshire and Desford will go to London in October looking to prove that Midlands banding can offer a Champion Band of Great Britain once again.
Rob Richardson