2007 Welsh Regional Championship - Fourth Section retrospective
20-Mar-2007
As a very tasty aperitif to the main Championship Section course that was to follow later on the Sunday afternoon, the Fourth Section delivered an enjoyable and satisfying contest.
---
12 bands made it to the stage this year and that was an encouraging sign for the regional committee who have been working hard in trying to coax back bands here to the contest. The standard did of course vary greatly in the section but overall it showed that grass roots banding does have a vibrant future.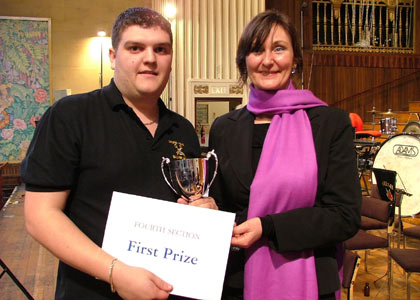 On our way: Crosskeys take a regional title for the first time since 1981

That was certainly touched upon by adjudicator Lloyd Landry in his remarks before the announcement of the results. He pointed out that although this was a difficult piece for the Fourth Section it was also one of the most enjoyable to listen too, and he suspected, to play.

The opening movement required the ability of play in tune at a low dynamic level, whilst the Waltz required a sense of style, flow and flexibility – just like the old Victorian dance the composer affectionately portrayed. The final march needed poise and clarity, although he was keen to point out that it also needed to be taken at or around 120 beats for it to work properly – some bands he felt had rather spoilt their chances by rushing. The overall standard Lloyd said was admirable and encouraging.
It was also another accurate and precise analysis of the piece and the bands would have left knowing exactly what they did right and wrong because of it. Mr Landry will be welcomed back here again and there was little to quibble over his choice of the qualifying bands and the rest of the placings at the contest too.
The winners played first and came first.
Crosskeys Silver is an improving band that has benefited greatly from the sensible approach undertaken by their conducted Ceri Bowden over the past few years. Progress has been measured and made with solid foundations, and now they are starting to reap well deserved rewards.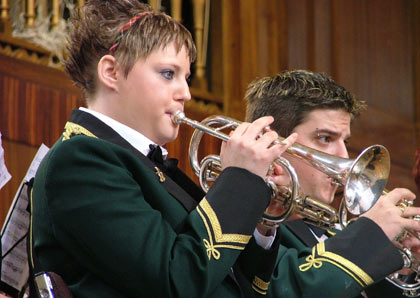 Hair raising talent: Crosskeys young solo cornet plays her part to the full

Although we didn't have them as winners on the day (we had then 2nd though) it was still a performance that deservedly took the title – and their first Regional win since 1981. The band also had the youngest player of the day on show too in the shape of Master Ellis Davies agaded 10. He can look forward to another weekend away from home come September.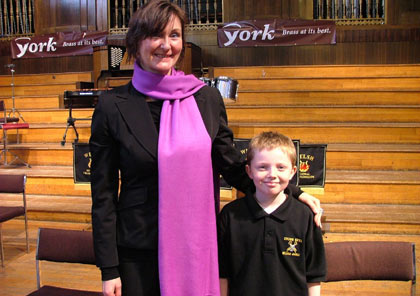 No wonder he's smiling! Ellis Davies aged 10 enjoys his moment in the spotlight

Buoyed of course by the Welsh win over England the previous day, Crosskeys, with percussionists in their trademark Welsh flag waistcoats delivered a real marker performance that featured excellent dynamics in three movements of contrasting styles. They also benefited from some fine solo players with an excellent young girl on solo cornet and a quality horn and percussion section. The final march section had a real swagger about it too. All in all it was a performance of confidence and quality and one that deserved a second successive trip to Harrogate.
Joining them there will be Blaenafon Concert (the 4BR hometown has two bands), conducted by Patrick O'Leary. Lloyd Landry had to wait until the last band of the day to get his other qualifier and it was a performance that claimed its place at the finals after a confident opening led into a really well delivered waltz that featured some excellent horn playing from the veteran Jeff Morris.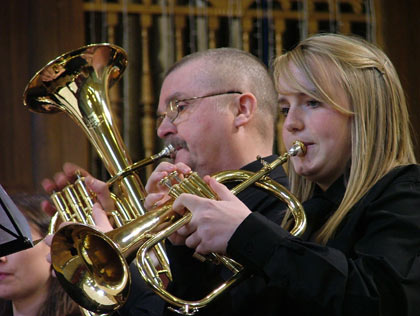 Veterans Day: Jeff Morris leads Blaenafon to Harrogate (he's the one with the crew cut!)

The final march was also bright and breezy and by its close you just felt that it may or may not be there or thereabouts. After four years away from the contest this was a tremendous achievement for the band and its talented young conductor. Now the hard work starts to raise funds to get to Harrogate.
Just missing out were Gwaun Cae Gurwen who we felt produced the classiest performance of the day and which was so well directed. We don't know what went against them in the judges opinion as for us it had everything in its right place, with the basics so well controlled.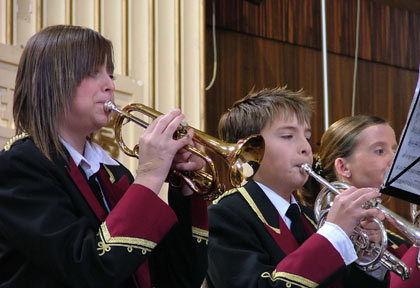 Just missing out: Gwaun's back row try their best to reach the finals

A fine opening section with excellent soprano cornet a feature led to a confident waltz with a very competent solo horn playing so well. The march for us sealed it – delivered with a real old swagger but it wasn't to be and they could head home more than a touch disappointed. There is a very good band in the making here though.
These three bands were a little way above the rest of the field on the day – and that was reflected in the marks given by the adjudicator, although there was still plenty of well managed performances elsewhere.
Crwbin conducted by the talented Ceri John has certainly come on in leaps and bounds since last year and packed with young players they produced a vibrant and colourful account that holds rich promise for the future.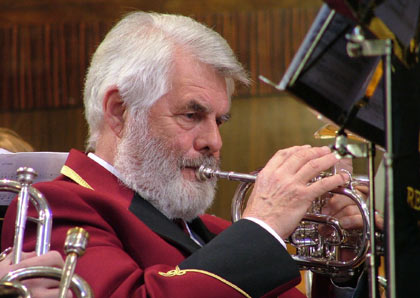 One of the older heads: Crwbin also had a few experienced players in the ranks too!

It didn't quite all come off of course and there were inconsistency in some of the basics, but the approach from the MD was admirable and the desire of the players to respond was also marked. Watch out for them if they continue to improve at his rate.
So too Upper Rhondda, directed with real enthusiasm by Rhodri Griffiths. His style of conducting is unique to say the least, but he has a clever old musical brain inside his well shaved nut.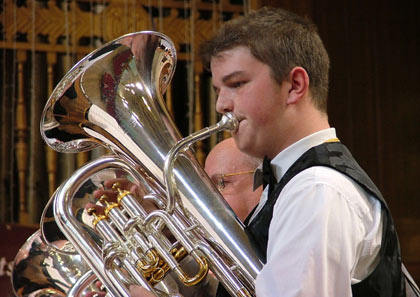 Playing the part: Upper Rhondda's youngsters make their mark

Here he used it to great effect, cajoling and encouraging his young band (although they did have a few older heads in the ranks) and only asking them to do what he knew they could realistically achieve. It was a most encouraging performance and there is a whole host of next generation talent waiting in the wings in the Rhondda on this evidence.
Gwernaffield are also a band that has made excellent progress over the past couple of years and that was confirmed with a performance of even more promise that eventually saw them end up in 6th place.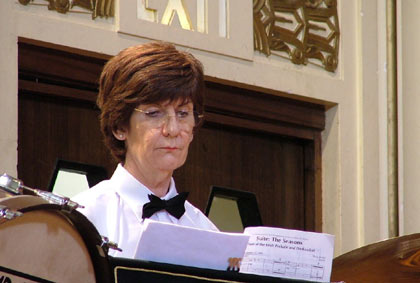 Serious concentration: Gwernaffield's percussionist deep in thought

With the percussion team perched out on the far right of the stage like Gerald Davies on the wing for Wales, they produced a well managed opening, a good Waltz with confident horn, and a well directed March that maintained its focus and precision right to the end. They should be delighted at their result and the way they played.
Outside the top six came a series of performances that all had their moments and movements when things really came together well, but also when the execution didn't quite match the ambitions.
Oakdale were one such with a decent opening promising much. MD Ron Probyn worked very hard to keep things on track in the Waltz however when some of the solo lines didn't quite knit together with the rest of the band, but a well managed march which was full of life saw them back on form. Another band with plenty of promise – although it did come as a surprise that they had a chap who looked like Anthony Eden playing on the back row!
Ebbw Vale under Ceri Thomas can count themselves a touch unlucky to come 8th – we had them in 5th, after they delivered a compact and well managed account that had real highlights as well as a few little low points too. The opening was confident if a little untuneful whilst the Waltz featured a very artistic solo horn. The final movement also had a touch of the required swagger and featured the excellent solo trombone to good effect. All in all it was a good one, although the MD does take a risk by taking to the stage without a score as a reference point – it does help younger less experienced players.
Pontypool Brass had their moments too (and featured the only lady to bring her handbag on stage with here too!). Sensibly directed it started well enough but just fell way at the end of the Waltz and March as tiredness crept in. Another band with promise though with a fine horn in the Waltz a feature of a young progressing band. Special mention to the euph player who also managed to play the glock at the same time – clever chap that.
Newport Borough produced a strong performance that perhaps on another day may have come higher in the prizes that it eventually did. A very young band, they were excellently directed and there was a great deal to admire about their playing. Perhaps the lack of real dynamics cost them points – it was all rather played in the safety zone in places, but they did have some really talented young players on show, with a tuneful soprano, confident solo cornet and tip top horn a feature. A performance of promise and a little bit of hard luck.
Cwmbran Brass should be proud of their efforts. Directed with a real sense of enjoyment by Andrew Lucas it was a performance that did vary wildly in standard at times, but was always full of life and commitment to the cause. The MD was always encouraging, smiling and cajoling along and his players did him proud. As a starting point for the future it offers a great deal of encouragement and we think we will be hearing more of them in the future.
Finally Abergynolwyn, who also can be mighty proud of their efforts even though someone has to come bottom of the contesting pile. They were obviously nervous and that did show through, but they battled their way through from start to finish, although perhaps the MD could have given a bit more visible encouragement for their brave efforts. Perhaps he was nervous too, but a little smile and a nod of appreciation here and there can work wonders to a band that is feeling its way through a piece. The signs are there though for the future and they will surely return the stronger for the experience here this year.
Not a bad contest then in the Fourth Section with a pretty good standard reached by just about all the bands. The two qualifiers will head north in the autumn with confidence, but also knowing that they will have to play to the top of their form against stronger opposition, whilst the rest showed plenty of encouraging signs that they were capable of making real forward progress in the next 12 months.
Iwan Fox.