2007 Welsh Regional Championship - Second Section retrospective
20-Mar-2007
It will be hard to imagine that there were two more clear cut qualifiers for the National Finals at any level this year than could be found here in the Second Section on the weekend.
---
Both Newbridge (Celynen) and Beaumaris B were a class above the rest of the 10 band field, in what was in general a high quality contest. The bands that came 3rd and 4th can count themselves a touch unlucky that they had to compete against two competitors of such a high standard, and who on this form wouldn't have been out of place in the First Section. Both Briton Ferry and Rogerstone delivered accounts that surely would have gained them qualification in at least a couple of areas.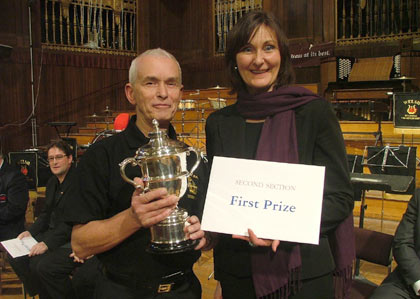 Another first: Newbridge take the top prize once again

Adjudicator Lloyd Landry was suitable impressed too and in feeling that the overall standard was very good, the two performances from the qualifiers were ones that stood out for their musicality, balance and attention to detail. They were both outstanding.
He also stated that in his opinion the band that came third gave a musical performance of real merit too, whilst those who didn't quite meet that high standard fell away by not being able to make the most of the detailed dynamics, especially in the first movement, the sense of relaxed style in the second, and wit and fun in the final section.
There was no problem with that with Newbridge (Celynen) under Paul Holland who claimed their place at Harrogate with a performance of clarity and style, secure technique and the ability to more than meet the musical challenges in each of the movements of the work.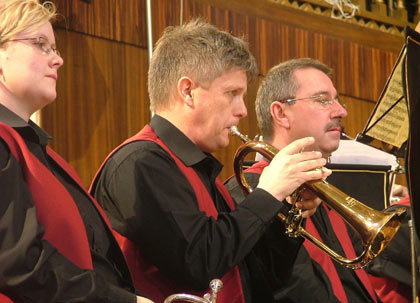 You can't beat experience: Newbridge's Rob Nesbitt rolls back the years

They are a band with a great deal of experience in the ranks, and that was used to great effect with an opening 'Cavalcade' that sparkled with details and precision, a liltingly lyrical 'Pavane', that benefited from quality solo lines from soprano and flugel and a vibrant 'Burlesque' that retained the sense of fun and wit even when they allowed themselves to open up the dynamic gunnels. It was a very polished and impressive winning performance.
Earlier the marker of quality had been laid down by Beaumaris B conducted by Gwyn Evans.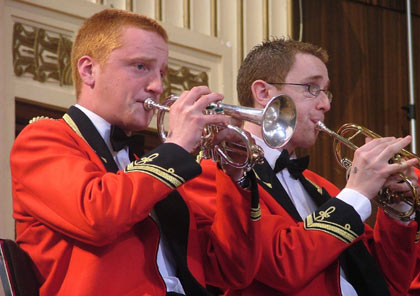 Red Alert: Beaumaris head for Harrogate

This was a super performance, full of detail and precision in the 'Cavalcade', a classy and warm felt expression in the 'Pavane' and a clear and vibrant 'Burlesque' that really did have the sense of a Victorian fun fair: all swings and roundabouts. Some fine individual playing was on show throughout with a lovely euph and soprano a feature whilst the overall band sound was balanced, warm and very much in tune. On this evidence they will head to Harrogate full of confidence.
The Welsh do love a carnival, although there are not so many of them about as in the days when Miss Perkin wrote her piece in 1957. With the two qualifiers it was like rolling back those years to the Silver Jubilee or the Investiture: flat backed coal lorries dusted off for the floats, hard drinking miners dressed in women's clothes, kids in fancy dress and the teenage carnival queen perched on top of end float dressed in her mam's old wedding dress surrounded by plump flower girls and carnations made out of Andrex toilet roll from the local Co-op.
Perhaps Miss Perkin was an old carnival queen – but on the evidence of her rather cerebral work that so sounds as if it was a clever bit of examination course work for piano – perhaps she wasn't.
Third placed Briton Ferry under Dr Christian Jenkins may not have been able to match the leaders in terms of overall quality, but theirs was a performance that tried to bring out the music in the score with a very sensible reading from the MD.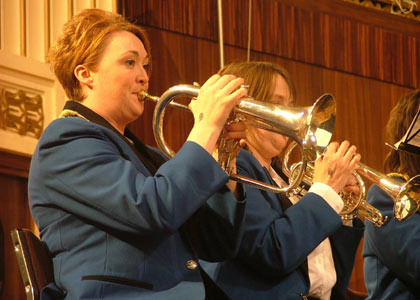 Concentrated attack: Briton Ferry's flugel player gives it her all.

In fact there was little wrong with the execution with a neatly packaged 'Cavalcade', well managed 'Pavane' and up tempo 'Burlesque'. It was a promising performance indeed.
We had Rogerstone just ahead of Briton Ferry come the results after the experienced Brian Buckley rolled back the year to bring a slightly stylised performance from his band. A confident opening 'Cavalcade' promised much, although we did wonder over the break inserted just before the last bar both here and in the 'Pavane' that perhaps just robbed the music of its flow as it reached it conclusion.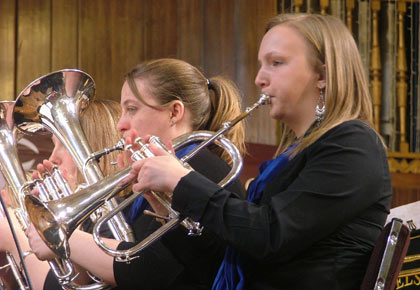 Girl Power: Rogerstone's horn section try their best to get to Harrogate

The 'Pavane' itself had a fine lilting feel whilst the 'Burlesque' had plenty of control. It had some real classy moments throughout, but against it was perhaps that sense of style that although different was perhaps an acquired taste.
Royal Buckley started off the contest with a well managed account under Paul Lovatt-Cooper. The 'Cavalcade' was full of life and that essential brio, whilst the 'Pavane' although a little tense in places had the requisite Iberian feel. The final 'Burlesque' perhaps became a little tired and harsh to end, but it was a performance of note.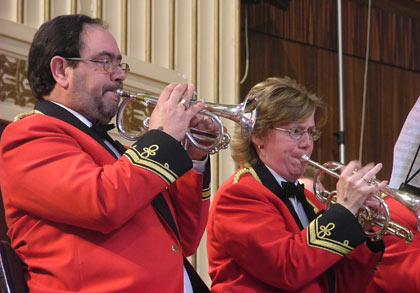 Concentrated effort: Royal Buckley's back row give it everything

Talking of notes, the question of the mordente or passing shake caused a great deal of problems to many soprano players on the day (and around the country) in the 'Pavane'. All that was needed to get it right was a copy of the Arban (turn to page 90) and all would have been explained to both performer and MDs. As old Jean Baptiste says there himself…'(the mordent) is played with much more facility and is very graceful' – some on the day fell over it as if they had stubbed their toes on the front door step.
Ynyshir (Stack of Tiles) did try to bring the music out in each of the three movements and for the most part succeeded in a performance that just lacked for consistency.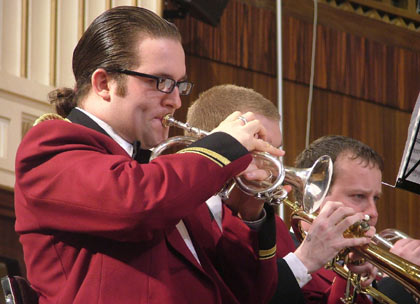 Slick work: Ynyshir's sop player gets to grip with his part

A neat 'Cavalcade' started things off well, although an over slow 'Pavane' rather killed off their chances as it lacked flow and put undue pressure on the solo lines. A slightly lumpy 'Burlesque' just cost them a few points too, but it was a performance that had its moments.
So too Holywell who tried manfully to cope with a shortage of a soprano – a real handicap on this piece. That they managed to do so spoke volumes of the sensible approach of the MD and the quality (and iron lip) of the principal cornet. A decent opening was up tempo and full of the necessary brio, but the 'Pavane' never quite reached the same heights for the obvious reasons. A pretty good 'Burlesque' just got tired and although it was a brave effort they couldn't complain about where they came in the end. Hope they can find a sop on the way home.
Tylorstown Arriva Trains also lacked a player (although in this case it was a trombone), and whilst they started well enough under the astute direction of Gary Davies the workmanlike approach just needed a bit more poise and sense of relaxation in the 'Pavane' especially. It was a worthy old show though with good euphonium and cornet playing a feature, but just lacked that extra little touch of class.
The same could also be said of Newtown Silver under Steve Edwards who produced a solid enough showing that just needed a touch more light and shade in the dynamics and a little more poise and control in the more lyrical passages. A good start was made, but that 'Pavane' was a bit tension filled and the final 'Burlesque' just needed a touch more devilment to it. Pretty decent though.
That just left Lewis Merthyr who surely would have come higher if it wasn't for the poor intonation that so blighted the 'Pavane' in particular. Lyndon Price set out a neatly packaged reading, but too many little errors and that rather poor tuning cost them valuable points. They are a better band than this, but on the day they could have no cause for complaint at the final result.
Overall then a fine contest with two performances that were as good as any we have heard on our travels in the past month. Both Newbridge and Beaumaris will be confident of dong very well at Harrogate if they can repeat this form – and you wouldn't bet against them featuring very highly come the results there if they do.
Iwan Fox.