2007 Welsh Regional Championship - First Section retrospective
20-Mar-2007
The First Section contest was the one disappointment in terms of overall quality of the whole weekend. It was also the one contest of the weekend when the result was greeted with a collective raising of an eyebrow or two.
---
Geoffrey Whitham remarked that he had thoroughly enjoyed his day listening to a piece which he felt lulled players and their MDs into a false sense of security. His personal experience of the composer was of a man of gentleness, kindness and meticulous manners and in many ways 'Sinfonietta' was a piece that reflected his own personal journey through life: It was both simple and complex in each of its three sections.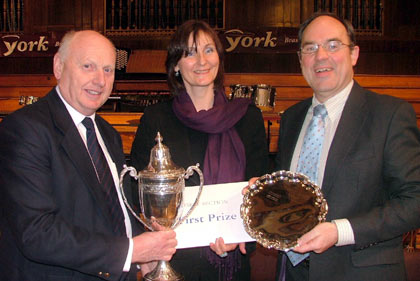 Celebrating their travels: Northop take the top prize for a second year in a row

The opening 'Adventure' required an appreciation of detail and style, whilst the difficult 'Exile' was in need of balance, good soloists and precise intonation. The final 'Journey Home' he stated required control, especially from the three trombones and tuba at the start as well as warmth and balance in the ensemble right to the very end.
All that and more was certainly on display with the winners, Northop Silver directed by Thomas Wyss. Like BAYV in the Championship Section, this was the class performance of the contest and was by general consent a clear and well deserved winner. They will travel to Harrogate confident of doing very well indeed on this form.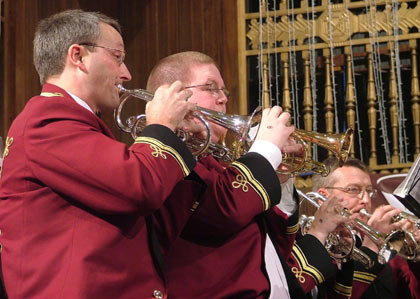 Harrogate Wayfarers: Northop's top cornets head for home

A balanced and detailed 'Adventure' was followed by a reflective and atmospheric 'Exile' with super solo lines from soprano, cornet and flugel and a lovely warm band sound. The final 'Journey Home' revealed control and balance and although the players should take a great deal of credit for the winning performance, the direction from the middle was of a very high order indeed.
If the winner was clear cut, then Treherbert's runner up spot was the moment when the eyebrows started to twitch.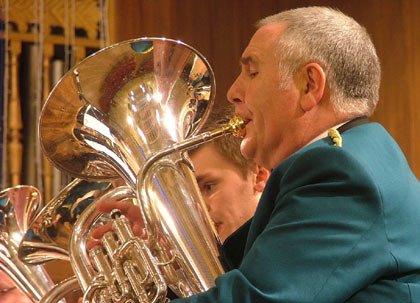 Age shall not weary them: The peerless Bob Burnett makes his mark

It wasn't a bad performance by any means, but it wasn't one that lasted long in the memory banks either. MD Andrew Jones delivered a neutral interpretation of the score, but after a somewhat lumpy start it did recover in the 'Adventure'. 'Exile' was a bit of hard labour – more a week on St Helena than Coventry, but the euphonium playing of the ageless Bob Burnett rolled back the years. Elsewhere it wasn't quite in the same class, but there was a reflected sense of musicality.
It was the 'Journey Home' that possibly brought them most reward – it was very well handled, and a neat and controlled ending rounded off a decent, but no more, performance. We had them in 4th, but what do we know eh?
The one performance that many thought may have won through to Harrogate (we had them 2nd) was Thomas Coaches Mid Rhondda under the direction of Steve Sykes.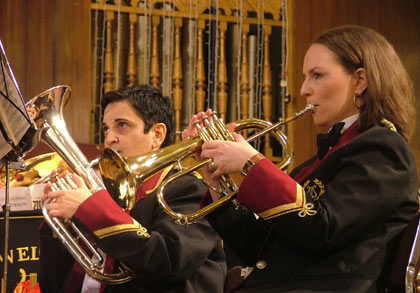 Eyes on the prize: Mid Rhondda's horns and flugel try their best to make their mark

A slightly uncomfortable opening perhaps cost them a valuable point or two, but it did sound correctly understated and simplistic, whilst it soon developed with a sense of style and detailed approach. The 'Exile' was good stuff, with bold soprano, cornet and flugel and the ensemble work was noticeably secure and precise. Even if there were little blips in the 'Journey Home' it ended with a full bodied, balanced and warm climax. It was a fine marker, but perhaps those very early slips may have been the difference in Geoff Whitham's mind to whether or not they deserved a trip to Harrogate.
The rest of the field was made up of some fairly average performances with MDs either failing to come to terms with the lyrical reflectiveness of the music or that their players simply didn't cope with the technical and musical demands placed upon them.
It was Penclawdd Brass who eventually claimed 4th place (we had them 3rd) with a performance that started well but then became progressively over aggressive in style and execution.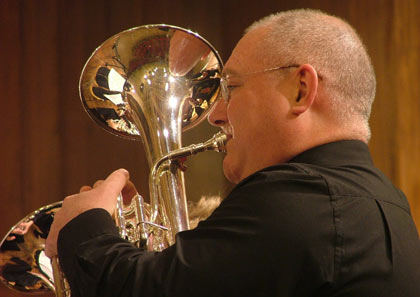 Grey class: Alyn James leads the adventure for Penclawdd

That opening benefited greatly from the horn playing of Alyn James – still a class act even though he is greying around the edges so to speak. That 'Adventure' may not have been 100% at all times in the ensemble but it had coherent shape and style and promised much. Thereafter it rather disappointedly fell away with a harsh 'Exile' in Siberia warmed only by a cracking bit of soprano work, and a 'Journey Home' that hobbled along and became progressively harsh and hard. It was a missed opportunity for Tony Small and his band.
So too Paul Jenkins and Pontardulais, who will surely have learnt that he will not be the last conductor to try and draw a hidden interpretation of Eric Ball's music from a score which in fact reveals all the answers very clearly to the experienced eye. The need to break the opening into two distinctly separated phrases being a case in point – it was if the traveller had popped out the front door only to stop and check to see if he had forgotten his wallet before he walked on.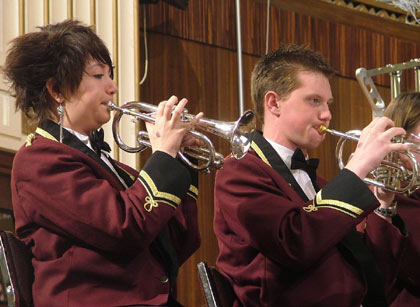 Youthful travels: Pontardulais try their best to get to Harrogate

Although played with confidence it was also played with far too much aggression and misplaced emotion. It was all a bit heart on sleeve when it really needed a dab with a wet hanky and a few kind words in the musical ear in the 'Exile' and the 'Journey Home' was too rushed and harried. The potential is certainly there for the band and the talented MD, but perhaps a quick revision course in the works of Eric Ball would be beneficial for the long term.
Unfortunately for Nigel Seaman his lyrical approach didn't work for Markham & District because his players had one of those days when they all seemed prepossessed to ruin their chances by making too many unforced errors.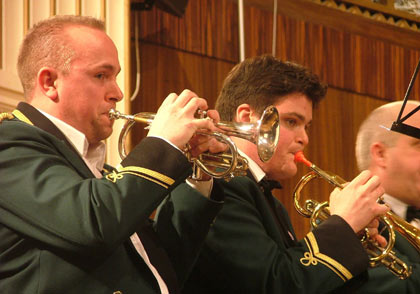 Concentrated effort: Markham's sop and rep give it their best shot

A trip over the doorstep to open the 'Adventure' soon recovered and there was some decent playing in the 'Exile' which Nigel set out as if it was a 12-month sabbatical in a nice open prison, but which the players approached as a ten year stretch in Strangeways – it was uncomfortable to say the least. The 'Journey Home' recovered some lost ground but by then it was too late and one of those days on the contest stage saw them come home in 6th place.
Deiniolen suffered much the same fate too. Gavin Saynor set out a simple and direct reading of the score that would have been very effective if his young band had been able to overcome nerves and some nasty unforced errors to produce their best form.
It wasn't to be though and the stylish approach was undermined fatally by the high error count from the word go. The 'Exile' did feature some neat playing at times, as did the final 'Journey Home', but this was a performance of a band rebuilding.
Finally, RAF St Athan Voluntary under the direction of Alan Bourne – resplendent in more scrambled egg on their shoulder than could be found in a fight in chicken run.
They just had too many unforced errors throughout their performance to make more of an impression than they eventually did, although they had a splendid soprano cornet on show from start to finish. The rather strange decision to start off, then stop, check for the wallet then start walking again (much like Pontardulais) wasn't needed and just emphasised the point that all you need to do with Eric Ball is play what is written on the part – nothing more, nothing less. All the music is there in the notes, there is nothing hidden waiting to be revealed.
Overall then a contest that had the one really outstanding performance from the winners, which was a good as any we have heard on our Wayfarer journey around the country this year. However, after that, it wasn't as good, although Mid Rhondda may well wonder if they set out on the wrong track on the day, only to be missed by the man in the box.
Iwan Fox.