2007 Welsh Regional Championship - Championship Section retrospective
20-Mar-2007
It is not often Geoffrey Whitham is lost for words. However on the Sunday night here in Swansea he confessed to a packed Brangwyn Hall audience before the announcement of the results that he was 'Gobsmacked!' at the standard of playing in the Championship
---
Now Geoffrey isn't a man who minces his words, and whose straight talking is a matter of legend in the brass band movement. He may well have been a touch generous with his plaudits, but we think there won't be too many people who would go face to face with him and argue that he was talking rubbish. He tells it as he hears it – and on Sunday he said that he had heard one absolute class performance and two that he felt were very good indeed. The standard overall he commented was tremendous with some wonderful baritone playing in particular.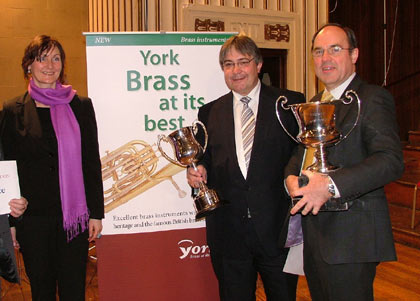 Brass at its best: BAYV's MD accepts the plaudits from the sponsors

He also made the point that what separated out the bands were the ones who had the control and the ability to make subtle changes in style and tempi brought more out of the music than those who opted for speed and volume. Those who had heard him speak at Bradford just a couple of weeks ago found him to be completely consistent in his opinions and view point on the music – and those who didn't take heed of what he said there were the ones who found themselves out of the prizes come Sunday night.
It was hard to disagree with his general analysis and result, although as we have said (and from a safe distance) we think he was being a touch over generous with a least three of the performances, that although certainly of a championship standard were pretty middle of the road – and those who play in the middle of the road, tend to get knocked over.
There was little doubt that Dr Robert Childs had certainly heeded Geoff Whitham's words at St George's Hall.
Buy As You View's performance was the one class act of the day – and some class act too. Delivered with a clarity of purpose and execution that still allowed the musical inspiration to flow throughout, it was playing of the very highest standard, and perhaps their best performance here at Swansea in the past six years that they have now remained unbeaten.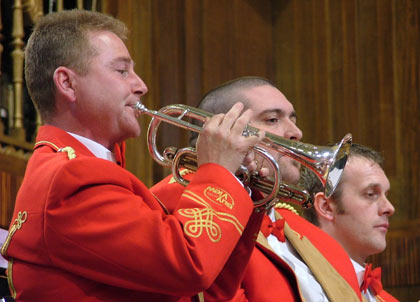 Class act: Ian Williams leads BAYV to victory

All the soloists were on the top of their form with Owen Farr and Ian Williams on horn and solo cornet the pick. The ensemble playing was tremendously secure and accurate with the impressive detail and balance accentuated by the deliberate attention to the tempi and dynamic markings. There was little to find fault with and the MDs intelligent approach to both the music and the stated opinion of the composer and the judge at Bradford was deservedly rewarded with their 26th regional title and the qualification as Welsh representatives to the 2008 European Championships in Stavanger.
Joining BAYV at the Royal Albert Hall (although by that time they will revert back to the famous Cory name) will be their long time rivals Tredegar and BTM.
Tredegar has been through the mill over the last couple of years, although in the past 12 months in particular they have been showing progressive signs of long term recovery and improvement.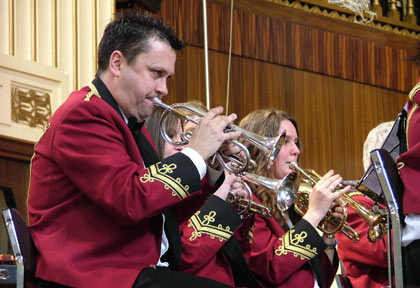 Playing their part: Tredegar's Steve Ruck helps the band to London

Here they were directed with real passion and vibrancy by Mike Fowles, and by the end of their performance that passion (or hywl as they say down here) was certainly coursing through the veins of the players. It was by no means technically perfect – there were noticeable errors in the percussion and in some of the solo lines, but the tempi and dynamics were controlled and secure and the performance benefited from some splendid euphonium, horn and solo cornet work.
We had them in 3rd place, but more importantly the result gave the band a huge confidence boost and that all important trip to the National Finals once more. If BAYV win the Europeans, then Tredegar could be back at that contest too in 2008. Getting back to the Open is the next marker on their agenda, but this was a real good news day for the band.
BTM produced a fine performance to come 3rd and may well feel a little miffed that they didn't quite do enough to persuade Geoff Whitham that they deserved the runners up spot.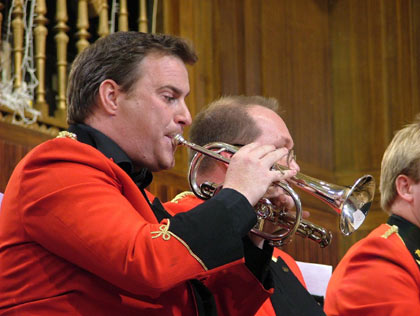 Top Man: BTM's Ian Roberts shows off his quality

Intelligently directed by Jason Katsikaris, it was admirable in its technical security and featured the best cornet playing of the day from Ian Roberts who was outstanding in the demanding lyrical solo. If it did have an Achilles heel then it was the lack of marked dynamic variance – a great deal was played in the comfort zone, although the MD did highlight the changes in style with subtlety. A well controlled ending possibly just lacked that sense of passion that Tredegar had, but there was plenty of good quality work on display from start to finish.
In the past year BTM have progressed far and another trip to the Finals was fully justified by the standard of their overall performance.
With BAYV a comfortable length or two ahead of the other podium finishers, there was also a marked distance between them and the remaining bands – although perhaps a head and shoulder more than a full filly's stride.
In the end it was Burry Port who missed on the Kensington trip after being placed a well deserved 4th. With Parc & Dare (who we had in 5th) they were the other two bands that could realistically have thought they had perhaps done enough to push for qualification, although both were undone in their separate ways with their approach to the test piece.

High tempo euph: Ceri John gives it his all for Burry Port

Under the direction of Michael Thorne, Burry Port did opt for a vibrant and high tempo account, that although full of confidence did lack for real dynamic variance – a great deal of the playing was full blooded, even in the lyrical solo sections. There was some splendid work from Ceri John on euphonium but the noticeable 'depping' in the cornet and horn solo, that high tempo and a slightly overblown finale may just have cost them a valuable point or two. They are a band full of promise though.
It was Cwmaman Institute who eventually ended up in 5th place after a performance full of lyrical intent from Ian Porthouse and his team (we had them in 6th). Where the approach was very much in the style and keeping of the musical intentions of the composer, the execution wasn't always so, although in Steve Barnsley they had the best soprano player of the day on the top of his form.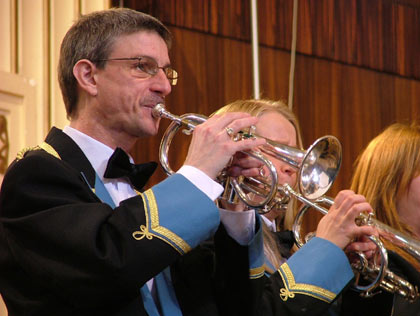 Super Sop: Steve Barnsley struts his stuff

A scrappy opening Presto may have cost them early points as later in the lyrical cornet and flugel duet and cornet and euphonium solos there was a fine shape to the musical picture. The final quarter of the piece saw them rather lose focus and it became strained and harsh to finish, but it was another performance that had more plus points than minus ones.
The final top six place was in fact taken by Wrexham Brass (NEWI) who surprised many in the hall (us included as we had them in 8th) off the number 1 draw with a performance that certainly sounded well rehearsed and full of confidence.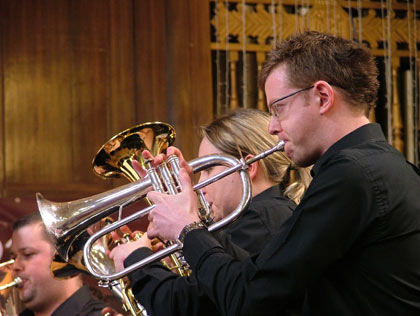 Working hard: Wrexham head into the top six

MD Wayne Ruston worked hard to marshal his resources well and his players repaid him in full. It didn't have the depth of sound or the stability in the technique in the solo and ensemble lines that earmarked the bands that finished above them, but the tempos were well chosen and they never tried to attempt something they couldn't handle. The result may have surprised many as we said, but it certainly appealed to the man in the box – and that is all that counts.
Parc & Dare could be a touch disappointed at coming 7th, although on a day when a number of the bands battling it out for the qualification places really did play above their usual form, their stable but slightly uninspiring take on the test piece didn't find favour in the tent.
There was little really to fault with the execution; the solo playing was solid and secure, the ensemble safe enough, but it was rather played in the comfort zone dynamically and that 'safety first' approach meant that it lacked for passion and vibrancy when required. Perhaps a bit more devilment in the musical attitude would have helped, as it sounded a touch too pious overall, even for a Salvation Army composition.
That just left Tongwynlais Temperance, who we had in 7th and Geoff Whitham had in 8th place after a performance that certainly didn't live up to type of form they have shown on occasions this year.
Gareth Pritchard set out a colourful account, but there were just far too many individual and ensemble errors – some it must said a little self inflicted. If you are to play a major solo pointed out at the audience and almost from memory then you better make sure you do yourself justice: It was a hard lesson learnt for the talented solo cornet player.
By the time they recovered the final quarter of the piece became harsh and messy as they strove for excitement and the final impression was of a performance that didn't live up to expectations from all concerned.
Although with two bands with player problems (Beaumaris and Abergavenny) dropping out, being cause for concern, it also meant that the overall standard of the contest did improve. It has also to be said that on the day a number of the bands chasing the London places on offer did play well above themselves – Tredegar were almost unrecognisable from their Butlins outing.
That may well be good news for the Principality at London, although with the exception of BAYV, both Tredegar and BTM will do very well to make it into the top 10 there even on this form. If they could both do that then even Geoffrey Whitham may be gobsmacked once more.
Iwan Fox