2007 London & Southern Counties Regional Championship - Second Section retrospective
22-Mar-2007
The bands here were not alone in finding it hard to make it a carnival atmosphere with some dated music, but Egham and Cawston managed it best.
---
Bridging the gap between the 'higher' Championship and First sections, and the lower regions of Third and the Fourth, the Second Section is crucial for bands aiming to play at the highest levels of banding, as if you can qualify from here, that goal is almost in sight.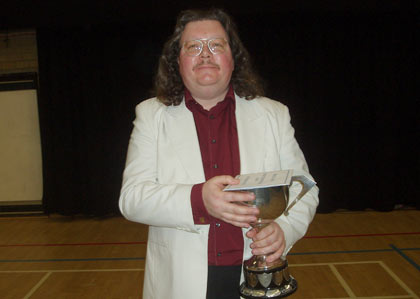 Follow the Green Man: Gareth Green gets his hands on the 2nd Section title

Saturday in Stevenage saw 15 bands trying to do exactly that, and although they had varying degrees of success, all gave their best efforts on Helen Perkin's 'Carnival'.
Having said that, there is often not much you can do to make this piece sound particularly exciting or musical, as much of the material is dated, thickly scored and downright cringeworthy in places.
If bands and MDs had wanted something with real musical substance to really get their teeth into, many must have been disappointed when presented with this uninspiring work, whose 'archive' status seems to be the only thing people can use to describe it.
The test piece has already been discussed in other retrospectives from earlier regional contests, so I am not going to bore you with another analysis of it, but if interest in banding it to be maintained in the modern generation, people need to realise that brass bands, like all other parts of our society, have moved on, and dragging up relics from the archives can do nobody any good, especially if they are as musically redundant as this one is.
Along the lines of the relevance of modernity in banding today, it was very good to see Philip Harper adjudicating this section. As with the other two judges over the weekend, Philip is someone at the top of his game while still being at a young age.
It is great to see people like this being used to judge the bands of today, and Philip's intelligently delivered speech was a delight, letting the bands know exactly what he was looking for on the day. According to Philip, style won the day, with extremes of tempo choices not mattering, as long as they fit in with some kind of overall picture. Only one band had really done it for him, so let's look at how the 15 bands coped with the test piece.
Winners on the day were Egham, who Philip Harper described as being 'head and shoulders above the rest', and as being the only band who really nailed the 'Pavane' middle movement. Egham certainly stood out from the rest of the field from the word go, and travelled through the piece with no noticeable problems at all save for a few glitches on soprano.
This really was excellent playing all round, and many features of the piece (such as accented passages) were only realised by Egham, so Philip would have had no choice but to award the band first prize. It was extremely enjoyable listening, and 4BR will be watching this band with great interest come the Finals in Harrogate. On this form Egham has a chance of doing very well indeed.
Second place went to a delighted Cawston Band, whose representative was one of the most cheerful looking chaps 4BR has seen on a contest platform!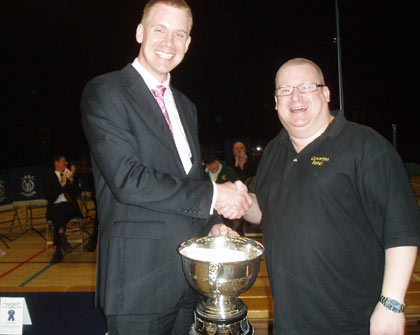 Fill it up! Cawston's rep enjoys thinking about filling up a nice big silver cup

Cawston gave a very accomplished performance of the work, but like the other bands were not always quite together in the middle movement. However, Philip also said that the 2nd placed band was very good as well. Cawston were the first band in the section that really got to grips with the work, and the MD gave the performance lots of poise and style, even if the soprano player was a tad enthusiastic at times!
Cawston's soloists were very good, and the band's baritone player produced a wonderful sound throughout. 2nd was well deserved, and 4BR would have had them either 2nd or 3rd after the conclusion of the contest.
Tilbury would have been disappointed to just miss out on a qualification place, but 3rd place was just reward for their efforts considering the quality of performance given by the top two bands.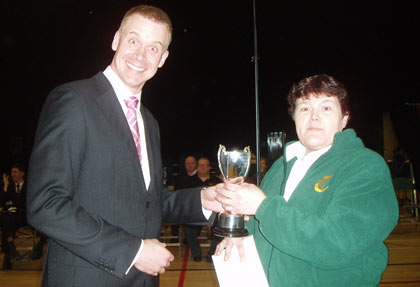 Serious business: Philip Harper smiles, but Tilbury just miss out

With several very young faces around the stands, both band and MD gave a performance which contained some excellent moments, and also some that made the listener wince, not least a few members who decided overblowing was the best way to state the band's case. Thankfully, the good parts far outweighed the bad, and this turned out to be a very neat and controlled reading of 'Carnival', just spoiled by some over-enthusiasm from some quarters.
4th placed Yiewsley and West Drayton did play well in places, but 4BR would have placed them around the mid-table point due to several recurrent problems that cropped up in each movement of the piece.
A rather ragged start with overblowing from some players led to a second movement that, although containing some lovely colours and shapes, did have a nervous feeling in many parts. The third movement was much more successful, and the MD was excellent throughout in acknowledging every soloist's effort, something which is not often seen on the contest platform. The interpretation was what enabled Yiewsley to come as high as they did, but nobody can take away this good result from them.
Norfolk Wherry Brass did very well to come 5th in this field off a number one draw, as for any band to stick in an adjudicator's mind after 15 bands have played is an achievement in itself.
4BR would have not placed the band as high as 5th, as there were numerous parts in which the ensemble did not perform as a cohesive unit, and certain individuals did not do their bit for the cause. The band's flugel player was very secure on solo contributions, but a touch of vibrato would have made a world of difference. A good effort from number one though.
Fairlop's playing in the third movement of the piece was very good, and if they had managed to produce the same standard of performance in the first and second movements they could have gone away from the contest with much more to celebrate.
In the end they came 6th, mainly due to niggles in the ensemble that crept in during the first movement. These did not spoil it for the listener, but the second movement contained more of the same – fine playing coupled with unnecessary errors. The band's euphonium player was particularly good, and 4BR had no complaints with Fairlop's placing. Plenty to build upon for next year.
Grimsdyke's 7th place was right on the button for 4BR. Grimsdyke started off their performance solidly, but often any sense of drive was lost due to quaver accompanying figures being far too legato, robbing the music of any pulse. A nicely-handled 'Pavane' led to a good romp through the final movement, and the soprano player, although one of the band's younger members, played out of his skin. The band also has an excellent euphonium section, although there could just have been a bit more overall class to the whole performance overall, which could have seen the band finishing higher.
Chichester City came in 8th place, and for 4BR this was something as a surprise, as we actually had them coming 2nd or 3rd on the day. To be honest, their performance was like a breath of fresh air, and only Egham really gave 4BR so much enjoyment when listening to their performance. Flugel and baritone had wonderfully sonorous sounds, and everything was together and in tune, providing a very enjoyable listening experience. The band can be disappointed with this result, but will no doubt come back even stronger in 2008.
If the playing had been a touch more sympathetic to the style (and era) of the music, Ware Brass could have done much better. There was nothing inherently wrong with the performance, it was just that in many parts it did not sit right due to the music being played in too harsh a style. Euphonium, flugel and baritone all produced nice moments, but these were not enough to prevent the band eventually finishing in 9th place, further down the table than they would have liked.
Two points behind Ware Brass came Capital Concert Brass, who played off an early number 2 draw. Capital were rather unfortunate on the day to be a bit short on numbers, as the playing was very tight in a lot of places, but the sound was lighter than the rest due to some seats not being filled.
The piece started promisingly enough, but more and more errors did creep in as the performance progressed, and the band's first trombone player insisted on playing far too loudly in almost entry he had, which did detract quite a lot. It was a shame, as the MD had some very good ideas that he just couldn't manage to get is players to realise. The band also was not helped by an idiotic member of staff walking through the hall with a blaring walkie-talkie in the middle of its performance.
Epping Forest's main problem seemed to be nerves from around the stands. The band did manage many parts of the piece very nicely, but nerves kicked in on many occasions and made the quality of playing suffer. Despite being the only euphonium in the section, the chap playing it did a marvellous job, always putting everything in with lots of commitment and a great sound. The band's soprano player was also excellent, but the lack of confidence from some corners did show through though, and Epping had to be content with 11th place this time.
Only having two basses did not appear to faze East London Brass at first. The first movement started off well enough, but rhythmic problems soon showed their head, and everything started to get a little bit scratchy towards the end. Some of the florid passages in the piece did not speak, and there were a good deal of nerves on show. In the end the band could not have hoped for anything more than the 12th place they received, but snippets of good playing could be heard, so all was not lost for them for the future.
Both Chinnor Silver and Betteshanger Welfare, placed 13th and 14th respectively, suffered from far too many problems and inaccuracies to impress the adjudicator enough into giving them higher placings.
Betteshanger's flugel soloist was outstanding, and Chinnor possess a very nice, rounded sound, but problems in tuning, ensemble and accuracy surfaced almost immediately in both performances. Chinnor's bass drum also was never dampened, so rang for several bars after it was played, taking the attention away from whatever might have been going on within the brass. Both performances could have been so much better if care had been given to these little points.
Hitchin Town is another band that can be slightly disappointed with their eventual 15th placing, as there were some nice moments throughout their performance. However, tempo changes were rarely negotiated satisfactorily, and tuning did suffer in some sections. If more care had been given to these aspects of the band's playing, Hitchin could have gained a higher placing on the day.
As seems to be a constant between every section in every area at this year's regional championships, the standard did vary greatly between the bands in the London and Southern Counties second section. The top few really did give performances that would hold their own anywhere in the country, but the bottom bands found making music out of this piece too hard a task.
Admittedly, this is a hard task for any band, but when even facets of playing such as tuning and ensemble tightness are seemingly being ignored, no piece (whether it be good or bad) can be made to sound convincing.
In common with the other sections in Stevenage, the transition of bands from registration room to stage and off again was made extremely fluid by the great team of volunteers present on the day, extremely helpful men and women whose contest management skills are extremely impressive, meaning that nobody has to wait around for anything too long.
This was another enjoyable event, but hopefully the second section contests next year will be made even more so by the choice of a decent test piece. We still have several months to wait and see if this will happen or not, but hopefully the bands will have a piece with enough material in it to get their teeth into, and show next year's adjudicator what they can really do.
Robert Richardson