2007 London & Southern Counties Regional Championship - Championship Section retrospective
22-Mar-2007
'Isaiah 40' proved to be a considerable test in London, but it was Redbridge who had the class to make it five wins out of six.

---
Scarcely a year goes by when one or more of the pieces chosen for the Regional Championships are not complained about, either for being too hard, too easy or inappropriate in a 'test' situation. This reviewer has expressed concerns this year about the lack of real musical substance in the Second Section test piece 'Carnival', but there shall be no such reservations cast on Robert Redhead's 'Isaiah 40'.

Give me five!: Redbridge enjoy their fifth win in the last six years

As we have seen at every area contest since the series began more than two weeks ago, this has definitely been one of the most challenging test pieces for a good few years, providing adjudicators with much easier decisions to make, simply due to the fact that many bands have not been able to get anywhere near the music.
Such is the blend of technicalities and music contained in the piece, that if one of these challenges is not mastered it is damn hard to get close to the other one. The work starts off with one of the most stomach-churning (and that's putting it mildly) openings a baritone could ever imagine, and as the piece progresses the pitfalls get harder and harder to overcome. Even such occasions as when the entire cornet section is required to come in muted in unison after the aforementioned baritone opening can see bands experiencing a whole manner of tuning and balance problems - and that's before any 'hard', technical material has even appeared!
On a personal note, having only just entered the brass band world in 1996 when 'Isaiah 40' was the test piece at the Nationals, it would be very interesting to hear whether or not the piece was only successfully played by a handful of bands 11 years ago at the Albert Hall, and if the piece's problems caused so many headaches then as well.
These and other problems therefore make any contest in which this is the test piece very interesting listening indeed. The contest in Stevenage was no exception, for both good and bad reasons.
Let's start with the good ones.
It must be said that most banders from the northern areas of England do not consider the London and Southern Counties region to be much cop at all, and would be hard pressed to name even a single corner man or woman in one of the region's top bands. This is an unfortunate state of affairs, as there are some cracking players quietly plying their trade here. Without launching into a long list of names, some of the soloists (who will be mentioned later in the individual bands' retrospective comments) were simply sublime, and could easily fit into one of the UK's top-ranked bands.
Another point that made for good listening throughout the weekend was the handful of young MDs who showed that in the next few years they will be top class directors of whichever ensemble they choose to conduct. One chap who does deserve a mention is Scotsman Alan Duguid, who conducted several bands over the weekend. His bands were by no means the most technically able in their sections, but the interpretations that Alan obviously had in mind were a joy to listen to, and in parts transcended any technical difficulties his players might have been experiencing. This reviewer would love to see what he could do with a set of top-class players in front of him.
Listening aside, a heartening feature displayed all weekend was the camaraderie between bandsmen in all sections, clearly visible (and audible!) throughout both days of contesting. Sometimes inter-band rivalries have tended to get a bit heated over the years, so it is nice to see such genuine warmth and friendship on display, as it creates a much nicer atmosphere in what is often the very stressful situation of competing at an important band contest.
On a slightly less positive note, the standard of bands in the lower halves of each table was extremely disappointing. Detailed evidence of this can be found in Malcolm Wood's retrospective of the Fourth Section, where the problem of standard seemed to mainly lie, but in all sections there were many bands who failed to get to grips with their respective test pieces. This is a worrying sign, and MDs must ensure that part of rehearsal time is spent on getting the basics right first (that is, tuning, ensemble, dynamics etc.), as these were the root of many problems experienced on stage over the weekend.
Another less than positive feature was the abuse apparently directed by some people at the door staff over not being allowed to enter the contest hall on Saturday for the results without a ticket. As was explained, these people are simply employed by the centre, and have no say in or control over matters of ticketing. However much people may disagree with the current ticketing system employed at this contest, there is no need for verbal abuse from anyone.
So with that out of the way, let us move on to the main reason everyone was in the Gordon Craig Theatre on Sunday afternoon - for the Championship Section contest.
Drawn number 2, Redbridge Brass under Melvin White claimed first prize and their fifth title in the past six years with a very solid performance that contained lots of very fine playing indeed, and more than the odd touch of excitement to get the pulse racing.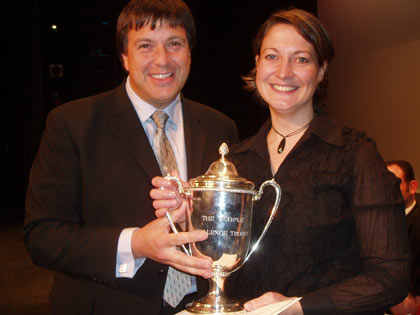 Childs play: The adjudicator gives Redbridge's representative their reward

Everything moved along well and was in its place, and all soloists were excellent. The pick of these had to be Lisa James on euphonium, who was head and shoulders above the rest of her rivals in the slow solo, and deservedly won the award for the best euphonium player of the day. Lisa showed great control in all registers in all dynamics, and was a pleasure to listen to. Horn soloist Iselin Lande also played superbly well, and picked up the Best Horn award.
It was just a shame that there was some scrappiness at the beginning and some cracked notes at various points during the performance, but Redbridge did put together a very solid, convincing performance, which was deserving of first prize. The ending in particular was very good indeed. 4BR had them 3rd, but once again that shows the very subjective nature of contesting and how good the standard was.
Last year's champions Aveley and Newham took 2nd place behind Redbridge. Their performance was a very solid one, but there wasn't always as much care given to the interpretational side of the reading.
The playing was excellent in many parts of the piece though, and congratulations must be given to David Thomas, who won the Best Cornet award for his rendition of the solo in the middle of the piece. This was very nicely played, although the louder dynamics in the ensemble did tend to get a bit much in some bars. Aveley's euphonium soloist also played her solo very finely, and the band in general had a great sound at all dynamics. 4BR had them 2nd at the end of the contest, and 2nd is where they finished, so Aveley can be pleased with another good day at the office.
Third placed Zone One Brass was 4BR's pick to win the title by a couple of points.
Right from the word go one could sense the musicality oozing from conductor, and pro trumpet player, Paul Archibald, and this continued right until the piece's climatic ending. Some of the playing was sublime, including wonderfully stylish flugel playing throughout, and some excellent cornet work which 4BR also thought deserved the Best Cornet prize at the end of the day.
The only point we could see counting against them was the fact they possessed a comparatively lighter sound than several other bands in this section, but for us this paled into insignificance when compared to the class showed by both MD and players. It has often been observed that the most musical performances have not won contests, even if they have been as error-free as the winners. This reviewer would have to ask the question – Why not??
4BR had Kidlington in 4th place, and the band seemed to be pleased with eventually being given that placing by adjudicator Nicholas Childs as well.
The hallmark of Kidlington's playing was great ensemble work throughout most of the piece. They started off with a nice bit of mysterious flugel playing, then principal euphonium Aaron Barnes started the faster section off with the best euphonium triplets to be heard all day. Solo work was generally of a very good standard, but the accompaniment to the cornet solo was far too loud, and the triplet accompaniment figures could have been given slightly more length. Overall it was a very clean performance, which could have just benefited from a little more life to give it that extra sparkle. 4th place was well deserved though.
These four bands were really the only ones who managed to get from beginning to end without any serious problems, and who gave performances that fully convinced. The next six bands all certainly had their moments, but just accumulated too many individual and collective errors and problems to have a chance of finishing higher than they eventually did.
In fifth place was Haverhill, who would have benefited from a good deal more drive to their playing, and who also suffered from some moments of awful tuning.
The playing got better as it went along, with a slightly insecure start giving way to some nice solo playing and great cornet sectional work. Tim Pannell on solo cornet showed his class despite not always being secure on the higher notes, this not mattering as when a player has the style and controlled vibrato that he does, one can just sit back and enjoy. It was just a shame that too many insecurities did detract, but Haverhill managed a very respectable 5th - 4BR had them in around 7th.
Wantage Silver 'A' gave a solid performance to come in 6th place, and even after a nervy start from some corners this developed into a nicely controlled show, with some good playing from many of the band's corner men.
Everything was well handled by the MD, and this band possesses a very nice sound that served it well on the day. The MD gave the piece a very nice shape and interpretation, and this made all the difference in the face of the errors that did creep in here and there. 4BR had them as high up as 5th - almost spot on, as the adjudicator had them in 6th.
Welwyn Garden City under Stephen Tighe started off with numerous tuning problems, and with an ensemble that was not always 100% together. It also tended to slow down slightly whenever it came to a tricky technical passage.
Having said this though, the band's cornet, flugel and euphonium soloists played out of their skins, and there were committed efforts coming from all around the stands. It was a shame that the piece was a bit beyond them, which caused numerous inaccuracies, but by coming 7th Welwyn did not disgrace themselves, and will be able to build up their stamina and technical accuracy over the coming year. 7th from Dr. Childs, 9th from 4BR.
Although a technique becoming increasingly common in band contests, Clacton-on-Sea Co-operative were the only band in the section to opt to use dusters over the bells of their cornets in the first muted bit of section work.
To be perfectly honest, this did not really make much difference to the listener, and the band did have noticeable tuning problems from the word go, as well as rather a lot of harshness coming from the top end of the band. Overblowing did become more frequent as Clacton-on-Sea's performance progressed, but thankfully the playing was punctuated by some very nice moments, not least the horn solo, which was beautifully executed. The playing did improve a lot towards the end, but there was not enough overall class and style to warrant a higher place. 8th was bang on the mark.
Friary Guildford opted for an incredibly strange setup, with the entire cornet section standing and the horns sat where the front row would normally be, with their bells pointing outwards.
Whatever the reasoning was behind this is a mystery. Having the cornets standing made no audible different, and the horn bells pointing towards the audience only served to highlight errors when they occurred. There was further standing from both the euphonium soloist and the trombone section near the end, again not seeming to serve any useful purpose.
The playing of the band was actually not bad at all, with a lovely-sounding flugel soloist and great euphonium player, despite the aforementioned unnecessary standing. The band's principal cornet is also a very classy player, and it was a shame that tiredness got the better of him towards the end of his solo, although it takes guts to take something down the octave rather than strain for a note that is not going to come. 4BR did like the band's style in a lot of places though, and had them in 6th place, while Nicholas did not find favour with their performance, and placed them in 9th.
Soham Comrades was another band that chose to alter their formation for this piece, with trombones sitting where the basses normally sit, and vice versa. This was presumably to make the trombone theme towards the end of the piece more prominent, as other bands suffered from this not coming to the fore, but unfortunately all that was achieved was that the trombone sound was masked by the higher instruments in the band.
The baritone section gave a very nice opening to the piece, and Soham's soloists all played very well indeed, but there were many problems in ensemble, and the band never stamped their authority on the more technical sections of the work. Obviously a disappointing result, but Soham should take heart from knowing that they do have a band with some very good players around the stand.
As can be gleaned from the above comments, there was a definite split between the bands who could cope with 'Isaiah 40', and those who couldn't. While no band failed to get from beginning to end, the work did prove too difficult for some of them, which was a shame as each ensemble clearly had many good things to offer the audience. Unfortunately though, it was not to be for many of them, and perhaps next year's test piece will give them more of a chance to show their talents to the full.
The Championship Section was a well-run affair, with the time between bands' performances kept to a minimum, in common with the rest of the weekend. This is thanks to the dedicated team of volunteers who oversee the contest, and praise must be given to them for a difficult job extremely well done. The organisers were also helpful when giving 4BR the results on the day, and thanks also to 4BR's Chris Thomas, who also gave some very useful and insightful comments on the performances in this section.
To sum up, the overall standard here is definitely not as high as it is in some of the other regions of the country, but nevertheless 4BR had a very enjoyable afternoon on Sunday, and is eagerly awaiting next year to see how these ensembles have used the comments provided to them this year to strengthen their musical capabilities. If all do this, then next year will be a very interesting event indeed.
Robert Richardson