2007 North of England Regional Championship - Fourth Section retrospective
22-Mar-2007
Everyone brought something to 'The Seasons' and Flookburgh and Marske who will head to Harrogate di it the most for adjudicator Maurice Priestley.
---
A Philip Wilby work in the Fourth Section? 'Vienna Nights' it was not (thankfully) but some people do forget the man knows how to write for lower section bands, as well as the best.
It was obvious from reactions on stage as to how the players enjoyed his work, and we assume also in the rehearsals prior to the contest. There was some over enthusiastic playing especially from the percussionists in places and some, shall we say, interesting tempos - a common fault over the weekend. Yet the Fourth Section always seems to be full of fun, mostly because of the youngsters that take part. The number of times that they were seen waving at proud parents in the hall was matched by the number whose feet didn't reach the floor when sitting down to perform. An encouraging sign for the future.
And so to the contest and Flookburgh who took the title with a cracking performance of 'The Seasons'. Here was a band you could sense were making the effort to play in tune, watch all the dynamics and articulation whilst their conductor was not content to just wave his arms around but actually try to get his players to make music.
John Iveson took notice of the tempos and clearly had taken the time to study the work rather than some who you just knew rarely looked at the score from one practice to the next. Deserved and no surprise in the first place award as well as Derek Horne with the best principal cornet prize.
Second place went to Marske and the diminutive white-haired Alan Prest. This was a surprise to a number in the hall as the performance just didn't seem to get going at all.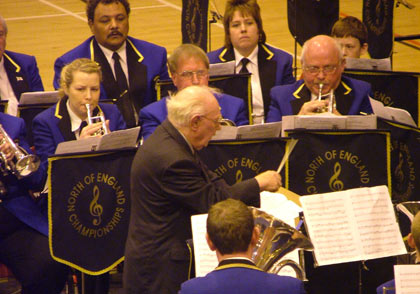 Getting going to Harrogate: Marske Brass head to the finals

There were a number of problems with ensemble especially in the third movement where the balance was top heavy with a light middle section and percussion were at time 'over the top'. Indeed, the snare was left off the opening to 'High Summer' and there were some ungainly crashes from cymbals at the end. Nevertheless it appealed to Maurice Priestley who marked them only a point behind Flookburgh and they will be immensely pleased to be making the trip to Harrogate.
Third place went to Kirkby Lonsdale (A. Greenwood) and here was a band who tried to make something of the 'Spring Waltz' and an effective interpretation it was too. If they had ironed out a few tuning errors and played with a bit more confidence in some of the quieter moments, and been able to keep their stamina right to the end when tiredness crept in, they may have sneaked into second but still an enjoyable reading.
Dunston Silver produced a good musical reading from Sue Murrill but lacked some finesse in the opening passage whilst the marziale was kept in check. It was a well controlled and well shaped performance that had much to commend in everyones approach.
The same however can't be said for South Milford who had a strange idea of what forte and fortissimo were (i.e. extremely loud) and subsequently blew out of tune. Unfortunately the soprano started a semi-tone flat and kept it up through rest of the work, and the waltz was too quick at times and loud. However fifth place was what they eventually finished, but if they can iron out those little problems there is a band of real potential on show here.
The rest of the contenders all suffered from the dreaded splits and clips, tuning and articulation, playing in time together and sadly some conductors who had not studied the score properly and ruined any chances that bands had of entering the prizes.
Some tempos were plain crazy, either far in excess or drearily slow of those on the score and bands just couldn't cope. The worst was from one conductor who took the waltz from crotchet=120 down to 70, manageable for the odd tortoise coming out of hibernation in spring but not for this contest.

As we've also mentioned before, some also believe their charges can blow like Reg Vardy, to use the local comparison, and they don't realise that their band won't, can't, or are unable to do this. It's like asking a non-league football team to play Barcelona in the style of Man Utd, getting whopped out of the stadium and then the manager wondering why they didn't win, not understanding he didn't have the quality players to do so in the first place.
Aycliffe & Brancepath had their moments in each of the three movements but just lacked that element of consistency in execution that marked out the bands that came above them, whilst the same could also be said of Trimdon too who opened well enough and seemed to be going along nicely but just fell away as tiredness crept into things. Both bands though can take some considerable encouragement from their efforts.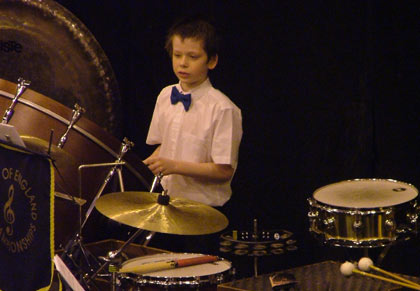 Now which one do I try next? Trimdon's young perc player has a lot to do!

Craghead also coped with most of the technical hurdles that it found in front of them and can take credit for the way the MD kept things in check, whilst Kingsway Printers Cleethorpes can take a huge amount of encouragement from their first appearance back here for many a year. This experience will do them a power of good for certain. Finally, Bearpark & Esh Colliery who did struggle somewhat but also showed glimpses of real potential too and shouldn't be too dismayed to have come bottom of the pack on this occasion. They will return all the better and stronger for this experience we are sure.
On the plus side, congratulations must go to the horn soloists who all performed the solo in the spring waltz with hardly a blip amongst them. If they were suffering from nerves they didn't show it and there were quite a few youngsters amongst them too.
For all its faults the Fourth still puts more smiles on faces than cringes and for that we are already looking forward to Harrogate. The two qualifiers may find it difficult to make a real mark there, but you never know, whilst there was plenty of good stuff for all the bands to work on over the next twelve months. Things are looking up at this level if they can.
Steve Jack