2007 North of England Regional Championship - Second Section retrospective
22-Mar-2007
Two very good performances on a very tricky test piece saw Wansbeck's and Cockerton through to Harrogate in 'Carnival' mood.
---
Eight bands fought it out for the two places available for the Harrogate finals in what turned out to be a very interesting and enjoyable contest indeed.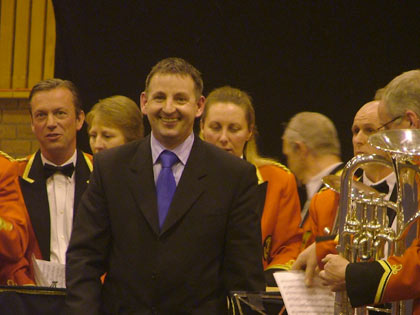 A job well done: Wansbecks MD seems happy and a touch relieved!

Helen Perkin's 'Carnival' certainly gave both bands and conductors plenty to think about (as it has done all around the country this year) with the second movement 'Pavane' causing the most problems in particular.

The contest got off to a good start with Cockerton Silver putting down a fine marker for the other bands to beat with excellent, well balanced band sounds and some lovely individual playing from the main soloists on display.

The difficult 'Pavane' was well controlled, although intonation was a problem at times and although perhaps more detail in the ensemble was needed, the music flowed well. A bright 'Burlesque' rounded things off with a flourish and the runners up place at the announcement of the results was deserved. On a day when there were a number of well constructed performances we had them 3rd but the evidence was there in full that the progress made in the last couple of years has been maintained and enhanced. This is a band going places – Harrogate for one.

The second band Wansbeck's Ashington delivered a performance that throughout was full of confidence, plenty of detail and very well directed.

There was some lovely flugel horn playing on display throughout alongside well controlled dynamics and a fine sense of style in each of the movements. The 'Cavalcade' had plenty of brio and drive as well as the necessary command of the basics of intonation and balance, the 'Pavane' was nicely relaxed in feel and featured secure and confident solo lines, and the 'Burlesque' had vibrancy and wit. There was no doubt that it was a clear and well deserved winner. This is a very good band and very well directed.

Dearham meanwhile had a mixed day with some loose playing in the 'Pavane' and a poor opening to the last movement 'Burlesque' that proved costly and 6th place was the result. It did have some fine moments in it too, with a well controlled opening 'Cavalcade' but the errors when they came were noticeable and detracting and they can have little to complain about with the result.

Following them onto the stage was East Riding of Yorkshire who gave a rather drab performance with little contrast in either style or dynamics. That was a pity as all the basic requirements of decent tuning and balance were in place. It just lacked imagination (the players didn't look as if they were enjoying the music at all) despite some nice sounds, and 8th place was the result. No complaints there.
Meanwhile, Ferryhill Town can feel a little disappointed with 7th place. Although it was not going to challenge the top two it perhaps deserved higher than it came after they produced a well crafted account that despite noticeable fragility had style and a sense of musicality about it. We had them 5th, but perhaps that frailty in intonation especially in the 'Pavane' proved too costly.
Durham Constabulary had one of the best sounding bands of the day and their opening 'Cavalcade' was full of promise of things to come. However the 'Pavane' killed off their chances as there were too many tentative entries and at times it lacked belief from the players that they could meet the demands of the music. If they had just that little bit of extra confidence it would surely have come off as the music did have that sense of flow and shape and style that was required. 4th place could have been higher with just a touch more self-belief.

Murton Colliery meanwhile certainly had the best 'Pavane' of the day – so well shaped and delivered by the main soloists - and only some over zealous playing from percussion and band in the last movement 'Burlesque' when they went for the sense of fun and games and just got a touch over excited and a bit boisterous proved costly.
We had them in runners up, but that loss of concentration and perhaps with the adrenaline pumping through the veins in the last section cost them that priceless place at Harrogate. An encouraging performance though from all concerned.

The last band to play York Railway Institute also had plenty of neatly played and well balanced moments where the music shone through, but overall it lacked excitement and that all important consistency. When it was good it was very good, but when it wasn't it sounded harsh and lacking balance – issues that we are sure they will be able to overcome with a bit of hard work and commitment to the cause.

There was plenty of evidence that there was a very promising band in the making here. We had them 7th on the day but Ray Farr had them a bit higher. Well done to the sop by the way who was the star player of the section for us. The soloist awards both went to Cockerton Silver for their euphonium and bass section.

In his remarks before the results Ray Farr thanked the bands for keeping sensible tempo and said he had enjoyed the playing throughout. As always with Ray he emphasised the need for the music to come first and foremost and he congratulated the bands and their MDs on trying to do just that. This was an encouraging standard here – not quite as consistent as other contests at this level we have heard around the country, but still very promising indeed.
David Tinker