2007 North American Brass Band Championships - Introduction
9-Apr-2007
4BR looks at the 2007 North American Brass Band Championships, which take place in New Albany, Indiana this weekend.
---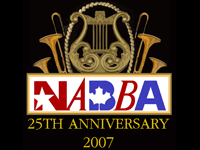 The North American Brass Band Championships celebrate their 25th anniversary this year by returning to Indiana University Southeast in New Albany, Indiana just across the Ohio River from Louisville, Kentucky.
This is the first time that the North American Championships have been held in the same location 2-years in a row in the hope that some stability and continuity are created. For the third year in a row NABBA has taken over the operation of the Championships (rather than have a host band) and it should make for an incredibly smoothly run event (we saw some of the results of that last year)
As NABBA looks back over 25-years it can be quite happy with what it has accomplished and where it is today. The North American Championships are being run by the NABBA board, they have secured a venue for the foreseeable future, and the contest has grow consistently over it's 25-year history with about 2 new bands every three years.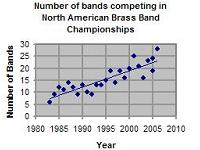 The growth of North American Brass Band Association is evident in other ways. NABBA membership includes about 40 bands and besides the annual championships has annual festivals in Davenport (IA), Ashland (KY), and Columbus (OH). There is a CD recording contest to encourage the growth of brass bands that may or may not attend the NABBA Championships. Additionally, and the NABBA publication, The Bridge is be published more frequently, with more pictures and high readership than ever.
Friday's Competitions
Friday's festivities includes 11 brass ensembles including the return of last years winners the Chicago Brass Players. Additionally, 5 percussion ensembles will be competing.
In the soloist categories there are 77 entries in the 10 events of solo and ensemble events including the Youth Brass Solo (19), Adult High Brass Technical (11), Adult High Brass Slow Melody (11), Adult Low Brass Technical (17), Adult Low Brass Slow Melody (19), Adult Percussion Solo (6) and Youth Percussion (3).
Several of the solo stars from last year are returning. Randy Tinnin and Carol Trowbridge will return to defend their titles in Adult High Brass Technical and Adult Percussion respectively. Lee Harrelson will not be defending his Adult Low Brass Technical title, but rather will be competing in the Adult Low Brass Lyrical contest.
Saturday's Competitions

Saturday's competition includes 28 bands in 4 adult and 2 youth sections. This is the first year for the new "Youth Open" section and there are two entrants. The top section is referred to as the Championship Section (just as in the UK). The other sections in order from highest to lowest are Honors, Challenge and Explorer.
For each section there are three adjudicators, all in separate shielded boxes. This year's adjudicators are Stephen Bulla, Bram Gregson, LTC Timothy J. Holtan, Rodney Newton, LTC Thomas Palmatier and Sheona White. Not only are the adjudicators armed with the traditional comment sheet and pencil, but each has a CD recorder.
The CD recorders have two microphones, one for the adjudicator to speak into one track, the other is set up to record the bands. As the adjudicators are usually separated along the back of the hall on the right, center and left sides the track recording the bands is often very useful as depending on placement the adjudicators really can hear different things.
Scores are recorded for the set piece (out of 100) and own choice portion of the programme (out of 100). In the control room, the scores are weighted so that the set piece receives a weighting of 0.6 and the own choice a weighting of 0.4. The scores are then added together to create a maximum possible score of 300.
Because of the weighting it is not unusual to see band scores to the nearest 0.2 of a point. (The margin of victory in the Championship section has been less than one point the past three years!!).
This year features 3 bands making their contesting debut including the Chesapeake Cornet Silver Band (DE), Bend in the River Brass (IN), and Triangle Youth Brass Ensemble (NC). Additionally, the promotion/ relegation system in North America is voluntary (unless a band wins a particular section 3 years on the trot), so it is worth mentioning that one band is moving up a section (Georgia Brass Band from Challenge to Honors Section) and two bands are moving down a section, both after a hiatus from contest (Triangle Brass Band from Championship to Honors and Sunshine Brass from Honors to Challenge).
This year sets a new record with five youth bands competing (4 in the two youth sections and one in the adult, explorer section) including the newly formed Triangle Youth Brass Ensemble. This year two other youth bands have formed (in Detroit and Atlanta) that are not competing and it is hoped that more youth bands will continue to form and compete. This movement towards the youth band are key in improve banding in North America at a grass roots level.
Interesting storylines
There are also some very interesting story lines. Central Florida returns to the NABBA contest to try to duplicate the victory it earned it's previous attempt two-years ago. Brass Band of Columbus is not returning to defend it's title, but the second and third place bands (James Madison and Fountain City), who only lost by a combined 0.6 points will surely be after the top spot. Also, returning is the Chicago Brass Band which after a first and second place in 2004 & 2005, finished a surprising second from the bottom last year and will be looking to regain their form.
In the Honors Section, each band will be playing a truly major work as their own choice piece for the first time. This section numbered four last year and is up to seven as Triangle and Prairie return and Georgia move up a section. It could truly be a wide open an unpredictable race, but returning winners New England will still be in the mix.
This year marks the end (at least for now) of the traditional Gala Concert. The Southern Territorial band (Richard Holz) will be featured along with guest soloist Sheona White (horn) and Jude Gotrich (vocals).
Next Year, the Championship Section own-choice piece will conclude the weekend with perhaps some musical entertainment in the 20-30 minutes it takes to tally the final results.

Pat Herak