2007 Regional championships retrospective - Never mind the quality - feel the width
11-Apr-2007
In our final retrospective of the 2007 Regional Championships, 4BR asks if we really do have the quality at the top and the bottom of the contesting tree, or are we still stuck in the Life on Mars year of 1973.
---
The highly entertaining television series, Life on Mars, about a modern day policeman thrown back in time to the glory days of Britain in 1973, brings back all sorts of memories. None more so than the reminder of the complete awfulness of much that we had to put up with at the time - from the three-day week and glamorous footballers with names such as Cyril and Nobby, to Brut aftershave and the ludicrous Glam Rock craze.
It may look great on television today with a wisecracking caricature copper nicking heavies on a blag and shouting very loudly at all and sundry whilst driving a vinyl-topped Ford Cortina Mark III but, in truth, it was a pretty drab and dreary period in our history.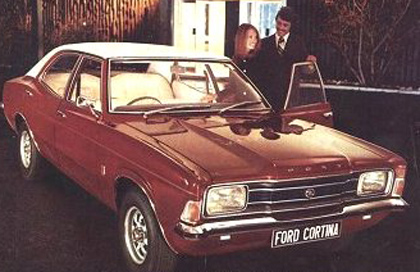 They don't make 'em like this anymore....the aerodynamic Ford Cortina Mark III

At the time, the brass band movement was clinging onto the dying embers of the last great period of its post-war boom. This was Britain before the mines, steelworks, factories and manufacturing industry in general started to decline, and when the Regional Championships throughout the UK could boast well over 700 entries.
It was, of course, the decade when shops sold those terrible orange, black and green swirly carpets by the acre to people like my grandmother, who used to lay it in the parlour (front rooms and designer living spaces were not invented until well into the 1980s) with a bit of see-through plastic on top to stop people wearing it out too quickly by walking on it too often. It was also the time when the average age of the players in our top brass bands was over 40 and the thought of having female players in their ranks would have resulted in an all-out strike of which even Joe Gormley and the National Union of Mineworkers would have been proud.
This was an age when, as long as we had the numbers, no one seemed too bothered about the standard of the end product. From carpets and footballers with comb-over haircuts to free peripatetic music teaching and community-based brass bands, Britain in 1973 was a country run on the adage of 'never mind the quality, feel the width'. Not now.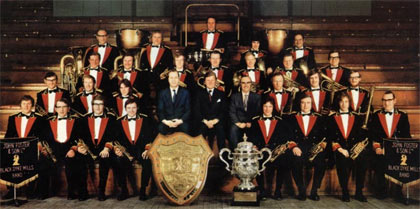 Men of a certain age: Black Dyke 1972/3

Fast-forward 34 years and both Britain and the brass band movement are totally different places.
Policemen are younger, shorter and have degrees in political correctness, footballers are called Thierry and Gianfranco, and bandsmen now wear grooming products rather than 'splash it all over' aftershave. Meanwhile, the 2007 Regional Championships had just over 500 entries. It is now all about striving for quality and worrying about the width. Even my Gran's council flat has shiny wooden flooring from B&Q rather than dodgy old carpets.
However, there are still some throwbacks in time none more so than the current Championship Section, which seems to have changed little in the past 30 or so years, despite the decrease in the overall numbers of competing bands as well as the introduction, in 1992, of the 1st Section, which was meant to become a 'stepping stone' for bands with ambitions to compete realistically at the highest level.
Meanwhile, at the other end of the contesting spectrum in the 4th Section, where there used to be whole legions of bands taking to the stage in the early 1970s, there were just 126 competitors in 2007, yet the overall standard of performances and competitiveness has, without question, improved immeasurably.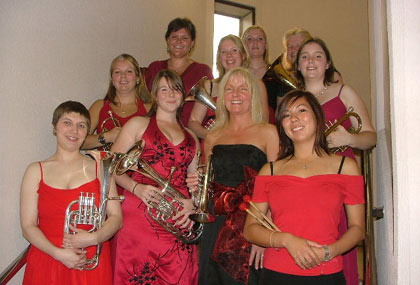 The modern make up of bands: Put your eys back in lads...
Picture: Steve Jack

The 1973 Regional Championships (which, incidentally, started in February and ended in the last week of May) produced 19 top section qualifiers for the Royal Albert Hall Final from an entry of around 85. In 2007, out of 82 entries, 20 will be making the trip to Kensington.
The statistics, however, can be very revealing and bring to mind the observation that, perhaps (and to use a very 2007 phrase), the Championship Section in its present form is no longer 'fit for purpose'.
Since 2000, there have been 160 places at the National Final up for grabs in the Championship Section qualifiers around the country. Yorkshire has provided 29 qualifiers, North West 24, Wales 23, Midlands 19, North of England 17 and Scotland, West of England and London & Southern Counties 16 each. Those figures in themselves may give an indication of the relative strengths of the regions, with only half of them providing one automatic qualifier (the bands who finish in the top four at the previous year's Final) in the past eight years.
In the same period, 52 bands have qualified for Kensington but, of those, six have either disbanded or did not compete at this year's Regional Championships. More revealing, however, is that out of those 52 bands, 23 of them will have made just one appearance, whilst a further six will have appeared twice.
At regional level, the picture becomes even clearer.
In Yorkshire, just four bands (Black Dyke, YBS, Brighouse and Rastrick and Grimethorpe Colliery) have taken 26 of the 29 qualification places on offer since the turn of the Millennium, whilst in the North-West, three bands (Leyland, Fodens and Fairey) have taken 21 out of 24.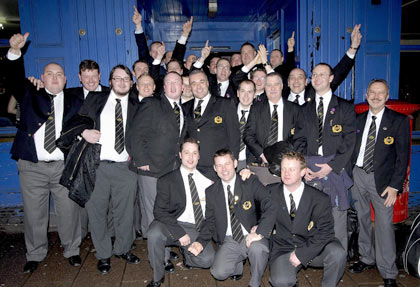 Brighouse make it back to London again in 2007
Picture: B&R Band

In Scotland, three bands (Scottish Co-op, Whitburn and Kirkintilloch) have swept up 14 of the 16 places up for grabs and, in the North, Reg Vardy and EYMS have taken 12 of the 17 on offer. In the London & Southern Counties region, Aveley & Newham and Redbridge have taken 11 of the 16 available and, in Wales, Cory and Tredegar have taken 13 of the 23 places.
Even in the West of England, where seven different bands have qualified in the past eight years, three bands (PolySteel, Mount Charles and Camborne) have taken 12 of the 16 places up for grabs. In the Midlands, where eight different bands have qualified in the same period, Desford, GUS and Ransome account for 10 of the 19 qualification spots on offer.
Just 22 bands have therefore taken 119 out of a total of 160 places available at the National Final. Is that an indication of their overall excellence or, given that a further 23 qualification places have been taken just once by other bands in the same period, six have appeared just twice and six no longer compete, doesn't it show that we do not really have many truly competitive Championship Section bands throughout the UK? If that is the case, wouldn't it be healthier if we had more bands qualifying more
often due to them being more evenly matched?
The 1st Section, hailed over a decade ago as the answer to many of the problems that were envisaged if we continued to have too many uncompetitive bands competing at the top level, meanders on without much sense of purpose or direction. Wasn't it part of its remit at the time to ensure that no region had anymore than ten bands in its Championship Section?
This year, Yorkshire had 13, the Midlands had 12 and the North West and West of England had 11 each. If two bands hadnąt dropped out in London, it would have had 12 too.
Something is not adding up and it cannot have gone unnoticed that there were a disturbing number of top section bands unable, or close to being unable, to field a full compliment of players this year. Could it be that many are finding that trying to perform music that their players cannot play to a high enough standard in a section they have little or no chance of being successful in is a recipe for their own terminal decline? Given the statistics, are there really over 80 competitive top section bands in the UK? On the evidence of what we've heard this year, perhaps a figure closer to 50 would be much more realistic.
Of the 15 1st Section National Champions since 1992, seven - Point of Ayr and BHK (UK Ltd.) Horden (both of which have since disbanded), Thoresby, ASDA Stocksbridge, Northop, Rolls Royce (Coventry) and Staffordshire – have gone on and qualified for the National Final at Championship Section level, but the highest any of them (Point of Ayr in 1997) has finished at London is eighth. Doesn't that also tell you something?
Meanwhile, in purely numerical terms, the 4th Section has shrunk to a fraction of the size it was 34 years ago but, unlike at Championship level, it has become a much more evenly matched and competitive playing field.
Since the turn of the Millennium, the National Champions in the Lower Sections have come from six different regions and seasoned observers would suggest that the overall standard of performances has increased immeasurably since 1973, when the vast majority of 4th Section bands didn't include young players in their ranks at all.

The advent of the successful Butlin's Youth Championships in 1974, which was
the forerunner to other major youth contests, better peripatetic music services, much better test-pieces and bands finally acknowledging that if they were to survive then they had to make families and youngsters welcome, have all contributed to a smaller but much more vibrant competitive tier of banding.
It is of great sadness that many bands from 1973 no longer exist, but those who have survived are now better equipped than ever before to accommodate and benefit from any future social changes that, in the past, have destroyed many others. The width may not be there to admire in the 4th Section at times, but unlike the Championship Section, the quality certainly is.
If you do ever happen to be pulled into some sort of time vortex by a chap in an old-fashioned, 1973 issue police box, then what you find when going back to a time when Edward Heath introduced VAT, the Cod War with Iceland was at its height and Sunderland won the FA Cup, may not be that much of a surprise.
Some things, you see, never change and, as a result, seem as dated as national health spectacles or Jimmy Hill on Match of the Day. Others, though, have changed, invariably for the better. I wonder what someone will think of the state of the 2007 brass band movement in another 30 years time?

Iwan Fox

This article first appeared in British Bandsman magazine 7th April