2007 North American Brass Band Championships - Retrospective: Lower Section, Solo & Ensemble
19-Apr-2007
There was much to admire in the lower sections, with an accent on youth and some wonderful playing from individuals and ensembles on show all weekend.
---
Whilst we did listen to every beat of the Championship and Honors Section, we would like to apologise that we did not see every lower section band, ensemble and soloist; however, with two and three venues running concurrently, it made for quite a difficult task. In fact, after sitting through bands the entire day, it gave us a new appreciate for what the men (and woman) in the box had to do.

Challenge Section:
The top two placing bands, Massanutten (pronounced like "nut" in the middle) and Natural State had very challenging programs and from what we did here played them quite well. Kevin Stees, director of Massanutten had actually conducted James Madison to a victory on Coventry Variations two years earlier in the Honors Section.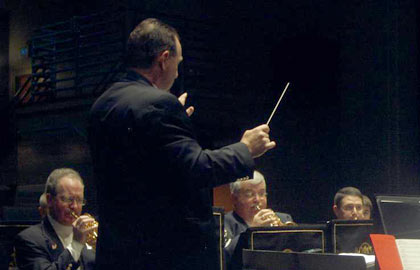 Natural State grabs the 2nd place prize
Natural State Band (Rusty Morris) performed 'Variations on Maccabeus'. The band showed off its technical prowess in the own choice and had a consistent effort in the set piece.
We made an extra effort to hear the debut of the Chesapeake Silver Cornet Band. For their debut they appeared to have a less challenging program than some of the other bands, but it helped feature some fantastic ensemble moments from the group.



Pointing in the right direction for Chesapeake Silver

Unfortunately, the moments did not occur consistently enough to make a run at the title. If they can make the effort to return, I'm sure we'll see the improvement.

Explorer Section: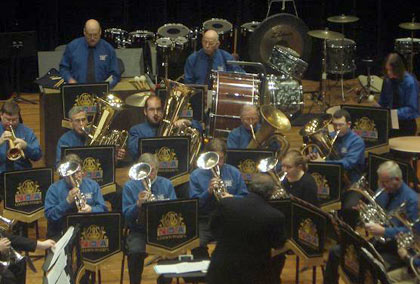 Brass Band of the Tri-State Captures the Crown
The Explorer Section is the lowest of the four adult sections and the bands that are competing in this section are obviously still developing the brass band sound. They could all do with a darker sound (perhaps aided by a bit of vibrato). There are all some intonations and balance issues.
Compare to last year, this section was much more competitive. All-Star Brass & Percussion is much improved, playing with a bigger more confidant sound. Bend in the River Brass Band made a fine debut with an excellent conductor in Mark Kersting and Brass Band of the Tri-State had a good ensemble for the own choice pieces, but on the more difficult set-work, ran into the same issues as the other groups.
We thought it was a tight race that any group could win, but opted for Bend in the River. The adjudicators favoured Tri-State and perhaps their easier choice of programme was able to show off more of their strengths.

Youth and Youth Open Sections:
Triangle Youth Brass Band and Triangle Youth Brass Ensemble captured the top two prizes in the Youth and Youth Open Sections respectively by convincing 17.4-point and 15-point margins (out of 300) respectively. What gave these groups the decisive win was their precision, clarity and intonation. It was very good playing indeed.
It would also be quite interesting to see where the Triangle Youth Brass Band would finish if they were to compete in one of the adult sections (e.g. Challenge or Explorer).

Adult Brass Ensemble:
The Ensemble contest has really become something to behold. Unlike in it's earlier years, many of the groups perform relatively regularly together, so music and entertainment are of a high value.
The James Madison University Brass Ensemble took the top spot in the ensemble competition (with 'Divertimento'). It almost seems like NABBA could begin calling the Friday contest the JMU Solo and Ensemble Contest with all the prizes they took (7 solo and ensemble placements on the day). Twisted Steel from Fountain City grabbed the second spot with a tight, ensemble performance of Mike Forbes's 'Consequences', followed by 'Billy Tell'. Lexington Brass Band Ensemble rounded out the top three with "A Short Baroque Suite."

Adult High Brass Slow Melody:
In the Adult High Brass/Slow Melody competition, adjudicator Bram Gregson was left with the difficult task of selecting a winner from among 11 soloists - in the end, Kevin Maloney (Flugel/New England BB) took the day with his combination of stylistic and dynamic contrasts in 'Allegretto'. Kevin's performance was highlighted by his warm tone and well-placed vibrato, at times playing so softly he was almost obscured by the piano playing of accompanist Terry Everson (no slouch on the cornet himself!).
Finishing a strong second was Alex Bender (Eb Cornet/James Madison University BB), with his rendition of 'On With The Motley' from 'Pagliacci'. Alex was in top form, highlighting the contrasting styles in the opening passages and maintaining both a warm tone and well-controlled vibrato in all registers. With several of his bandmates in the audience, Alex earned a standing ovation following the emotional final notes.
Rounding out the top 3 was Jack Deal (Flugel/Atlantic BB) with a solid performance of 'Vocalise' - as this reviewer had another flugel and two Bb cornets in the running for the podium, the competion and musicianship was strong throughout.

Adult High Brass Technical:
Raquel Rodriquez (FCBB) played her way to victory with Winton Marsalis's arrangement of 'Carnival of Venice'. She is one of the growing number of brass "stars" developing on this side of the pond. It seems North American bands are quick to bring over clinicians and guest soloists from the UK when we have quite a bit of homegrown talent here. Alvin Bernard (BBCF) took second place with his rendition of 'Phenomenl' and soprano player Stephen Cross (NSBB) took third with 'Toot Suite for Trumpet and Jazz Piano'.

Adult Low Brass Slow Melody:
Kevin Elkins (JMUBB) became the second baritone player in row to win the Adult Low Brass Slow Melody. Kevin's lyrical performance of the 2nd movement from the 'Baritone Concerto' (Duncan), was surely influenced a bit by Katrina Marzella's visit back in December. The baritone is truly becoming a solo instrument.
Tenor horns Roger Menning (Chi BB) and Kevin Cramer (BBCF) rounded out the top three with their performances of 'Demelza' and the '2nd Movement from Concerto No. 1'. Although none of the slow melody soloists escaped with a perfect performance, the musical interpretations the top three were quite moving.

Adult Low Brass Technical:
David Heinsen (JMUBB) grabbed the top spot for his rendition of 'Devil's Duel' (Meechan). David breezed through the technical passages with fluency. There was the occasional pinched note in the top register, but he still got them all.
Tenor horn soloist ,TJ Menges (FCBB) won second prize for his performance of 'The Piper O' Dundee' (Downie). It was great to see Chip Gue (BBTS) win a prize from the Explorer Section, showing that the talent in NABBA is not limited to the Championship Section.

Youth Brass Solo:
Terri Williams (TYBB) won frist place with Herbert L. Clarke's cornet solo 'On the Shores of the Mighty Pacific'. This was a good choice for Ms. Williams to display not only her technical ability, but also her mature cornet sound and excellent musicality. She did excellent work at both ends of the dynamic and pitch ranges of the instrument. Minor pitch problems on a few arpeggios and a couple of spread fortissimos were about all I had to gripe about. The biggest problem with her performance was that it was interrupted by the timer before she could finish!
Playing the SA favorite "Ransomed", euphonium player Joel Collier (ABB) impressed not only the adjudicator (earning 2nd place), but all those in the room with a round euphonium sound and some flying fingers. A pinch more attention to musical line, care to not overcook the high notes, and a bit more vibrato to warm up the sound are the recipe for Joel's continued success.
Playing an unaccompanied solo gives one nowhere to hide, but Justin Crawford (cornet, TYBB) needed no hiding place. He showed off his beautiful full tone, warmed up with tasteful vibrato, while paying careful attention to both "macro" and "micro" dynamic shading. At the end of what was a taxing selection, Justin lost a bit of physical and mental focus that kept us from seeing everything he is capable of doing.
The rest of the solo winners can be found with the NABBA results.
Patrick Herak, Tim Jameson and George Zonders