2007 National Youth Brass Band Championships - Introduction
19-Apr-2007
National Youth Brass Championships
Supported by United Co-operatives
The Royal Northern College of Music
Manchester
Sunday 29th April
---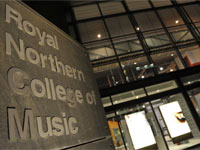 Before a note has been blown down the M6 in Birmingham at the European Brass Band Championships, a hectic week for the British band movement commences in Manchester with the 2007 National Youth Brass Band Championships.

The Championships coincide with the start of the European week in Birmingham that means that the British Federation of Brass Bands is more than a little challenged over the next few days. The choice of date certainly wouldn't have been the one chosen but the reality is that finding an accessible date at the RNCM – a venue that works well and ticks all the boxes required from an organisational point of view (not forgetting costs), isn't easy as the venue's popularity for hosting various events at weekends has soared in recent times. A degree of flexibility now occurs with the date of the event.
As we have said on numerous occasions previously, these Championships are a little different in their own unique way. Bands are required to play a set work and an own choice programme in four of the sections, and the decisions will be made by some of our leading adjudicators. The atmosphere as always is excellent with a friendly rivalry apparent but always with a sense of fun, support and enjoyment mixed in with it too.

There is plenty of good news as well ahead of this year's day of contesting.
Firstly, forty bands are set to compete across the five sections, which is an increase of nine on last year, including some debutants. The Premier Section has five bands whereas twelve months ago it was just two, although the Schools Section still causes a touch of concern (for us at 4BR anyway) with just three contenders within it.
Another piece of great news ahead of the contests themselves was the announcement of a new sponsorship deal that the BFBB has secured with United Co-operatives, which initially spans a two year period. A great deal of credit must go the BFBB who've worked hard to secure financial support for the event that had previously been supported by Besson, and the sponsors are sure to be bowled over by what they are putting their money into – an event that shows just how talented the youth of today are.
After last year's event 4BR raised some points that we felt should be addressed. We will wait and see whether any explanations are given publicly as well as in the programme for the detailed criteria for which bands go in the sections they do and they criteria for which the awards of Gold, Silver and Bronze are given. It may sound a little pedantic, but handed out awards and slapping everyone on the back for a job well done is all fine and dandy, but it needs to have purpose and relevance.
4BR also appealed for some younger judges to be used within the movement and its great news to see the likes of Ian Brownbill, Brett Baker and Alan Morrison involved this year. It will also be interesting to see what EBBA's Markus Bach thinks of the event too, as he'll be present judging the Community Section with Dr Roy Newsome. Markus has been a leading light in youth development in his home country of Switzerland, so his opinion on how he feels the home of brass banding is doing will be sought after we are sure.
In addition to those mentioned above, the familiar faces of John Berryman, James Scott and Geoffrey Whitham will be in attendance in a judging capacity, and if you're looking for familiar faces from within the movement, there's a fair few who'll be leading bands on the day too.
Look out for Russell Gray who'll be leading Greater Gwent's defence in the Premier Section, Lynda Nicholson (St Helens Youth), Lee Rigg (Wardle), Morgan Griffiths (Dobcross Youth), Chris Jeans (Youth Brass 2000) and Mark Bousie (Sellers Youth) not forgetting some of the Youth movements most familiar faces in Colin Duxburry (Stockport), Helen Minshall (Astley and Bolton Youth), Alan Pope (Camborne) and Chris Wormald (Smithills).
Greater Gwent, Mount Charles and Smithills all return this time around to defend their crown's whilst last year's Junior Section winners, Camborne have gone into the Community Section and Gwynedd Mon William Mathias have opted for the Premier Section following their success in the County Section in 2006.
Once again, the day starts early with some 11 hours of action underway at 9.00am. It may be a long day, but it will surely be an enjoyable one.

Gary Walczak and his huge team of helpers including Lancashire Contests Ltd, run a very efficient and tight ship here with plenty of help and encouragement to all concerned, and with the last bands due on stage fairly late in the day, everything is hoped to be concluded by around 8pm.
Tickets are £8; £5 for concessions with children attending primary school getting in for £2. As always, anyone who attends is guaranteed an entertaining day of music playing.
4BR will be once again be present on the day soaking up the atmosphere of the event and will be bringing you our post contests views.