2007 European Brass Band Championships - The Adjudicators
30-Apr-2007
4BR has a look at the six men in the box this year for both the Championship and B Section contests.
---
Set Work and B Section: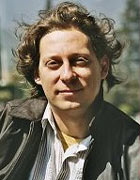 Thomas Doss:
Was born on in 1966 in Linz in Austria, the son of two professional musicians and at the age of seven he was given his first music lessons by his parents on tenor horn and trombone.
Aged eleven he crafted his first compositions before going on to study instrumental education for trombone, composition, and classical conduction at the Brucknerkonservatorium in Linz. Postgraduate studies led him to the University of Music in Vienna, the Mozarteum in Salzburg, and the Conservatory in Maastricht (NL). Furthermore he was auditor at the MGM- studios and at the Dick Groove- College in Los Angeles.
In 1988 he made his debut as a conductor with the Wiener Kammer- Orchester at the Konzerthaus in Vienna and next to his compositional activities started an international career as a conductor. In 1991 he became chief conductor at the national orchestra in Quedlinburg.
At present he teaches conduction at the Conservatory in Vienna, conduction of wind orchestra at the Landesmusikschulwerk of Upper Austria and the music school in Linz. Since 2001 he has written for the music publisher Mitropa (Dehaske group) and is active as speaker, panellist and conductor with international success.
---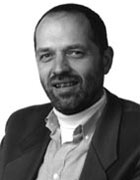 Jan de Haan:
Jan de Haan was born in the tiny village of Warns in the Netherlands in 1951 and his first inspiration came from his father who is a great music lover and trombone player.
At an early age Jan de Haan was attracted to conducting. As a 17 year old musician he exchanged his instrument for a baton and before the year was out he had led his first band to success in a contest. He studied music education and trombone at the Pedagogical Academy of Music in Leeuwarden from 1960 until 1973.
He was awarded his conductor's certificate with Henk van Lijnschooten at the Conservatory in Utrecht in 1976. Between 1974 and 1994 Jan de Haan was the conductor of the Soli Deo Gloria brass band (Soli Brass). Alongside this permanent position he has worked together with ah number of professional wind bands.

He has travelled extensively throughout Western Europe, to the USA, Iran and Japan as a guest conductor. From 1978 until 1989 he was also a composer, arranger, producer and programme maker for Dutch radio and television, where he made over 140 television programmes. Today, Jan de Haan combines guest conducting with his work at De Haske Publications, which he founded in 1983.
---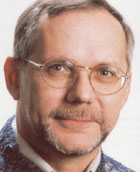 Philip Sparke:

Philip Sparke was born in London and studied composition, trumpet and piano at the Royal College of Music, where he gained an ARCM. It was at the College that his interest in bands arose. He played in the College wind orchestra and also formed a brass band among the students, writing several works for both ensembles.

At that time, his first published works appeared - Concert Prelude (brass band) and Gaudium (wind band). A growing interest in his music led to several commissions, his first major one being for the Centennial Brass Band Championships in New Zealand – The Land of the Long White Cloud.

Further commissions followed from individual bands, various band associations and the BBC, for whom he three times won the EBU New Music for Band Competition (with Slipstream, Skyrider and Orient Express). He has written for brass band championships in New Zealand, Switzerland, Holland, Australia and the UK, twice for the National Finals at the Albert Hall, and his test pieces are constantly in use wherever brass bands can be found.

A close association with banding in Japan led to a commission (Celebration) from and eventual recording of his music with the Tokyo Kosei Wind Orchestra. This opened the door worldwide to his wind band music and led to several commissions, particularly from the United States. In 1996 the US Air Force Band commissioned and recorded Dance Movements, which won the prestigious Sudler Prize in 1997. In 2005 Music of the Spheres won the National Band Association/William D. Revelli Memorial Band Composition Contest.

His conducting and adjudicating activities have taken him to most European countries, Scandinavia, Australia, New Zealand, Japan and the USA. He runs his own publishing company, Anglo Music Press, which he formed in May 2000. In September 2000 he was awarded the Iles Medal of the Worshipful Company of Musicians for his services to brass bands.
---
Own Choice Section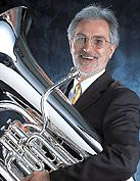 James Gourlay:
James Gourlay was born in Scotland and began to play in his local brass band at an early age. He took part in numerous solo competitions at that time and soon became Scottish Champion at junior and open levels. After studying at the Royal College of Music James Gourlay became principal tuba of the City of Birmingham Symphony Orchestra where he remained for four years. There followed posts in the BBC Symphony Orchestra and the Orchester der Oper in Zürich where James worked with most of the World's top conductors.
As a soloist and chamber musician, James Gourlay has won international acclaim. He is a former member of the Philip Jones Brass Ensemble and has toured the World performing concertos with major orchestras and giving countless recitals. He has also broadcast Harrison Birwistle's 'The Cry of Anubis' with the BBC Philharmonic and has recorded three CD recordings, which cover all of the major works for tuba. James is a featured artist for both the Doyen and Polyphonic labels for whom he has recorded as a soloist and as a conductor of wind and brass bands. He has also recorded the Gregson and Vaughan-Williams concertos for the ASV label.
James Gourlay has always had a strong commitment to new music and has given premières of works by Bingham, Gorb, Gilbert, Lachenmann, Gregson, Horovitz, Sparke, Penderecki and Newton to name but a few.
James's conducting career is as active as his solo playing. He has appeared as a guest conductor with both wind and brass ensembles all over Europe and as far away as Brazil. He is a regular guest conductor of the National Youth Wind Orchestra Great Britain and has conducted all the UK's top Brass Bands. He has made a number of recordings with the RNCM Wind Orchestra and is the Musical Director of the Brighouse and Rastrick Brass Band.
Currently, James Gourlay continues his lifelong dedication to music education with guest-teaching engagements in Lyon, Weimar, the Eastman School of Music, the Juilliard School and the Hong Kong Academy for Performing Arts. He is Head of Wind and Percussion at the Royal Northern College of Music, where he been awarded an honorary Fellowship.
---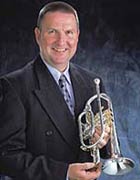 Alan Morrison:

Alan started to learn the cornet at the age of seven. He was taught to play by his father Arthur Morrison and enjoyed the support of his parents and sister through to him becoming a professional musician and beyond.

He was born and bred in Middlesbrough and developed an interest in trumpet playing as his father was a semi-professional trumpeter in a local dance-band. At about the same time he became a fan of Middlesbrough Football Club and to this day is an ardent supporter of `The Boro`.

His first band, who also supplied his first cornet, was the Cargo Fleet Works Junior Band, a company that later became part of British Steel Teesside. This was as Principal Cornet when the band was reforming in 1967. He later became a member of the senior band and played 2nd cornet at the London Finals Section 3 - his very first brass band contest in 1968. The family soon progressed to other local bands becoming prominent members of the Billingham Silver Band and then in 1971 Alan`s father reformed the defunct Haverton Hill Silver Band of which Alan was Principal Cornet for several years during which the band developed into a very successful organisation.

Alan also joined the National Youth Brass Band of Great Britain in 1972 and completed 11 courses in total, working his way through the cornet section ending up as Leader for the two courses in 1977. It was at one of these courses in 1974 that he was approached to join a leading championship section band in the Durham area and made his Royal Albert Hall debut later that year on the front bench of Patchogue Plymouth Amoco Band. Several months later he became the bands Principal Cornet at 15 years of age.

In his earlier years he used to enjoy competing in local music festivals and won literally hundreds of prizes. He also played trumpet, saxophone, clarinet and piano as well as studying theory to diploma standard. He played semi-professionally in a local dance band on saxophone for a period, then took over from his father on lead trumpet on his retirement.

This led to many prestigious engagements in the area, backing big-name entertainers in local night-clubs and the Town Hall etc. However his first love in music was always the cornet and brass bands, and in 1976 he won the coveted title of Champion Soloist of Great Britain at Oxford when he beat all the big-names of the soloist circuit and was presented with the award and trophy by Harry Mortimer. Then, in 1978, he traveled to Australia and came away with the Champion of Champions title in Queensland for good measure.

After spells with the Amoco Band, Ever Ready Band and Fishburn Band, Alan joined the world famous Grimethorpe Colliery Band in April 1980, initially as second-man on the solo cornet team. He toured Italy, Austria, Germany and Australia with them before being promoted to Principal Cornet in mid-1982.

This was the launch-pad for a brilliant solo career that has taken him the length and breadth of Great Britain and many overseas tours and visits to all parts of the world.

During his time as Principal Cornet, Grimethorpe won the British Open twice, the National Championships at the Royal Albert Hall, Granada Band of the Year, Brass in Concert at Spennymoor several times, National Mineworkers Championships every year between 1983 & 1994, Yorkshire Area Championships twice and several other competitions including the UK Entertainments at Doncaster in 1991. They toured extensively throughout Europe and played at many International Festivals including Henry Wood Promenade Concerts at RAH, City of London Festival, Edinburgh Festival and many more. Alan was often the featured soloist in these programmes and over the years played dozens of different solos with the band.

Individual awards were also plentiful having won the best soloist award at Brass in Concert 3 times, (a record), and the best Principal Cornet award on no fewer than 6 occasions including 5 times in succession between 1990-94.

At the end of 1994 Alan left Grimethorpe Colliery Band to concentrate more on conducting, however he remained in demand as a soloist playing several major festivals as guest soloist including the All-England Masters Gala Concert and the Pre-Festival Concert of Enfield Citadel Band at St.John Smiths Square, London.

At the beginning of 1999 Richard Evans persuaded Alan to return to mainstream playing and he joined the JJB Sports Leyland Band as Principal Cornet - regrettably this turned out to be only a relatively short appointment due to the loss of sponsorship and in August 2000 Alan joined the Travelsphere Holidays Band, formerly known as GUS.

Alan accepted the position of Principal Cornet with the world famous Brighouse and Rastrick Band, and took up his responsibilities at the beginning of 2003 and had latterly become Professional Conductor of the band leading them to success at the 2007 Yorkshire Regional Championship.
---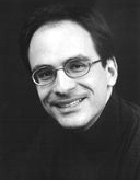 Oliver Waespi:

Oliver Waespi was born in Zurich/Switzerland in 1971. He took guitar and trombone lessons at the Conservatory of Winterthur and won a prize in 1989 at the final of the Swiss National Competition for Young Musicians with the classical guitar. Beeing first self-taught, he has composed various works for symphony orchestra, wind orchestra, brass band and chamber ensembles.
After completing University studies in another field, he studied composition at the Academy of Music of Zurich (with Gerald Bennett and Andreas Nick). Moreover, he attended composition master-classes with Alfred Reed and Klaus Huber as well as a conducting master-class with Sylvia Caduff.

Several of his works have been awarded prizes at composition contests (e.g. in 1999 the 2nd prize at the international composing contest of Corciano/Italy; in 2003 the International George Enescu – Composition Prize for Symphonic Music). He receives commissions on a regular basis (for instance, for several Swiss music associations as well as for other performers, such as the Berne Chamber Orchestra).
His works were and are being performed in Switzerland and in several other countries, such as Austria, France, Germany, the Netherlands, Spain, the UK or the USA, also on the occasion of international festivals (e. g. the WASBE World Conferences 1997 and 2001, or the Certamen of Valencia), by performers such as the Berne Chamber Orchestra, the Symphony Orchestra of the Zurich Academy of Music, the Ensemble opera nova, the Ensemble Phoenix, the Landesblasorchester Baden-Württemberg, prestigious Swiss wind and brass bands (such as the National Youth Wind Orchestra of Switzerland), the Brass Band of the Royal Northern College of Music (Manchester), the Brass Band Willebroek or the Yorkshire Building Society Brass Band. Besides his activity as a composer, Oliver Waespi is also judging regularly at music contests.