2007 European Brass Band Championships - Composer interview
30-Apr-2007
4BRs Christopher Thomas catches up with Martin Ellerby to find out more about the composer and his new work for the Championships.
---
2007 is a notable year for Martin Ellerby in more ways than one. The composer celebrates his own fiftieth birthday in the year that we also celebrate the 150th birthday of Edward Elgar, a fact soon to be acknowledged by Ellerby in his Elgar Variations, the set work that will challenge the bands competing for the European title at Symphony Hall in Birmingham. His music has also been used to test the elite bands at the recent Australian National Championships.
Chris Thomas of 4BR found a brief gap in the composer's busy schedule shortly before he set off for his trip to the Australian Nationals.
---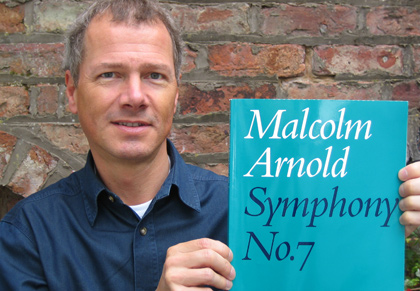 What's the score? Not quite Elgar here, but we shall soon hear Martin Ellerby's latest work in Birmingham

Chris Thomas: Could you tell us something of your early musical experiences and influences?
Martin Ellerby: I studied in the usual academic fashion but managed to abandon the trumpet and piano in due course in favour of composition. I was never a particularly good performer but had always liked the 'sound' of music! The turning point was my studies at the Royal College of Music with Joseph Horovitz.

He tried to sort me out melodically – it was a happy time and we still keep in touch and meet up to this day. I also took advanced counterpoint lessons with W S Lloyd Webber which was a clever move as he helped me cover several aspects of those skills which are still relevant to me today. After that I was awarded an Allcard Award from the Worshipful Company of Musicians which enabled me to study privately with Wilfred Josephs.

He was a tough tutor but the discipline was good for me and we covered many aspects of structure and contemporary harmonic idioms. I even worked for him in his later years and learned much from that too. The simple process of being in the company of such an active composer was a great learning curve. My influences at that time were Penderecki and Lutoslawski tempered with my lifetime love of Malcolm Arnold and J S Bach.

I have always listened to a lot of music by other composers including pop, film, musicals and theatre. It's given me a broad palette on which to build my own creations. I am less influenced these days but still listen as much as time now allows – Sibelius, Berlioz, Brian Wilson (of the Beach Boys) and more Bach still touch me.
Chris Thomas: A large proportion of your music is for brass and wind. What was it in particular that initially drew you to the medium and sustains your ongoing interest?
Martin Ellerby: I started out writing orchestral music including a now withdrawn symphony – I have always been attracted to the larger canvasses. My 1985 Requiem was a turning point (though that is now also withdrawn) and my then local orchestra played most of my early efforts. Brass and wind bands I have written extensively for because they are more available than the symphony orchestra for which, if you're lucky, you may obtain the odd performance.

I wrote two pieces quite close to each other: my brass band symphony Natalis and the wind band composition Paris Sketches. They mark my turning point to a greater acceptance of my work amongst those ensembles and I have been fortunate enough to be constantly commissioned by them for many years. It's also somewhat easier to get those works published and disseminated to a broader performing market worldwide.

I am writing more projects of a personal nature these days but would not wish to abandon brass or wind bands though I do see little point (personally) writing anything other than test pieces for brass bands as the programming in day-to-day circumstances precludes the appearance of most of them.
Chris Thomas: Your career has involved various spells as "Composer in Residence" with a number of bands, including Berner Oberland in Switzerland, Williams Fairey and most recently YBS. To what degree have the individual bands and their characteristics shaped and influenced the music you have written for them during your residencies?
Martin Ellerby: There was another band too, that came after the BBO in Switzerland. That was the National Youth Brass Band of Great Britain supported by the Arts Council of England. The conductors were key and I got the posts because of them.

Two were James Gourlay and the others Roy Newsome and David King. I wrote Vistas for the BBO and Evocations and New World Dances for the NYBB of GB all with four percussionists which has not helped their programming and none have been used as test pieces! Terra Australis for YBS was written for the band's tour of Australia and designed to be possible to be chosen as a test piece, though I did add an additional, optional, cadenza section to better facilitate this. It's the test piece in the top section at the Australian National's this year in Melbourne which I am pleased to be in attendance for.

All my residencies have been beneficial and I hope to all parties too. There's nothing better than writing in a workshop environment though it can be a luxury and is certainly quite time consuming! I'm currently on a two year posting with the Regimental Band of Her Majesty's Coldstream Guards made possible by their Director of Music Major Graham O Jones MBE. This is of course a wind band and I'm enjoying writing pieces for various functions etc I'd not be doing otherwise.

All the works I have written under these circumstances have been commercially recorded, published and broadcast which should speak for itself in a positive way. To fully answer the question I have sometimes related to a particularly good player in an individual band, for example the percussionists in the BBO at the time were an extremely fine section. I wrote a concerto whilst at Fairey because I admired Sandy Smith's playing.

The members of the NYBB of GB are auditioned and therefore very able across the board. At YBS there was Sheona White, Stuart Lingard and Andrew King, to name but three, and I rest my case there!
Chris Thomas: In similar fashion have your various concertos been tailored with the individual players for whom you wrote them in mind i.e. Steven Mead in the case of the Euphonium Concerto?
Martin Ellerby: Always, I can't imagine writing a concerto 'blind'. I've a happy list which continues to grow – Steven Mead, Brett Baker, Steve Sykes, Sandy Smith etc in the brass world and from the world of winds Linda Merrick, Tim Thorpe and currently Nobuya Sugawa. Quite a few of these concertos have been made for both mediums and I certainly seriously consider making wind versions of all my brass band works to increase their dissemination.

My Tristan Encounters will be premiered in its wind band version by the Philharmonic Winds Osakan in Japan this April. Terra Australis was commissioned by the Band of Her Majesty's Royal Marines and premiered earlier this year at the Mountbatten Festival of Music in the RAH, London, and I suppose my new Elgar Variations will find its way into that format in due course.
Chris Thomas: Tristan Encounters is one of your best known works for brass band and was a notable success when it was used as the test piece for the Regional Championships in 2004. What was it that drew you to Wagner as your inspiration for the piece?
Martin Ellerby: The opening Prelude with its harmonic and tonal ambiguity. I'd used it quite a bit in harmony classes so it had been around for some time before I decided to see how I could incorporate it into one of my own works. I also used the Liebestod in my own finale – it's so strong I couldn't resist a quotation of that!

It was also my first commissioned test piece and I have learned much from that experience. I have, incidentally, revisited my Wagner influenced earlier work with a three movement dramatic symphony entitled The Legend of the Flying Dutchman for European style fanfare orchestra based precisely on the structure of Wagner's opera but much condensed! I hope to make a wind band version of this in the future. It is not really suitable in design for brass bands however.
Chris Thomas: Teaching has always figured prominently in your career. Is it something that you still derive considerable satisfaction from?
Martin Ellerby: Yes! I teach on a regular basis for the Royal Air Force Music Services and do a few guest classes at the University of Salford from time to time but I no longer have a post anywhere in the academic world.

I was Head of Composition and Contemporary Music at the London College of Music and Media for many years. I am pleased that many of my former students are working actively as composers: Nuno Malo and Konstantinos Christides are both in Hollywood and Michael Csanyi-Wills has co-written some half dozen major feature films with Nigel Clarke. Gabriel Currington has written some fifty odd scores for Channel 4 and other stations.

As you will observe young composers these days are much more in pursuit of commercial projects than I ever was. Even my star student, Kit Turnbull, who has written for brass and wind bands, has dabbled with film and TV projects. There are many others too and I am very proud to have played a small role in their early development.
Chris Thomas: Do you find it more challenging writing for brass band or wind band and what are the essential differences in the way you approach the two mediums?
Martin Ellerby: Brass band is harder because of the initial lack of colour contrasts but that can be seen as a challenge where you have to find, as a composer, those elusive colours. Wind bands have more colour and a most welcome higher register but you never really know the orchestration as unlike a brass band, where the line up is set, all sorts of additions can arise – or not!

I like the large percussion possibilities with wind bands but not always their intonation difficulties. A top notch brass band under a good conductor takes some beating I would have to admit! In the end it's swings and roundabouts – perhaps we should cease comparing them and treat each one as an entity in its own right.
Chris Thomas: Who do you most admire amongst other brass band composers and what are your favourite works? Are there any composers who you consider to have been a particular influence on your own work?
Martin Ellerby: My earliest brass band influence was Gregson's Connotations which I still find refreshing and satisfying to this day. I generally like all his works because of the memorable material and his crystal clear scoring.

Of course I admire a lot of other writers but don't feel so influenced by them. Sparke (Music of the Spheres) is at the top of his tree and I am amazed at both the volume of work he produces and the consistency in quality of it – he's probably the most performed and commissioned composer in the brass band medium and I take my hat off to him!

Otherwise I like certain pieces by (and apologies in advance for any key omissions here) McCabe (Cloudcatcher Fells), Wilby (Revelation), Graham (Harrison's Dream), Horovitz (Ballet for Band), and of the younger generation Simon Dobson (Lydian Pictures) to name but some. I'm keeping an eye out for Kit Turnbull and Peter Meechan as I'm sure they have good test pieces in them. Rodney Newton is a fine writer and I'm surprised that he has not been offered a major test piece commission to date.
Chris Thomas: Could you tell us something of your working methods? Do works usually begin with a musical idea or can the initial stimulus be external?
Martin Ellerby: The answer to this is variable. A test piece commission comes with its own fairly known expectations and conditions whereas for an abstract work you can be left in the driving seat all by yourself.

A concerto usually starts with lunch! I need to know my soloists quite well and a relaxed atmosphere can be a good place to exchange ideas and thoughts. A lot of my pieces are built on external influences – I like titles and subtitles too – so often extra-musical sources provide the spur for new works. Once settled into an idea I make from time to time initial sketches and file them away.

When the job takes centre stage I refer to these and write directly into full score on the Sibelius programme as this preserves the work day by day until completed. I can't face even remembering those days of a pencil copy, an ink copy and then all those hand written parts! I have no piano keyboard in my study but do like the basic playback system I have to keep an ear on the progress of things, especially structural concerns. I also like downloading the file in progress to a writable CD which I play on car trips to remain engaged with the work and mull over various possibilities for its future growth.

I think we all find our own preferred method: one thing is for sure and that's the fact that it's hard work and still quite time consuming. I don't know how many actual notes would on average be found in a fifteen minute full score and I don't think I want to either! I'm trying to go to bed earlier these days too – I used to have (and can still turn on) a real 'Spartan-spirit' working all day and into the early hours in order to complete things. I'm only any good socially when I'm out of the house and away from my machines so I do not have a laptop on those excursions. When in residence however I'm usually to be found 'miles-away'!
Chris Thomas: One of your most recent major brass band pieces was Terra Australis which you wrote in 2005. Could you tell us a little about the work and the specific inspiration behind it?
Martin Ellerby: David King asked me to write a piece for the YBS band's tour of Australia. I did work somewhat differently on that one as because we live near each other we built up the work in installments, me taking the piece in for David's feedback and meeting up a few days later with revisions and new sections.

I'd not done that before and entered this method as an experiment. I think it worked out quite well – I never felt compromised and it was novel, in what is generally a solitary pursuit, to have a second party in regular attendance. The work is a portrait and reflection on things Australian. David King is Australian and I'd made one rather substantial trip there the year before so we both had a certain understanding of what we were searching for. It was eventually submitted for consideration by the Australian competition organizers before which I added a passage of cadenza-type material as the piece is not always a technically driven composition.
Chris Thomas: What are your thoughts on the brass band contesting scene and are there any ways in which you would like to see this particular sphere of banding change or develop?
Martin Ellerby: I'm staying out of this! There's much debate and argument about so many facets of this area. I like contests because they bring the best out of bands. I prefer newly commissioned music at the major events and original works for the medium at all others if possible. I'm not against arrangements but can't see the point of them at events such as the National and Open contests.

Of course I support the commissioning of new works at as many events as possible though have some understanding of the difficulty of this. The question of adjudicators and the methods of adjudication are not really for me – as a lapsed performer and non-conductor that aspect should be left in more capable hands than mine!
Chris Thomas: Are you optimistic about the future of brass bands and how do you feel that bands should be meeting the challenges of the years ahead?
Martin Ellerby: I'm a composer – I have to be an optimist! If the medium and the key personalities involved in it face the challenges before them they will overcome – we have to believe that! I suppose building a younger audience from many divergent backgrounds would be nice to see but how? This question is too big for me and it's nearly tea time!
Chris Thomas: Having drawn inspiration from Wagner in Tristan Encounters, your new work for the European Championships in Birmingham, Elgar Variations, acknowledges an English master. Is there a particular reason that it was Elgar who inspired you in this case?
Martin Ellerby: Put simply, 2007 marks the 150th anniversary of the birth of Elgar and I was asked (if possible) to write a work based on an English 'theme' as the host nation this year are English. So I have!
Chris Thomas: We are sure you won't want to give too much away before the performances on the day but could you tell us about the theme you have chosen for the variations and a little of the outline of the piece?
Martin Ellerby: The 'theme' is the stylistic and characteristic aspects of the music of Elgar. There is no theme as such as you would normally expect from a theme and set of variations. In truth, I couldn't find a suitable theme from the Elgar sources and in the event the lack of a musical theme but the presence of a greater 'theme' is very Elgarian in its concept.

I am not saying too much about the work as one of the set challenges is to discover the style and character and interpret this towards a successful and convincing overall performance. There are challenges big and small for everyone somewhere or another but it's essentially a musical test and I for one will be listening out for readings that portray and convey that aspect on the day.
Chris Thomas: It should be an excellent contest and a fine venue to hear your music performed in?

Martin Ellerby: Yes, I have been fortunate to have been played there before but not all day! I have not been to the European contest before (hiss, hiss!) and so am very much looking forward to my first encounter with such a splendid collection of bands from both at home and the continent. May I take this opportunity to wish good luck to all the competing bands and that they have a safe journey both to and from the contest. Got to dash now, off to the cinema to see Mr Bean's Holiday!
Chris Thomas: Thanks for talking to us.