2007 National Youth Brass Band Championships - Schools Championship retrospective
2-May-2007
Just the three bands for the schools title, but plenty to think about for the judges, players, conductors and organisers - oh, and perhaps Stephen Hawkin and Wayne Rooney too...
---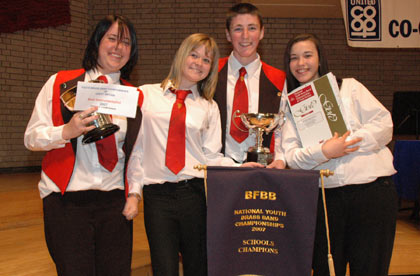 Quartet of winners: Wardle's players pick up the awards

There were only the three bands in the Schools Championship that kicked off in the Haden Freeman Concert Hall at 9.15am on Sunday, and although the contest was over pretty quickly, it did provide a decent level of performance from three very serious young bands.
The class is open to all bands organised through, or by, a single school, whilst the players must not have reached the age of 19 on or before the day of the contest. That is all well and good, but the BFBB seem to have lost the plot somewhat by allowing the same bands to include former students if they are within the age limit and provided the organisers are notified in advance. What is the purpose of that then?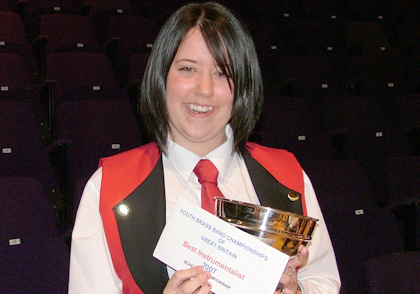 Best in class: Lindsay Marson takes the Best Instrumentalist award

Once someone has left a school either for university, college, work or the armed forces for that matter, then surely they shouldn't be allowed to compete. It's like asking Wayne Rooney to come back and play for the first XI in the local schools cup final just because he once did GCSE woodwork there. The rule is a nonsense and serves no purpose.

We don't know how many 'former' pupils actually played on this day, but it is an open invitation for the whole category to be 'massaged' unfairly just to get competitors to attend. It gives a wholly false perspective of what the contest should be about. Still – one to discuss for the teachers at a later date, or the members of the audience who were pretty thin on the ground for this one.
So too the award of Gold, Silver and Bronze Certificates. A fine idea if clearly explained and set out for both performers, conductors and the general public to understand – but once again where was the explanation of the criteria to be met for the awards to be made? To state that 'Every band will be awarded a Gold, Silver of Bronze Certificate to indicate their playing within their own section' as it said in the programme, is complete tosh of the first order.
It's the type of meaningless twaddle churned out by lazy minds (the apparatchiks who organise the education system is full of them) that becomes even more ludicrous when in the event all three bands were awarded Gold Certificates, as they were here. You cannot blame the judges for this, but why no explanation to why each gained a Gold in the first place when clearly there was some order of merit involved? Perhaps we have come to same situation that is now found with the announcement of exam results – no one ever fails, so every can be pleased with their grades. Perhaps it was 9 carat, 18 carat and 24 carat gold then?
Both adjudicators' spoke with careful consideration. Ian Brownbill congratulated the bands on their efforts and made the point that any school in country would be proud of having a band like these to boast about (as long as they were all pupils of course and none had just donned an old school uniform for the day after taking a day off work or minding the kids – he could have added).
He also made the more telling points that although there was much to admire in the playing, once or twice over enthusiasm meant that some basics of good brass playing tended to get a little submerged in youthful exuberance – ie, playing too loud. One band he said made sure that the emphasis was on control of dynamics and lyricism with internal balance maintained even with strong percussion and basses. Come the results it was a most telling point indeed.
Alan Morrison echoed much of what Ian said, and thought that overall the standard was excellent and that you had to pinch yourself to think that these are just school bands (an extra pinch too, if they were all current pupils, Alan). He too warned about 'over the top' playing and the need to maintain the basics of good balance, intonation and tuning. There was also the problem of confidence at times – too much, not too little, which although a great virtue in some so young, can tend to distort things a little when playing as an ensemble. Again, telling remarks.
Back to the contest itself then, and the first of the three bands to take to the stage in the form of Wardle High School directed by Lee Rigg.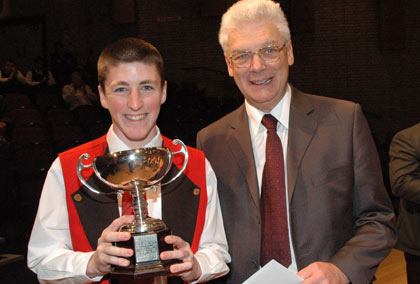 Winners trophy: Wardle's representative picks up the National Cup

Mr Rigg is a very serious musician who performs at a very serious level – and that approach certainly showed during Wardle's opening march 'ORB' which had detail and style (complete with the obligatory 'Roll out the Barrel' feature) and a very good soprano cornet player in the form of Lindsay Marson who nailed just about everything there was to nail throughout with a clear tone. She was a deserved winner of the best instrumentalist award.
They followed that with 'Vitae Lux' that once again had control and balance (and the sop again topping things off nicely, despite seeing stars at one point!) but just had an untuneful ending.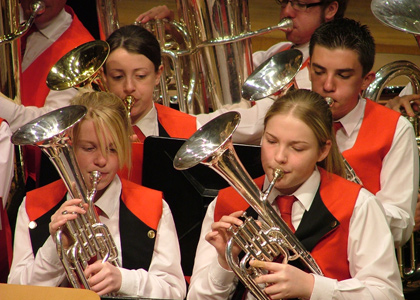 Horns in unison: Wardless' horn section leads the way

The set work for the contest was Leighton Lucas's 'Choral and Variations', a dated piece that sounds like a cross between the opening of 'Carmina Burana' and Mendelssohn's tarantella from his 'Italian Symphony'.

Again, there was lots to admire with some neat balances and a fine euphonium player in the opening which held itself together right to the end. To round things off a whip through the 'Can- Can' that was taken at a fair lick and demanded all the MDs efforts in expert karate chop conducting technique to keep the reins tight and secure. He did just that – and the result was a well chosen programme, very well directed and played by a talented band. Our only gripe was that the poor souls didn't look as if they were enjoying it much – not a single smile even when it was all over!
The Abraham Darby School Band was next to take to the stage and once more there was not a single smile to be seen on their angelic faces until the very last note of their performance was over. Is playing in a school band that serious a chore?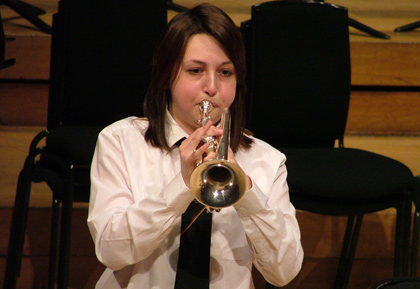 Giving it her best: Abraham's soprano player does her bit for the cause

They opened with the great old concert march 'Bandology' which should be played with a light, bright and breezy touch - all 1920's slick back Brylcream hair for the boys and flouncy skirts for the girls. This was 'Bandology' written by William Rimmer – all too serious, too quick and lacking in swagger. The MD, Simon Platford missed a trick here.
So too with the solo item, 'On with the Motley' that featured a very promising performer in Melanie Wyle on soprano who was unfortunately left high and dry by the MD as she bravely produced a fine account of herself and the music. There was a real need for interaction between the MD and the soloist, especially in the long drawn out phrases, and as a result of the conductor's inability to even glance in her direction she literally had to walk back towards the band to catch his eye. It was not good conducting – but it was a real fine effort from the player.
Their set work just lacked the consistency of Wardle and was perhaps not helped by some slightly brisk tempos in places, but a fine solo cornet and a euphonium who very nearly had it note perfect made sure that it was a performance of real merit nonetheless, even if it did sound a little tired to end.
Don't know if it merited Gold for us, but then we didn't know what the criteria was either did we?
Finally, Smithills High School Senior Band conducted by Chris Wormald. This has been one heck of a successful band over the years (a point not lost on the audience by a ludicrously overlong CV read out by Bob Kerwick, who wasn't on his usual impeccable form for this one). Still, they have much to be proud about so why not tell the world eh?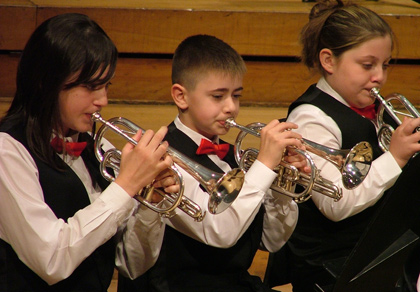 Future stars: Smithills Band's back row cornets play their part

They started as they meant to go along with a slick and very confident 'Mack the Knife' arranged by the MD himself. Now we know Chris is a huge fan of Nelson Riddle and all things Frank Sinatra, but you do wonder if his players are too – this one seemed a bit too jolly and upbeat and just lacked that understated menace that so comes through in the original lyrics in particular. This rather oozed classy, light and breezy playing, rather than the oozing blood of the old corpse on the sidewalk. Good though.
'Crimond' was also well polished and delivered, if a slightly overblown in places, but it was tuneful and had a fine climax and you felt that if they kept up this form then another victory was certainly on the cards.
Then things didn't quite sound so well managed in the set work, where although obviously well rehearsed just lacked for warmth as the young players lost concentration in places and the dynamic variance went a little awol. It was all a touch loud and harsh from start to finish and took the gloss of what could have been a cracker.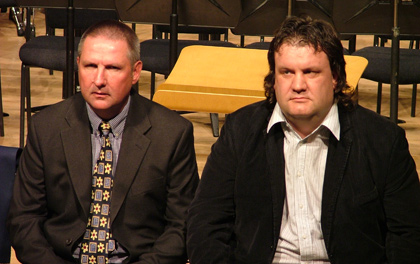 Smile guys! Ian Brownbill and Alan Morrison take their job seriously...

That was compounded a little by 'Never Been in Love Again', which was a short item that really highlighted the weaknesses rather than the strengths of the well drilled band. Finally, Sandy Smith's arrangement of 'Valero' that was much more of the same – slick and polished, yes – rather harsh and overblown too unfortunately, with the balance at times lost. That was perhaps the difference between first and second on this occasion.
Overall it was a pretty good opening contest to the day. All three bands showed immense promise, even if they didn't quite all deliver it on the day and they all deserve the credit for their efforts. The result may have raised the odd eyebrow or two to start with, but listening to the two judges gave you a clear indication to why the chose Wardle above Smithill's and Abraham Darby.
Three Golds though? Now that's a different matter altogether. If Stephen Hawkin is an ex pupil of any of these schools, perhaps he can explain that one.
Iwan Fox.