2007 National Youth Brass Band Championships - County Championship retrospective
2-May-2007
The best county band in the land is now Hampshire as Jock McKenzie and his band produced a fantastic account of themselves to take the title in a very enjoyable and entertaining contest.
---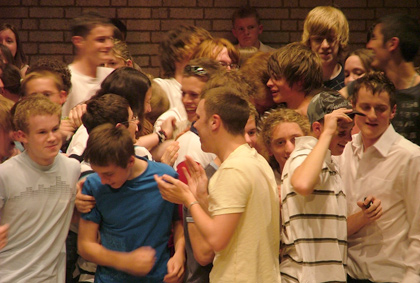 Celebration time! Hampshire enjoy that winning feeling

The County Championship proved to be an enjoyable and entertaining contest at the Haden Freeman Concert Hall immediately after the results of the Schools Section were announced.
The BFBB quickly reset the stage and were ready for the off just 10 minutes later than expected – a fine achievement given the number of competitors involved, whilst the judges, John Berryman and James Scott had taken their prime positions in the open and were ready for action from the 10 competitors.
This contest is open to all Music Centres, Borough of County bands whose membership is organised through an education authority or music service. How that differs from the bands that take part in the Premier Section is a little hard to fathom out, given that both have the same upper age limit, but perhaps it does allow for those ensembles that do not either have the resources in terms of numbers or experience to compete with a chance of winning or gaining one of the surfeit of 'Certificates of Merit' that abound at the contest like A grades in GCSE exams.
What the 10 bands did provide was evidence that there are plenty of areas in the country that are providing decent musical education in brass playing it seems by teachers with real enthusiasm for the job. The standard did vary – as did the numbers in some bands, whilst overall the award of the Gold, Silver and Bronze certificates of merit were very well chosen by the two experienced adjudicators. Nothing was given out lightly here.
The eventual winners were Hampshire County Youth Band conducted by Jock McKenzie, whilst the other Gold Award winners were Stockport Schools Senior Band directed by Colin Duxbury. The Silver Awards went to Bolton Youth, Worcester Youth Oldham Music Centre Youth and West Glamorgan Youth, whilst the other bands gained Bronze Awards. It was a very accurate reflection of the days music making, even if, as always, the exact reasons why were a mystery once more.
John Berryman made a number of meaningful points in his address to the packed hall at the end of the contest – and we do mean packed here. The Black Hole of Calcutta couldn't have had much more space in it after all the players and supporters flocked in to hear the results. It was great to see – and made even better when you knew some jobsworth was pulling their hair out over Health & Safety 'concerns'. Treat people with respect and intelligence and they make the most of any circumstance – even when having to sit on the stage to get a seat.
John was as accurate and to the point as he was when he was playing at this tender age: "Players and conductors must listen what is going on around them and must learn to play together, with balance and good intonation. The outstanding performances had that today, and overall it was a wonderful day of high quality playing," he said. Wise words indeed, and ones that clearly explained just what the two ajudicators were exactly looking for. No complaints from anyone on this one.
The test piece for the contest was Philip Sparke's 'A Celtic Suite' – not one of the master craftsman's greatest compositions perhaps, but one that had plenty to offer and at times showed scant regard for over sensitive Welsh sensibilities in its writing. The last movement mix of 'Men of Harlech' meets 'Year of the Dragon' is guaranteed to put a smile even on the most fervent Welsh Nationalists face. It proved to be a cracking test for the young players.
The winners were excellent value. Directed with a firm but sympathetic hand by Jock McKenzie, Hampshire made their intentions clear right from the start, with a full sound, good balance and attention to detail in the Sparke test piece.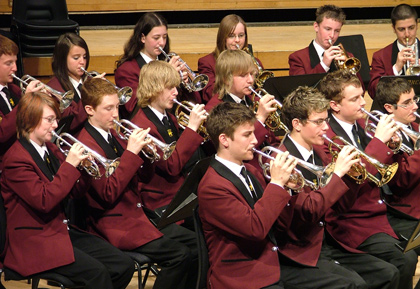 Massed ranks: Hampshire's cornet section do their bit

With six basses and seven trombones the balance could have been a little brash if care wasn't taken, but the MD made sure that there was little or no overblowing even though he did ratchet up the excitement levels with some quick old tempos in both the Sparke and their own choice selection 'Shine As the Light'. The highlight though was the playing of the second movement 'Suo Gan' in the test piece – rich, rounded and bass led with a real sense of a lullaby feel. They were excellent value for the victory.
Close behind them came Stockport Schools led admirably by Colin Duxbury.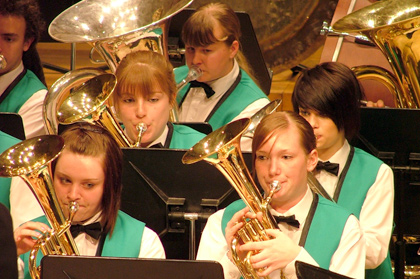 Girl Power: Stockport's ladies strut their stuff

Theirs was also a disciplined performance from what was a small band in terms if numbers (just 27 players and percussion). What they lacked in personnel though they more than made up in quality playing with a neat 'Cross of Honour' march and a rock solid young flugel soloist Ruth Sunnich (sorry if we got the name wrong but Bob Kerwick wasn't on top form during the day and at times we heard little of what he said due to a muffled microphone). Simply played with a nice true sound, the piece was also enhanced by the fine percussion section.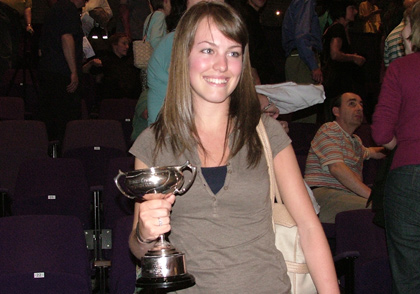 Knockout punch: Katie Tyson picks up the best instrumentalist award.

That just left the set work and another performance of merit that just tired towards the end as stamina started to wane. The audience clearly loved it (there seemed to be a good bit of local support in) and it was a performance that fully justified its placing and award. The band's cornet player Katie Tyson was also a deserved winner of the Best Instrumentalist award.
These two bands were a good head and shoulders above the rest on the day, although there was also much to admire about the band that eventually took third place, Bolton Youth conducted with enthusiasm and brio by Helen Minshall.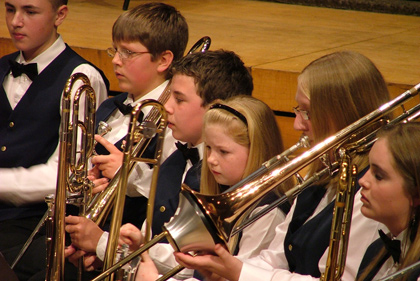 A face of concentration: Bolton keep their attention on the music

They opted for a real up tempo high octane performance that included the set work, the hymn tune 'Crimond' and 'Earthwalk'. With 61 players to handle however the problem of dynamic contrast was the Achilles heel, and there was little doubt that this was a major problem throughout – nothing was ever played below a mf, even in relative terms.
The technical playing was of a high class indeed – especially from the solo players in the final 'Earthwalk', but for all the excitement generated (and the audience clapped as if they were on a Saturday night quiz show) there was a need just to take the foot of the adrenaline accelerator at times. Even 'Crimond' sounded as if it was being sung at one of those Amercian 'happy, clappy' revivalist meetings. Overall it was a slick and well presented performance, but one that just was in need of some dynamic respite. A good band with a talented MD though.
Just behind them came the other silver awardees; West Glamorgan Youth, Oldham Music Centre and Worcestershire Youth.
West Glamorgan got better the more they went on and produced the best set work of the day (not surprising perhaps given the subject matter). The opening 'Olympic Fanfare' was a bit soporific – more Commonwealth Games than Olympic Games in execution, whilst the cornet soloist Elliott Irwin (apologies again if got this one wrong) was a solid if ever so slightly straight voice in 'Share My Yolk'.
The unobtrusive MD Matthew Gibbs seemed a touch nervous, but come the set work and it was obvious where all the hard work had gone into, with a cracking three movement performance that had style, variance and a real sense of musicality about it. A fine soprano player and excellent soloists in the cadenzas added authority and if they just could have started as they ended then perhaps they may have crept into the prizes.
Oldham Music Centre perhaps just shot themselves in the foot with the one item in their well presented slot. The opening 'Goldcrest' march was bright and breezy if a little quick for the lower end in places whilst their performance of the set work had lots to commend in all three movements but was just let down by some nasty intonation. The soloists were excellent and even if one or two did have the odd clip it didn't take the shine off a fine effort.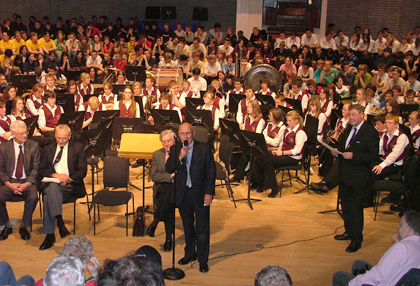 Packed in like sardines: John Berryman speaks to the crowds!

The problem though arose with 'Blue Rondo a la Turk', which Martyn Evans may have thought was a fine choice himself, but highlighted a real weakness in picking pieces such as this for young players – they invariably have no understanding of the style required to play it correctly. Why should they though, as how many of them know who Dave Brubeck, let alone Paul Desmond, the groups inspirational saxophonist was? The result, as is always the case with these selections, was a piece that just was a collection of well played notes and nothing else.
Worcestershire Youth Band was the final ensemble to take to the stage under the bright and energetic direction of MD Nicki Daw. Not everything they tried came off, from a slightly shaky start on 'Vitae Lux' to a tired ending on 'Cry of the Celts', but overall it was a very intelligently chosen programme that asked only what her players could achieve without over extending themselves. The cornet and euphonium duet was nicely played by both soloists and the set work, although having a lullaby that was more Tom Jones inspired in volume than a sweet whispering Welsh mam over the cot, did have a sense of style and detail about it. A promising band this and a teacher who certainly knew how to bring the best out of her charges.
There was also a lot of promise of show with the Bronze awardees too.
Gloucestershire Youth Band were excellently directed by Steven Legge and opted for a serious programme of just the two items. 'Patterns for Brass' is a great old piece that doesn't get to see the light of day too often and was first used way back in 1974 at the Butlins Youth Brass Band Championships at the Royal Albert Hall. On this occasion was given a well structured performance that had a fine sense of rhythmic cohesion to it, whilst the set work didn't quite have the same consistency in the three movements and just petered out a little towards the end when the lips and stamina just started to flounder. A band that has come a long way in a short space of time though under a talented MD.
The other Welsh contenders, Aberystwyth Youth took to the stage with 52 players (but only 2 girls we could see) in the ranks – a fine achievement given their somewhat isolated position on the west coast of Wales.
They opted for a bit of a Welsh theme with both the set work and their opener, 'Sospan Fach' in the upbeat Gareth Wood arrangement that was certainly exciting if a little brittle at times. There was intrigue in the audience before the next item, given that they had chosen to play 'Trumpets Wild'. The three stands were arranged as if it was to be played by the fairytale three bears as they were laid out in descending height order with the last one the exact level for either a cornet playing dwarf or 'Mini- me' from Austin Powers. Thankfully the three more hefty lads who eventually got up to play were all roughly the same height and produced a fine account of themselves too.
That just left the set work, and although it was confident and exciting once more that brittleness and was evident again most notably in the top end of the band that just took the sheen of a well managed performance by the MD and his players. Lots of promise though.
The same too with Birmingham Schools who opened the contest from the number one draw. All in black with 23 cornets, 6 troms, 11 horns, 3 flugels and 8 tubas to control, MD James Cunningham did a fine job, although the choice of 'All through the Night' seemed a bit of a risk to start things off. With such a large band the chances of really making the most of the chance to show the ability to play quietly was missed somewhat – perhaps a march may have been a better choice in the circumstances.
A decent account of the set work followed with some excellent young soloists on display before a terrible arrangement of the 'Two Pink Panthers' which was surreal to say the least. The trombone section did themselves proud with some fine playing, but the piece was simply awful. Whoever wrote this one should be made to watch the entire cartoon series on a never ending DVD loop for the rest of their lives.
Finally, an excellent choice with Gabrielli's 'Canzona de Quattro' – a short, neat and very well played bit of baroque that was certainly different and certainly well delivered. Bravo for this one – a brave choice that really did come off.
That just left South Derbyshire Music Centre under Peter Lacey who have been only going a year or so, but showed just how much progress they had made in such a short space of time with a performance of real merit. There was the rather strange sight of a mass huddle being attempted when the MD came to the stage before a note had been played, but thereafter they did themselves proud. They produced a decent old effort on 'Army of the Nile' which was an ambitious choice of march to say the least and a well thought out performance of the set work that really did have it moments, especially with a well led second movement 'Suo Gan' which featured a fine sounding euphonium and a last movement that had plenty of brio and Welsh hywl. Lots more to come we hope from this band in the future.
As for the present though it was Hampshire who took the honours – and deservedly so, whilst all the other bands could be proud of their efforts in what was a very enjoyable contest.
Iwan Fox