2007 European Brass Band Championships - Side events retrospective
13-May-2007
There was plenty going on all weekend at Symphony Hall from the composers talking about their works to a discussion on how to develop young players. All pretty interesting stuff.
---
As always with the European Championships there are a number of interesting side events that if you do have the time (and the requisite pass) are well worth attending.
After the opening ceremony in Birmingham Civic Centre the EBBA Press Conference was held with a good turn out of press representatives from around Europe as well as interested parties, all eager to ask Markus Bach, Ulf Rosenberg, Jappie Dijkstra and David Dobson some meaty questions.

EBBA Press Conference:
You do have to take your hat off to EBBA for making the press conference such an open event. They do not shirk any of the questions asked (although some of the answers are a bit circuitous at times) and although it can get a touch uncomfortable for them at times, it is conducted in a spirit of cooperation.
On this occasion they also let in the television too with British Bandsman recording it for posterity (or a future DVD release).
There were a number of varied questions asked; from the work EBBA is doing to try and obtain funding from the EU to help its ongoing work and administration to the thorny old topic of band representation, the issue of profit sharing, the test pieces and own choice selections, and even one about the payment of expenses to jury members in cash.
Each was dealt with in turn, although there seemed to be some misunderstanding about the nature of what could be proposed by expanding the contest into a 'Champions League' format of the very best bands from throughout Europe rather than just straightforward national nominations. "We invite countries rather than bands" was the mantra, but interestingly EBBA did say that it was up to the countries themselves to nominate which band should represent them – it didn't have to necessarily be their national champions.
The question of profit sharing (or more pertinently – the non sharing of potential losses) between the host country and EBBA brought the interesting answer that 50% of any potential profit must be paid to EBBA is not now a part of any contract between the hosts and themselves, although a 'voluntary' contribution would be accepted. It was however unlikely that would occur at Birmingham.
Meanwhile the query concerning cash payments was dealt with as being 'standard procedure' so to speak and was not deemed improper in any way, whilst the question of the B Section was seen as something that may need further discussion by EBBA in future to try and ensure that it still meets its original criteria.
The question of a format to ensure a seamless election of new people to the EBBA executive seemed to be in hand for the future too, whilst the issue of whether or not it would have been beneficial to have had the judges attend the test piece talk by the composer didn't really bother EBBA at all as they felt that if any discussion was necessary between jury members and the composer then ample time was available prior to the event.
All in all a pretty decent and worthwhile press conference even if no real definitive answers were given concerning some issues that many felt needed to be addressed.

EBBA General Meeting:
The EBBA General Meeting on the Sunday morning went according to EBBA's plans so to speak. Markus Bach retired with his reputation enhanced and with a heart felt show of generous appreciation from delegates and observers in the room.
The question of his successor was quickly dealt with, as were the nominations for a number of important posts on the EBBA Executive. It was all very professional, courteous and good natured. Linz was nominated and unanimously accepted as the host city for the 2010 event whilst Stavanger gave an update on their preparations for 2008.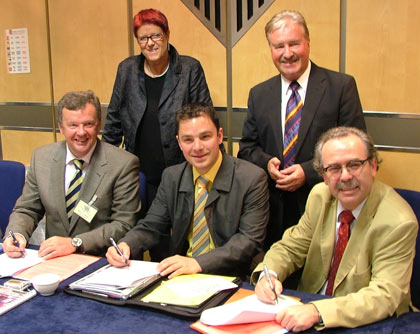 Sign here please: Linz puts pen to paper for 2010

The question of the Gala Concert and the success of the whole event was dealt succinctly by Robert Morgan although no one offered their opinion whether or not in future such international artists such as a world champion whistler would be part of the occasion.
Markus Bach and other leading members were presented with tokens of appreciation from EBBA for all their work over the years and 4BR presented Markus with its 'Special Award' for all that he has done for the European brass band movement over three decades or more.
As always with such meetings, it all went on a little too long, but showed once again that EBBA has an appetite to get things right and proper. The future appears to be in safe hands.

Youth Development Seminar:
This was heralded as a real opportunity to discuss one of the most important issues facing the European wide brass band movement, and was well led by Alan Edmond, Development Officer for the Scottish Brass Band Association.

The people asking the right questions on youth development led by Alan Edmond

Other contributors were James Gourlay, Nicholas Childs and a representative from the Dutch Music Federation.
It provided an interesting and stimulating presentation from all parties as well as a number of very pertinent questions from the likes of Malcolm Brownbill and Dr Roy Newsome to name but two who took the time to attend the event. It did not however contain any sort of contribution from the BFBB representative and Development Officer Philip Watson who for some unknown reason could not attend. It transpired that he was allegedly setting up the BFBB information display – talk about priorities!
This was a huge gaffe and perhaps showed just why people are wondering just what is the purpose of having a development officer in the first place. It is well known that Philip does wonderful work, but when it comes to telling us, both he and the BFBB are woeful in their communication.
Still, Scotland appears to have grasped the nettle (or thistle so to speak) and has a structure already in place and being developed with a professional approach that encompasses both the aims and ambitions of the bands themselves and those of local authorities, higher education establishments and other informal musical bodies.
Alan Edmond has clear and achievable objectives already set out, and many of those are already being met. His role as a development officer is clearly defined whilst he has taken on a number of far reaching initiatives to enhance his role and its effectiveness further. The emphasis on making a connection to the aspirations of young people was unmistakable. His presentation was clear and direct and you could see just why he is being so successful north of the border.
So too James Gourlay, who delivered a quite inspired short talk on what he felt was needed to be achieved, as well as what was being achieved, in linking higher musical education to musical development in all musical genres at grass roots level.
What we had here was a highly intelligent and professional educator with an almost evangelical zeal to help future generations receive a musical education that encompassed not only brass and instrumental development but also the strong choral tradition north of the border too. His work in bridging the gaps between the aims and objectives of structured higher education and that in the informal voluntary sector was a real eye opener and showed what could be achieved when long term development is seen as the key to success and not just short term gains.
The voluntary sector was represented by Dr Nicholas Childs who spoke eloquently about the role Black Dyke had played in encouraging a response to youth development in Yorkshire with the formation of the Yorkshire Youth Brass Band. Here was a high profile band taking on a quite arduous but rewarding role in giving an identity as well as a sense of achievement to a regions young players, nearly all of whom will never perhaps wear the famous Black Dyke uniform in the future.
The purpose as Nick pointed out was to encourage young brass players for the benefit of all bands in Yorkshire and to encourage not just young players, but parents, teachers and instructors to be part of something that has benefit to a generation of young performers in years to come. It was a different approach for certain, but it was also one that had already captured the imagination, simply because the organisation was listening to what the young players wanted to try and project themselves.
With the European view point also given (and surprisingly similar to what Scotland was doing) what would have rounded it off nicely would have been to hear what the BFBB development officer was doing himself – but no.
Congratulations to Scotland and Yorkshire and the Netherlands – the benefit of what they are now doing will be seen and heard for years to come. The BFBB meanwhile will have to pull its finger out on this one and sharpish, for funding will not be forthcoming next time round from the government if there is no evidence that anything has been done.

Composer talks:
Both Martin Ellerby and Simon Dobson gave two excellent presentations of their works to a large group of interested spectators prior to the contest on the Friday afternoon.
Martin was in waspish form with a lovely sly sense of wit that makes him a very appealing dinner companion we are sure. (He does say that fine dining is a hobby). His insight into 'Elgar Variations' was succinct yet intriguing and you sensed that he gained a great deal of enjoyment in writing this work for the contest. He made his musical intentions very clear too so that the audience here could listen with complete understanding to what he was trying to achieve come the contest. He is a fine communicator.
So too young Simon Dobson who took the opportunity to unmask the mysteries of 'The Drop' to an audience who it must be said may not have known the difference between a CD and a DVD let alone some of the some obscure terms used in his enjoyable work. You could tell by the smiles on the faces of people who listened that although they may not have known what on earth the subject matter for the inspiration was, they were eager to find out more and to experience something that many may have thought beyond their eclectic taste buds.
The only down side for both composer's was that their talk took place on the concourse inside the foyer area of Symphony Hall and such was totally inappropriate. Potential customers blowing instruments at the trade stands and people walking through to get to other areas made for a slightly uncomfortable atmosphere in which to discuss the music fully. A pity that because both men were composers who we would have loved to hear more from.
Iwan Fox