2007 European Brass Band Championships - Own Choice retrospective
13-May-2007
It was all up for grabs on the Saturday evening, but it was the very last band of the day that saw off their rivals to reclaim the European title.
---
We really couldn't have asked for more. 12 bands from all parts of Europe may have had slightly different feelings of expectation before the own choice contest on the Saturday afternoon, but whatever thoughts they had in their minds, each of them surely knew that they couldn't have given anything more of themselves by the time they left the stage at Symphony Hall.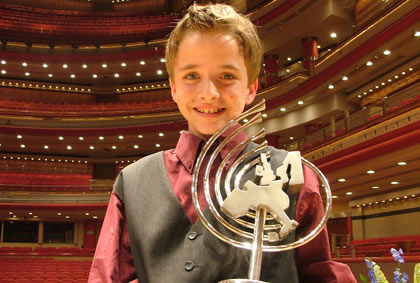 European Champion: 12 year old Lode Violet holds onto the European Trophy at Symphony Hall

In terms of the overall level of performance this was perhaps the highest standard ever reached by all the competitors in the history of the contest. There may have been more memorable winning performances over the years perhaps, but not in terms of consistent excellence from every band.

The support in the hall was also excellent too - especially from our European friends who once again put the Brits to shame with their enthusiasm and support. Where were the flags of St George, the Saltaire's and Welsh Dragon's?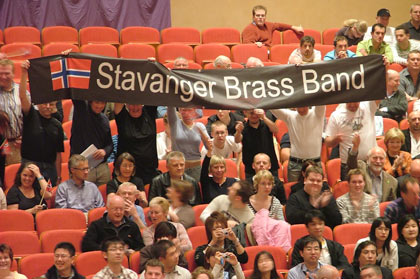 No guessing who we are supporting...

The gauntlet was thrown down immediately for the three adjudicators of Allan Morrison, James Gourlay and Oliver Waespi right from the start, with Scottish Co-op under the direction of Allan Ramsay and 'Vienna Nights'.
It may have been a bit of a mixed big in places, but it was a high class mixed bag at that, with plenty of moments to savour from both soloists and ensemble. It was a touch rocky in places, as just like the day before it lost focus as concentration waned, whilst the final Turkish romp never quite scorched as it could. By the end it was more than a good enough marker for what was to come and although the judges had them down in 10th they had done enough from the day before to secure 5th overall come the results – a fine achievement for a band in the process of regaining lost ground.
Fodens Richardson didn't know it at the time but they had too much ground to make up on the Saturday to realistically be in with a chance of victory. Perhaps if they had known that then they wouldn't have delivered such an impressive 'Contest Music' – who knows?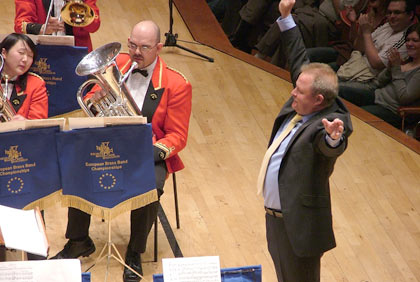 High, wide and handsome: Garry Cutt and Fodens deliver a scorcher on Contest Music

This though was Fodens very nearly at their very, very best and despite a poor opening few bars Garry Cutt brought a wonderful performance out of his band – especially in the notorious second movement where the cornet ensemble work was of the very highest class and Mark Wilkinson a beacon of security.
A third movement that had control and precision before an awesome amount of excitement and power to end showed style, stature and class and it was a cracker of a performance in more ways than one. For it to come 4th then was perhaps a touch harsh (we had them in 2nd), but it was a performance to be very proud of as it took them to a well deserved 4th place overall.
Then things went completely bonkers.
Rumours had spread before the contest that Treize Etoiles were going to do something different –and by heck they certainly did just that with their own choice selection of 'Beyond the Horizon' ostensibly by someone called Paul H Kelly, but in reality a composition by the solo trombone Bertrand Moren.
This was 22 minutes of some of the finest technical playing you are ever likely to hear, but it was also 22 minutes where the musical content amounted to just about nothing at all. It was rather like admiring the skyline of Chicago – all fantastic buildings of technical achievement, but not one a thing of beauty. What this piece cried out for was something a little closer to ground level – especially dynamically. 85% of the piece or more was loud, very loud or at times unbearably loud – and then fast.
The performers played out of their skins (the baritone player came in with his cadenza some 19 minutes into the piece and didn't put a foot wrong) but each technical episode was a showcase that lacked musical content and by the time each of the amazing players had literally blown you away, you were left rather bemused and rather bored by it all.
So too the judges and 8th place was a very fair reflection of what it was worth. You may not hear its like again though and gave the Swiss a rather disappointing 11th place overall for all their efforts.
How to follow that then?
Cory were perhaps the only band who could possibly top it and their choice of Edward Gregson's 'Of Men and Mountains' was a brave one. Where the Swiss went for broke with a display of brilliant technique, Cory opted for subtle lyricism and musicality.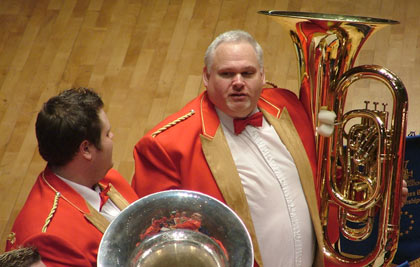 Well, what do you think? Steve Sykes helps Cory into 5th place

It very nearly worked, but for a rather untuneful opening section and some little clips that just took the gloss of a performance notable for the scope and broadness of the textured sounds. It really did capture that majestic feel of man against nature and on another day it may well have scored a little more highly than it did in coming 5th. If it had then perhaps the band would have finally become European Champion instead of having to return home with 3rd place overall. They will be back we hope to try again, for their time will surely come.
Kortrijk chose a second helping of Ellerby with 'Tristan Encounters' and for the second time in two days produced a performance of merit. It didn't quite have enough about it to mix with what was to come, but the standard of solo and ensemble playing suggested that here was a band with promise and talent. 12th place on the day was about right as was their overall result of 12th too – but we may well hear more of them possibly next year if they can show this form at the Belgian Nationals later in the season.
The final contest performance from Gothenburg was a memorable one. Dr Nicholas Childs drew a fine reading of 'Music of the Sphere's' out of his band that had equal amounts of technical excellence and lyricism.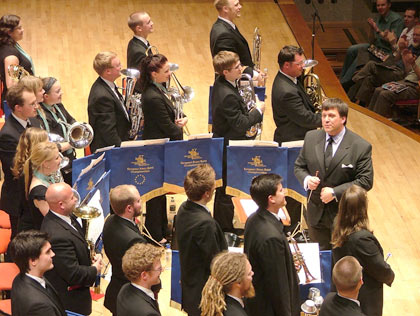 The final bow: Gothenburg and Nicholas Childs accpet the applause for the last time

It just didn't quite have that wow factor that the piece can elicit at times, but it was high quality playing nonetheless with the final section in particular full of noble sounds and a cracking blast off to finish. It was a fine way to end 25 years of music making from a band that has done so much to spread the brass band gospel both in Europe and abroad. They will be sorely missed and whilst 6th place was a fine result and 8th overall a fair return for the weekend, that paled into insignificance in comparison to their overall achievements in the past quarter of a century.
'Music of the Sphere's' was a popular choice on the weekend with four bands having a crack at it. Brass Band Aeolus also gave it a pretty good go, but a bit like the French space programme it rather failed to reach the stars after an impressive start and plenty of stylish intent.
The piece was not beyond the band technically (some of the solo and ensemble work was very good indeed) but musically it was all a little overplayed and it just faded away like a spent booster rocket to end up in 11th place to give the French 10th overall. They are heading in the right direction though.
Heading for the stars are Brass Band Oberoesterreich under the fabulous direction of Hannes Buchegger. They went for a Mahler 'Symphony No 1' inspired 'Titan's Progress' a fantastic piece of writing by John P Alliston (the non de plume of the Austrian composer Hermann Pallhuber).
This really wasn't brass band playing as we know it – more orchestral brass ensemble playing - but who cares? This was simple world class brass playing full stop. The stylishness, the poise and execution, the subtle nuance in style and timbre and colour was exemplary. The soloists were quite amazing – Herr Gansch on solo cornet was astounding, but so too were others, most notable the soprano and flugel horn, whilst the ensemble work from the basses and lower brass was breathtaking.
There was also nothing contrived about the piece either – just a free flowing amalgam of ideas and styles from the almost brutal to the cheeky and witty. It was a gem of a composition that could only have been played in such a style by players who fully understood the inspiration behind it all. It was the highlight of the entire weekend for us and although it merited just 9th place from the judges (harsh, but as we said, it was not really brass band playing) it was still enough for them to come home in 5th place overall.

What a band to savour though and by the time the Europeans head for their home town of Linz in 2010 they could be unbeatable. Book a ticket to hear them in Gateshead at Brass in Concert too – it will be money well spent.
Brass Band De Waldsang followed and shocked most observers with their performance too – although how it came 2nd on the day was beyond us.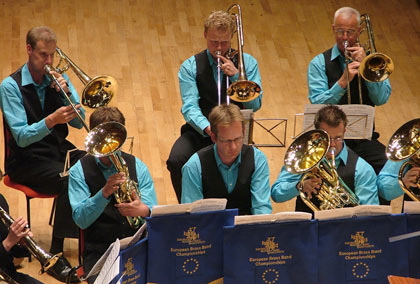 Should I be playing here? De Waldsang's baritone player takes whiff as they claim 2nd place

Their 'Sphere's' was sharp and detailed for sure, but it never quite thrilled or touched an emotional nerve either. In fact we had it down in the last three for us but somehow it certainly struck a chord in the box and the judges awarded it 2nd place. Sometimes you get one like this – not to your taste but certainly to someone else's, and those someone else's were in the box, and that is all that mattered. It gave them 9th place overall after their 12th place on the set work – a rather puzzling dichotomy if ever there was one. A band of extremes indeed.
Brass Band Lyngby Taarbaek played very much to their strengths with 'Journey to the Centre of the Earth' which gave them 7th place on the day and 7th place overall, equal on points with Scottish Co-op in 6th.
Although the secret is out about 'Journey' not being quite as difficult as it first appears, it is still a very effective work when played well – and this was, with the soprano and horn in particular giving wonderful leads at the top and middle of the band. It may not have had enough about it to come any higher but it was a quality performance that showed that after the disappointment of last year in Belfast here is a very fine band developing under the exciting talent of conductor Christian Schmiedescamp.
That just left the final two bands of the contest – Stavanger and Willebroek, and what a fantastic climax they gave everyone.
Stavanger delivered a tremendous performance of 'Vienna Nights' that was very nearly as good, if not better, than the one that thrilled the pants of us in Bergen earlier in the year. Allan Withington once again delved deep into the Mozart inspired music as well as delivering some awesome technical brilliance too in the Wilby episodes.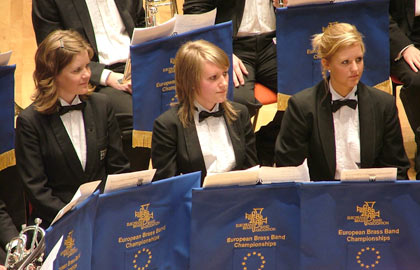 Three Little Maids... from Stavanger, as they claim 3rd place again

There were clips and blips along the way, but a tremendous soprano lead and superb sense of relaxed style in the lyrical sections made so much sense. The final Turkish romp went literally hell for leather but was so clean and precise that it would have taken even tested old Wolfgang's ability to keep up on the harpsichord.
It all ended brilliantly with a huge climax of almost brutal strength and the sizeable support in the audience going billy bonkers. We thought it the winner but the judges were a bit more taciturn and gave it 3rd, which was enough to deny them the title. Some band though and on their home patch next year they will be a formidable force to be reckoned with.
That just left the champions, Brass Band Willebroek – perhaps 15 minutes away from further glory, or quarter of an hour away from relinquishing their crown.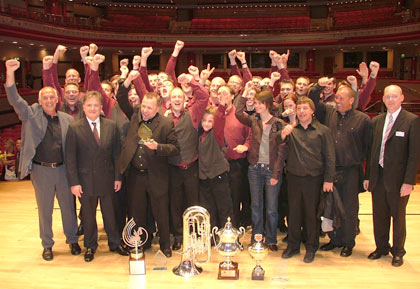 Champions again: Willebroek retain their European title

In the end it was the former and well deserved it was too with a performance of 'Music of the Sphere's' that was undoubtedly the best of the four on the day by quite a margin and overall a performance of the very highest class against some pretty impressive efforts from their rivals.
The opening did contain a nasty split in the solo horn voice but thereafter it was ensemble playing of fantastic execution, amazing depth of sound and clarity in balance. The soloists, in particular Bert Van Theinen on soprano, played out of their skins and the final third of the piece was brass band playing of a quality that is rarely surpassed.
It was Dan Dare stuff we said and we certainly meant it (although we doubt if the Belgians know who Dan Dare is). The ending was a ripper and it just had enough about it to take the honours from the judges and give them that all important three point cushion over the Norwegians to take the title back home to Belgium for a second successive year.
It was a tremendous climax to a tremendous contest and all that was left was the excruciating four hour wait for the results.
When they came they never quite matched up to what had gone on before. The decision to use the Norwegian method of announcing all the results in reverse order was a good idea, but the lack of a visual aid to help the audience by not using the overhead screen and of a clear explanation to why the winners were declared before the second placed band took a touch of the gloss of what should have been a glorious finale.
Still, the winners were deserved no doubt. Anyone one of four bands could have won and no one would have complained. Willebroek, Stavanger, Cory and Fodens were the top four from the judges and the vast majority of people who had heard the bands over the two days couldn't really disagree with them – 4BR included. Willebroek now head for Stavanger in 2008 after two days in which they once again showed just how exceptional a band they are.

Iwan Fox