2007 European Brass Band Championships - Set work retrospective
13-May-2007
The Friday night saw 12 bands produce a wonderful contest as they set their stalls out to try and claim the European crown.
---
Sometimes a major brass band contest doesn't quite live up to its pre match hype and you leave after listening to the bands with a sense of mild disappointment that something that promised so much, in fact delivered so little. Not so with the set work section of the Europeans.
This was one of the most enjoyable contests to have taken place for some considerable time – partly because due to nearly all the bands playing to the top of their form, and due to the set work being a a finely constructed piece of contesting music for them to perform.
Martin Ellerby's 'Elgar Variations' had all the requisite ingredients required to test the bands – lots of technical obstacles that although demanding could be overcome with thought and skill, and plenty of easy listening music to explore and interpret in the score. It wasn't a jaw dropper such as a 'St Magnus' or 'Extreme Make Over' of recent vintage, but it was certainly a very intelligent work that placed a great deal of emphasis on the conductors to seek out the right answers.
As a result there wasn't one poor performance out of the 12 on display, and the audience (although the hall was never more than half full due to the contest starting at 5.00pm on a Friday evening in the middle of a busy city centre) enjoyed every minute of it.

The Euro crowd: First band on and hall isn't exactly packed out...

The draw earlier in the day had given the 'big four' of Willebroek, Stavanger, Fodens and Cory pretty good deals, although there couldn't have been a band really upset by what they had drawn out of the hat.
It all kicked off with Kortrijk from Belgium directed by Lieven Maertens who produced a solid workmanlike performance that had it moments of quality throughout. It may not have had that Elgarian restraint or sense of nobility that so characterised the very best performances, bit it was a decent marker for the rest to follow.
Brass Band de Waldsang followed and immediately showed that they had a greater depth of sound and warmth of tone. This was a purposeful and at times powerful performance that played on the emotion in the lyrical passages to a greater degree than just about anyone on the day. It would possibly have come higher but for some nasty individual moments and a steroid injection of almost saccharine coated emotion that was Elgar but not as you would readily know it when it wasn't really needed. That it came last wasn't perhaps a surprise given what was to follow.
The first band to really make an impression on us, but not the three judges of Thomas Doss, Jan de Haan and Philip Sparke was the Swiss of Brass Band Treize Etoiles.
It was perhaps a bit 'up and at 'em' to start (something they certainly repeated on the Saturday) and the testosterone levels were a little high in places, but it was stylish and very neat in execution. The emotional core of the music at rehearsal letter P was a bit no nonsense, but well paced and delivered and there was quality to end. However, it was very Swiss – all just lacking a touch of humour and all very correct and precise. It was Elgar as a 21st century Swiss banker in a pin stripe suit and as such was impressive if a little dull. Coming 10th though was a bit harsh for us as we had it as high as 5th.
The emotion was never far from the surface with Gothenburg and it said a great deal of their professionalism and sense of musicianship under Dr Nicholas Childs that it never threatened to overwhelm them in what must have been quite emotional circumstances.
Once again we thought it a performance that perhaps merited a little better than 9th place from the judges, as the class shone through both individually and as an ensemble. It was a modern take on the Elgar themes, but overall it did resonate with Elgarian restraint and nobility in equal parts.

Martin Ellerby, who was in the audience for every performance must have been enjoying all the different takes on his piece by now too as conductors searched for something out of his score - some more succesful than others.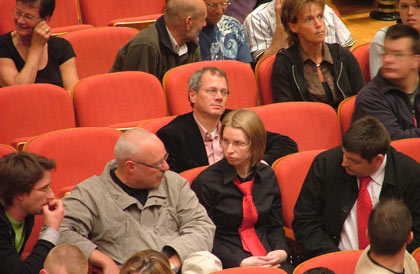 Far from the madding crowd: The composer finds a place to have a quiet listen

With a third of the contest gone it seemed that in the ears of the judges the standard was creeping up almost incrementally. Band 1 was awarded 84 points; Band 2 – 82; Band 3 – 85 points and Band 4 – 87 points. Band 5 was Brass Band Lyngby Taarbaek from Denmark and they carried on the trend that saw them eventually awarded 89 points and 8th place.
That was about par for the course for a performance where nothing really went wrong from first note to last, but which never left an indelible impression on the mind either. It was, as we said at the time, rather like Elgar without his moustache – not quite right, but without quite making him out to be something he wasn't, although to be fair the MD kept an impressive tight rein on the tempos, dynamics and style. It was just a touch boring.
Fodens Richardson really upped the ante with their performance though. Garry Cutt delivered a modern approach to the Elgar but one that just gave his players room to manoeuvre with a sense of stylish lyricism that brought the emotion out of the music without ever being dipped in sugar coated slushiness.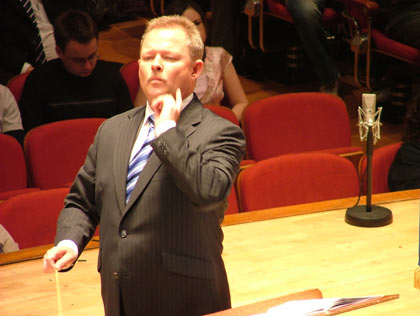 Pointed direction: Garry Cutt is about to put his finger right on the button...

Mark Wilkinson was the pick of a high-class stable of soloists (as he was again the next day) whilst the ensemble playing was precise and warm in balance and tone. This was as good as we have heard Fodens for some time.
We had it up in 3rd on the day, but the judges didn't quite think as much of it as we did and placed them in 6th and a little too far off the pace to make up lost ground the next day. It was a top quality performance though.
Following them on stage were the defending champion, Brass Band Willebroek and right from the start they delivered an emotionally packed performance of rich colour and texture that was very persuasive in approach and execution.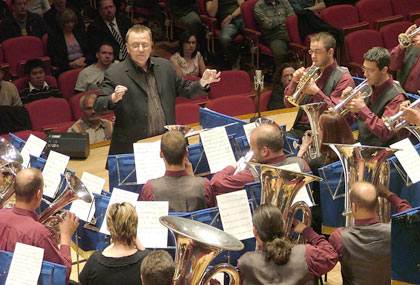 The colour Violet: Frans and the band set out their stall in impressive fashion

Those further back in the vast expanses of Symphony Hall told 4BR that the depth and balance of the band sound was something to behold and if it did just become a little OTT in places you could not deny the sense of authority they projected, especially at the end when there was real pomp and nobility about the playing.
It was a performance that perhaps divided some critics, but those who did like it (including the three men in the box) liked it a lot and awarded it 2nd place. We had them 4th, but a close fourth at that.
Scottish Co-op meanwhile started with a sense of style and precision that seemed to set them up for a performance of the very highest merit. However, just when it seemed to be going so well, it started to fade away - a bit like an old sepia photograph of the old man after a few years in your Gran's front room parlour.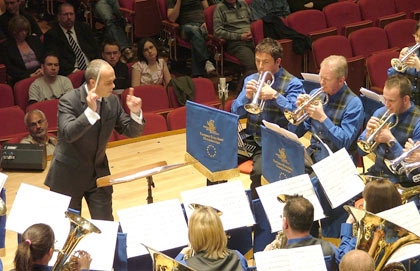 The Scottish take on Elgar: Coop and Ramsay come in 5th

There were some lovely moments when the Elgar just jumped out from the page, but there were also moments when some nasty little corners did too. In the end 5th place seemed a touch generous perhaps, but for well over half the piece it was as good as anything else heard on the day, and thereafter it wasn't too bad either.
Much had been expected of Brass Band Oberosterreich before they had played a note, and although they eventually ended up in 4th place, they certainly didn't play as well as many expected.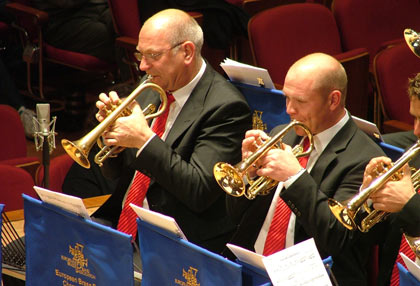 The Sound of Music - Austrian style, as Herr Gansch leads the band into 4th place

If they had then perhaps we would be crowning a new European Champion, but given the expectation levels, to hear some nasty clips and blips just take the sheen off a performance notable for its almost European sense of style was a touch disappointing. When it was good though it was fantastically so, but some of the middle bands timbres were thin and scratchy at times and it sounded a touch cold and calculating in places too. We had them out of the top six, but that almost brass ensemble approach certainly appealed in the box.
The eventual winners of the set work section were Cory, and well deserved it was too. Theirs was the most Elgarian performance of the whole day – restrained and thoughtful in tone, tempi and dynamic with immense precision of technique allied to secure solo lines that just had that hint of repressed passion.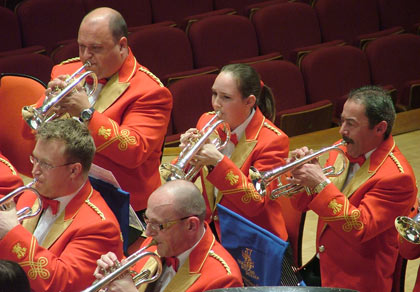 Haircuts 100 (well 97 points anyway) as Cory take the lead on the set work

It was the one to beat for us and so too for the judges as it had pomp and nobility in equal doses at the end and the emotional core of the music at P was delivered with style and lyrical intent. Some felt it lacked a touch of Welsh passion, but that would have been a dangerous game to play with a quintessential English composer. The final five or six bars where the music and tempi rise and fall in tension before releasing the final climax were superbly handled and it deservedly put them in prime position for the following day. They could not have played it any better.
The last of the 'big four' followed the Welsh band onto the stage.
Like the Austrians, much was expected of Stavanger and they didn't disappoint. Led superbly by Allan Withington with a reading of such musicality, it was both enthralling and precise in equal measure. The passion bubbled under the surface as if Elgar had popped an 'e' into his tea but was fighting off the effects, and at times it just surfaced for a odd moment when it showed an almost visceral intensity – all passion blazing from the heart.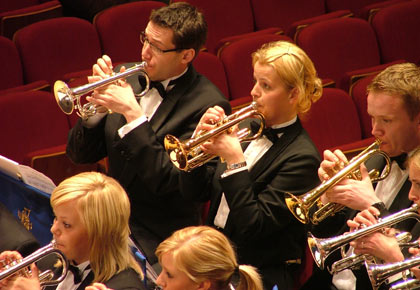 Cornet variations: Stavanger's Espen Westbye and his team claim 3rd place on the Elgar

The emotional core really struck the right chord, and although it got a little OTT and messy in places in the ensemble the fabulous ending seemed to put things right back on track. Some critics felt it was perhaps a little too dramatic in places, but it certainly left an impression on the mind and they could count themselves a touch unlucky to have come 3rd – we had them in a very close second.
That just left the French contenders of Brass Band Aeolus who produced a well thought out performance that had a touch of Gallic flair to it. Perhaps old Elgar himself wouldn't have recognised it as the style was as sharp as a guillotine blade and the emotional content had a true sense of French bluster, but it was very good playing and confirmed once again that this is a high quality band.
The MD was a class act who was able to draw the emotion out of his players when required but also put a stop to it becoming over cooked with musical garlic. The judges liked it and gave it 7th place, just a point behind Fodens, which may have surprised many, but did confirm that they had certainly made an impression with their reading.
With the contest over the discussion began and we had a top six of Cory, Stavanger, Fodens and Willebroek, with a point between them all. After that and a couple more points behind we had Treize Etoiles and Gothenburg with the likes of Scottish Co-op, Oberoestereich and just hanging onto the coat tails. It was all set up for a fantastic climax the next day.
Iwan Fox.