2007 Spring Festival - Senior Trophy introduction and prediction
15-May-2007
20 good bands try to deliver the essence of contesting success in the Senior Trophy and gain promotion one step closer to the British Open.
---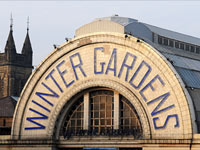 The Senior Trophy may only have been resurrected from the contesting dustbin in 2002, but ever since it has provided a wonderfully vibrant first tier contest for those bands with ambitions to try and reach the Grand Shield.
The secret of its success has been a combination of well chosen test pieces (although you would have thought they may have picked the appropriately entitled 'Resurgam' – 'I shall rise again') by the organisers and a field of rival bands that are well matched in terms of ability and talent. There may be a few bands around the country that may feel they should get an invite, but the organisers do make every effort to try and approach as many bands as possible that they feel are good enough to make a mark here. There is a waiting list to get in.
This year there is another even spread of good solid bands, with six 'new faces' in the form of Bactiguard Wire Brass, Friary Guildford, Longridge, Newtongrange, Old Silkstone and Stocksbridge either making their debuts or returning to the fold.
There is also a good mix from all over the country too, with representatives from Scotland, Wales and just about all the English regions. Regional pride is very much at stake.
The set work this year is Joseph Horovitz's wonderful 'Ballet for Band', a piece that may not be the most technical these bands will face in the next 12 months or so, but one that will test their musical abilities to the full. The emphasis is on style and lyricism, wit and even a touch of grotesque comedy. It takes a good band to play in balletic fashion and even though there may be a few big lads not wanting to put on the musical tights and girls feeling a little uncomfortable in their tutus, if they get it right, the sacrifice will have been well worthwhile.
There are four qualifying paces up for grabs so there is some leeway on offer, but there are also those dreaded relegation places looming too. Bands are only two steps away in effect from the Grand Shield but also just one step away from oblivion.
Yorkshire sends a powerful batch of bands to the contest, headed it seems by the aptly named Powerfuel Hatfield Colliery who impressed many at Bradford, whilst they are joined by Stocksbridge who won the First Section there on fine style, Drighlington, United Co-operatives Yorkshire Brass, Old Silkstone and Marsden, all of whom will fancy their chances of a qualification place or even tucking the Senior Trophy and the £600 first prize under their belts.
The North West sends some top rated bands too with the ever upwardly mobile Bactiguard Wire Brass, Blackburn & Darwen, Vernon Building Society Poynton, United Norwest Co-op Milnrow, Longridge, Mossley and United Co-op Crewe all more than capable of taking a quick step up the promotion ladder.
The Celts will send three strong contenders in Parc & Dare from Wales and Bo'ness & Carriden and Newtongrange from north of the border whilst the North East has strong representation in Harrogate and Tavistock Chester-le- Street Riverside.
The Midlands may well look for success with Glossop Old and London is represented by Friary Guildford.
It's some line up of bands, but which one will come top, and which four in total will take a step closer to Symphony Hall?
Hard to tell really on this one but Hatfied did impress at Bradford and with Graham O'Connor at the helm they have a conductor who knows just what it takes to win at the Spring Festival (he has done it at least three times at the Grand Shield).
Marsden will be a strong contender if they really play to form with Stocksbridge and Vernon Building Society Poynton up there for us as well. Parc & Dare should put in a good Welsh effort and it could be a battle between United Co-op Yorkshire Brass and Old Silkstone for the other top six places.
4BR Prediction:

1. Powerfuel Hatfield Colliery
2. Marsden Riverhead Brewery
3. Stocksbridge
4. VBS Poynton
5. Parc & Dare
6. Old Silkstone
Dark Horse: United Co-op Yorkshire Brass