2007 Spring Festival - Grand Shield introduction and prediction
15-May-2007
19 top class bands line up to try and win a place at Birmingham's Symphony Hall in September. Only two places up for grabs so who will leave the desperation of Blackpool behind...
---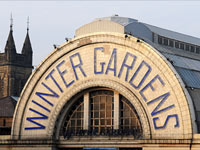 There is certainly something in the air at Blackpool – and it isn't the smell of discarded chip wrappers, cold vomit and stale beer either. It permeates every nook and cranny of the place. It's the miasma of desperation.
Blackpool reeks of it. From the faded paint work of the Winter Gardens to the cheap B&B hotels that line the streets off the Golden Mile, the neon 'Happy Hour' drinking initiations outside scruffy pubs and the plethora of vacancy signs that hang in the windows of establishments that have long since passed their prime.
It hasn't been helped of course by the Government's decision not to situate its Super Casino in the town; a form of urban regeneration that perhaps tells you more about the current state of the UK's ability to prosper through gambling than it does about attracting jobs through industrial manufacturing. Blackpool, even on a sunny May weekend, can be a very depressing place to be stuck in.
That air of desperation will also be found sweating out of every pore of every single conductor and player at the Grand Shield too. There is no other brass band contest in the world that offers such a prize as this – a possible one way ticket out of banding purgatory: Just ask any player of conductor here on the weekend.
This year there are 19 bands all determined not to have to spend another year coming back to this place. They contain those who have tasted the Elysium fields of the British Open, many with proud histories, others with unfulfilled ambitions, many more with hopes, both realistic and fanciful. Only two bands will leave the Winter Gardens blessed to appear at Symphony Hall in September. 17 more will head home crushed by disappointment and the realisation that in twelve months time they will have to put themselves through the same agony once again. This is brass banding contesting in the raw – painfully raw at times.
It is of course what makes the Grand Shield such a unique contest too. Nowhere else in the banding world does the prospect of coming second fill the hearts of so many people with genuine joy. It's all about qualification – the winning of the famous old shield and the £800 that goes with it, an almost inconsequential bonus. Just ask Aveley & Newham or Carlton Main, who On the other hand, just ask Ashton, Yorkshire Imps or Sellers what it feels like to find yourself back in the melting pot here too.
The longer you stay at Blackpool and in the Spring Festival contests the harder it is to get out. In some cases it can lead to terminal decline. Get to Birmingham and you gain exposure, attract better players and perhaps even some sponsorship; remain rooted here at the Winter Gardens and eventually the dry rot of decay and decline sets in – just like the buildings around you: Ransome, BHK Horden, Dobcross, Staines and Beaumaris, the list is starting to get longer and more depressing by the year.
The difficulty of course is that there are 19 bands so closely matched together in terms of from and talent that you couldn't separate them with a proverbial fag paper. Ask 1000 people to name the top 10 bands here and you would most probably come up with a million different permutations.
Some, if not all, come with high hopes and good form. This year there are regional champions in PolySteel, Staffordshire and Redbridge as well as London qualifiers in the form of Tredegar, BTM, Leyland and Mount Charles. They all have the Royal Albert Hall to look forward to later in the year. Then there is the Pontins Champion, Pennine Brass who head for Harrogate come September in the First Section and others such as the Mineworker duo of Virtuosi GUS and Tongwynlais who have already helped themselves to some impressive prize already this season.

BT come off the back of a fine win at Brass at the Guild Hall, whilst there are also the likes of Thoresby Colliery who showed good form earlier in the season and of course the trio of relegated bands from the British Open, all keen to return at their first attempt to Birmingham. Sellers International, Yorkshire Imps and Ashton will not want to be stuck here for any longer than is necessary.
Then you get the bands that always seem to be there or thereabouts, such as Fishburn, Burry Port, Sovereign Brass and the band that missed the regionals but seems to like it here, Alliance Brass from London. Not a bad line up for any contest eh?
All that and they will presented with a very difficult test piece to overcome in Bramwell Tovey's affectionate remembrance of the Victory in Europe celebrations in 'The Night to Sing' - a dramatic and substantive work requiring musical insight and technical prowess.
The organisers have picked a work that sets the bar at a realistically high level for those with real ambitions of making it to the British Open. If they can overcome the difficulties with this composition then the step into the big time come September may not be as daunting as many believe now exists between the bands at the top tier of contesting and those just one rung below.
However, the list of bands that do not survive longer than the initial 'grace and favour' two year period is long, and there are many who have had their Icarus moment at the Open only to fall back to earth quickly and with a very hard bump. Just look at some of the bands in the Senior Cup and Senior Trophy who were just a few years ago rubbing shoulders with the very best at Symphony Hall.
So who will leave here on the weekend celebrating their good fortune and who will be looking to book another 30 places in a cheap B&B next year.
For us, a handful of bands if they play to form, should be confident of doing well and it may be a battle royal between the likes of PolySteel, Leyland, Sellers, Mount Charles, Pennine, BTM and Virtuosi GUS. Others may also find their way into the prizes, but if the draw is kind, we think the two qualifiers should come from this lot.
Who ever wins, one thing is for sure though – 4BR will be back here next year and the year after and the year after that. Some of us are cursed we are sure….
4BR Predictions:

1. Leyland
2. PolySteel
3. Sellers International
4. Mount Charles
5. Virtuosi GUS
6. BTM
Dark Horse: Pennine Brass