2007 Spring Festival - Senior Cup retrospective
25-May-2007
There was a clear winner in the Senior Cup as Wingates took a step back towards the British Open - a contest they won exactly 100 yers ago.
---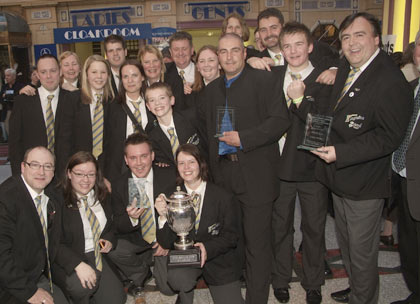 Taking a step in the right direction: Wingates win with something to spare
Picture: John Stirzaker

One of the most famous names in British Open history took a significant step back towards a future appearance at the contest when Wingates Band, conducted by Andrew Berryman, won the Senior Cup in emphatic fashion on the weekend.
Their performance of the set work, 'Dances & Alleluias' was described as 'truly outstanding' by adjudicators David Read and Steven Mead, and although there were no points awarded, both judges expressed the opinion that theirs was a significant margin of victory over second placed Thoresby Colliery and fellow qualifiers Kibworth and Freckleton.
Wingates last appeared at the British Open in 1999 and 32 years after their seventh and last victory at Belle Vue in 1975, their win moved them just one step away from a return to Symphony Hall with an impressively high class performance rich in technical clarity and musical nuance. Andrew Berryman's reading also emphasised the detail, style and character in Philip Sparke's enjoyable test piece that set it clearly apart on a day when a number of rivals produced performances of real merit.
Band spokesperson David Kaye told 4BR that the result confirmed the progress that Wingates has made in the past year or so under the direction of the principal trombonist of Manchester's Halle Orchestra. "He has been a breath of fresh air. Andy has brought so many new ideas, and given the band a modern new image both on the concert and contest platform and the atmosphere within the band is fabulous. We have had our ups and downs in our 134 year history, but we are certainly on an up now, and it is all down to a great deal of hard work and commitment."
After narrowly missing out on a place at the National Finals earlier in the year here at the North West Areas, Wingates showed that 2007 holds rich promise for an ensemble displaying a compact and balanced tonal quality as well as an impressive stable of soloists. It is also exactly 100 years since the band won the British Open under the baton of the legendary William Rimmer, so the sense of the bands history weighs heavily on the shoulders of the current players.
"Wingates is a name that is synonymous with the British Open," David added. "It says a great deal that we have already received e-mails of congratulations from as far afield as Australia, and we hope this will now lead to us appearing back at the premier brass band contest in the world in the very near future, We are all working towards that particular goal."

Adjudicator Steven Mead was complimentary about the overall standard that he and David Read had heard from the 18 bands on the day during his short address to the audience prior to the announcement of the results. "It has been an excellent contest," he said. "There have been four or five fine performances today, but one truly outstanding one. The piece requires a great deal of control and precision in the quicker sections as well as an appreciation of lyrical qualities in others. The winners certainly had that today, whilst others produced performances of real merit too."
'Dances & Alleluias' had most recently been used as the set work for the 2006 English National Championship. Philip Sparke's enjoyable composition emphasised the need for bands to overcome stern but manageable technical hurdles as well as their ability to play with a broad lyrical sense of style, a combination that led to a contest of contrasting interpretations for a healthy audience at the Pavilion Theatre to enjoy. Steve even went as far as saying that he felt that Wingates performance on the day would have possibly have won that contest such was its quality, whilst a handful of others may well have featured highly at Salford 12 months ago too.
As a leading euphonium player Steven also took the opportunity to compliment the leading role played by the baritone players on the day, who were faced with a daunting cadenza: "Every baritone player should be congratulated. It's a rarely heard solo voice in a test piece, but there was some wonderful playing on show today." However, old habits die hard, and it was still Gary Curtin the euphonium player of the winners who took the Best Instrumentalist award.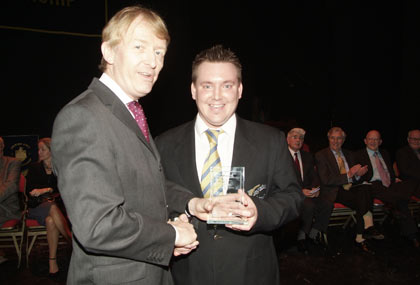 Curtin call: Gary Curtin takes the Best Soloist Award
Picture: John Stirzaker

All the qualities that were looked for by the men in the box certainly applied to Wingates, who set the early marker that could not be matched from the early number 6 draw.
Second placed Thoresby Colliery directed by Ian McElligott produced a technically secure performance that benefited from excellent individual solo lines that give them their second successive promotion at the Spring Festival and their first appearance back at the Grand Shield since 2003.
Although it did not quite have the high gloss sheen of the winners, it was a performance that blossomed in confidence, with notable contributions from an impressive stable of 'cornermen' and a well structured reading from the MD.
Although his son took the domestic family honours, the vastly experienced John Berryman had much to be pleased about after he guided Kibworth back to the Grand Shield by claiming third place. After their relegation from the contest last year the Midlanders bounced straight back with a performance that was noticeable for it's control and musical reserve, especially in the demanding final section where others rivals faded as stamina waned.
Meanwhile the final qualification place was taken by Freckleton conducted by Paul Dalton who impressed many in the hall with their vibrantly coloured and well constructed account late in the day. That just did enough to push out a notable effort from fifth placed EYMS Band directed by Jim Davies who continued their excellent run of good contesting form with a persuasive musical reading that many observers felt may have deserved to gain a qualification place.
Sixth placed Aldbourne conducted by David Williams were another ensemble that delivered an impressive account that just failed to gain one of the four qualification places on offer. Their performance was enhanced greatly by some wonderful playing from principal cornet Kevin Robbins who was the pick of the day of the 'top men' on the demanding lip sapping cornet solo late in the piece.
The contest itself started with an impressive showing from First Section graded Innovate Skelmanthorpe directed by John Roberts, who eventually came 7th with a reading that allowed time for the detailed ensemble writing to be illuminated with clarity – another highly encouraging performance from a band certainly heading in the right musical direction.
Behind them there were also performances of merit from the likes of Welsh contenders Cwmaman Institute conducted by Nigel Seaman. They bravely overcame an almost disastrous series of mechanical mishaps on stage, that was only overcome by a quick thinking swap of instruments between the two baritone players after the first valve on one of the instruments stuck solid just moments before the notoriously difficult cadenza.
The final places in the top ten went to Pemberton Old Wigan JJB conducted by former YBS and Brighouse & Ratrick soprano player Alan Hobbins who delivered a colourful and exciting rendition, and Unison Kinneil directed by Colin MacKenzie who just had too many noticeable errors in an enjoyable account to push for a place higher up the prize list.
Behind these bands it was a question of consistency. Jaguar (Coventry), Dalmellington, Bournemouth Concert, Kingdom Brass, Lindley and Besses o' th' Barn all just failed to fulfil their musical promise as technical camouflage and a lack of cohesion in balance was detected by the two men in the box. Each had their moments of extended quality playing but could not maintain it throughout the entirety of the piece. All left with more plus points than minus ones however.
Meanwhile the fight to stave off relegation to the Senior Trophy was in many ways as keenly fought over as promotion to the Grand Shield. The unlucky bands to fall through the trap door to the lowest tier of the Spring Festival were Kottingley Silver and Ratby Co-opertaives, both of whom produced creditable accounts that just failed to make a mark against a keenly matched field of bands. Joining them in the Senior Trophy next year will be Beaumaris and Staines, both of whom unfortunately failed to make it to the starting tape this year.
It was Wingates however that left Blackpool with an appropriate spring in their musical step from the Spring Festival Senior Cup. On this form one of the most famous and historic names in brass banding will surely be confident that an appearance at the British Open is now within touching distance once more.
Rob Richardson