2007 All England Masters International Contest - Introduction and prediction
24-May-2007
This weekend sees bands from all over the world converge on a tight corner of Cambridge to see who will become the Masters International Champions.

---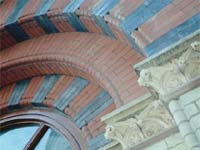 After the tacky delights of Blackpool comes the refined air and dreaming spires of Cambridge. Superficially, there is little to compare between the great working class holiday camp on the northwest coast and the ornate splendour of one of the great brain factory's amid the green pastures of rural England, but appearances can be very, very deceptive.
Move a few miles either side of Blackpool and you have some of the poshest areas you would ever likely to meet on your travels, whilst rub a little aged gloss from the surface in and around Cambridge and you will soon find an area that has its fair share of social problems too. Not everyone here rides a bike wearing a long scarf, cricket jumper and basket full of books of existential French philosophers.
It's much the same with the band contest too. Blackpool wears its banding heart on its grubby sleeve – it's banding in the raw. Cambridge seems to be banding for the thoughtful few – but that too is a sham. The Masters is a hard nosed old contest that over the years has set its stall out to attract the very best to slug it out on a pretty uncomfortable stage. If you thought the Opera House at the Winter Gardens wasn't a great place to play, then you should try the stage at the Corn Exchange here when the weather is warm outside and the doors have been closed for a while – its like a sound proof sauna.
The Masters has come a long way in its short history (not that short now as the first contest took place in 1989), but just like Blackpool it is almost welded to its musical base – it really cannot go anywhere else.
The Masters also manages to illicit strong opinions about its worth too. Since opening itself out to become 'International' some diehards felt that it had lost focus and purpose by excluding English bands from a contest that was seen by many to be the unofficial 'fourth' Major. That may or may not be the case today as after a couple of years to regain its feet and identity the contest appears to have carved an impressive niche for itself once more on the contesting calendar.
The long battle to be accepted as the official English Championship was lost and so Messrs Biggs and Franklin took the pragmatic step to create something new. It was a painful process of course, but now their new baby is starting grow into a healthy child full of rich promise for the future. Today it attracts a very high class field – perhaps still short of a few names that it would like to appear on the programme, but still very high class nonetheless.
This year it has attracted the reigning double European Champion, English National Champion, the North American Champion, Grand Shield winners, Scottish Champion, Mineworkers Champion, the Area winners from London & Southern Counties, North of England, West of England, five London qualifiers as well as the reigning champion themselves. Not a bad line up in anyone's books eh?
Much of the attraction comes from a very healthy prize fund, the usual excellent choice of set work, three good judges, slick organisation an appreciative audience and hopefully some good weather (too hot or raining and it isn't good – so hopefully a nice early Summer day). There is the added bonus of the Gala Concert too which features Willebroek and Fairey's this year and a top notch old screamer of a trumpet player.
The test piece will certainly sort the men out from the boys – 'In Memoriam RK' is a great work from the pen of a master craftsman, who has been criminally overlooked somewhat over the years. It is a quite beautiful composition when played well, and given the quality of the bands here this year, hopefully that should be quite a few times we hope. Get it wrong though and it will sound awful – so beware the conductors who decide that it should contain more than a liberal sprinkling of rubato. The music is all there to be played on the score – and the MDs don't have to try and imitate its inspiration Rudolph Kempe either. He was regarded as a most disciplined but sensitive conductor who had eyes that could bore a hole in the back of the neck of a player who didn't give him what he wanted.
So what of the bands on display then?
Some will come better prepared than others of course although at the moment PolySteel wouldn't worry if they had a contest each weekend for the next three months – they are walking on air at present.
Fodens too will be confident of doing well after two excellent showings at the Europeans at the beginning of the month, whilst Willebroek of course will be one of the short priced favourites in the bookies. If they play like they did at Birmingham then the others may just as well settle for a battle for second place.
The reigning champions Rothwell have had a nice long break since last taking to the stage at Bradford and should not be underestimated at all, whilst fellow Yorkshire contenders Hepworth will be a band that should once again be confident of featuring in the top echelons of the prize list. The Mineworkers Champion Desford has shown a high degree of form this year too, whilst there will surely be confidence in the camps of the likes of Fairey's, Reg Vardy and Scottish Co-op all of whom have enjoyed their day out here in the past.
Some dark horses may well feature (the contest has a neat habit of dropping one or two 'unfancied' bands into the frame every now and again) so what of BTM, Carlton Main or Kirkintilloch – all of whim seem to be playing to the top of their form of late.

It would also be unwise to discount the likes of Redbridge who seem to have recaptured their form after a bit of a break, SWT Woodfalls who may fancy their chances directed by Black Dyke's MD, Dr Nicholas Childs, or Aveley & Newham who have had the time to work on their preparation unhindered by the need to qualify from the Grand Shield this year.
And what of our overseas friends? Fountain City Brass come on a real high after claiming the North American Championship in fine style and beating the pre contest favourites and highly regarded Brass Band of Central Florida too. They are a much changed band in terms of style and tone from what we heard a year or two ago and could well spring a big surprise, whilst Soli Brass and Brass Band Rijnmond are experienced enough to more than hold their own, as too the improving 1st Old Boys Association from Northern Ireland.
With that in mind then, who do we opt for?
Well if they can repeat the form shown at the Europeans at the start of the month then it should be a battle between the two heavyweights of Willebroek and Fodens Richardson. These are the two real class bands of the contest and it could be a mouth-watering prospect if they both hit the very top of their form.

Hepworth too are a band that seemingly is set for the very top and with time on their side and with some wonderfully confident soloists they should be more than capable of making it into the top six and beyond. The reigning champions are in the same boat too and if they can up their form from that shown in Bradford where they were just a little behind the pace then they should put up a brave defence of their title.

Carlton Main would be a bit of a dark horse in many people's books but we think they could well show their class here if they have put in the hard yakka and PolySteel may be tired, but the adrenaline will be coursing through their veins now and it seems nothing is beyond them. They could well feature once more here.
Our dark horse? Try Reg Vardy, who have enjoyed their trips here of late and are starting to return to form after a 2006 when they didn't really shine.
4BR Prediction:

1. Fodens Richardson
2. Brass Band Willebroek
3. Hepworth (Lanson) Homes)
4. Rothwell Temperance
5. Carlton Main Frickley Colliery
6. PolySteel

Dark Horse: Reg Vardy