2007 All England Masters International - The conductors test
30-May-2007
'In Memoriam RK' was a great piece of music that tested the conductors to the full...
---
On a day when a superb set work provided a greater test of the musical ability of the conductors even more so than the players, it was a great pity that the two conductors so directly linked to the music were not there to witness the event.
The great Rudolf Kempe of course has been dead for over 30 years, but Elgar Howarth, the composer of 'In Memoriam RK' was unfortunately laid up with a bad back at home – which was doubly unfortunate as on the day there were a number of performances that would have sent a helpful rejuvenating shiver up his spine for both the right and wrong reasons. Oh how it would have been fascinating to find out what they both would have thought of the efforts of the men in the middle as they tried to convey the complex emotions found within the score presented to all 19 of them for this contest.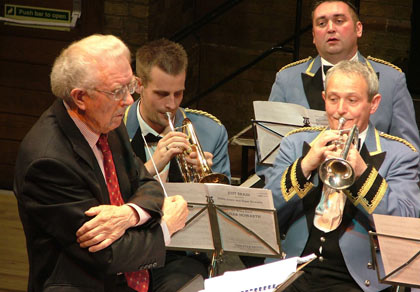 Rolling back the years: Major Peter Parkes takes comfort from his players at Fairey

Kempe acquired a reputation as a truly great orchestral conductor due to a ferociously disciplined approach to his work that belied a sympathetic and sensitive personal nature, especially to his players. They in turn found it a privilege to work under him.
He had by all accounts a stare from his coldly intense eyes that could stop a charging rhinoceros from 200 yards yet alone command the respect and discipline of a demanding professional orchestra, but was gifted with a textbook conducting technique that allowed him to communicate its purpose in intuitive musical fashion. The right hand was for the baton only, the left, used sparingly but always with specific purpose, to illicit control of dynamics and balance. Elgar Howarth was so influenced that many saw in him a conducting style highly reminiscent of his musical hero – spare, lyrical, intense and elegant.



Just a pinch more please: Nigel Boddice asks for a tiny bit more from Kirky

Both then would surely have been impressed, puzzled, amused and even distraught in almost equal doses at what was on display by the conductors at the Corn Exchange on the weekend.
Being an aesthetically pleasing conductor is no sure fire recipe for contesting success, but it surely helps that such elegant and lyrical music is approached and communicated in a manner that reflects this.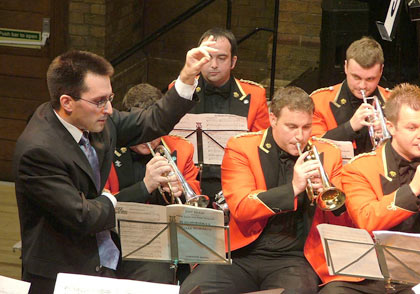 Not the Karate Kid: Jason Katsikaris goes for the slightly pinched approach

Unfortunately, you were reminded at times of the famous quip about the ungainly, but highly successful American golfer Jim Furyk, that when he swung his driver he looked like an octopus falling out of a tree. He may have won plenty of prize money in his career but watching him over 18 holes made you yearn to see the likes of Seve Ballesteros – even if he was playing badly.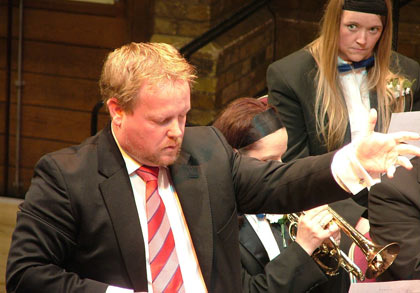 Eyes wide shut: Russell Gray enjoys the moment with Carlton Main

None of the 19 conductors here were that bad, but even Carol Voderman couldn't have sub divided the beats in a single bar more often than some, whilst others treated their players with a musical distrust that suffocated all efforts to allow the music to flow. Like errant pre school children and small dogs, they were shackled by the tightest of reins to the conductors arms, with all hope of expression almost strangled out of them as they found it necessary to literally conduct every beat of the music. The lack of trust to allow cornet players in particular to express themselves with tasteful use of rubato was a feature of the performances that were found towards the bottom end of the prize table in particular.
As we have said elsewhere, perhaps some conductors didn't realise that the RK in question was in fact the sensitive German conductor at all. Some of the initials could well have stood for the snarling competitiveness of footballer Roy Keane, or even those well known 1960's gangsters of the local parish, Ronnie or Reggie Kray. The final 'farewell to life' in the last few bars at times came as a blessed relief to many a performance blighted by a misjudged approach even when sinister darkness was called for.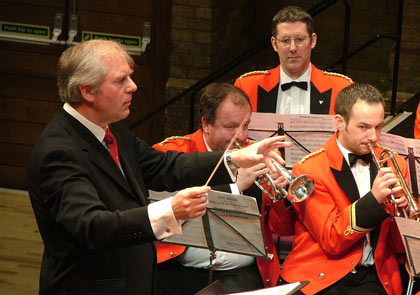 Lyrical intent: Ray Farr shows his cuffs but Reg Vardy can't match his approach

The growing menace of Nazism with its final Gotterdammerung demise is aggressively and powerfully portrayed in the music, whilst the untimely death of Kempe himself is treated with deplored anguish rather than a misplaced aggressive outburst of emotion. At times it was the other way around.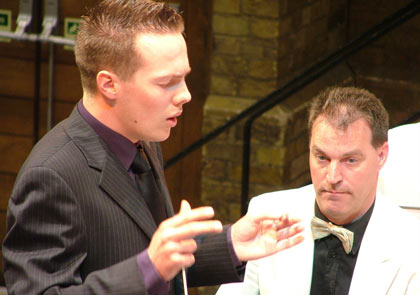 Just how I like it: Frans Burghgraef gets all emotional

Thankfully there were a number of conductors who found the true understanding of the magnificent music and almost all found reward as a result. The elegant baton work of Nigel Seaman and Nigel Boddice, two highly experienced orchestral musicians was mirrored in the performances of their two bands, whilst others who have worked extensively with Elgar Howarth over the years such as Nicholas Childs, Ray Farr and most notably Garry Cutt all delivered readings of broad lyricism, even though not all found favour in the box.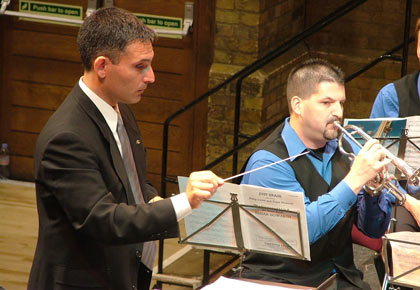 Impressive elegance: Joseph Parisi uses the baton to make his point

Equally impressive were the two overseas conductors Joseph Parisi with Fountain City Brass and Erik Janssen with Brass Band Rijnmond, both of whom stood out as conductors of elegant simplicity. Others too had their moments when less delivered more – none more so than the peerless Major Peter Parkes.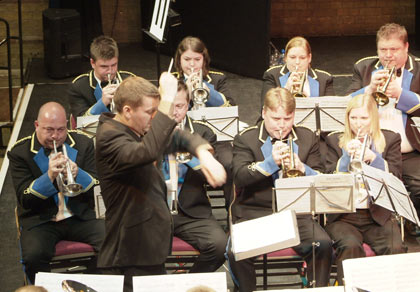 Power approach: Mark Bentham leads Hepworth perhaps in the wrong direction?

The conductor who looks the best does of course not win brass band contests – otherwise the great Fred Mortimer wouldn't have won a thing, but by the band that produces the best performance.
Some bands though would have been helped greatly if their MDs just allowed themselves an occasional look in the mirror. Top class brass band conductors are creatures of ego and vanity of course, but what you see portrayed by the man in the middle is all too often what you get in return from the players around the stand – good, bad and sometimes a little ugly - and you don't have to be locked away in a tent, at home with a bad back or even 30 years long dead to appreciate that.


Iwan Fox

This article will also appear in British Bandsman 1st June 2007