2007 All England Masters International - retrospective
30-May-2007
A fantastic piece of music, great bands and fine conductors, but it was a man who knew most what the composer wanted and a band on top form that took the 2007 Masters title this year...
---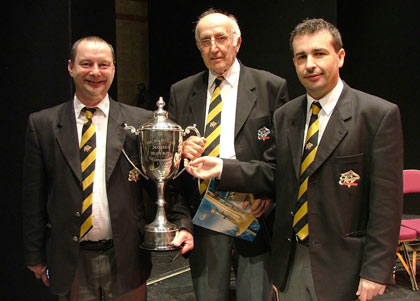 Three Masters: Alan Wycherley, Mark Wilkinson and Band President Peter Fletcher take possession of the Masters Trophy for 2007

Sometimes the clue to what an audience is about to listen to can be found in the title: 'In Memoriam RK'.
The odds were then that it was unlikely to be a pyrotechnical blast-fest given that the subject matter in question was one of the great lyrical exponents of the romantic music of Mahler, Strauss and Wagner. Maybe loud in the odd place, but overall it would strike you as being a pretty sombre, reserved, even sparse work, given that it was composed by a musician of such insight and intellect as Elgar Howarth.
The RK in question of course was the great orchestral conductor Rudolf Kempe, but for some conductors the initials may well have stood for Roy Keane or Ronnie or Reggie Kray. Some of the performances were so aggressive in intent from start to finish that it sounded as if it was a memorial to Lemmy from Motorhead rather than one of the most disciplined but sensitive conducting talents of the 20th century.
Even the drawn out final goodbye as the great man drew his final breath at times left you with a reminder of an obituary announcement from the spoof newspaper 'The Framley Examiner' – "In Memory of Eirich Chapnelle – peacefully aged 97. Unlike his passengers in his turbo charged motor boat…" - such were some endings cut short with violent surprise before the final breath was drawn.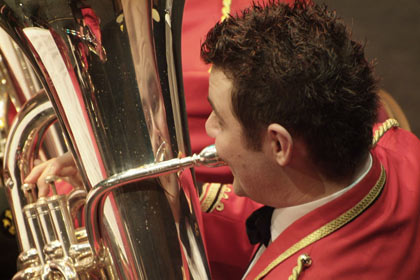 Neish market: 4BR Best Instrumentalist winner Les Neish struts his stuff
Picture: John Stirzaker

Even a quick glance at the helpful notes produced by Elgar Howarth would surely have pointed conductors in the right direction. There was of course a dark, sinister element to the work, but Howarth was quick to point out that it was a shadow of what was to come in the form of Nazism and its final Gotterdammerung allied to its personal effect on the Kempe himself. The work explored the anguish of its coming and lasting impression of its demise rather than a violent portrayal of the period of time in question.
If you wanted a superbly précised account of the work then all you had to do was to read Rodney Newton's article in the British Bandsman that highlighted exactly what the piece was all about. You did wonder how many conductors took that opportunity.
Why so many then missed the opportunity to interpret the work as such when Howarth had so clearly indicated his intent and had marked the score so precisely came as a bit of a shock on the day. Some of course didn't quite have the personnel to make it work, others just had bad days on stage, but too many found it beyond their capabilities.
Recently 4BR spoke to one of the most influential men in the brass band movement at the Spring Festival – someone who knew Kempe well professionally. There he made the telling point to us: "You'll find that we have a number of very good bands conducted by a number of poor conductors." Harsh - but on the day, perhaps very nearly true.
Not so Fodens Richardson under the baton of Garry Cutt who took the title for a record sixth time and in many ways exacted a touch of personal revenge for what happened to them last year.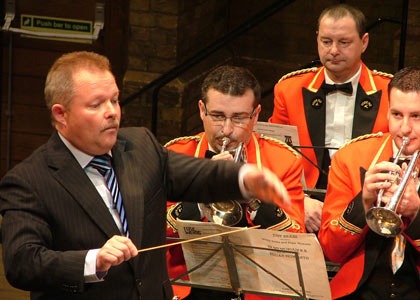 Knowing the score: Garry Cutt leads Fodens to victory

The MD has been fortunate to have enjoyed a long professional and personal working relationship with Elgar Howarth, and it was clear from the very opening bars that he fully understood the need for elegance and lyricism. Later when the mood turned darker the ensemble sound became deep and resonant with the required brittle edge, but never overblown. Finally, the return to the lyrical final sections brought more elegant and eloquent playing and a marked drift into the acceptance of the end of life to come.
It was a very high class piece of playing from a very high class reading – not without noticeable errors and a little loss of focus in places (the final goodbyes just had an odd hiccup or two), but so well defined and true to the composer's wishes. Mark Wilkinson on principal cornet was once again on top class form and was one of the few cornet players to really capture the sweet elegance required in his solo lines, whilst Les Neish won the 4BR Best Soloist Award for his sterling efforts on tuba, both a solo voice and as a leader of a four man team that really did bring a darkly hued tonal quality to their work without a hint of harshness even at near full volume.
We felt it may have just let the door open (we had them 4th), but on a day when no one band really produced a totally secure performance it was still a worthy winner. Fodens are playing as well as we have heard them for a number of years at present and they will be a band hard to topple come the English Nationals, Open and Nationals later this year if they continue to prosper like this under Garry Cutt's direction.
A band that is certainly prospering under excellent direction is Carlton Main Frickley Colliery.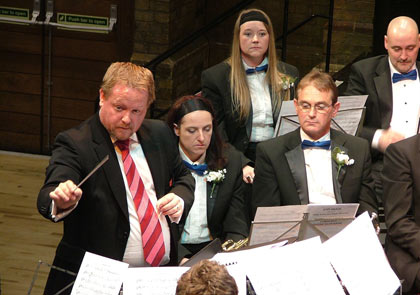 Just a touch more please: Russell Gray lets the music flow from Carlton Main

Russell Gray has transformed a band that was noted for its individual qualities rather than its overall excellence into a very compact, secure and musical ensemble that is now very much the sum of its impressive parts.
Here they were excellent (we had them 3rd), producing a very musical account that always searched for the lyricism and gracious elegance in the right places, although some of the darker episodes did get a little harsh at times as they strove to convey the sense of anguish felt by the great conductor at what was happening to his homeland.
Kirsty Abbotts was the epitome of elegance - a musical Grace Kelly on a day when others were more Ned Kelly, whilst her fellow performers (notably on soprano) took her lead to heart and played superbly too. The final section and last goodbye was particularly well handled with a sense of drifting finality that held the attention to the niente finish that so many conductors cut off as if pulling the plug on a life support machine. This one ended with the right repose and acceptance of mortality.
Close behind Carlton Main came Rothwell Temperance with a performance from the awful number 2 draw that was a credit both to the performers and the MD.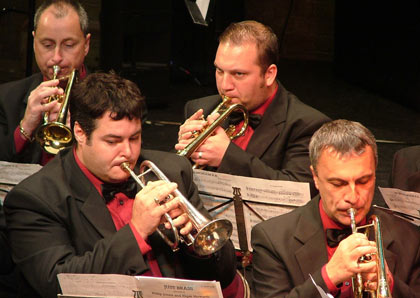 Pointing in the right direction: Rothwell deliver a high class account to take 3rd place

This was committed, detailed and very well prepared playing of a quality that few managed to match throughout the long day. David Roberts asked his players to search for the lyricism contained in the detailed writing and was rewarded with some super playing in return. It wasn't error free, but the sense of style, the lyrical approach to the opening and closing sections in particular and the ability to darken the mood and timbre of the band to show both passion and anguish were impressively done.
The final ending took a little while to drift into the ether but overall it was a brave, purposeful and musical account that showed just how good a band they are fast becoming. No frills or fancies, just high quality playing and third place (we had them 5th) was well deserved.
Fourth place on the day went to Scottish Co-op under the baton of Alan Ramsay, who continue to develop as a partnership with yet another impressive result - although it did come as a surprise to many that it did eventually come so high.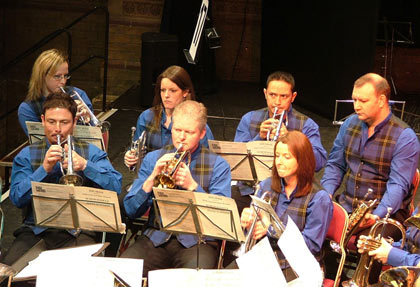 The magnificent seven: Scottish Co-op's corent section (with 1 hidden) gain 4th place

With just seven cornet players and soprano the MD marshalled his resources cleverly (although there must have been a few tired lips at the end) with a performance that was solid and unpretentious. The final section was one of the best of the day, with a real feel of the flow of life ebbing away, but we felt it was overall a performance that was a touch tension filled and anxious and rather hobbled along.
We had them in and around the top 10 come the end, but no more, but something about it certainly appealed in the box and you have to take your hat off to the MD who once again produced a fine result against the odds (the band even had to rehearse in Whitburn's bandroom all week!). If they can get their organisation and players sorted out then there is something about them that suggests that further prizes may well be on the books later in the year.
The final top six places went to two of the European contenders, with the reigning European Champion Brass Band Willebroek coming home in a slightly disappointing 5th place.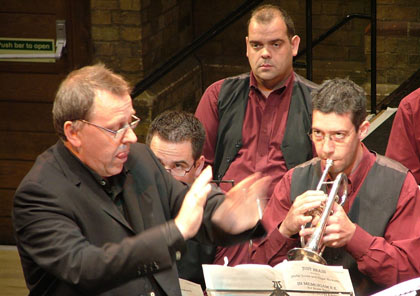 All eyes on Violet: The European Champion still can't add the Masters title to their CV

This wasn't the Willebroek that won at Birmingham for sure and they can count themselves perhaps a touch fortunate after a performance blighted by far too many individual errors. The approach was spot on with a sense of lyrical flow only disturbed by an ever rising error count from usually solid sources. The class really shone through in the darker sections where the lower brass was quite superb, but elsewhere it wasn't as good and the final section became less secure as the life ebbed away from both the subject matter and the performance.
We haven't heard the best of Willebroek here in the past couple of years and although there is no doubt about how good a band they are, they will have to show their class here at some time to silence the critics who may feel their European victories signal just a temporary interregnum rather than a full blown lengthy reign.
Brass Band Rijnmond on the other hand certainly delivered a performance that made people sit up and be impressed under the direction of the tall and elegant Erik Janssen.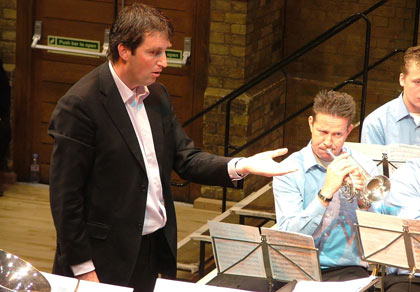 In the palm of my hand please: The elegant Erik Janssen leads Rijnmond into 6th place

This was a performance that caught your attention from the word go – elastic in approach with an almost orchestral sense of brass ensemble to their sound, but it was certainly well delivered for sure. The MD allowed his players plenty of leeway to express themselves and although it came across at times as being rather stylised in approach it was solid and unpretentious from start to finish. It never quite sent a shiver down the spine but it never raised a disapproving eyebrow either and it fully deserved its place in the prizes (we had them 7th).
Following immediately behind them came the two performances that for us stood out as the most complete and musically intuitive of the day – Desford and Fairey's.
They certainly made an impression in the box for the judges David Read, John Miller and Alan Morrison too, but where as we waxed a bit more lyrical about them, perhaps the more spacious approach of both worked a little against them as the judges felt the flow of the music was perhaps at times a touch stifled.
Desford for us were top, top class; brilliantly led by Nigel Seaman who is one of the most elegant conductors you would ever wish to see on a contest stage. In Dave Smith on solo cornet he also had a supremely talented leader and solo voice too and it was his playing in the exposed solo lines that shone through the performance with such style.
Off a number 4 draw they produced a compelling account of grace, elegance and understated emotion – whilst the darker sections had the sinister Nazi menace that was so epitomised by Sydney Greenstreet and Peter Lorre in the film Casablanca. The sense of what horrors were to come sat perfectly in the music (although there was a nasty moment in the bass line at one point) whilst the frenzied passion gave way to an ending of reserve and control, sad but accepted – just what Howarth had indicated.
We had them as our winners, the judges just outside the prizes. A touch unlucky for us, but the judges had the final say and for them it just didn't quite have what they were looking for.
The same too for Fairey's under Peter Parkes, who produced a high class show with a reading of such musical authority from the MD that rolled back the years. It wasn't without error though and some unfortunate clips and blips that were costly did occur in exposed places a bit too often for comfort. The opening sections may well have cost them a few points too – it was spacious and elegant but perhaps just lacked flow and was taken a fair degree blow the metronome marking which although circa crotchet = 72 did allow for some leeway.
The final goodbye was done with a real touch of class – almost a regal wave of the hand, and it was good to see the band playing so well again. A special mention too for Brian Taylor on second man who controlled the cornet section and the rest of a young and inexperienced band for that matter like a leader of an orchestra – eyes everywhere, little nods and indications to take the lead, show reserve or enhance the ensemble – a perfect lesson in the difficult art of being a true bumper up.
These eight or so bands were without doubt the best of the day (only Scottish Co-op for us came in under our radar – and we had 7 of the top 8 in line with the judges) and the standard did start to slip somewhat after these, although one or two bands did produce accounts that showed that they had prepared well for the contest and had MDs who understood what was required of the score.
Aveley & Newham however were not one of them, and 17th on the day was a fair reflection of a performance short of confidence, lacking security in solo and ensemble and being rather cold and emotionless in approach. It was not helped by MD Nigel Taken having to sub divide just about every bar in an effort keep ensemble control (although he wasn't alone in doing this on the day) but it added up to a poor performance and a lifeless reading that never captured the imagination.
We don't know what had happened to the band since last year's British Open qualification, but on this evidence they won't be gracing that contest much longer either – they are in desperate need of regaining some sort of form.
So too Reg Vardy under Ray Farr who we tipped for another prize winning performance here this year, but who left Cambridge after producing one of the poorest accounts of themselves we have heard for a long time. 19th and last was about right for a performance that was blighted from start to finish with weak solo and ensemble playing. Despite the MDs efforts to instil a sense of lyricism and elegance in the approach it was as we said earlier, more Ned Kelly than Grace Kelly in execution and the final end came as a blessed relief to all concerned.
Reg Vardy are a fine band, but one at the moment that isn't' firing on anywhere near its six cylinders. They will surely play better at the English Nationals later in June but if they don't improve greatly by the Open they could be facing a real threat of relegation from that contest.
Another fine band way off the pace were Hepworth (Lanson Homes) who completely missed the boat on this piece under MD Mark Bentham. Why they played so aggressively was completely beyond us (although it must be said technically it was very sharp and secure). It was painful at times, harsh, overblown and totally without any sense of gracious elegance and it was hard to reason why the MD thought this would work as he is a talented musician with a talented band under his command.
If you are to get it wrong then why not get it wrong big style (the temporary positioning of the baritones and horn at the back of the band to start didn't work at all) – and this was wrong, very, very, big style. It took the award as the 'In Memoriam Lemmy from Motorhead' performance of the day.
The good news though is that they will surely not make the same mistake again and their quality will be on show we are sure come the English Nationals, British Open and National Finals.
And what about PolySteel? Last week they were tremendous in winning the Grand shield – this week they were awful in coming a fortunate 13th.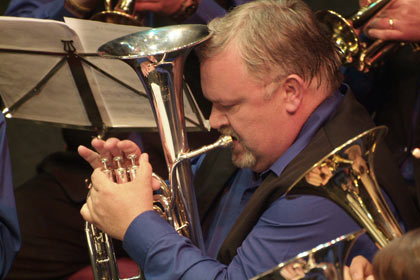 Battling it out in Cambridge: PolySteel's horn player tries his best to gain yet another win for his band

On the day they sounded tired, under prepared, lacking in confidence and execution in both solo lines and ensemble – in fact nowhere near the band they were just seven days previously. It could be argued that they only had a short time frame in which to prepare this work for a contest performance, but perhaps that is being charitable, as they must have had this piece on the stands for some time.
No, this was just a poor performance with Philip Harper strangely for him delivering a rather bland reading. It had its moments, but moments they were, and the ending could have been described as a form of musical euthanasia – the poor soul was put out of any further suffering with a very sharp sense of finality.
Like Hepworth they will be back better than this for sure, in time for the other big contests of the year.
Meanwhile two bands that could in their own way be a touch disappointed at their return were 1st Old Boys Association Silver from Northern Ireland and Redbridge from London, both of whom played late in the day.
1st Old Boys delivered a well constructed account under Stephen Cairns that although never suggesting that it was going to challenge for a top 10 place perhaps deserved to get slightly more than 18th. It sounded as if they had worked very hard in getting all the nuts and bolts in the right place and although it lacked for elegance and refinement it wasn't blighted by too high an error count. The trip across the Irish Sea to compete here has improved this band a great deal in recent years, so they should be too dispirited by this year's result.
Redbridge may well be though after they delivered one of their best performances of late under Melvin White that was well thought out and delivered in an unpretentious and solid workmanlike way. We liked it and thought it possibly deserved better than its eventual 15th place, but then again the men in the box had their clear ideas of what they wanted.
That meant that the final top ten places were taken by Fountain City, elegantly conducted by Joseph Parisi and BTM, conducted in totally different fashion by the Australian Jason Katsikaris. Both bands got just about what they deserved on the day.
Fountain City took the opportunity to have a quick warm up before they took to the stage, and it did them a power of good (although many in the hall were left scratching their heads as they thought it may have been a cunning plan of sorts). Once on stage though it was a worthy performance, made the more so by the excellent direction of the man in the middle and some fine middle and lower brass sounds – especially a cracking tuba team.
The warmth of the band sound may have surprised many, but the longer the work went on it did become a little scrappy and the cornet sounds became strident and harsh. It was an intelligent straightforward no nonsense approach that on the day deserved to hold its own and the band should take great heart from the performance –American bands are making huge strides in the right direction.
BTM are also moving the right way too with another solid and secure performance that showed a compact and well prepared band on the top of their form. They are certainly full of confidence too with excellent solo playing in particular from the brothers Hutcherson on solo cornet and euphonium. It perhaps would have benefited from a less 'busy' approach from the MD though as the talented Aussie just needed to step back at times and trust his players to perform without having to beat every note for them.
Less can give more at times and this was one occasion when it may well have proved beneficial. They are a good band in the making though and much of the credit must go to the conductor whose enthusiasm seems to be infectious.
That just left the three bands of Soli Brass, Kirkintilloch and SWT Woodfalls.
Kirkintilloch certainly benefited from an MD who had complete understanding of the music and displayed it with a lovely sense of elegance in the approach, transmitted it must be said by his exemplary baton work.
On the day though Nigel Boddice's players just couldn't quite match his intentions to the letter and although there were times when it seemed to be falling into place so neatly and precisely it was let down by nasty individual errors and ensemble insecurity. This was a performance that could have really impressed in the box if it wasn't for the increasing error count as the approach was so well thought out. 11th was about bang on the money for a 'might have been' performance.
So too SWT Woodfalls who also benefited from a lyrical and elegant approach by conductor Nicholas Childs. He more than most knows the workings of the Howarth mind and that was evident as he allowed the music time and space to flow and develop. Unfortunately thought the execution was not of the same class and too many unforced and forced errors blighted the reading from start to finish – a pity as it had the makings of one that could have featured in the top 10 if things had gone exactly to plan.
Finally Soli Brass and perhaps the most emotional MD of the whole day in Frans Burghgraef who lived, breathed and grimaced his way through the work with such intensity of spirit that you felt he may have been in touch with the lost soul of Rudolf Kempe by means of Doris Stokes in the hall.
Unfortunately however that spirit did not quite transmit itself through to his band who rather coughed and spluttered their way through the opening section in particular before getting to grips with the music and its execution. The long goodbye was just that too before the poor soul departed this world, and the insecurities proved costly and 12th place was perhaps a touch fortunate.
It all rounded off an immensely enjoyable contest with Fodens Richardson taking the £4000 first prize collected by their President Peter Fletcher and showing that once again that under Garry Cutt they are such an impressive musical ensemble – especially when they have such a fantastic piece of music to play. 2007 is starting to build into a year when just about anything is possible for the band from Sandbach.
Iwan Fox