2007 Whit Friday Contests - Retrospective
7-Jun-2007
Malcolm Wood was out and about this year at the annual brass band jamboree that is Whit Friday - with all the fun and games, great playing and even a bit of underhanded gamesmanship all adding to the mix.
---
So yet another Whit Friday has come and gone. The un-seasonal (or should that be seasonal now we have global warming) temperatures disappeared and the day itself was met with glorious sunshine for the Processions of Witness in Saddleworth and Mossley in the morning, with the contests for the afternoon and night remaining dry.
Once again, the event welcomed visiting bands from far and wide with overseas friends including the Alexander Band from Norway, Constantijn Huygens from Holland and M G R Root from Switzerland. In addition there was the usual local news film crews floating around as well as British Bandsman Editor Kenneth Crookston who was working on a project for British Bandsman television whilst sampling the day for the first time.
Well known brass band personalities were out in force too with Raymond Tennant from Scotland digesting the very English delights of Whit Friday by conducting Ashton-Under-Lyne, whilst Philip Sparke was also out and about for the evening enjoying his new march being played by his Norwegian friends. Morten E Hanson and Black Dyke's Composer-in-Residence, Peter Meechan were also two of many new as well as experienced conductors enjoying the fare.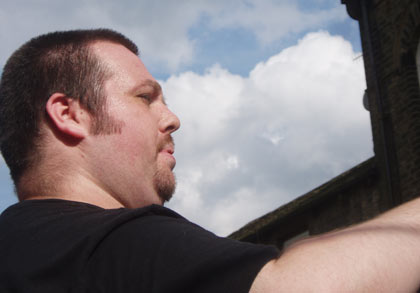 Sky high: Peter Meechan makes his conductoing debut with Sellers Youth
139 bands made it out on the night (the same figure as last year) in the Saddleworth and Oldham District whilst a fair number of them paid a visit to Tameside too where 93 bands were declared to have competed.
A fair number of the elite Championship bands took to the circuit this year once again putting their reputations on the line against lower section rivals and the traditional Whit Friday scratch bands that get together just for the night with the intent of having a great time and raising some cash for charity.
Black Dyke, Fairey, Hepworth, Rothwell, Sellers and YBS all came out with the intent of making some serious money, not too mention trying to wrestle the title of Saddleworth Champion away from Brighouse and the Tameside one away from Fodens Richardson.
Results on Whit Friday can always be a bit of a lottery but it's fair to say that those bands who have been well prepared and display a touch of flair to go with the usual winning ingredients of fine soloists and hefty bass end rose to the top of the pile.
Twelve months ago in its 125th Anniversary Year, Brighouse and Rastrick took the overall title in the Saddleworth District and they did exactly the same this year as well. Playing 'Ravenswood' at eight venues they took the spoils at Greenacres, Greenfield and Grotton, three runners-up prizes at Denshaw, Dobcross and Uppermill and two third prizes at Lees and Springhead and Lydgate.
Not content with taking the £2500 first prize sponsored by United Co-op, the men in purple and gold added over £6000 in total from the night, and for the Yorkshire Area Champion, the English Championships later this month can't come quick enough. They are playing with immense confidence at present – even on an old pot-boiler of a march that all the players could perform in their sleep.
It could have been a different story though as the Hepworth (Lanson) Homes Band pushed Brighouse very hard on the night. Mark Bentham's band played 'The Wizard' brilliantly at times and had four first prizes to show for their efforts at Dobcross, Lees and Springhead, Scouthead and Austerlands and Uppermill. They also finished second at Greenacres, fourth at Denshaw and fifth at Delph which meant around £4000 going to the band funds.
Hepworth also deprived Marsden Silver (Ossett Brewery) from retaining its runners-up spot it won last year. With MD Glyn Williams once again committed to Fodens, Geoffrey Whitham led the band through 'Honest Toil' at seven venues where their most significant places were that of second at Delph and Lydgate. They were on excellent form all night.

In addition to the main prizes, awards were given to the Local Champions for the night based within an eight mile radius of Uppermill. The winners in this category for the second year running were United Co-op Milnrow with Diggle coming in second and Mossley in third place.
In the battle for Youth honours Rochdale Borough Youth and Eric Landon retained the prize it won last year with some excellent performances of 'ORB'. Challenging them was Oldham Music Centre Youth and Dobcross Youth led by their stalwart MD Ted Griffiths on the circuit for the very last time.

As is becoming the norm, the contests through Saddleworth and Oldham drew some healthy numbers on the night. Greenacres, Lydgate and Scouthead all had a new record of bands on the night with 48, 66 and 74 respectively. Delph contest broke its own previously record of 75 with 78 in attendance that was aided by a new system of getting the bands in and out of the contesting arena quicker. Talking of Delph, Doyen Recordings was present to record the action on the night and it's anticipated this should be available on a CD release later in the year.
In addition to the contests mentioned, Denshaw, Dobcross, Friezland, Greenfield, Grotton, Lees and Springhead, not forgetting Uppermill, all had over 50 bands on the night.
Over in Tameside, the atmosphere was just as good with Hurst Village hitting 50 bands and seven others having 40 or above. Millbrook, back on the circuit after a few years absence, hit 28 and whilst the organizers were aware some of some teething troubles these will be sorted for next year. The organizers at Micklehurst have ran the event for over two decades and would like to stand down; anyone interested in helping with the contest should contact Elaine Wareing on 07980 532709.

Despite competition from BT, Black Dyke, Faireys, Pennine Brass, Rothwell and YBS, it was Fodens Richardson who once again took the title of Tameside Champion for the sixth consecutive year. Performing 'The President', with a real swagger and sky high confidence after their recent win at Cambridge Fodens took in nine contests and they came out on top at Tame Valley (Dukinfield) and Stalybridge with four runners-up prizes at Droylsden, Heyrod, Stalybridge Celtic and Upper Mossley.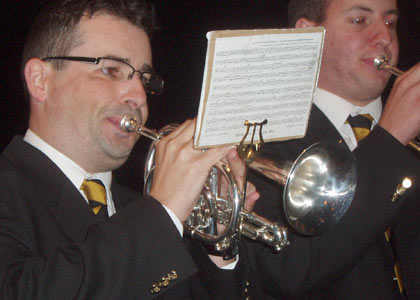 Wilkinson sword: Mark Wilkinson of Fodens leads his band to the Tameside Championship again

With third places at Denton and Micklehurst and Delph, it meant the Sandbach based banked over £4,000 to add to the four grand won at Cambridge at the Masters –a real indication that the band are in red-hot form ahead of their English title defence later this month. Fodens' great week was a repeat of what they did in 2002 when they won over £8,000 - the difference then being that Whit Friday was on the Friday night before the Cambridge contest.
Taking Tameside MBC's £1000 runners-up cheque was Faireys and Major Peter Parkes who had a fine night taking six prizes from the eight contests with their most significant results coming at Micklehurst, Millbrook, Carrbrook Hurst Village and Stalybridge.
Pennine Brass and Rothwell were both tied in third place in the overall Tameside Championships but Ian Porthouse's Pennine got the nod and the £750 cheque by virtue of the fact they won one more – yes one more contest than Rothwell.
Pennine actually competed at all twelve venues in Tameside, but they won at Carrbrook and Denton, took a third at Millbrook and three fourth prizes at The Broadoak, Stalybridge Celtic and Upper Mossley. Rothwell on the other hand took The Broadoak and had to be content with third place at Stalybridge, Stalybridge Celtic and Upper Mossley. Both were on excellent form all night though.
As with the Saddleworth and Oldham District, Tameside also declares a Local Champion (within a 11 mile radius of Ashton Town Centre) and the £750 first prize went to BT who competed at eleven venues with their most significant results coming at the Broadoak and Tame Valley where they were runners up and a third at Hurst Village.
Second place in Tameside was Ashton-Under-Lyne whose result was aided by four third places at The Broadoak, Carrbrook, Heyrod and Tame Valley; leading the band on the night was Ray Tennant with Ian Brownbill on Principal Cornet, who performed as if he hadn't taken a day off from playing since his YBS and Black Dyke days.
Second place at Denton from ten contests aided Glossop Old's charge for honours on the night and they picked up third place overall in Tameside guaranteeing they'll pocket a minimum of £400.
So what about the likes of Black Dyke, Sellers and YBS then?
The British Open champion opted for a change of strategy than they've done on previous Whit Friday's. Starting off in Stalybridge, they opted to stay in Tameside to complete the six required to challenge for the overall title and took first place at Hurst Village, Stalybridge Celtic and Upper Mossley with a second at Millbrook. Unfortunately, their serious title challenge was hit by a 5th place at Micklehurst and one of those results that every Whit Friday throws up – 12th at Stalybridge.
Having done six in Tameside, Dyke then hit Saddleworth where they won at Delph (playing at gone midnight), Denshaw and Lydgate and their prize fund on the night of around £4000 was enhanced by a second place at Grotton and third at Greenacres. If they'd competed at one more contest in Saddleworth, they'd have been in contention for the overall Saddleworth Championship.
Sellers International just stuck to Saddleworth where they finished fourth in the order of merit on the night. Norman Law led the band through 'The President' where they competed at six venues and their high points were third at Dobcross and Greenfield.
YBS and Morgan Griffiths hit eight Tameside venues with 'Mephistopheles' where they tasted victory at Droylsden and Heyrod with a second a Micklehurst. Thereafter the band performed at Denshaw and Greenfield where they picked up a third and second respectively.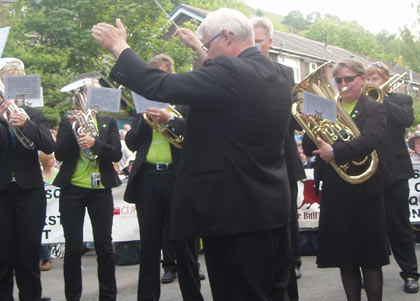 Norwegian Conquerers: Alexander Band and Morten E Hansen make a huge impression (and not just with their green tops!)
The contest circuit wouldn't be the same without overseas and scratch bands. Philip Sparke's cracking new march 'The Conqueror ' delighted those who heard the Alexander Band from Norway perform it, whilst the scratch bands included the mouthpiece.com, Pirates Brass – a real fine mix of top quality players dressed as Jack Sparrow and the rest of his motley crew, Chav Brass, another mix of experienced players including Rob Richardson, Alex Thomas and Stevie Stewart. Mr Stewart was on brilliant form all night on soprano especially at Delph where he was more than a little pumped up at the conclusion of Knight Templar!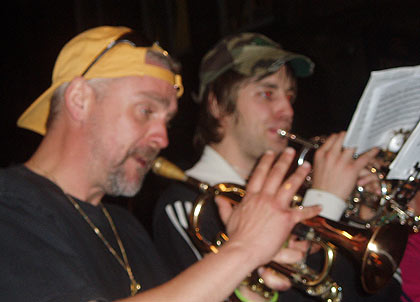 Nothing more to be said...Steve Stewart and the rest of the Chavs strut their stuff
If that wasn't enough, the Royal Northern College of Music had a band dressed in wigs amongst other things and the fantastic Boobs 'n' Brass, the all-female (bar one male member) band were to be seen in a fetching as well as appropriate pretty pink raising funds for their charity.
There was also other unusual sights too with Alan Wycherley having to sellotape his music onto the back of Mark Wilkinson whilst the soprano player of Roberts Bakery had his pegged onto the back of the Principal Cornets' jacket – if there's one thing that Whit Friday can always guarantee – you can witness some very strange things during the night itself!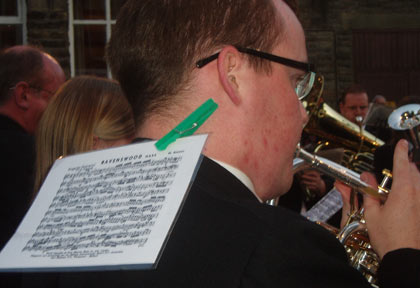 Off the peg: Roberts Bakery's soprano finds a use for his mams clothes pegs
The night itself was once again a great success. The reports of unsporting behaviour on the circuit are something that has gone on in various guises over the years and is likely to happen again. The gauntlet of playing at six different venues in two different areas with a minimum prize fund of £5000 up for grabs naturally engages competition and human nature means bands will try and cut corners to gain an advantage if they can - sometimes it will work, other times it won't, and sometimes it leaves a nasty taste in the mouth.
Some well known bands and their conductors perhaps should have a look at themselves and wonder if they were not really entering into the real spirit of the Whit Friday ethos.
If a band draws number one at contest, they just bite the bullet and get on with it - at Whit Friday, its sign in, queue, play and move on. These are the rules that are set and its part of the night. The contests work tirelessly hard to make their event a success and want the best bands to play at their venues, but with over a hundred bands on the circuit, the practicalities of this happening is reducing year-on-year. Any band who does six or seven (particularly in Saddleworth) nowadays can consider themselves to have had a good night.
Whit Friday remains unique to the band movement and its public profile is enhanced by the great community feel to the events (remember the Radio 4 programme last year?). However, if that sense of community celebration is to be maintained then a few people will have to look to see if things can be more formalized at contest venues to put a quick stop to any gamesmanship occurring again in future from bands determined to play for the cash rather than the enjoyment of being part of something very special.
So here's to next year's event - Friday 16th May – the week after the Spring Festival and two weekends prior to the All-England International Masters at Cambridge.

Malcolm Wood