2007 English National Championship - retrospective
3-Jul-2007
It may have been a wet day in Preston, but Grimethorpe certainly produced a ray of sunshine to take the English National title and the trip to see of they can now conquer Europe in 2008.
---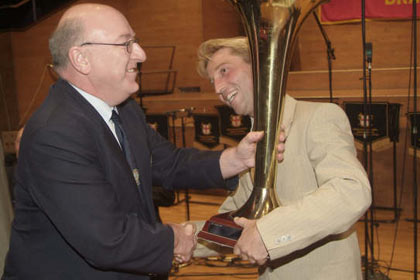 Get your hands on that! Grimethorpe's Band Manager Terry Webster gets hold of the English National Trophy from Besson's representataive
Picture: John Stirzaker

Sometimes the perception of an event is more important than the reality.
The second English National Brass Band Championships took place at a rain swept Preston, in a slightly shabby Guild Hall, witnessed by a small audience paying up to £20 for a ticket for the privilege. 15 bands performed to varying degrees of excellence on a decent test piece in a contest that officially ended at 5.00pm then restarted an hour and a half later for a Gala Concert listened to by 276 people. The results were announced at around 7.45pm and everyone left for home by 8.00pm.
That was the reality of the English Nationals.
The perception was slightly, if ever so crucially, different though. The contest may still be in need of strong, forthright planning and promotion, but on Saturday, and at this delicate stage in its embryonic existence, there were encouraging signs that it is a contest with a feasible long term future. Flawed it may be, but it is run by an excellent team of officials and support staff that try as hard as possible to make a silk purse out of a bit of a pig's ear – a pig's ear the BFBB to be fair may not have wanted to handle in the first place.
It is that planning and promotion that will be crucial in the years to come. The goodwill and interest of the bands and listening public can only be stretched so far if the product is not up to scratch. Refusing entry to players to the Gala Concert unless they paid £20 for the privilege wasn't likely to promoting entente cordial with bandsmen and women, whilst the decision to have a Gala Concert starting when it did was a risk that certainly wasn't needed to be taken. If the BFBB can heed the lessons of what was wrong here this year then there was more than enough that was right to give this contest a deserved fighting chance of survival.
As always the BFBB's welcome was warm and genuine and their worker bees really helped to create a friendly and efficient professional backup to assist the bands. The decision to hold a lunch break provided everyone with the opportunity to get some sustenance outside the hall (the prices inside tended to be on the steep side – or is the city centre of Preston in the same financial league as Harrogate?).
The contest itself provided fine entertainment although not all of it of the very highest quality and the three judges of William Relton, John Berryman and Alan Fernie had a reasonably easy decision to make when deciding which band would eventually represent England at the European Championships in Stavanger in 2008.
That band was Grimethorpe Colliery. No surprises there especially after they had produced a performance of 'On Alderley Edge' by Peter Graham that was by some distance a fair length ahead of the rest of the field. No points were awarded, but listening to the remarks of John Berryman on stage before the announcement of the results, you would be led to believe that they were a good two or three marks ahead of the chasing pack.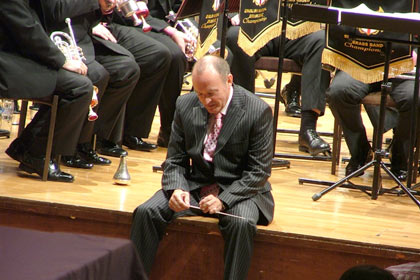 We're behind you! Alan Withington relaxes before taking Grimey to victory

Theirs was a performance from the number 5 draw that was going to be hard to beat. Alan Withington seemed in a playful mood as he dangled his legs over the edge of the stage before a note had been played by his band, but once he stood in front of them they responded with a mix of melodic lyricism and technical brilliance of quite startling effect.
The ensemble playing was of the very highest class, and even though it did have a wobble or two in the opening with the distant horn call a little strained, thereafter it blossomed with a real feel for the mystic and magical, the emotive and down right dark and dangerous.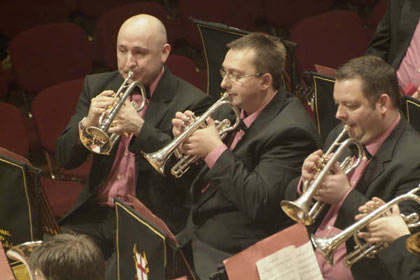 Masterclass: Roger Webster leads Grimethorpe to victory
Picture: John Stirzaker

Roger Webster delivered a masterclass in the art of cornet playing whilst Kevin Crockford on soprano was class personified, especially in the delicate entry in the 'Holy Well'. This was played with such soft articulation, even up to the fearsome top C which he alone on the day, delicately yet deliberately, tongued to emphasis the controlled ethereal beauty of the writing. All the other sopranos slurred up to it (although it is marked as such on the score) but he took the risk to make it sound even better – and it came off brilliantly.
The technical clarity in the louder passages was balanced and precise whilst the final rousing climax was delivered with poise and warmth – even at the top end of the dynamic spectrum. It really was memorable stuff from a reading of great intellect by the MD. He's now conducted it twice in the UK and won on it twice too – some record, some conductor. When they play like this, Grimethorpe are nigh n unbeatable – and so it proved.
Pushing them the hardest but still a little way behind were Hepworth (Lanson Homes) with a performance of control, discipline and balance that left little doubt that it fully deserved to come where it did in the prizes.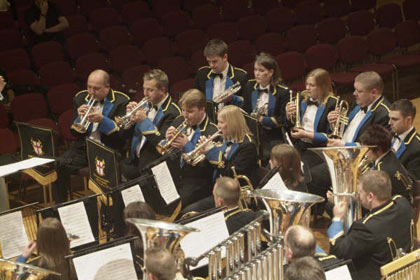 A balanced team: Hepworth's cornet section balance things out in Preston
Picture: John Stirzaker

A great deal of praise should be directed at both the MD Mark Bentham and the Hepworth players for the way in which they delivered their account. A few weeks ago in Cambridge they got it horribly wrong, but here they showed just how fine a band they really are when they play with an appreciation of their real strengths. Their powerful cornet section was balanced with the rest of the band whilst there was real subtlety in the observance of dynamic markings. Nothing was overdone with the relationship between the differing tempi clear and defined with the melodic line always of prime importance.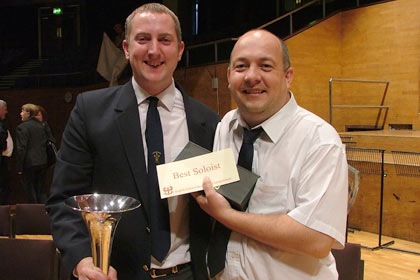 Read the label: Robert Westacott takes the prize as Best Soloist

Robert Westacott was on excellent form leading from the principal cornet chair to take the Best Soloist award, whilst soprano player Mark Smedley put in a Trojan effort despite recovering from illness and James Fieldhouse on euphonium once more showed what a promising talent he is. Mark Bentham will be a very pleased MD and deservedly so – his intelligent approach paid rich dividends and if they can deliver yet more performances of this quality at Symphony Hall and London then they will be strong contenders for top honours again.
The other stand out performance on the day for the three judges in the box also came from a band that didn't perform well at Cambridge – PolySteel.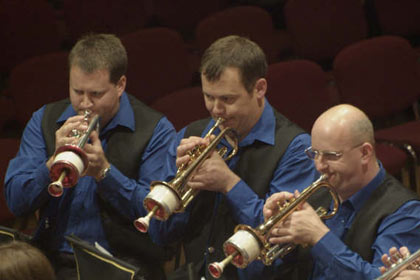 PolySteel's three degrees: The back row lads do their bit to help PolySteel to another impressive finish
Picture: John Stirzaker

There they were distinctly average, but here they were sparklingly vibrant, fresh and colourful, placing a real emphasis on balance, clarity of detail and a clutch of fine solo contributions –notably from Vicky Reynolds who delivered the best opening horn call of the day. This really did sing as marked, but not with a bellow as many did to overcome nerves and opt for safety, but with control and a real sense of distant poise. It was very classy playing.
Thereafter PolySteel delivered with real confidence, led intelligently (if at times a little quirkily when he didn't need to make undue nuances in the main melodic lines) by Philip Harper who kept a tight rein on tempi and dynamics, only allowing the band loose to round off their performance with power and intent. On this type of form they are a band to listen at the later majors this year. Third place confirms their class, even if we did have them a touch lower in 5th.
The remaining places in the top six went very much as most people expected, with a little variance depending whom you talked to, or did your 'adjudication'. 4BR had Steven Mead of course and he was just about in full agreement with the three judges – or them with him as the case may be.
Fourth spot went to Brighouse & Rastrick, perhaps a little fortuitously on this occasion after a performance of musical intent let down too often by annoying and ever increasing errors.



Powerful purple: Brighouse all point in the right direction to claim fourth spot
Picture: John Stirzaker

There really were some great moments with the 'meccanico', 'Stormy Point' and 'Armada' in particular containing wonderfully vibrant ensemble work. Unfortunately some of the solo lines were blighted with unforced errors and clips and as a result it lacked a touch of subtlety in places – especially in comparison to what went immediately before from Grimethorpe. We had them in 6th on the day, but they will be pleased with 4th, even if they must know they have it in them to deliver better performances than this.
These were the four bands that picked up the prize money although there were two other performances that could have possibly come a little higher.
We had Fodens Richardson in third place and Leyland and fourth, with the judges placing them 5th and 6th respectively.
Leyland delivered a trademark Russell Gray reading – full of musical lyricism even though the execution was at time less than perfect, especially in the solo lines.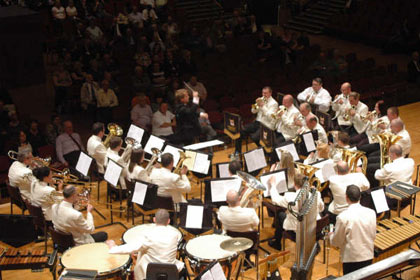 Lyrical intent: Leyland and Russell Gray have to be content with fifth place
Picture: John Stirzaker

That was a pity as there was much to admire in the approach and the sense of space and time the MD allowed for the main melodic lines to shine – especially in the 'Holy Well' section. Just too many uneven moments robbed them, but it was an enjoyable performance nonetheless.
So too Fodens Richardson. The reigning champion were the last band to play before the dinner time break, and must have given the three adjudicators plenty to think about as they headed for their Lancashire hot pot.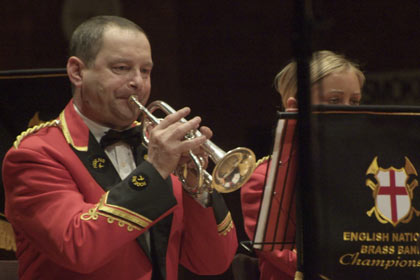 Top man: Alan Wycherley struts his stuff in helping Fodens take sixth spot
Picture: John Stirzaker

This was a highly effective performance full of high quality music making with a natural feel to the flow of the music especially in the slower sections. There were little blips and bobs which did take the shine off at times, but small blemishes only. The percussion also added greatly to a finely structured performance and in the end they could count themselves perhaps a touch unlucky that they didn't quite appeal in the box as much as they did in other parts of the hall, which at times did have a decent crowd in - but nothing to really shout home about in truth.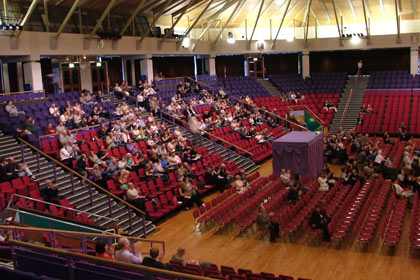 The numbers game: Up from last year, but still not packing the rafters

The top six bands were a clear margin ahead of the rest of the field, with a further batch of six or so bands filling the places from 7th to 12th who on another day (and perhaps with less unforced errors) could have ended up in just about any order. There was for us little to choose between the likes of Rothwell, Sellers, Reg Vardy, Carlton Main, Fairey and YBS, although the official judges disagreed and had a different order of Newstead, Carlton Main, Fairey, Aveley & Newham, Reg Vardy and YBS.
Each of these performances was bighted by numerous forced and unforced individual errors, whilst poor intonation and scrappy ensemble work also detracted from the overall picture of mystical tales of legends, devils and sleeping armies.
Most had the subtle tempi differences in place, but most also lacked that nuance in balance and dynamic that was so apparent with the winners and runners up in particular. The 'Golden Stone' section marked 'tranquillo' was anything but on occasions as soloists strained to play with lyrical intent, whilst the 'Holy Well' did have a couple of drownings as players fell in trying to make their contribution as 'misterioso' as possible. The resolving feel to the 'Lusingando' was also missed too – more of an extended slowing down than a feeling of fulfilment.
All that said, Newstead Welfare will of course be delighted by coming 7th (we had them 14th) after delivering a performance that had the hallmarks of detailed preparation and confident delivery under Duncan Beckley.
For us it perhaps lacked a bit of power and drive in places and a bit more devil to the overtly cautious approach may have helped. However in retrospect it was one of the cleaner performances of the day with fine euphonium and other solo lines, even though the rep didn't need to stand to deliver his solo contribution. Where others tended to go for broke and paid the consequences, Newstead's deliberate safety first approach brought the rewards that the MD must have dreamt of.
Carlton Main Frickley on the other hand will surely be disappointed after coming home in 8th place under Frank Renton (we had them 10th). For a band that has been playing with such confidence of late this was a fine musical account spoilt by a high error count. Just when you thought it was all coming together so well – and there real moments of individual brilliance, something just caught your ear and made you wince. If it had really did what the MD was asking it to do then it would have been right up there instead of in the midfield come the results.
Fairey can't have too many complaints about finishing in 9th (same as 4BR) after a performance that opted for lyricism, time and space but in the end at times felt a touch lethargic and lacking in pulse even in the quicker sections. Their cause was not helped either by an escalating error count in the solo lines which at times really did make your teeth chatter. Major Peter Parkes and the band will know they will have to play better than this if they are to make any impression come the British Open.
Aveley & Newham on the other hand will have left Preston with a sense of restored confidence after coming home in 10th place (we had them 15th). This was a performance that had a greater degree of solidity about it then we have heard for some time from them. There were some wonderful moments throughout too with a fine soprano and euphonium contribution a feature. It had a high error count especially in the first half of the piece but thereafter it settled well and they can take a great deal of heart from a performance that holds promise for Birmingham.
Reg Vardy will also head home with a bit of a confidence boost too, even though they ended up in 11th place overall (we had them 9th). This was a performance a mile away from the carnage of Cambridge, and even though they still sounded a little short of confidence in places there were plenty of fine moments when the old Reg Vardy was heard to true effect. Perhaps Ray Farr knew he had to reign in the emotional content on this occasion and replace it with a more pragmatic approach, and it very nearly came off too. Things are looking up.
YBS meanwhile continue to battle on bravely (and perhaps with a touch of misfortune too) but could have no complaints in coming home in 12th place (same as 4BR). For the second year they drew the dreaded number 1, but on this occasion set out their stall with deliberate intent from the word go – and we mean with the rendition of the National Anthem here.
Richard Evans brought vitality and life to the piece and things were going along nicely with fine contributions from Morgan Griffiths on euphonium in particular. The wheels came off though in the 'Holy Well' where the soprano (a very late dep by all accounts due to unforeseen illness) made only a passing acquaintance in the duet with the solo horn. It totally unsettled the band and although they later recovered the damage had been done and 12th was about right under the circumstances. They are getting back to form slowly and surely though.
The bottom three bands on the day were Sellers International, Rothwell Temperance and Mount Charles, with two of them perhaps deserving better and one having no cause for complaint. Oddly, they were all drawn together too between 10 and 12.
Sellers International eventually came 13th (we had them 8th) after a performance rich in musical intent and content but shot through with far too many nasty little errors and confidence sapping blips and blobs. Philip McCann's reading was one of the most interesting of the day, rich and colourful with a real feel for the mystical and magical. In the event though some of the magic was of the Tommy Cooper variety when it came to execution and so they found themselves penalised by the men in the box – perhaps a tad harshly, but they knew that they hadn't performed as they knew they were capable of.
Rothwell Temperance were in the same boat after a performance that really did have its moments of real quality but was also critically flawed by a high error count.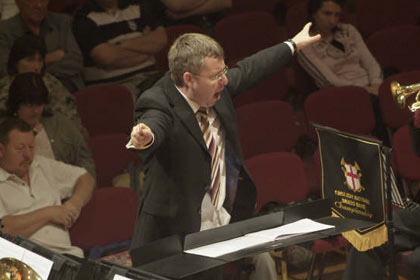 No! Not 14th place surely! Dave Roberts makes his feelings felt!
Picture: John Stirzaker

The first third of the piece saw the band at its best although the opening section was a touched strained and uncomfortable at times. A cracking ending after a well managed central section perhaps should have heralded a top 10 finish (we had them 7th) but it didn't appeal in the box and they found themselves just one place off the bottom. A touch unlucky.
Finally, Mount Charles and a performance that seemed to have needed a few more detailed rehearsals under its belt to have made a mark. The foundations were in place, but the all important first few courses of musical bricks were made of straw. In the end it just petered out somewhat in comparison to others on the day and this wasn't the Cornish band at its best. No complaints we feel as they made the long journey home, although they will know they will have to be at the top of their game at London if they are to make a mark there.
The contest was over then by 5.00pm, although in truth it was over around 12 o'clock as Grimethorpe entered the last few bars of their rendition of the test piece. The reality of their position was that it couldn't be beaten and even though many tried the perception that they were a class apart on the day was as clear as day.
Iwan Fox