2007 Pontins Youth Brass Band Championships - Retrospectives
16-Jul-2007
4BR's Malcolm Wood was on hand to listen to two contests that had plenty of quality but not a lot of quantity in Prestatyn.
---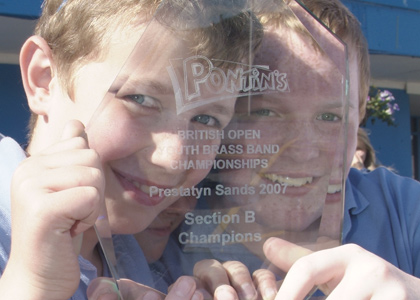 Looking good: Sellers Youth players enjoy that winning feeling
Picture: John Stirzaker

For sporting boffins the weekend of 7-8th July was paradise. A cricket international, Tour de France, British Grand Prix and Wimbledon. Hour by hour of sporting drama topped off with the shock of a Briton winning at Wimbledon winning for the first time in twenty years and the usually miserable Colin Montgomerie winning a golf title for the first time in nineteen months.
Sometimes we bemoan the move towards quantity instead of quality (something that sport tends to do itself). That wasn't the case with the Pontins Youth Championships though, which certainly had the quality over the two days but didn't have the desired quantity that the organisers had wished for. Just nine competing bands in fact: seven in one section and just two in another.
For the organisers, the rather uncomfortable question arises: "Is there ever going to be a suitable date to hold this contest?" Pontins as an organisation have a real desire to make this event a success and everybody involved on the Brass Band Committee echoes that. However, can they find an appropriate date for it to be held on?
An influencing factor this year was that a number of bands who would have played at the contest had an eye on the National Festival of Music for Youth taking place at Birmingham's Symphony Hall the following Thursday – 12th July.
For this event, bands pre-qualified and although three bands competing in Birmingham, competed here, the logistics and demands on the players for two events in a few days were surely taken into consideration by the bands and conductors – a choice therefore had to be made, and unfortunately, Pontins lost out.
Darrio Touhladjiev, the Vice Chair of the Pontins Brass Band Committee announced to the audience at this year's event that Pontins will persevere and not give up with trying to find the right formula to attract the bands. We wish him well – and we really hop he succeeds as the desire to help promote youth brass banding is truly genuine.
Next year's event is already in the diary and although it's a slight change once more and there is also a change of format. Next year a Festival of Youth Brass Music will take place on Sunday 8th June at Prestatyn Sands. The campus is closed on that particular date which gives the organisers a degree of flexibility and could mean running two halls at the same time if needed. The bands can also be accommodated on the Saturday night as well if required.
Without question this is a contest that is worth entering. Pontins provided over £3000 in prize money across the two sections and that once again reinforced their sustained commitment to the movement. Everybody at Pontins is doing their best to make this event work but with a comprehensive list of contesting events taking place throughout the year, finding the right time to hold the event has become extremely difficult (particularly when there are a limited amount of weekends in the year when it would be suitable). There must be sympathy given to the bands who would like to participate but educational needs especially for young children should always come first.

Congratulations must go the Music Advisor to the Pontins contest, James Scott, for pulling off a masterstroke with the instructions that all of the bands competing must perform the three of the key elements of good brass band playing: march, hymn tune and test piece within their programmes.
Section A:
With just two bands competing in Section A on Sunday, it was Youth Brass 2000 led by Chris Jeans who emerged as the victors, gaining the verdict by adjudicators David Read and David Horsfield.
In addition to being declared Pontins Youth Champion, Youth Brass 2000 also had the accolade of British Open Youth Champion bestowed upon them. This prestigious title was granted with permission from Karyn and Martin Mortimer, owners of the British Open Brass Band Championships. Youth Brass 2000's only competitor in this Section was Stockport Schools Senior Brass under Colin Duxbury. Although first and second places were awarded both bands were acknowledged with Gold Awards for their efforts.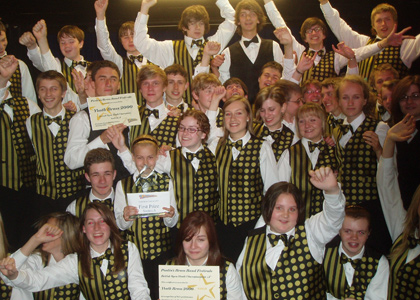 Youth Champions! Youth Brass 2000 celebrate their victory

Youth Brass's winning programme was very musical with plenty of neat and precise playing and a lot of credit for those goes to Chris Jeans' direction from the middle.
The band commenced with 'Alloway Tales' - the arrangement being part of Peter Graham's 'Cry of the Celts' and immediately the quality of the playing shone through. Another Graham arrangement of 'Crimond' featured an outstanding trombone section and credit must also go the soprano whose excellent contribution was very noticeable. The march, 'Knight Templar ' was bright and taken at a good tempo, but their undoubted high point was the playing in the second and third movements of the set work, Joseph Horovitz's 'Sinfonietta' of which David Read informed the bands that 'he'd never heard the second movement (Lento moderato) played better. The aforementioned second movement in the style of a hymn tune showed the bands excellent control and balance.
Not surprisingly the MD of Youth Brass 2000, Chris Jeans was delighted when speaking to 4BR with how the day had gone and acknowledged the 'band's efforts over the last couple of weeks'. Celebrations were short lived though as Chris then put the band back into rehearsal for their appearance at the National Music Festival for Youth which they were due to appear at last Thursday (12th) at Birmingham's Symphony Hall.
Stockport Senior Band had played before Youth Brass 2000 and also delivered a fine account of themselves.
Colin Duxbury's band opened up in excellent fashion with Rimmer's unfamiliar march, 'Arabian' where the overall quality of sound was impressive – a feature prominent throughout their complete programme that included the hymn tune 'Amazing Grace' and the ever popular 'Riverdance' – the latter in particular including some excellent cornet work.
Stockport also impressed in the set work and it was the second movement where they seemed really at home with the music painted a lovely delicate picture.
Individual awards were numerous over the weekend (six per section) with the winners taking home a trophy as a keepsake and a £1000 in prize money. In addition to the £600 first prize obtained by Youth Brass 2000, Jacob Phillips took the award as 'Best Cornet' for his excellent soprano work and the entire trombone and bass sections took home prizes too - the former deserving special praise for not just their overall contribution but for their performance in 'Crimond' in particular.
Stockport didn't miss out on the individual prizes either with their flugel, euphonium and percussion picking up awards.
Mention must also be made of the adjudicators for their informative comments over the weekend, none more so than David Read who talked in detail about each piece played in Section A.

Section B:
The previous day (Saturday 7th) it was Sellers International Youth and Mark Bousie who took the spoils and a prize cheque of £800 in a field of seven bands competing in Section B.
Sellers made a huge impression on the adjudicators from the number one draw with a very accomplished and musical performance throughout. They also provided a diverse programme including music that had previously served them well on the contest stage, but even here it was so fresh and so appealing. Credit really does go to the MD, who showed how he could coerce a real sense of artistry and doggedness from within his band.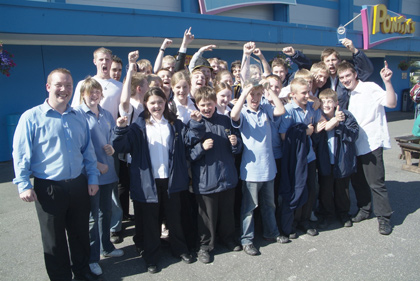 Sellers are the champions! MD Mark Bousie and his gang celebrate in Prestatyn
Picture:John Stirzaker

The march, 'Castell Coch' was solid and secure. Dr Newsome's arrangement of 'There is a Green Hill Far Away' was sensitive although Peter Graham's 'Ad Optimum', which closed their contribution to the day wasn't as polished as the other previous pieces but the band gave it their all.
The set work was two from John Golland's 'Prelude, Song and Dance'. The second movement ('Song') in particular was memorable for the cornet playing of Joe Murray – a talented musician who led the band with distinction throughout and who was rewarded with the prize of Best Cornet on the day. The Percussion Section also received suitable recognition too, giving the Huddersfield based band a prize cheque of £800 on the day.
Speaking with 4BR before heading home to Huddersfield, Sellers MD praised his bands effort: "The band has worked very hard in recent weeks and its not been easy juggling their educational commitments with preparations for a very busy period. They're a committed bunch of individuals and I'm very proud of them'. Having now won this prestigious title Sellers were due to follow Youth Brass 2000 and compete at Symphony Hall in Birmingham where they were due to premiere a new piece by Peter Meechan."
It was very close at the top with Sellers being pushed all the way by Marie Smith's talented Shirland Youth Band. Along with Sellers, Shirland were given a Gold Award whilst the band's euphonium and flugel took home well earned individual awards - Emma Walton for an outstanding flugel interpretation of 'I Don't Know How to Love Him'. Prior to this, the band had opened with a spirited interpretation of the march, 'The Cossack' whilst Golland's 'Song and Dance' proved to be a test with which the band came out with great credit. The hymn tune, 'Abide with Me' had some lovely dynamic contrasts within and Shirland really let their hair down in the closing, 'Down By the Riverside'.
Third place and a Gold Award went to John Winterflood's Great Western Youth Band, an outstanding achievement for a band formed in 2006. They opened up confidently with Steadman-Allen's march, 'Southdown' before tackling the two movements of the set work with full blooded commitment.
Two Alan Fernie pieces came with his arrangements of 'Swing Low, Sweet Chariot' and 'It's Monkey Business' – music full of fun and games from Fernie's 'Jungle Suite'. Contrasting works they may have been but some excellent playing was in evident, as it was in the hymn tune, 'Blaenwern' and the closing popular film music from 'Pirates of the Caribbean'.
Enderby Youth and Trevor Hounsome finished fourth, taking a Silver Award and the prizes for Best Trombone and Bass Sections of the contest. Enderby can consider themselves unfortunate that they had three ensembles ahead of them in really great form, as they really did play right to the top of their own form too. Enderby also included music from 'Pirates of the Caribbean' but their highlight was the exceptional performance of trombonist, Phil Murphy in 'The Acrobat'.
Fred Longworth Community Brass Band were led by Colin Wilson and not only did they get in some practice for the National Festival of Music for Youth, but they took home a well deserved Silver Award. The bands programme included an energetic performance of the march, 'Belmont 'and appropriately, Goff Richards' 'Spirit of Youth', played with real vibrancy.
Stockport Schools Intermediate and Whitworth Vale and Healey Youth were the final two bands involved in this section with both taking home Bronze Awards. Both also looked like they enjoyed the experience too = everyone had a smile on their faces.
James Holt led Stockport through the three requirements of their performance. The march, 'Punchinello' played with real gusto, the hymn tune, 'Deep Harmony' that included a nice cornet line and the set work by John Golland.
The highlight of Whitworth, Vale & Healey's varied programme was Christopher Binns' performance on trombone of 'Blues for Bone' that was played with a great deal of maturity. Elsewhere, the band included, 'Tragedy', 'In Perfect Peace', 'The Great Escape' and 'Song and Dance', before wrapping it all up with 'Bandstand Boogie'.
As was said right at the beginning, this was an enjoyable weekend with plenty of fine playing. It was also clear that this event has the potential to become an established part of the banding calendar too – just as much as the Pontins Festival in the Autumn has become.
Hopefully the bands can give next year's event as much support as possible – it won't be easy with the exam season in full flow but this is a festival that deserves to succeed – everything is right about it, bar finding the most appropriate date too entice the bands.
Malcolm Wood.