Gizmos and Gadgets - August 2007
14-Aug-2007
From the latest high wonder products to the simplest little bits and bobs and a few that are truely weird and wonderful. 4BR has been out shopping - this month looking at what's on offer at Normans Musical Instruments.
---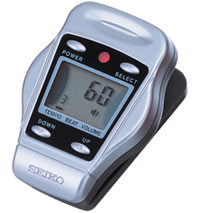 Seiko Digital Metronome – DM50
£14.99 inc VAT
The clever little chappies in Japan tend to make things smaller and smaller don't they? It can't be long before they are able to produce a BBb tuba the size of a pocket cornet.
In the meantime they have turned their attention to the ageless arbiter of all things correct and measured – the metronome.
This little gizmo is the size of a wristwatch and can be clipped to the top of your music stand, bell of your instrument or even the collar of your shirt to make sure that you stay in time.

It's got all the things you need; from a tempo range of 30 – 250 beats a minute (just in case you have to play the last movement of the latest Philip Sparke test piece up to speed), beat and rhythm control for all those tricky time signatures and even has a memory and clock to tell you when you should stop playing and have a cup of tea.
Not that it will help you play at the same pace as the rest of your band mind you, and you don't turn into a transformer monster either if you press the wrong button. Neat though.

For more information:

http://www.normans.co.uk/Items/dm50sl?sck=76131249
---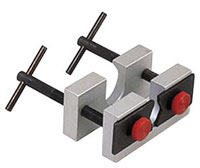 Bobcat Mouthpiece Puller:
£63.50 inc VAT
You are the owner of the world's most popular mouthpiece puller!! What a brilliant piece of sales pitch eh? What must the competition be like? Pliers are cheaper but are better used by electricians and Nazi dentists on Dustin Hoffman.
The Bobcat is just the thing you need after a hard days blowing. Forget about the non-pressure method, the good old Bobcat will yank you mouthpiece out without leaving a mark, even if your own teeth are positioned at the back of your throat.
Just three instructions. Number 1: "Open jaws by loosening buttons".
No – not you, or the young lady next to you (you will get a slap across the face we are sure), but the ingenious little tool. Just follow the other two and bobs your uncle – or cat as the case maybe.
Looks like a cross between a medieval thumbscrew and a bottle opener it never fails.
It shouldn't however be used on small children, by soldiers loyal to South American dictators or men with strange fantasies about the lovely looking 2nd horn player in the band.

For more information:

http://www.normans.co.uk/Items/bmp?
---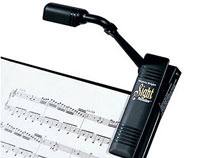 Mighty Bright ML-1 Sight Reader Music Light:
£12.98 inc VAT

Just what you need when the lights go down and you can't see the music in front of your face. Small and compact with a clip to fasten onto any music stand it shines light on any part you wish to play.
It would have been an absolute must in the dark days of the '3 day week' and the Miners Strike of 1973 and even now it comes in handy if you want to have sneaky blow without disturbing the neighbours by lighting up your house like Blackpool illuminations.
The size of a desktop stapler, all you need is four AA batteries and you can save pounds on your latest electricity bill. Great for students and people who want to reinact the bit in 'Brassed Off' without the use of miners helmets or if you have a budding career in the dark recesses of a pit orchestra.
Batteries not included, it shouldn't be used by teenage boys to read Razzle magazine under the bedclothes at night.

For more information:

http://www.normans.co.uk/Items/ml-1?sck=76131249
---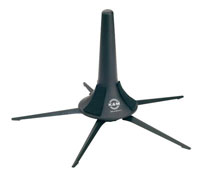 K&M 15213 Trumpet/Cornet Stand:
£13.95 inc VAT
Konig & Meyer have been making stands of innovative design and craftsmanship for over half a century.
This trumpet/cornet stand is the biz and will forever stop you from crumpling the bell and putting unwanted dents in your shiny new instrument by trying to make it stand by itself when its not playing.
Made out of hard wearing plastic its as well made as a top of the range BMW with a wicked stand mechanism that unfolds like a small Sputnik satellite.
In the wrong hands it could be a lethal weapon, but in the right ones it allows you to sit back and count the bars rest safe in the knowledge that when panic overtakes you with half a bar before your next entry you won't look like a right plonker as you try desperately to pick you instrument up in time to play. Class eh? No wonder the Germans always look so cool.

For more information:

http://www.normans.co.uk/Items/Item.aspx?itemid=4015096
---

Humes & Berg HB151 stone lined straight trombone mute:
£18.29 inc VAT
Humes & Berg have been making mutes since William Rimmer was a lad it seems and their famous white and red products have been used by some of the greatest players the world has ever known.
The secret of their success? They simply do what it sets out to do and nothing else. No tricks, no fancy bits and pieces – just a well crafted bit of work that gives a very precise and crisp sound. From cornet to tuba and all the weird and wonderful in between the proof can be seen by just how many players use them.
The trombone straight mute is great, and even allows you to resurrect your Boy Scout whittling skills to file down the corks on the side. Where the stone comes from no one seems to know…

For more information:

http://www.normans.co.uk/Items/hb151?