4BR Scouting Report - August 2007
17-Aug-2007
4BR has been out and about assessing the brightest and the best young brass players around to find out who are likely to be the superstar players of the future.

To start off we have three of the best in Wales.
---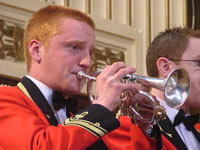 Name: Graham Bushell
Age: 18
Occupation: Student
Instrument: Soprano cornet
Current Band: Beaumaris
Previous Bands: None

Wales has a proud history of producing quality soprano cornet players in its time, and this young man has the undoubted talent to extend that line.
Brought up in the excellent Beaumaris band organisation from the age of 10, he has been nurtured under the expert eye of Gwyn Evans. Recently he has also benefited from lessons with Brendan Ball of the Liverpool Philharmonic and hopes to go to Manchester University in the next year to study music. He also plays trumpet and cornet.
A member of the senior Beaumaris Band for the last two years on soprano he is also as an integral part of the cornet section of the National Youth Brass Band of Wales. Bags of potential, he is one of the most exciting young players in the Principality.
4BR has heard him in action in the past couple of years and have been suitably impressed each time. He has got that all important fearless approach to soprano playing that is essential to succeed, but also shows that he has got his head screwed on right with an intelligent approach to ensemble playing.
As soprano players tend to mature as players well into their late 20s and early 30s he has plenty of time on his side. Not the biggest blower, but that at present is a good thing. That aspect of his playing should be allowed to develop naturally whilst his well centred sound and natural musicality should also be developed sympathetically too.
Technically there is still work to do and stamina will come, but there seems so much potential that it was be a pity if he was pushed too hard too soon. We think the big bands in the North West and Yorkshire will be knocking on his door soon enough.
Sound: 7/10
Technique: 7/10
Stamina: 8/10
Musicality: 7/10
Potential: 8/10
---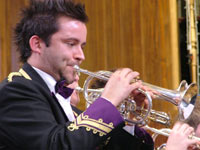 Name: David James
Age: 22
Occupation: Student at Royal Welsh College of Music and Drama
Instrument: Cornet/flugel
Current Band: Burry Port
Previous Bands: Glyneath; Penclawdd
Now entering his last year at the Royal Welsh College, David James has all the essential ingredients to become an exceptional top class player.
He comes from a very musical family (his grandfather was the highly respected conductor Eric James and dad, Alyn is a fine tenor horn player) and that is evident to hear in his remarkably cultured playing for such a young man.
Started playing with his local Glyneath Band, he moved to the Penclawdd Band and came under the expert eye of Tony Small. His excellent teaching has provided the solid foundation to his playing ever since. Now principal cornet of the top section Burry Port Band he has also been principal flugel horn of the National Youth Band of Wales for the past six years.
Currently undertaking his B. Mus at Cardiff he is taught by Chris Turner, who has instilled a great deal of confidence into his playing. His future looks like being teaching as a peripatetic, so hopefully he won't be lost to the brass band scene in the Principality.
A highly impressive performer on the contest and concert stage he doesn't lack confidence and has just that right degree of bravura cockiness that is the hallmark of real top class cornet players. It's the sense of style to his playing that really does mark him out at present though, although he does have to continue to work on the upper register and with his technique in the years to come.
A fine, full bodied cornet sound with a controlled vibrato (which is echoed on flugel) he has a strong lip which perhaps could be saved more at times. He works remarkably hard on each piece.
Not the finished product just yet, but there won't be a band in Wales and beyond who wouldn't want to have him on the end chair when he finishes college.

Sound: 8/10
Technique: 7/10
Stamina: 7/10
Musicality: 8/10
Potential: 8/10
---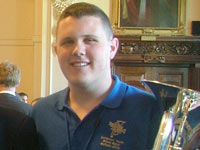 Name: Matthew Jenkins
Age: 19
Occupation: Student at Royal Welsh College of Music and Drama
Instrument: Euphonium
Current Band: Cory
Previous Bands: Goodwick
Matthew Jenkins first made an impression on 4BR a couple of years ago when he was selected to represent Wales as part of the European Youth Brass Band. For a player coming from a 4th Section Band in Wales he shone amongst the cream of Europe's best young brass players, and since that time he has continued to progress with remarkable alacrity.
He is now under the expert eye of David Childs at the RWCMD undertaking the Performance Degree Course and has the added bonus of also playing next to him with the Cory Band. He has also been a member of the National Youth Brass Band of Wales for the past five years.
He started out on cornet but took up the euphonium aged 13 – a match that seems to be working out perfectly. Taught by Hilary Lewis and John Jones in his early years he has also benefited from lessons with Geraint John Evans. With that solid foundation to work from David Childs has started to really explore his undoubted potential.
Possesses a lovely rounded euphonium sound and has a nicely turned sense of musicality about his playing. He has that all important sense of confidence too – although it's not a misplaced cockiness. Playing next to his teacher shows him just what can be achieved, but also just how far to go he has to become the fully developed player.
The potential is there for everyone to hear but he still has work to do on all aspects of his playing. He is in a hot house environment with Cory, so he will know just what is expected of him and the work needed to achieve his ambitions. A player with a huge future ahead of him, he has the potential to achieve whatever he wants if he continues to put the work in.
Sound: 8/10
Technique: 8/10
Stamina: 8/10
Musicality: 8/10
Potential: 9/10